The second show of World Equestrian Center's NSBA Fall Classic series kicked off with tough competition in the $15,000 Welcome Prix 1.35m.
A field of 19 competitive horse-and-rider combinations took on a technical track designed by Bobby Murphy of Lexington, Kentucky. Seven of the 19 entries managed a clear first round, with six of those entries jumping double clear, making for a highly competitive jump-off. Ultimately, it was Erika Thornell of Loveland Equine Investments in Cincinnati, Ohio and Gyloma (Kashmir Van Schuttershoff x Baloma) a 2011 KWPN mare that stole the win by just two-tenths of a second.
Thornell and Gyloma have seen many wins and top placings at World Equestrian Center, including taking fourth place in the Fall Classic I $10,000 Futures Prix. Last week, Erika and her older sister, Natalie, were feature riders in WEC's Sunday Spotlight blog.
Gyloma's signature jumping style impressed the crowd again, as the scopey bay mare cleared every jump with plenty of room to spare. The pair posted a clear first round in a time of 73.851 seconds, well within the time allowed of 83 seconds, and continued straight to the jump off. Erika's skilled riding paid off as the pair crossed the timers at 37.772 seconds in the jump-off, setting a time to beat for the remainder of the entries.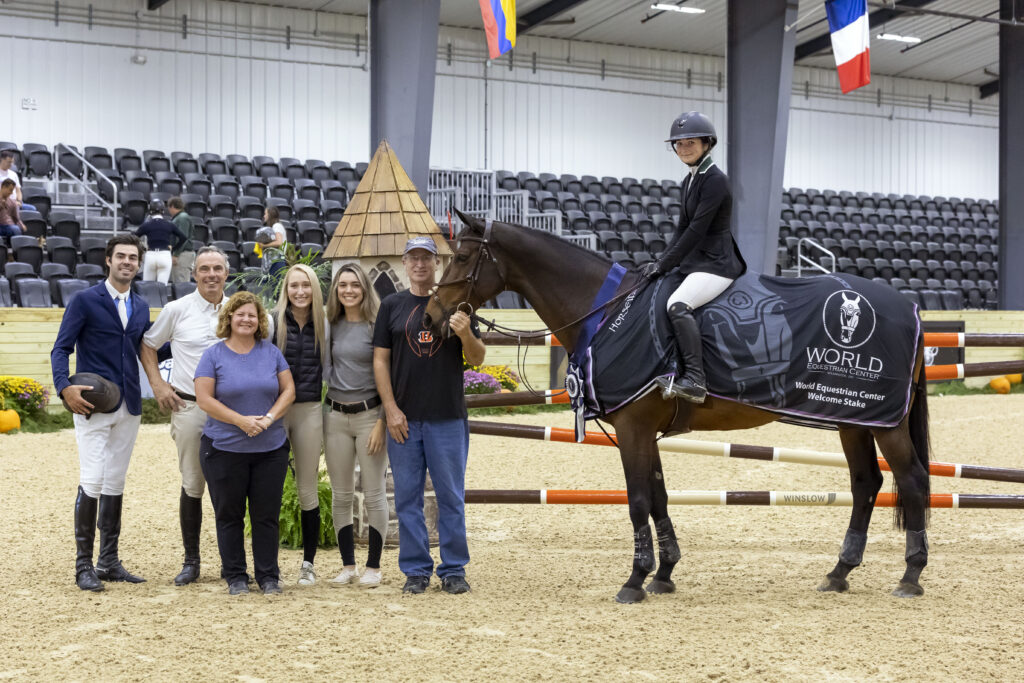 Kevin McCarthy and Catch A Star HSS (Sheraton x Tolinda) started off strong, producing a clean first round in 73.712 seconds. McCarthy of K&K Sporthorses LLC, Lexington, Kentucky, and the careful Swedish Warmblood mare advanced straight to the jump-off, to stop the clock at 37.975 seconds with all rails up. This would land the duo a second place spot in the $15,000 Welcome Stake 1.35m.
Claiming the third place spot was Charlotte Clark and her own Kinsella (Capitalist x Jerpoint Mist) an 11-year-old Chestnut Irish Sport Horse mare, of Kendalwood Farm in Sunbury, Ohio. This pair always shows up and shows out in any WEC class they enter. Tonight they managed a first clear round of 72.494 seconds earning a spot in the jump-off where they jumped clear again crossing the timers in only 38.913 seconds.
$15,000 Welcome Prix 1.35m Results
1. Gyloma, Natalie Thornell – 0 | 0 | 37.772
2. Catch A Star HSS, Kevin McCarthy – 0 | 0 | 37.975
3. Kinsella, Charlotte Clark – 0 | 0 | 38.913
4. Nazarine Van De Axelhoeve, Sabine Cooper – 0 | 0 | 40.817
5. Lorstakov, Lauren S. Hester – 0 | 0 | 41.115
6. Bugatti, Wilhelm Genn – 0 | 0 | 41.966
7. First Finch, Logan Taylor – 0 | 8 | 37.112
8. VDL Gerinus T, Ryan Michael Genn – 4 | 72.664
9. Ecuador W, Logan Taylor – 4 | 75.021
10. Sambuka De Lurberri, Teri Kessler – 4 | 75.548
Photos courtesy of Winslow Photography.