Wellington, FL – Oct. 10, 2021 – Hunter riders took center stage in Friday's $2,500 USHJA National Hunter Derby during ESP October. The week's highlight hunter class saw Lexy Reed of Ft Lauderdale, FL, and Rock Angel, owned by Horselux LLC, set the bar high after receiving a classic-round base score of 84 that put them in the lead going into the second round, and then received a handy-phase score of 86 to secure the victory with a total score of 170.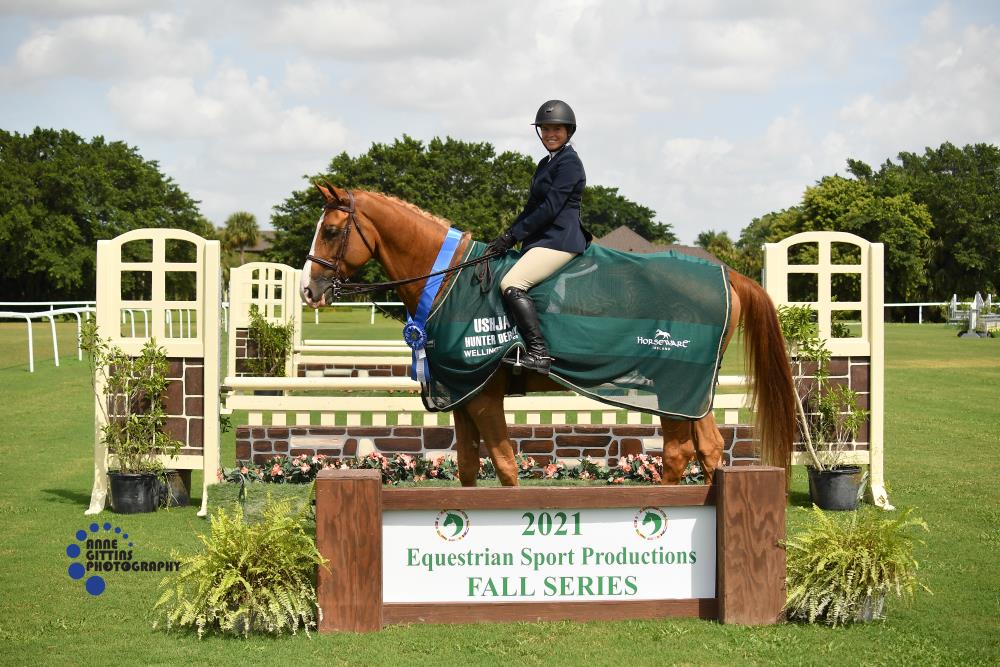 "[Rock Angel] just arrived from Europe this week. He's seven years old and was jumping some jumper classes over there but we bought him to be an equitation horse, so today was his first introduction to his new life in America," explained Reed. "At home, we work on all sorts of different training with the horses, but it's so important for them to have a really good brain and for him to just fly over here and come to his first horse show and win a derby like this is huge. I'm very happy with him and his mentality, and I am excited to see what's in his future. I think he'll definitely go on to the finals in the major equitation classes."
Reed continued to share her thoughts on the courses, designed by Jasen Shelley (USA), saying, "I thought the courses were great today. I loved that there were a lot of different options in the handy. There weren't a bunch of lines; it was mostly singles and inside turns, so you could really set the pace and rhythm that you wanted and just stay with it. And I'm glad the rain held off!"
Carlo Graziani of Wellington, FL, and Wakefield Stables LLC's Cancun received second-place honors. The pair received a first-round score of 79 and an 88 in the handy to earn an overall score of 167, just a few points shy of the lead. The yellow rosette was awarded to Cecilia Perry of Boynton Beach, FL, and Frosty HD, owned by Jessica Leto, with a total score of 166. The duo earned a score of 81 in the first round and improved to a handy score of 85.
On her plans for the rest of the year, Reed shared that she will remain in Wellington to prepare for the Winter Equestrian Festival (WEF). "I'm here until WEF. My business partner, Keri Kampsen, is at Indoors with the kids, so I'm here with all the babies from Europe practicing with them. He'll probably be competing in the equitation ring this week, or the week after."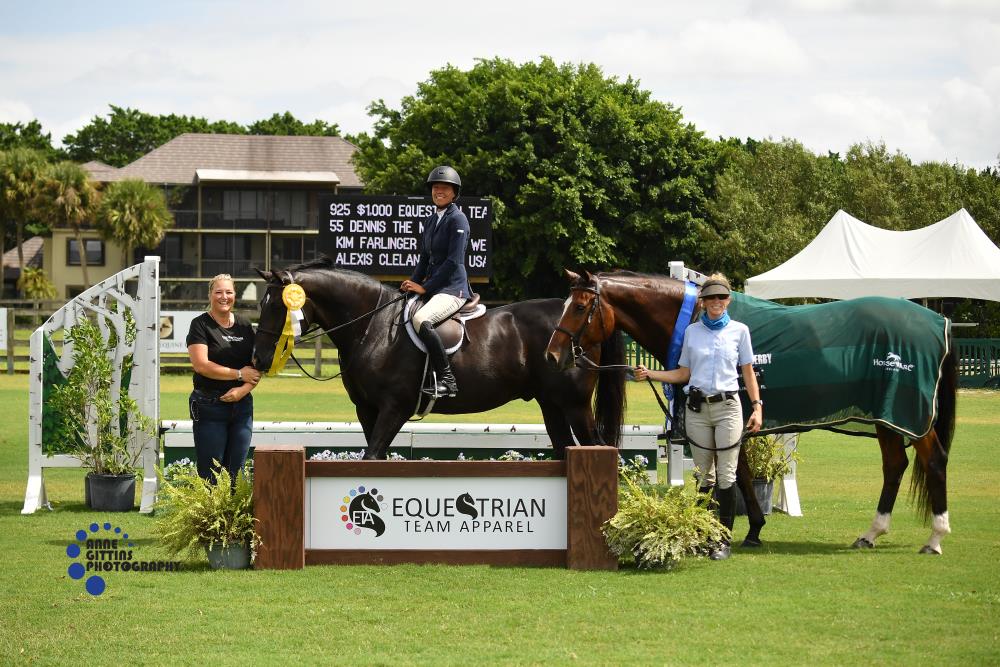 Hunters had their chance to shine on the grass field of the Derby Annex once again in Saturday's $1,000 Equestrian Team Apparel 2'6"/2'9" Hunter Derby, which is the newest addition to the ESP Fall Series. Taking the blue rosette was Kim Farlinger of Wellington, FL, and Dennis the Menace, owned by Alexis Clelan-Liskey, with a total score of 167. The pair received a classic-round score of 81 that put them into third going into the second round and improved to a handy score of 86, moving them right to the top of the scorecard. Just one point behind, Perry piloted her own Glasgow to a second-place finish. The pair received a first-round score of 86 and an 80 in the handy to earn an overall score of 166. Farlinger bookended the top-three with her ride on Catomine Farm's Le Chat Noir with a total score of 163. The duo received a classic-round score of 81 and a handy score of 81. 
In the Performance 3'3" Hunter division, presented by Gold Coast Feed & Supply, Chaz Harpman of Wellington, FL, and Margot Hirsch's Evolutionary earned the championship ribbon after earning three first-place prizes and a second-place result. Only two points behind them in the overall standings, Katie Giddings and her own It's Roxette clinched the reserve championship. The duo had placed first, second, and third over the course of the division's five classes.