World Equestrian Center's – Wilmington Fall Classic Week 3 took over the R+L Arena for a splendid day of picture-perfect indoor hunter derbies. It was a dreary Ohio day, but that didn't stop nearly 60 horse-and-rider combinations from giving it their all. The beautifully decorated, autumn inspired courses were designed by none other than Bobby Murphy of Lexington, Kentucky. Colorful mums, dried corn stalks, pumpkins and plenty of live edge wood tastefully adorned jumps and arena finishes.
The main event, held in the R+L arena welcomed 16 first-rate competitors and their mounts. The $30,000 WEC Hunter Derby 3'6″-3'9″ contestants took to the course vying for a big win and notoriety of winning such a competitive class.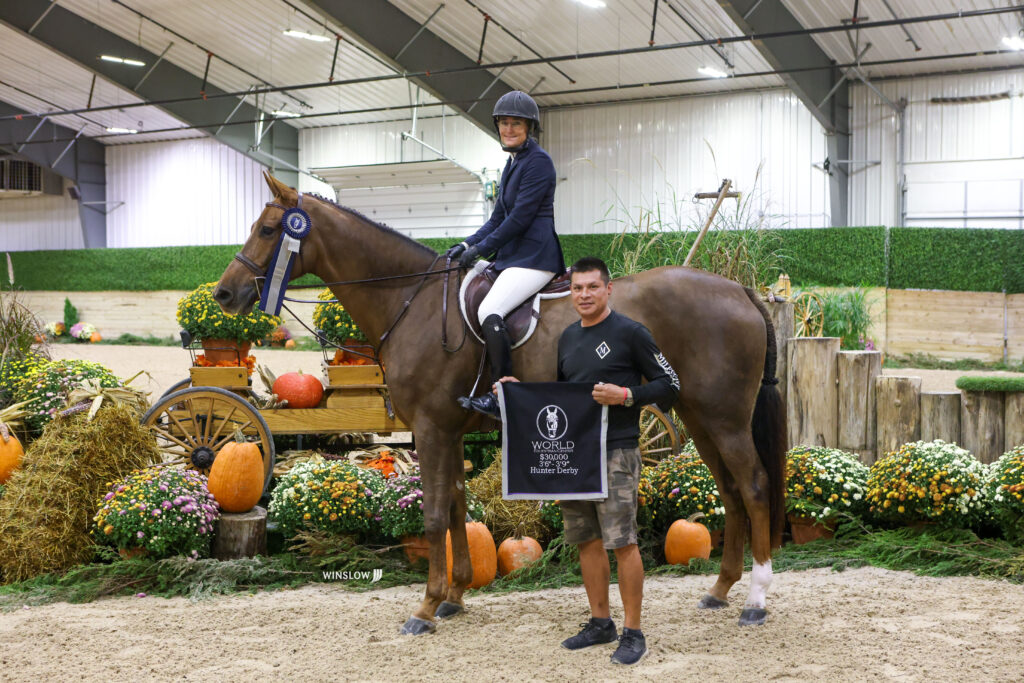 Havens Schatt and Cascartini (Casall Ask x Wilora), the nine-year-old Holsteiner gelding owned by Ken and Amy Wexler LLC, were above the rest. Having two beautiful rounds, this pair charmed judges and those in the stands. Their first round score was extremely impressive and well-done, landing them a two-judged score of 185. They advanced to the Handy, where they showed their skills and earned a 193, taking them to the top of the class with a final score of 378.
"Marty, as we call him in the barn, hasn't jumped, but maybe once, since the Derby Finals in August," Schatt said. "I wasn't planning on showing him until we went back to Florida, but one of my clients wanted to come up here, and I saw that there would be a $30,000 Derby, so he came with us too! It can be hard for our whole barn to get away, but we love showing at both WEC locations!
"This was a good experience for him because he is still a green horse," she continued. "He tripped after a jump [on Thursday], because he was looking at the end of the arena. I had to pull up because he was looking around, and then he trotted in the handy where he wasn't supposed to. He had some stage fright and that's okay[…] For today, I really just wanted to have a good first round! We did that so overall, I am happy and he is such a good boy!"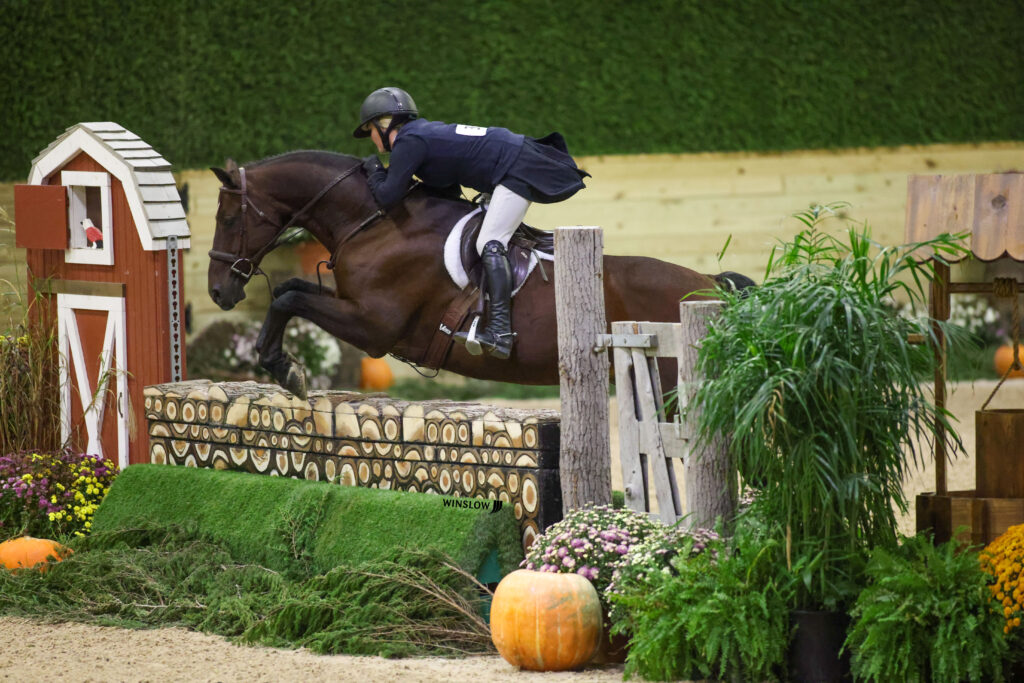 Next in the rankings was Morgan Ward and Comissario (Calido x Amabilita). They seemed to work together flawlessly and Comissario, the 16-year-old gelding, stepped up to the 3'9″ height with overwhelming victory. The duo earned scores of 178.75 and 196,  totaling 376.75 for second place. During their victory lap after the awards ceremony, Ward confidently removed the bridle. They galloped through the arena and even over a jump with total control and grace.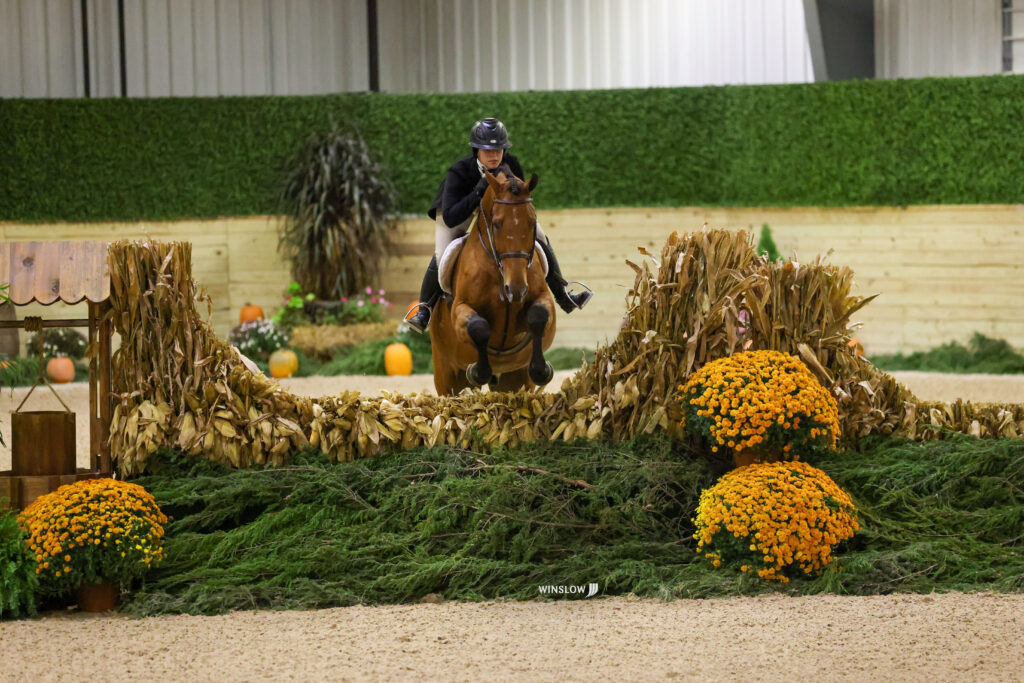 Isabel M. Harbour also delivered fantastic rounds in the class aboard Fitz (Numero Uno x Kootje). Harbour and the fourteen year old Dutch Warmblood gelding earned top honors in last week's $20,000 WEC 3' Hunter Derby Non-Pro and delivered again this afternoon. The pair earned scores of 180 and 195, totaling 375 for third place.
$20,000 WEC Hunter Derby 3′ – Open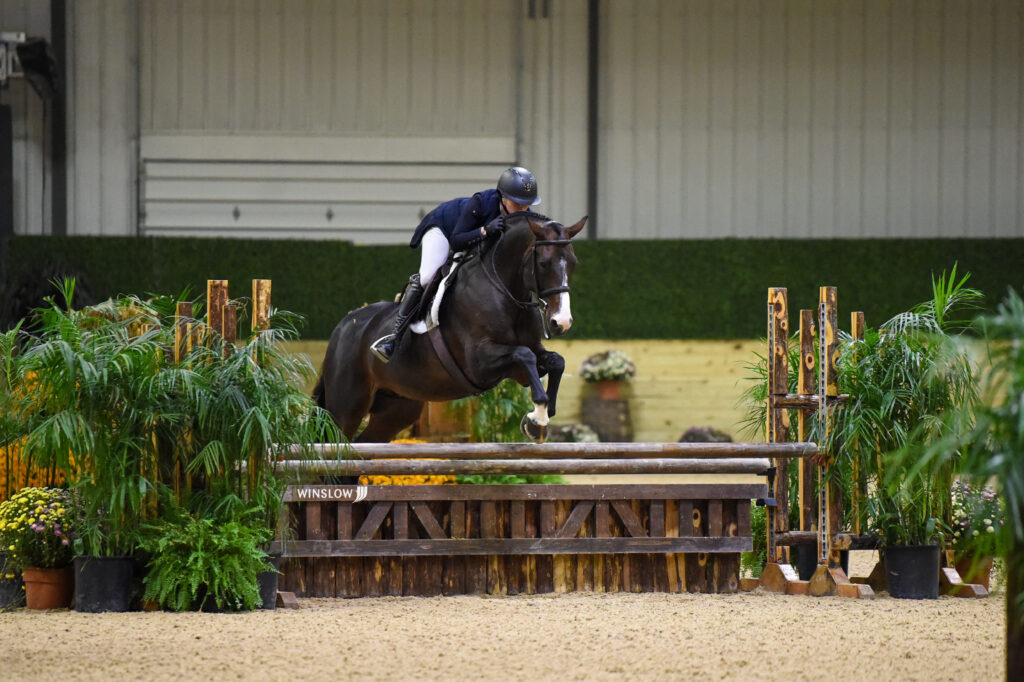 Morgan Ward and Morlynn Farm's Playmaker (Cassini 1 x Gipsy Lady 11) went 3 for 3 in the $20,000 WEC Hunter Derby 3' Open. Ward of Flemington, New Jersey and the 11-year-old Holsteiner gelding have held their top spot for three consecutive weeks during the WEC Fall Classic show series.
"I was really nervous going into this class, and I never get nervous!" Ward exclaimed. "I put a lot of pressure on myself to go three-for-three, but we did it! The course was fun and the Handy round had some difficult turns and options that we opted to not take."
Ward and Playmaker earned scores of 88.5 and 90 totaling 178.5 for first place. 
Tammy Provost of Meadow View Farm and Jill Donaldson's Persuasive delivered two stylish rounds to earn the second-place ribbon. Provost and the 8-year-old bay Dutch Warmblood were given scores of 90 and 85.25  to total 178.25, just .25 points behind the first place finisher.
Rounding out the top three was David Beisel and Lori Taylor's MTM Bentley(Bonaparte Z x Hot Cherie P). MTM Bentley and Beisel elegantly jumped to earn a 92 in the Handy round, which was the highest second round score in the class. This score, paired with their first round score of a 85, added up to a total score of 177 to take third place. 
$20,000 WEC Hunter Derby 3′ – Non-Pro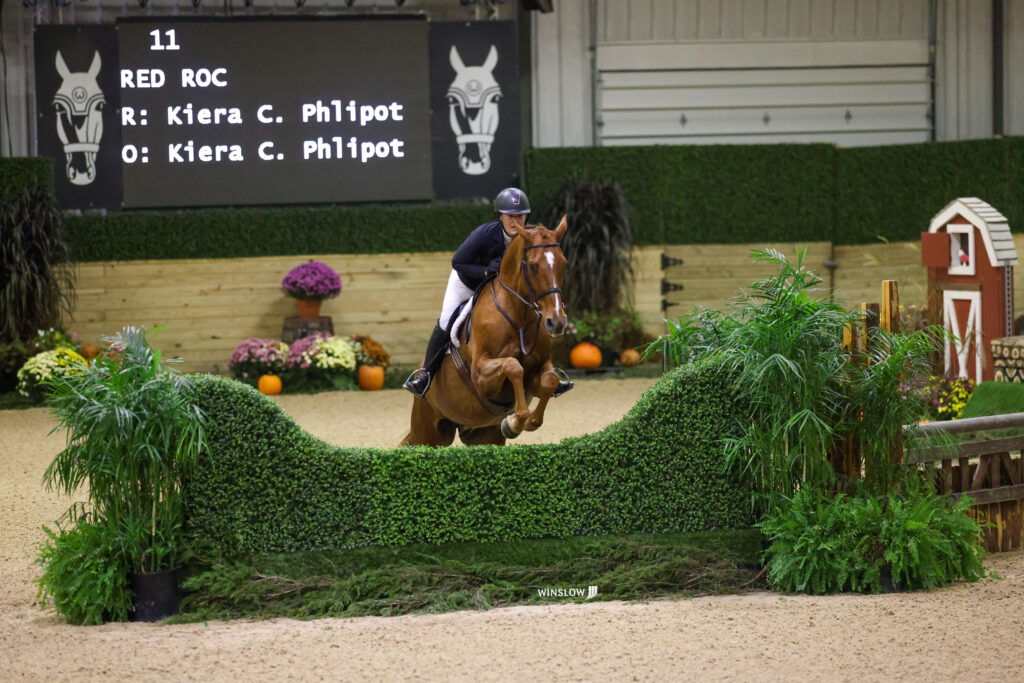 Twenty-seven horse and rider pairs contested the Non-Pro course to compete for the big win.
It was Kiera Philpot of Manchester, Michigan and Red Roc (Roc USA x Rhea) who took the win. This team has won several Non-pro derbies at World Equestrian Center, and they always seem to lay down impressive rounds and scores. Philpot was first on the course and set the tone for the class. She earned a 91 in round one, followed by an 89 in round two. Her final score was a leading total of 180. 
"I loved this course. It was quite fun and we really enjoyed it," Philpot said. "My strategy today was to read the course as it was written. I didn't want to overthink it too much. We plan to stay for all of the Fall Classic shows, and I have been using them to prepare for the National Horse Show which happens at the end of the month. I've been working on getting the nerves out when it comes to competing in larger classes."
Kelley M. Corrigan and Diatrendo, a 10-year-old Hanoverian stallion, claimed the second place spot. This team held strong throughout the first round, with their score being an impressive 94. Their second trip landed them a score of 81, which added up for a final two round score of 175.  Landing in the third place spot was Luke Rinehart and Chablis 162. 
$30,000 WEC Hunter Derby 3'6" – 3'9" Results
Cascartini, Havens Schatt – 185 | 193 | 378
Comissario, Morgan Ward – 178.750 | 198 | 376
Fitz, Isabel M. Harbour – 180 | 195 | 375
Corlando 49, Melissa P. Donnelly – 180.5 | 185 | 365.5
Steller, David Q. Beisel – 174 | 188 | 362
Denmark, Morgan Ward – 177.5 | 164 | 341.5
Emilio, David Q. Beisel – 156 | 182 | 338
Dante's Inferno, Ryan Genn – 152 | 152 | 335
Obrecht Vd Brouwershoeve, F. Peter Jordan – 161 | 161 | 328
Udefix, Colleen Holton – 162 | 164.5 | 326.5
$20,000 WEC Hunter Derby 3′ – Open Results
Playmaker, Morgan Ward – 87.5 | 90 | 178.5
Persuasive, Tammy Provost – 90 | 85.25 | 178.25
MTM Bentley, David Beisel – 85 | 92 | 177
Liberty Road, Emma Walters – 84 | 87 | 172
Rightful, Tiffany Hammack – 81 | 87 | 168
Norderney, Belynda S. Bond – 85.5 | 82 | 167.5
Kadootje, Nicole Loochtan – 80 | 80 | 160
Cinda, Melissa P. Donnelly – 79 | 79 | 158
Lavish, David Beisel – 83 | 74 | 157
Davidson, David Beisel – 78 | 75 | 153
$20,000 WEC Hunter Derby 3′ Non-Pro Results
Red Roc, Kiera Philpot – 91 | 89 | 180
Diatendro, Kelley M. Corrigan – 94 | 81 | 175
Chablis 162, Luke Rinehart – 83 | 85 | 172
All In, Jacquelynn Christenson – 79.5 | 91 | 170.5
Cavalli, Luke Rinehart – 84 | 83 | 167
Condor, Wyette Felton – 90 | 74 | 164
Cosmo Cool, Grace Hildebrand – 87.5 | 76 | 163.5
Hamilton, Maren Stuart – 83 | 79 | 162
Pulsar, Erin Lewand – 77 | 74 | 151
Oodelally, Charlotte A. Oulanoff – 75 | 60 | 135