Wellington, FL – October 17, 2021 – The ESP Fall I horse show at Equestrian Village offered hunter competitors another chance to show off their skills, with the pinnacle event taking place in the form of the $2,500 USHJA National Hunter Derby. On Friday, Jennifer Speisman of Wellington, FL, and her own Totality laid down two solid performances to lead from start to finish and clinch the lead spot in the victory gallop in the $2,500 USHJA National Hunter Derby as the only pair to break the 90-point threshold.
"I've had Totality for four years. I bought him on the day of the total eclipse, which is why he is named that," remarked Speisman. "Everyone who knows me and knows him will tell you that he is beyond my horse of a lifetime. We love each other and he takes care of me, so I'm very grateful to have him. When we got him, he had never shown before, and since then we have mostly been doing the Amateur Hunters. This year we decided to have a little fun and try something different, which led to the derbies. He has been awesome and we have been having a blast. He has really taken to them. We just started in the derbies earlier in the spring, and I think this is his fifth one at this point. This is his second win, and I think he has been in the top four every time."
Following the classic phase, Speisman and Totality sat at the top of the scorecard with 86 points, trailed by Jennifer Bliss of Loxahatchee, FL, on Legacy Equine LLC's Cassano in the reserve spot with 79 points. Returning for the handy round as the final pair to tackle the course on the grass Derby Field, Speisman and Totality needed 82 points to overtake Bliss and Cassano's total score of 168. The pair improved upon their earlier performance, earning a second-round score of 92 from the judges to conclude the class with a final tally of 178 points to win the class.
"We have been taking it easy lately, but we entered this class because it is so fun to get to ride on the grass and it can be such a rare opportunity," commented Speisman. "We were consistent and smooth without any major mistakes. I think our handy round was more brilliant than the first round for sure. I'm still getting used to the mental aspect of the grass, even though it isn't any different. The handy round is our thing and we love going for it, but today we didn't have to do anything crazy because everyone else was fairly conservative."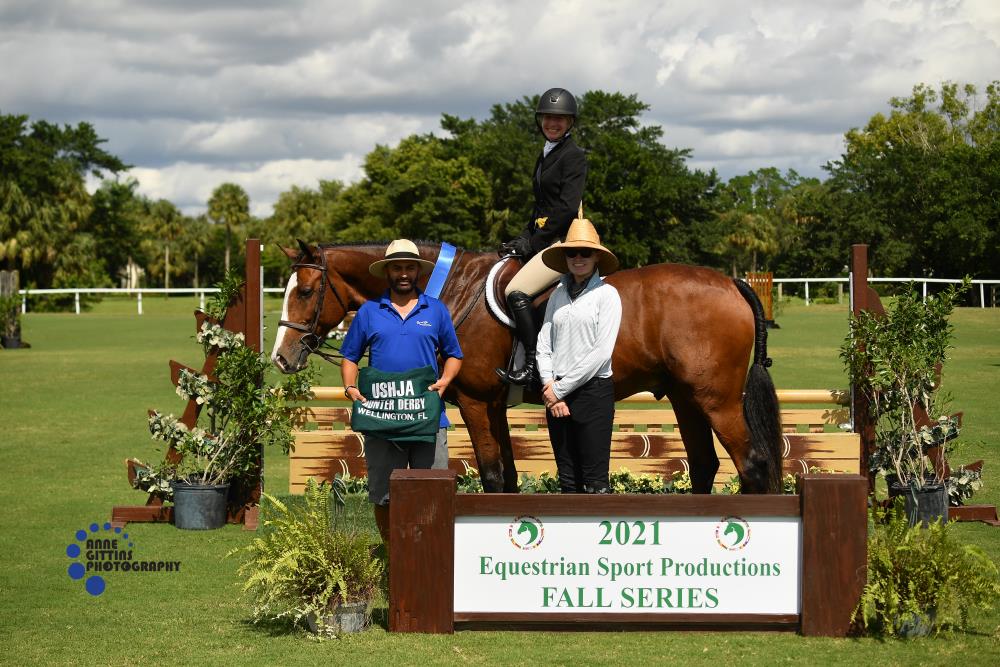 Bliss and Cassano finished the $2,500 USHJA National Hunter Derby in second position, followed by Xavier Gomex of Wellington, FL, riding Jordan Hill's Diadem Van De Heide. The third-place team finished with a final score of 151.
In the Performance Hunter 3'3" division, presented by Gold Coast Feed, Ki-Juan Minors of Wellington, FL, piloted Sand Dollar Farm, L.L.C.'s Clintano to champion honors. The partnership captured three first-place ribbons as well as a second-place and fifth-place result. Efendi, ridden and owned by Gretchen Arndt-Waters of Palm City, FL, secured the reserve championship after earning a variety of placings first through fifth in all of the division's classes.
The Adult Amateur Hunter division, presented by Resilient Fitness, was won by Leah Patipa of Wellington, FL, and her own HH Moonwalk. The team was awarded two first-place ribbons, as well as second, third, and fourth place results over the course of the division's five classes. Rendez-Vous, owned and ridden by Kimberly Narlinger of Laguna Beach, CA, captured the reserve championship.