Edited Press Release
Wellington, FL – October 24, 2021 – ESP Fall II reached its pinnacle on Sunday as 26 riders, representing a total of eight different nations, took to the Derby Field at Equestrian Village for the $25,000 Long Creek Farms Grand Prix. No stranger to the winner's circle and last week's Grand Prix winner, Brazil's Gabriel de Matos Machado and Clearwater finished the class at the top of the leaderboard once again. The win marked their third Grand Prix victory during the ESP Annual Series, along with a number of other top placings throughout this summer and fall.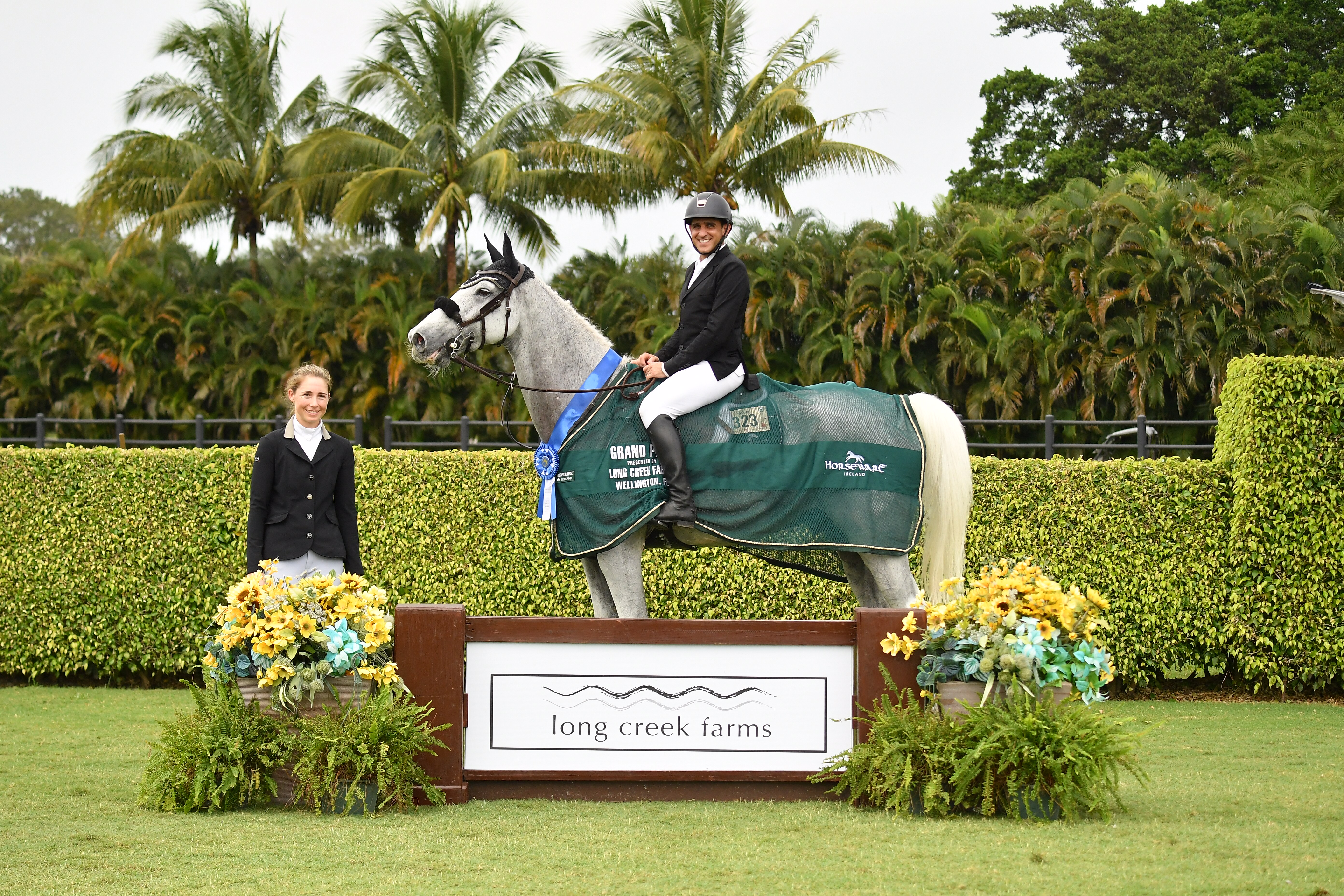 "It's been amazing to have such a wonderful horse," reflected Machado. "Today was definitely a fast class again with a lot of people in the jump-off. I watched Ashlee Bond go first, who's really quick, so I tried to do my best to be faster than her and it worked out."
Following the first round of competition, twelve pairs were invited back to test Héctor Loyola's (PUR) jump-off track. Fourth to go in the jump-off, Ashlee Bond (ISR) and Hylanderhofs Chica Bella Rosa, owned by Aurora Farms LLC, set the bar early after clearing the course in 39.99 seconds and held on to the top position until Machado and Clearwater flew through the jump-off, tripping the timers nearly two seconds ahead of her with a time of 37.51 seconds. The final pair to ride, Hector Florentino (DOM) and Wyndmont's ABC Quantum Cruise slid into second place with a clear jump-off time of 39.55 seconds. Bond and Hylanderhofs Chica Bella Rosa finished the day in third position. In total, half of the partnerships out of the initial jump-off list posted double-clear rounds.
"In the jump-off, I started with a really nice pace. From one to two I took two strides out, so I think that's what saved a lot of time because the rest of the course I did about the same as everyone else," Machado noted on his ride in the jump-off. "Clearwater jumps really fast and it's just easy for him."
Machado concluded, "It's not always that you have an amazing horse like this to ride, so we definitely keep all the coolers and ribbons for good memories. I hope to keep it going this way."
For the full results of the $25,000 Long Creek Farms Grand Prix, please click HERE.
---
Seventeen horse-and-rider pairs contested the course on Friday in the $10,000 Bainbridge Companies 1.40m Stake, during which only four duos laid down penalty-free rides to move into the second round of riding. The time-allowed proved to be a factor, as four more teams kept all the rails up but fell victim to time faults that kept them out of contention. Having already earned a series of victories during the ESP Annual Series, Machado added another blue ribbon to his name riding Raylyn Farms Inc.'s RF Casablanca to a speedy double-clear jump-off time of 42.99 seconds, the quickest of a very tight top-three. Always a fast competitor, Bond and Contefina LVF, owned by Ashlee Bond Show Jumping, finished in second position just milliseconds behind the pace without faults in a time of 43.12 seconds. The final podium spot went to Jordan Petersen (USA) and his own Diamant's Legacy with a clear time of 43.19 seconds, less than one-tenth of a second behind Bond.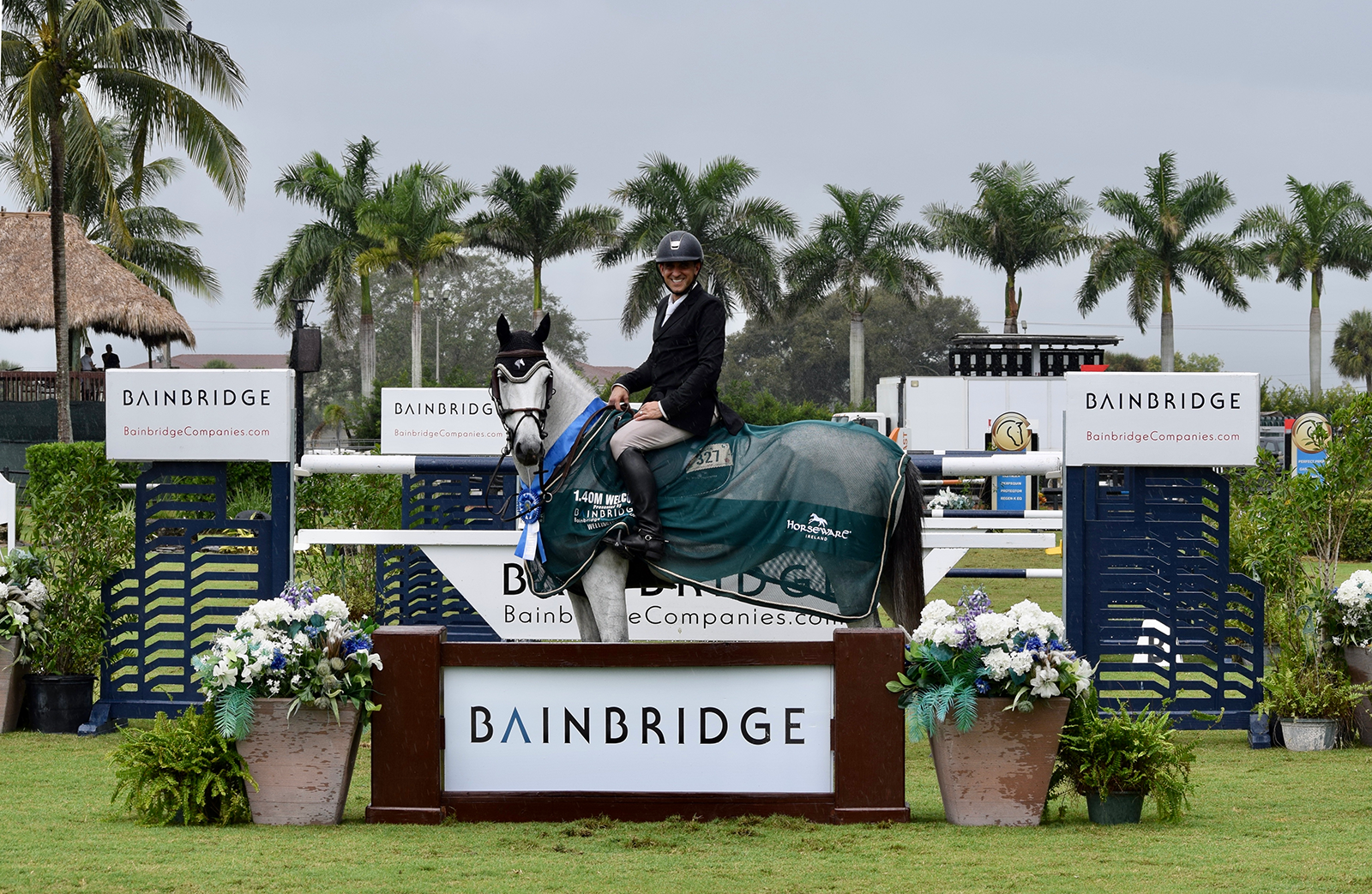 Saturday saw the Elite Horse Transport 1.35m Stake challenge the field of entries, with only three partnerships advancing to the jump-off. Up against a leading time of 43.87 seconds, Carolina Drummond of Wellington, FL, and her own Joules VD Hooghoeve were the final contenders in the jump-off and turned on the speed to cross the finish line without any faults in a time of 40.38 seconds, clinching the win. Owner-rider Joyce Green of Melbourne, FL, and Cierra jumped to the runner-up position in 43.87 seconds as the final double-clean pair, followed by  Derek Petersen of Archer, FL, and his own Zechariah 3:9.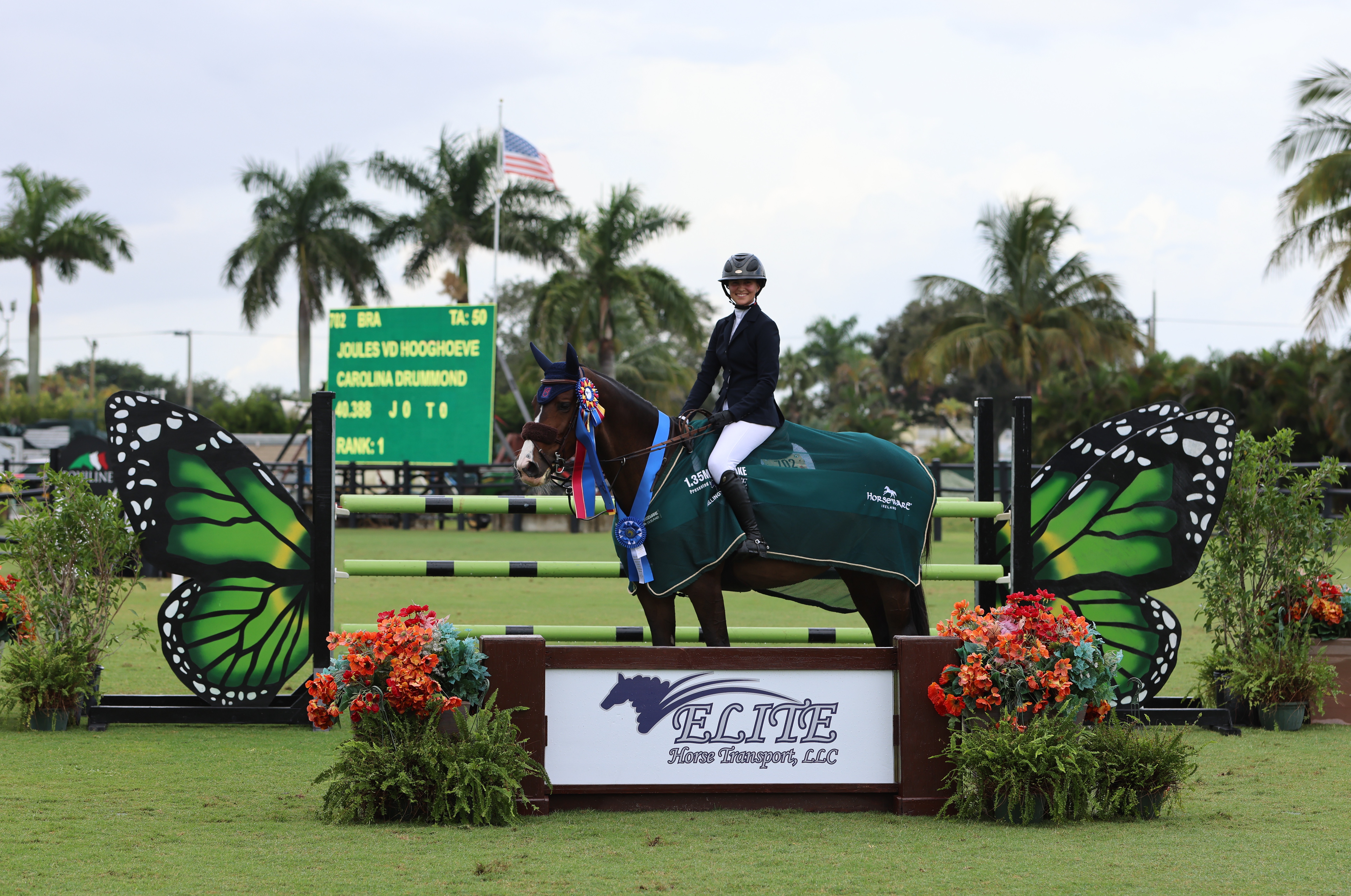 The $2,500 NAL Medium Junior/Amateur-Owner Jumper Classic, presented by Equiline, saw Katherine Benard of Cumberland Foreside, ME, pilot her own entry, Concuela, to the top of the leaderboard as the only pair to post double clear rounds. Benard and Concuela finished the class with a jump-off time of 50.43 seconds. Ana Cristina Rodriguez of Wellington, FL, and Ferdita, owned by Rodriguez Equestrian, cleared the first round in 81.03 seconds but went off-course in the jump-off, putting them in second place. Rounding out the top-three, Aurora Rangel De Alba of Wellington, FL, and her own Zirocco's Son Z finished the first round in 84.84 seconds with three faults.
Immediately after, contestants competed for the Low Junior/Amateur-Owner Jumper Classic, presented by Fleur-De-Lis International Realty. As the only pair to post double-clear rounds, Katarina Ammann of Detroit, MI, and Kadafi Van't Hof Van Payz took home top honors. Ammann and her mount, owned by Ammann Equestrian LLC, stopped the clock at 48.33 seconds. The only other pair to test the jump-off track, Lauren Brody of Wellington, FL, and LJB Equine LLC's Nutou finished the jump-off in 67.37 seconds but accumulated 20 faults to place them into second place. Mia Green of Wellington, FL, just missed the jump-off by one time-fault with Georges D'Ecaussinnes, owned by Forget Me Not Farm, but finished in third place with a first-round time of 82.28 seconds.