Jump Media Press Release
For Kaycie Miranda, 15, of Atlanta, Georgia, it was her horse of a lifetime, Notable, that carried her to the win in the $10,000 WIHS Children's Hunter Championship presented by MARS Equestrian™. Miranda purchased the gelding in April 2020, at the height of the COVID-19 pandemic from Elizabeth Cram who had campaigned him with great success in the 3'3" junior hunters.
"When I moved up from a pony, we were kind of just looking for a horse that could get me from the pre-children's hunters to 3'3″ junior hunters," explained Miranda. "We chose him because we saw a lot of potential in getting me to the 3'3" junior hunters, and the WIHS Children's Hunter Championship is just one of the many steps to getting there.

"[The Crams] loved him very much and they treated him fantastic," she continued. "We are just so lucky to have him. He's a once-in-a-lifetime horse. He has taught me so much already, and I love him."

A mistake in the previous day's $2,500 WIHS Children's Hunter Welcome class kept them out of the ribbons, so today's win came a bit unexpectedly for Miranda. "I was kind of nervous coming into the first round today, but he just really helped me get there," she said. "Then, in today's second round, I was sitting in sixth. I knew I was probably going to be top six either way, but I was going to be happy with any placing because this is my first WIHS. Then I got to the top three, and it's unbelievable that we won this. I was not expecting it."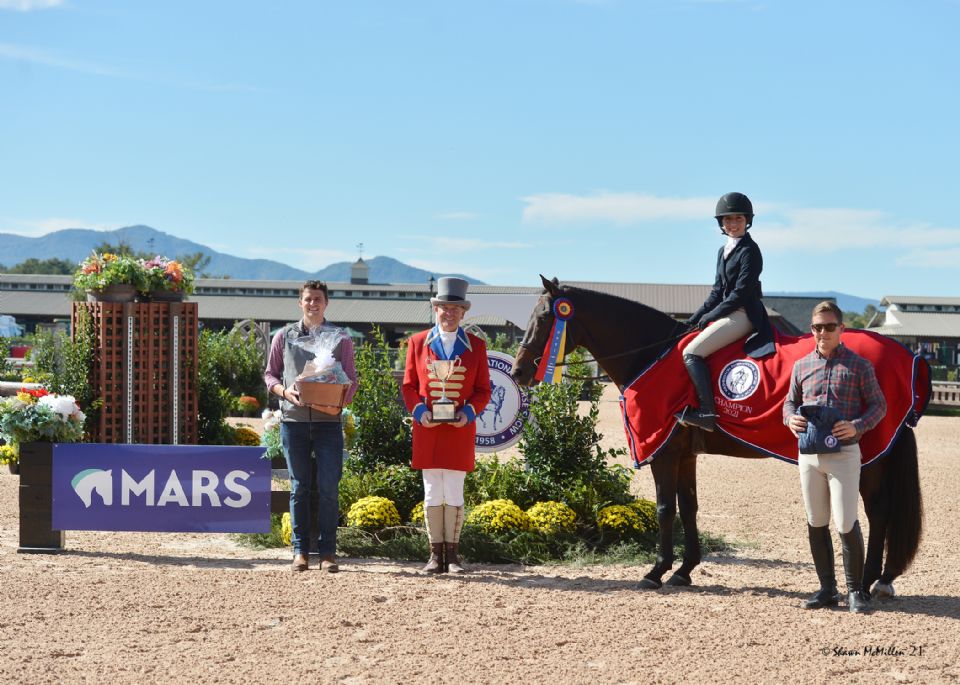 Though Notable's show career began in the dressage ring, his way of going made him a suitable hunter and the ideal partner to help Miranda reach her goals. "Of course, he has his own personality but he's different than what I'm used to in a good way," said Miranda. "He's forward and carries me. He loves being at the shows and he loves going out there and winning, I think as much as I do."

For their win, Miranda and Notable received The H. Fenwick Kollock Memorial Perpetual Trophy donated by Friends of Fen. Second place honors went to Hollin Sutherland and Sophia Strickler's Rafferty.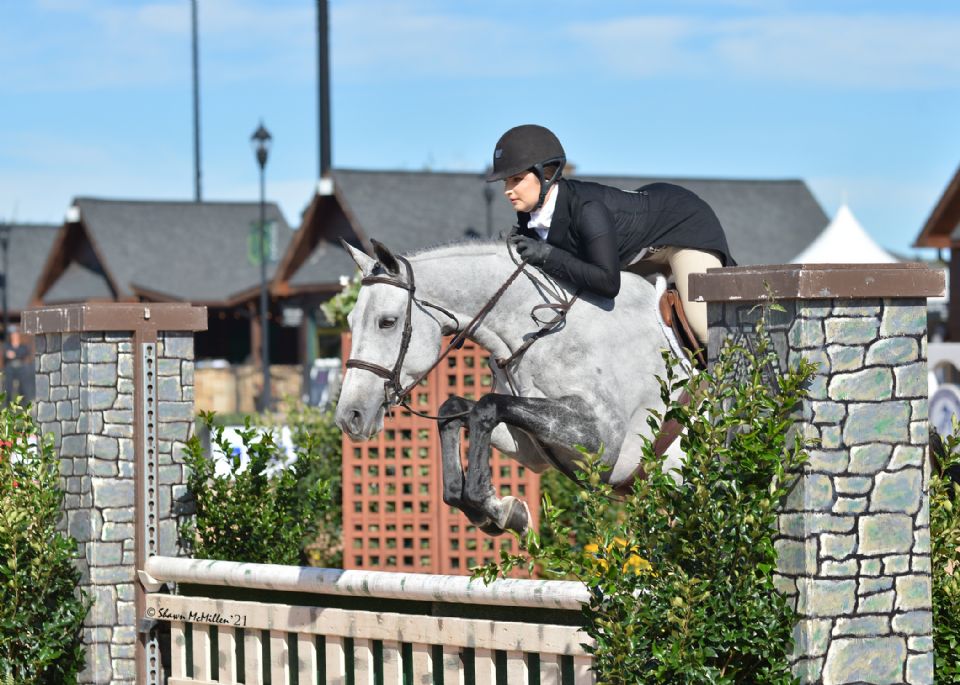 Sophia Vella of The Plains, VA, and her own Just For Kicks were victorious in the $10,000 WIHS Adult Hunter Championship, presented by MARS Equestrian™ during Wednesday's competition. The two made the most of their trip to Tryon after having qualified for WIHS by earning co-grand champion in the Adult Amateur Hunter division at the WIHS Regional Horse Show that took place at Morven Park International Equestrian Center in Leesburg, Virginia, October 21-24, 2021.

"Last minute but we made it!" laughed Vella of the short time between her win at the WIHS Regional Horse Show and WIHS at Tryon International Equestrian Center. "I'm just ecstatic because I didn't believe it when they called our name first. Just For Kicks was phenomenal, and she was right with me every stride. I'm super grateful."

Not only did they earn back-to-back WIHS wins in a matter of days, Just For Kicks is a newcomer to competing. "She just started jumping. She's only seven this year, so this is her first year of showing," said Vella of the Dutch Warmblood mare by Durango VDL. "We are out of The Plains, Virginia, and we like to go to all of the Virginia shows we can. We didn't do her in the classics this year because she's so new to it and we thought, 'Well, she's been going great. We'll take her to the [WIHS Regional Horse Show] and fingers crossed she'll be champion.' Low and behold she was phenomenal and actually had a clean sweep there. I was pretty ecstatic, and I was super excited to be able to take both of my horses to WIHS at Tryon. She loves the atmosphere here."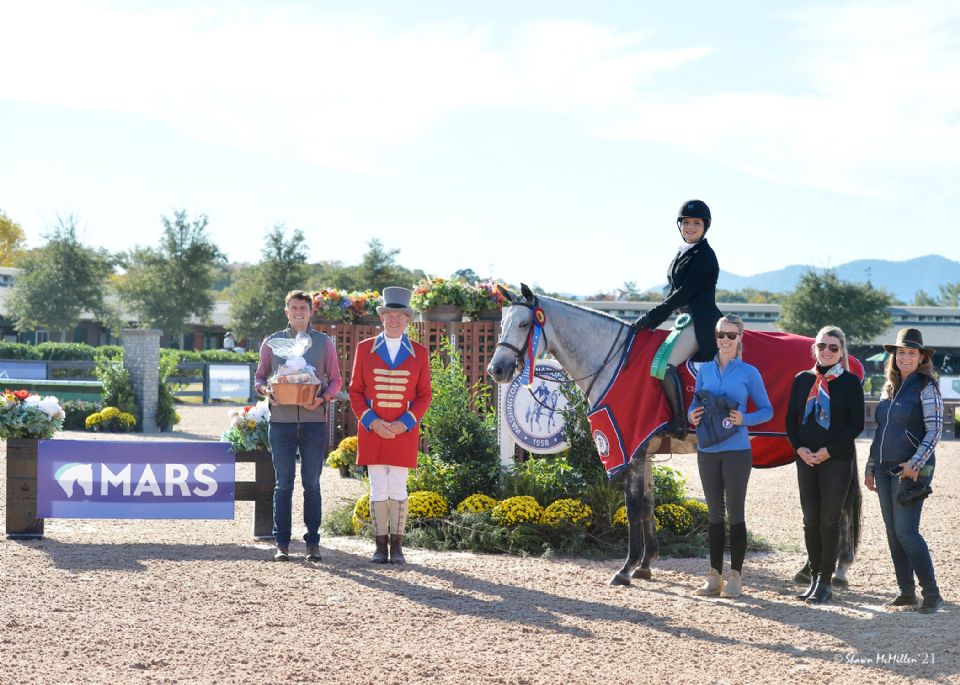 Though Vella is a seasoned competitor, she was also a newcomer to WIHS. "This is my first time at WIHS," she noted. "I knew it was going to be at Tryon, and I thought that might suit both of my horses because we hadn't had any indoor experience at all. I just thought if we were able to qualify, we should come and just give it our best shot and who knows what will happen.

"I'm really hoping to move up to the 3'3″ [amateur-owner division next year] and this was just an unbelievable way to close out the season," she continued. "Thank you to my parents because without them this truly wouldn't be possible."

For her win, Vella took home the Diane Wade Memorial Award. Vella and her own Mr. President also placed sixth in the class. Yesterday's $2,500 WIHS Adult Hunter Welcome class winners, Kathryn Kranking and Mahalo, jumped to second place.