Jump Media Press Release
The 2021 Washington International Horse Show, presented by MARS Equestrian™ continued on Wednesday, October 27, with championships awarded in a variety of amateur and professional hunter divisions. 
Scott Stewart of Wellington, Florida, and Dr. Betsee Parker's Charlemagne took home not one, but two grand championships receiving the Grand Champion Green Hunter and Grand Champion Hunter titles. For both honors, Stewart was awarded The Claire Lang Miller Challenge Trophy donated by Miss Claire Lang Miller, and The Rave Review Challenge Trophy donated by Stoney Hill, respectively.
As one of the nation's top hunter riders, Stewart is accustomed to sitting at the top of the leaderboard, but Charlemagne waited quietly in the wings as COVID-19 put a wrench in the stallion's 2020 competition plans.
"He showed a little bit in the Pre-Green Hunter division as a five-year-old, and he was quite successful," shared Stewart. "Then last year, I think he only showed maybe two or three times before COVID happened and then he didn't compete the rest of the year."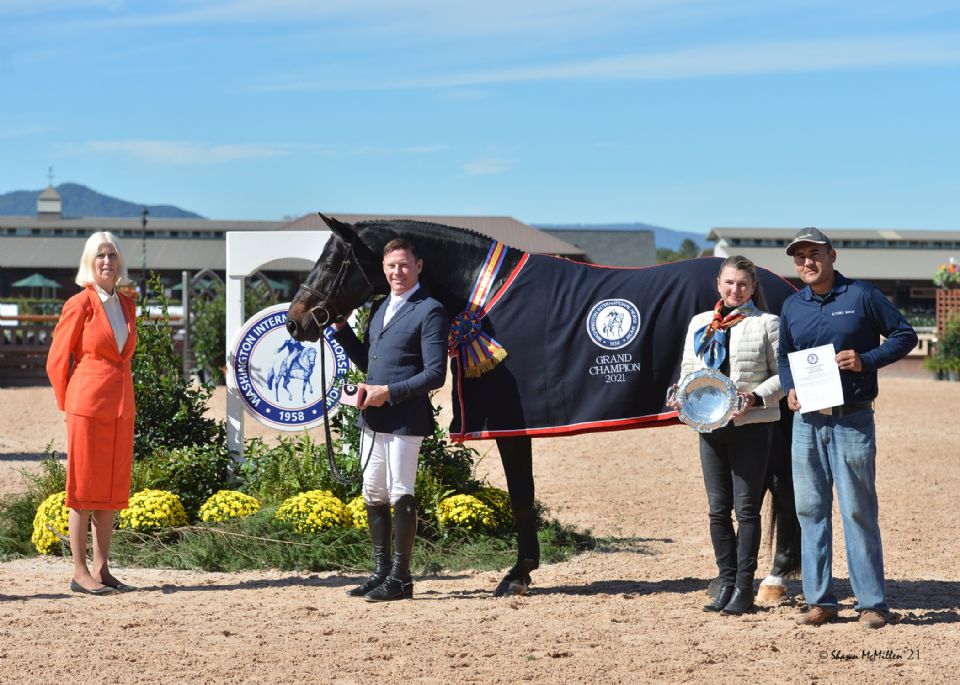 Stewart credits Charlemagne's easy-going nature for being able to step up to the plate this week in Tryon Stadium and the Grand Hunter Ring at WIHS. "He's really easy every day at home, and he doesn't really act like a stallion at all," said Stewart. "He was actually really good in the big ring yesterday. That was exciting.
"He's never a wild horse; he's almost lazy sometimes, so the cooler air this morning actually helped," he continued with a laugh.
Stewart is quick to credit Dr. Parker for the horses that have carried him to success over the years. "I'm lucky to have these horses that can help me win all this," he said.
For Dr. Parker, Stewart's success is always a highlight, but she appreciated this year's WIHS and its location at Tryon. "Things are different, but it's a great show in its own right," she said. "I've really thoroughly enjoyed it, especially the trophies and ribbons. Everyone on the WIHS team, great job from team Huntland and Rivers Edge."
Professional hunter champions included:
Green Hunter 3'6"
Champion: Laskano, Jimmy Torano, Isalou, Inc.
Reserve champion: For Always, Scott Stewart, Dr. Betsee Parker

Green Hunter 3'9"
Champion: Ferrari, Liza Towell Boyd, Mary Caroline Nolan
Reserve champion: Autograph, Hunt Tosh, Ceil Wheeler

Green Conformation Hunter
Champion: Charlemagne, Scott Stewart, Dr. Betsee Parker
Reserve champion: Alajolie, Augusta Iwasaki, Alexander Miller

High Performance Hunter
Champion: Cannon Creek, Hunt Tosh, The Wheeler Family
Reserve champion: S & L Exxon Hedonist, Austin Krawitt, S & L Farms

High Performance Conformation Hunter
Champion: For Always, Scott Stewart, Dr. Betsee Parker
Reserve champion: Necofino, Caroline Willard Briles, Rein Family LLC
The Delta Trip of the Day went to Augusta Iwasaki and Ashland Farms' Attendu de Lannois Z, who competed in the Green Hunter 3'9" division.