Jump Media Press Release
Kaitlyn Kiely, 15, of Rumson, New Jersey, and Sekhmet de Keralys, a Warmblood mare owned by Marleen Melchoir, bested a field of 24 horse-and-rider combinations to win the $10,000 WIHS Children's Jumper Championship, presented by MARS Equestrian™.
Kiely has been partnered with the mare for less than two years, progressing from the low children's jumper division to the high children's jumper division. Though Kiely says they've had some unlucky rails in recent months, they went clear today in part because of advice from her trainers T.J. O'Mara and Max Amaya and his team at Stonehenge Stables. "They tell me to keep my eyes up, sit tall at the jumps, good luck, and have fun," she said.
Kiely, who placed 10th in the previous day's $2,500 WIHS Children's Jumper Welcome class, knew she needed to adjust her plan in to go clear in the first round of Friday's championship. "I knew I had to flow through the turns and sit up really tall at the jumps," she remarked. Her plan worked, and she progressed on to the short course with nine others.
With 10 clear in the first round, Kiely said she had a game plan with her mare, known as "Skippy" in the barn. "I was planning to go inside everywhere and leave out in both of the six-stride lines after the double [combination]," she commented.
Luckily, Kiely said her horse is able to leave strides out without much trouble. "Skippy has a really adjustable stride," she shared. "It can be as big as you want and small as you want; that's why we could go from the three [stride] to the really extended six [stride]."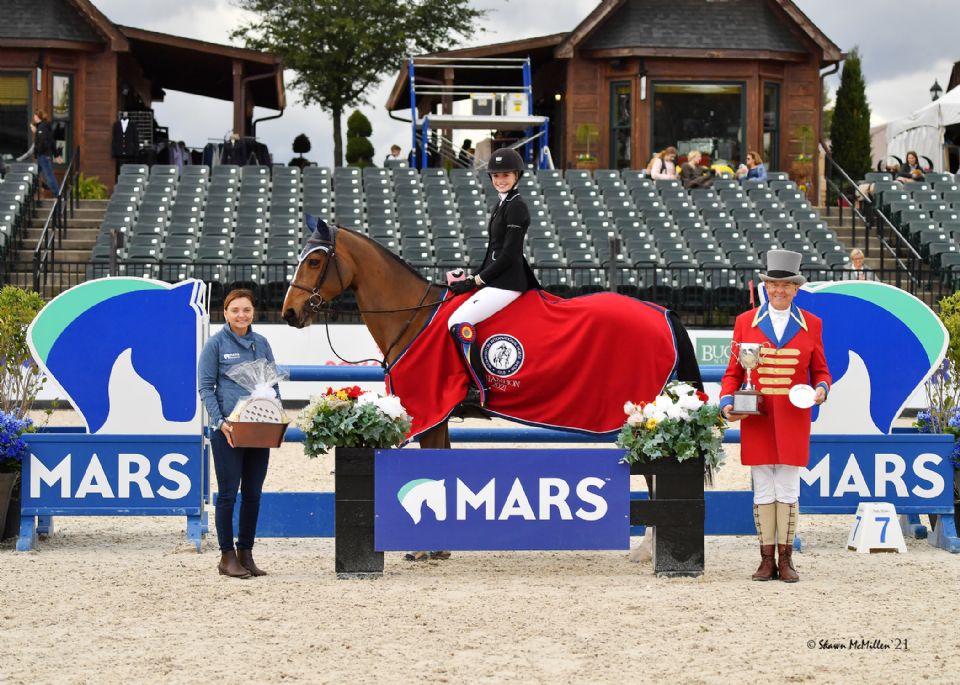 The win was all the more special as this marked Skippy's final show of her career. "It is incredible, and I am so proud of Skippy," Kiely said of their top result. "She is going for retirement after this, so it was really amazing to win. She is older and experienced, and we did so well at [the Winter Equestrian Festival] and after this win, it's her time to retire."
For their win, Kiely and Skippy received The H. Fenwick Kollock Memorial Perpetual Trophy donated by Friends of Fen.
Second place went to Olivia Sweetnam of Wellington, Florida, and Siboney Ranch's Gold Lux. Juliette Propp of New York, New York, and Acquitaine Equine's Naomi were third.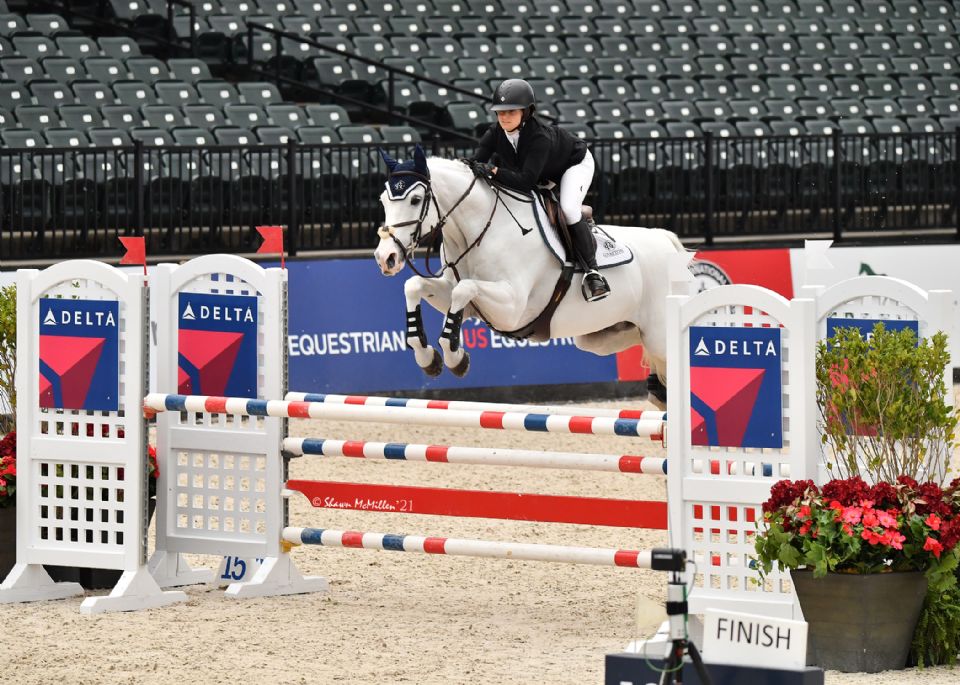 Dylann Ephraimson Pilots Vindicator to the Top Prize in the $10,000 WIHS Adult Amateur Jumper Championship
Dylann Ephraimson of Short Hills, New Jersey, and Marigot Bay Farm LLC's Vindicator bested a field of 15 competitors to take home the top prize in the $10,000 WIHS Adult Jumper Championship presented by MARS Equestrian™.
After a technical first round, seven horse-and-rider combinations qualified for the jump-off course. Ephraimson and Vindicator were last to go and produced the fastest time of the class by just one second.
"I had a plan, and I was going to stick to it," said Ephraimson of her jump-off round. "He was such a good boy and knows his job, so I knew he was going to try to execute the plan with me. No matter what, I was happy that we were in the jump-off. We didn't jump off last year, so we already made progress."
Ephraimson balances a busy work schedule with her riding and is thankful to have a great team behind her, especially her trainer Michael Delfiandra. The rider is also grateful for her seasoned mount Vindicator, which she has been partnered with since December 2020.
"I just feel so comfortable on him," described Ephraimson of riding the 14-year-old Dutch Warmblood gelding by Odermus R. "When you get to the jump, he always wants to work it out. He wants to make the distance that you want work, and he's pretty smooth and consistent. I knew that he would be ready to go into the ring day one, which was really important to me."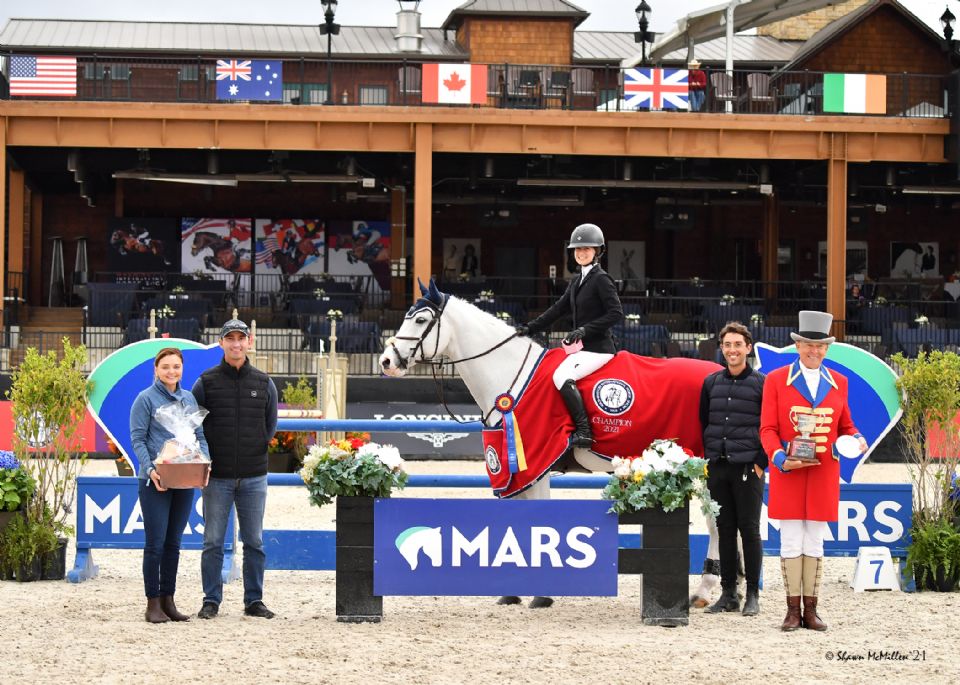 Ephraimson was given The Dorothy Foote "Goodie" Taylor Memorial Perpetual Trophy donated by Mr. and Mrs. Robert Ashton Hill and Miss Linden Joan Hill.
Second-place in the $10,000 WIHS Adult Jumper Championship went to Stefani Green of Bernardsville, New Jersey, and her own Wender R. The pair stopped the timers at 29.24 seconds. Tori Bilas of Charlotte, North Carolina, rode her own Brisbane to a time of 32.91 seconds for the third-place honor.