Jump Media Press Release
Junior hunter divisions wrapped up on Friday with Mimi Gochman of New York, New York, piloting Bikoff Equestrian LLC's Commentary to the Grand Junior Hunter Championship. The pair was awarded the title after receiving champion in the Small Junior Hunter 16-17 division.
After taking a small break from the hunter ring, Gochman has made a strong return this year. Commentary, a 10-year-old Warmblood gelding by Cooliage, is a catch-ride for Gochman, 16, who has only shown the horse twice before. With the help of trainers Scott Stewart and Ken Berkley, Gochman and Commentary earned the blue ribbon in every class of the division.
"I've really enjoyed riding him," said Gochman. "He is actually my good friend Ella Bikoff's horse. She got injured unfortunately but she let me show him for indoors, so I've been having a good time. I think we actually started to match up pretty fast, and we get along well."
To top off a successful day, Gochman also received the Best Child Rider on a Horse title, sponsored by Gotham North and was presented with the DiVecchia Perpetual Trophy donated by Mr. and Mrs. Frederick DiVecchia. Gochman was presented with The Ides of March Perpetual Trophy donated by Linda Lee and Lee Reynolds for her Grand Junior Hunter Championship.
This year marks the first time Gochman has earned the Best Child Rider on a Horse honor as well as the Grand Junior Hunter Champion title at Washington International. The rider was thrilled to be able to earn these awards at one of her favorite shows of the season.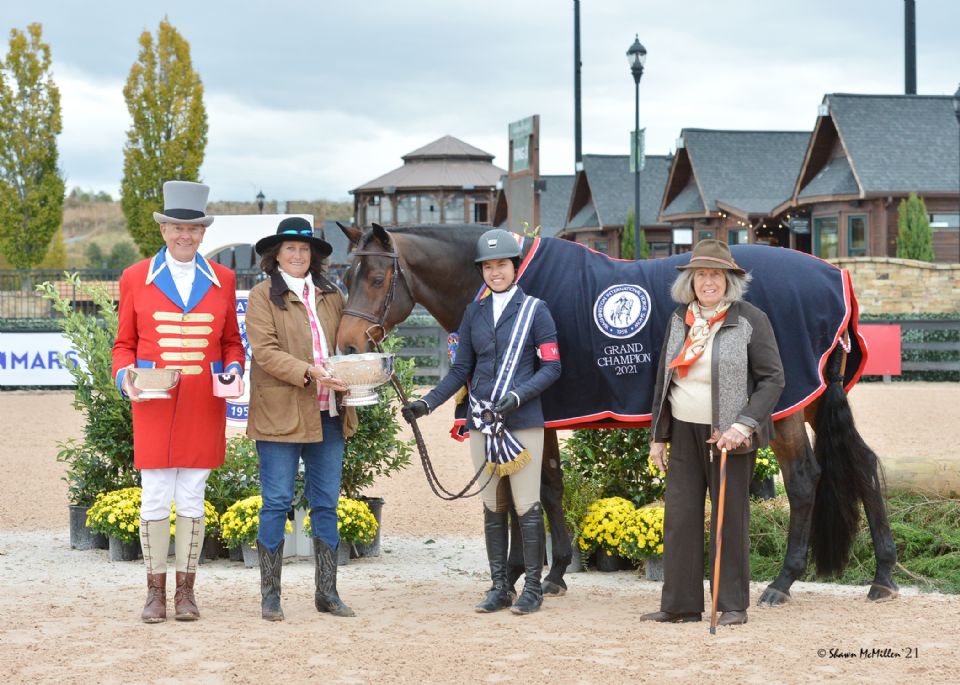 "This show has always been my favorite indoor," commented Gochman. "You get cupcakes when you win so that's always a plus. I also think the Washington International is such a prestigious show. All the good junior riders are here, and all the best junior hunters come from all over the country. When you do well at a show like this it's impressive."
Reserve champion in the Small Junior Hunter 16-17 division went to Reynolds Cole of Tuscaloosa, AL, and her own E Di Luca. Gochman earned her second championship of the day on Gochman Sport Horse LLC's Catch Me in the Large Junior Hunter 16-17 division. For this honor, the rider was also awarded with the Chance Step Perpetual Trophy presented by Chansonette Farms and donated by Brooke Carmichael McMurray-Fowler and Pam Carmichael Keenan. Libbie Gordon of Statesville, NC, and her own Montauk claimed the reserve champion honors.
In the Small Junior Hunter 15 and Under division, Sterling Malnik of Ocean Ridge, Florida, and her own Coronation received the championship honors. Reserve champion was earned by Maddie Tosh of Milton, Georgia, and Dr. Betsee Parker's Lucador.
Kat Fuqua of Atlanta, Georgia, and her own Grand Remo topped the Large Junior Hunter 15 and Under division to earn the champion title. Fuqua and her mount also earned the Georgetown Trophy for High Score Junior Hunter Rider on his or her own horse. Raina Swani, of New York, NY, and Shadowfax Equestrian LLC's Small Occasion took home reserve champion in the division.