Edited Press Release
Wellington, FL – Oct. 31, 2021 – The weekend concluded the ESP Fall III show after four days of USEF "A" National and Jumper 4* competition. The feature class of the week was the $25,000 Equine Tack & Nutritionals Grand Prix, which took place on the Derby Field and saw competitors representing nine different nations contest the track, designed by Jasen Shelley (USA). The competitive jump-off field of 11 competitors was no match for Brazil's Gabriel de Matos Machado and Clearwater, who celebrated their third consecutive Grand Prix victory.
The highlight class attracted a field of 21 horse-and-rider duos to compete for the lion's share of the prize money. With 11 pairs advancing to the jump-off, Luiz Francisco de Azevedo (BRA) and Collin set the pace early on with a clear time of 38.84 seconds, which held until Machado and Karen O'Connor's Clearwater stopped the clock without faults at 38.64 seconds, sliding into the top position by mere milliseconds.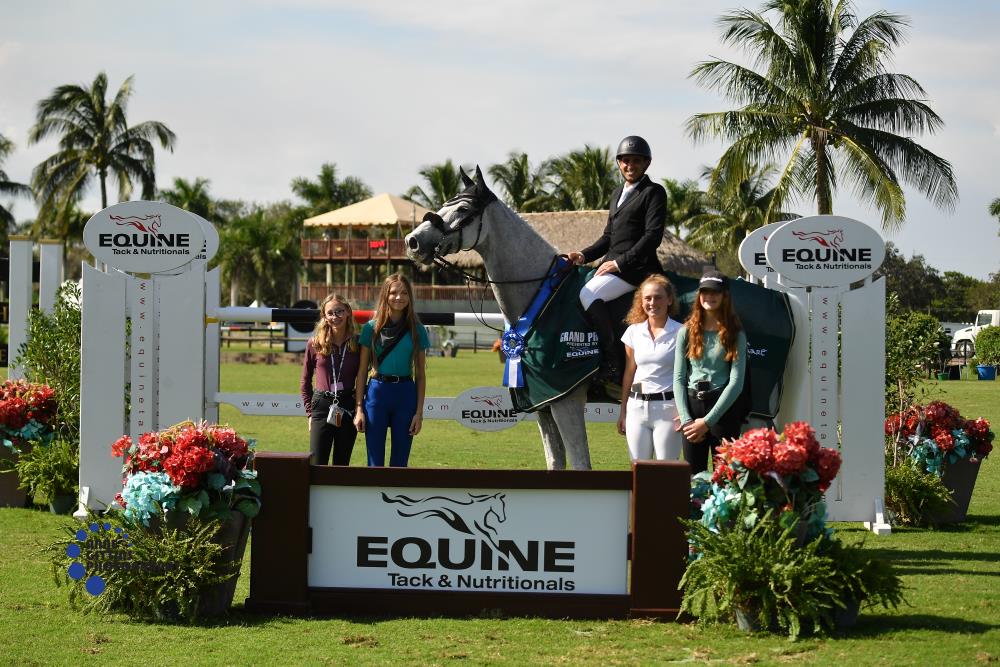 "It's always good to win here in Wellington in a competitive class like this," commented Machado after his win. "Since I was the last one in the jump-off I was able to watch a few before I went and no one did the shorter turn from fence 1 to 16, which is a difficult turn because you have the liverpool over there and horses can easily get spooked. I thought [Clearwater] could do it because he turns fast and is always looking for the next jump, so I think that's where I saved time since the rest of the course I did the same as everyone else."
Early frontrunners Azevedo and the Santa Cecilia Stables entry, Collin, finished in second place, followed by Pablo Barrios (VEN) and Clarisimo, owned by Juan Vegas. The third-place finishers cleared the jump-off fault-free in 39.37 seconds.
Although Machado plans to continue showing as the competition venue changes to the main grounds, he shared that Clearwater will be having a well-deserved break from competition. "We'll be showing next week at the main showgrounds but with some different horses, and Clearwater is going to have a bit of a rest. I have an eight-year-old that I jumped in the grand prix today named Bonza, who's owned by Carben Farms LLC, as well as a few other young ones that will be moving up the Grand Prix level. Since the footing is going to change, I'll definitely do a smaller class before competing in the Grand Prix with the younger ones."
Friday morning saw a field of 17 entries trimmed down to only five in the jump-off in the $10,000 Bainbridge Companies 1.40m Stake. Three of those finished the class without any faults from two rounds of riding, led by Leslie Howard (USA) on Clip De La Haye Z, owned by Peter Howard and Laure Sudreau, as the victors in a fast time of 41.78 seconds. Hector Florentino (DOM) and Wyndmont's ABC Quantum Cruise sailed to second place in a penalty-free time of 42.95 seconds, followed by Angela Covert (CAN) and her own Hollywood De Rase Z as the final podium finishers without any faults in 43.44 seconds.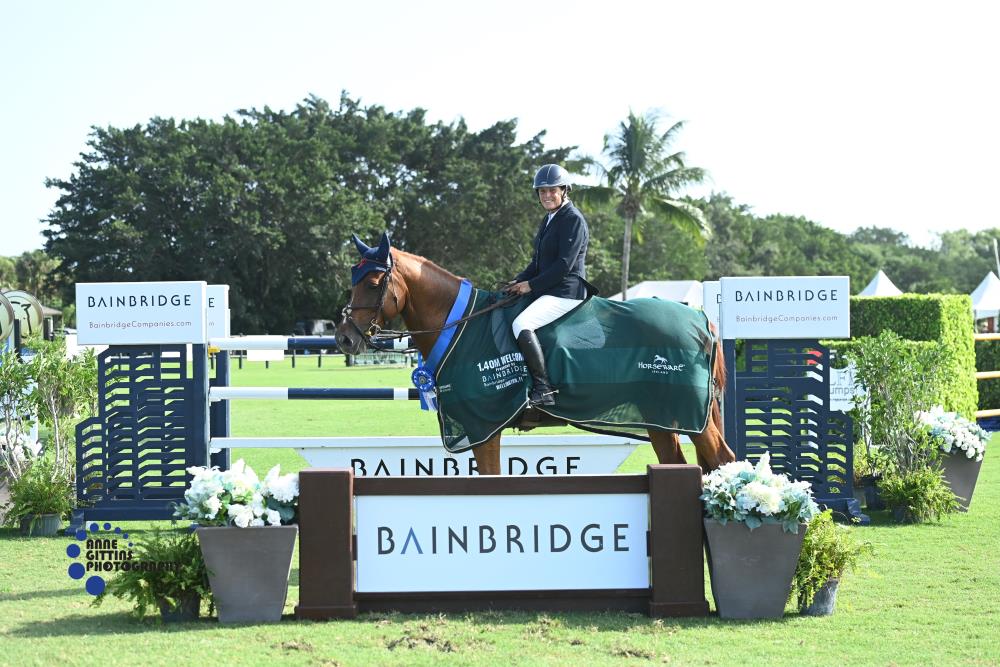 The ​CCTV Agent 1.35m Stake on Saturday only saw four pairs, three United States duos and a team representing Israel, qualify for the jump-off. The final entry to ride, Nataly Liebovitz (ISR) and her own Verveine turned on the gas to cross the finish line with plenty of time to spare ahead of the next-closest competitors thanks to a winning fault-free ride in 39.98 seconds. Liza Finsness (USA) and her mount, Shiver, earned second place with a double-clear time of 41.61 seconds. The final penalty-free partnership, Judy Garofalo Torres (USA) and Ingmar, owned by C.J. Towers Inc., captured third position in 43.21 seconds.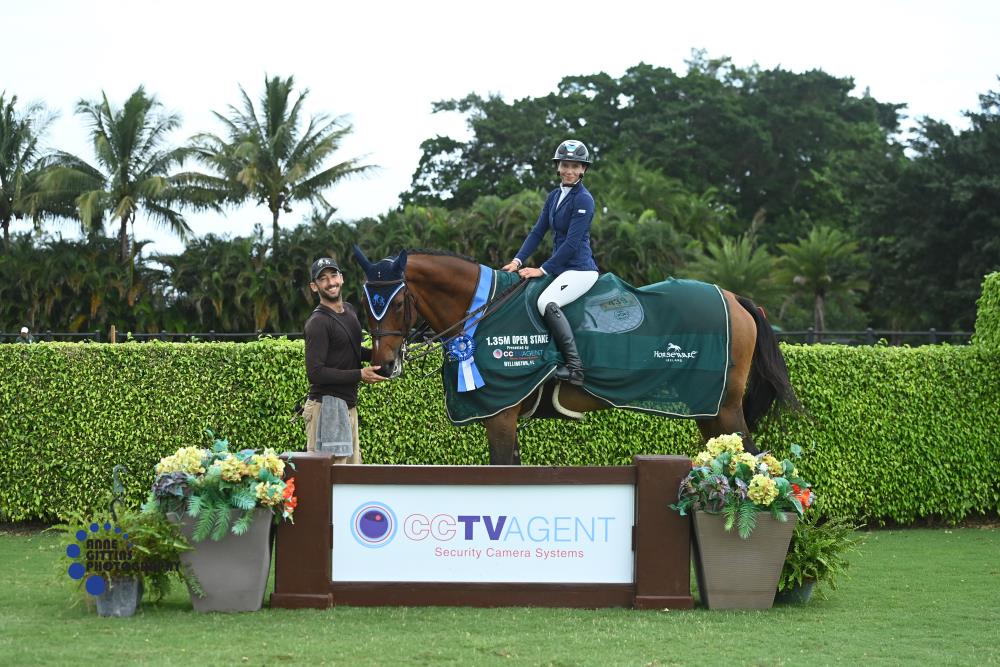 Sunday morning, the $2,500 Medium Junior/Amateur-Owner Jumper Classic, presented by Equiline, saw six riders advance to the jump-off with just two finishing the class with double-clear rounds. Tanimara Macari of Aventura, FL, topped the leaderboard with her own entry, Cliquot, after stopping the clock at 47.21 seconds. Less than a second behind her, Juan Vegas of Colombia and his Jivaro Vant Z and Z cleared the jump-off in 47.24 seconds to land in second place, while Danielle Stacy of Ipswich, MA, and her own Ida Gold rounded out the podium with a time of 44.45 seconds and four faults.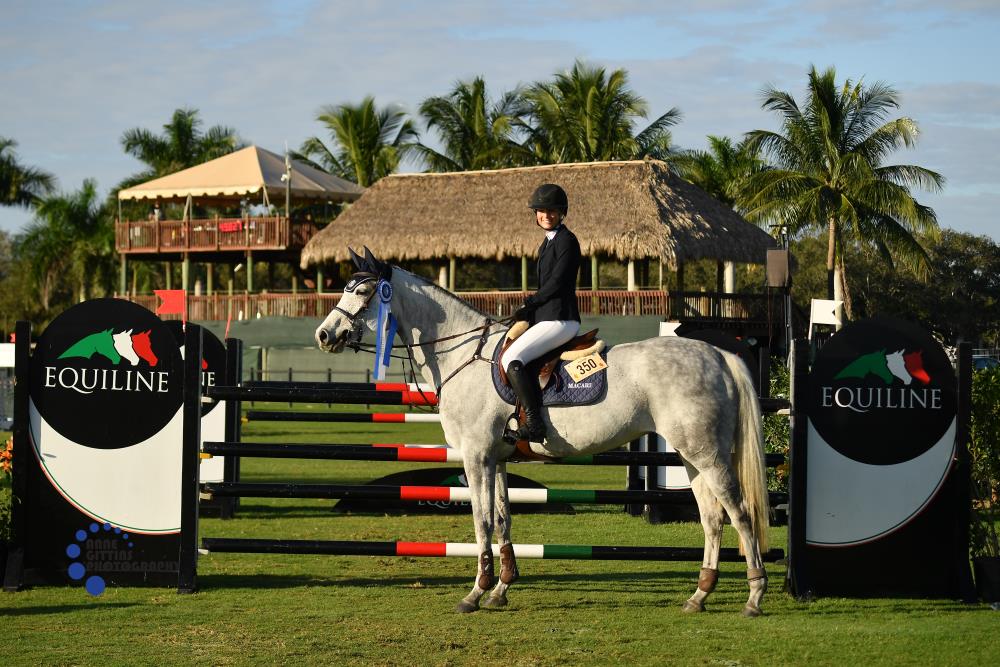 The Low Junior/Amateur-Owner Jumper Classic, presented by Fleur De Lis International, immediately followed with James Faloni of Essex Fells, NJ, and his own entry, Understood Z, taking home the blue ribbon. Though they were the only pair to finish the first round without faults, Faloni and his mount rode the jump-off course and finished the class with a time of 51.99 seconds and four faults. Second place was awarded to Stephanie Melodie of Wellington, FL, and her Magnum Van 'Theike after stopping the clock at 74.44 seconds with four faults during the first round. Rounding out the top three, Kathleen Gannon-Ledsome of Wellington, FL, and her own Hailey Ad Z finished the first round in 75.28 seconds with four faults.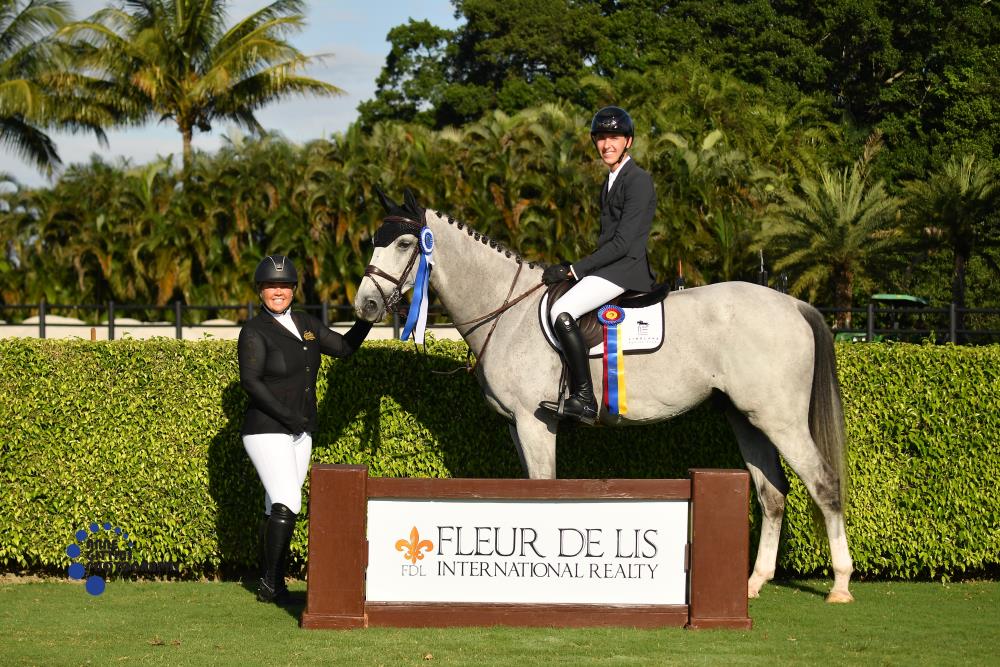 For the full results of the $25,000 Equine Tack & Nutritional Grand Prix, click HERE.