Jump Media Press Release
Pony competition took center stage in the Grand Hunter Ring Saturday at the Washington International Horse Show, and it was Maddie Tosh of Milton, Georgia, piloting Betsee Parker's Storyteller to the blue ribbon in the WIHS Pony Equitation Finals presented by Huntland.
Tosh returned to the final flat phase in second place after scoring an 85 in the first round over fences. The rider's style and technique stood out to the judges, and Tosh moved up to the top of the leaderboard. This victory was special for Tosh because not only was Betsee Parker there to celebrate, but it but it was also Tosh's last time showing Storyteller.
"He was so amazing, and I could not have asked any more of him today," said Tosh of the 18-year-old German Sport Pony gelding. "It's such an honor, and with Betsee being here this year it's super special to be able to share this win with her. She is so excited. She almost might be more excited than I am."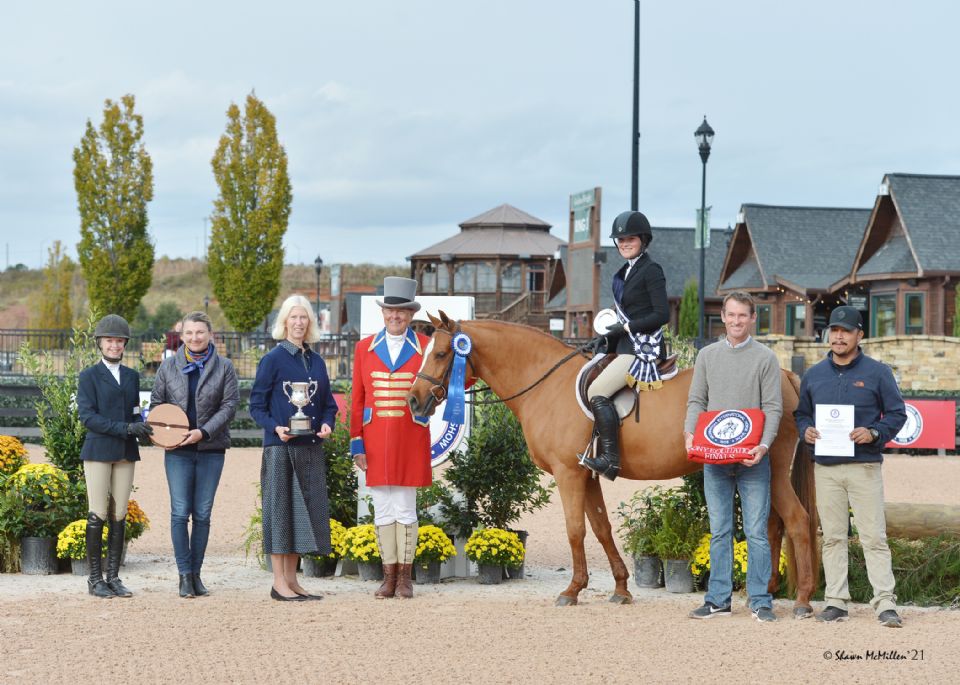 Tosh has competed in this final once before in 2019 and finished in sixth place on Vivian Golden's Goldhills As You Like It. Storyteller is no stranger to the class and has taken riders to the top prize in 2015, 2016, and 2018.
"I obviously wanted to do well on Story because he is such a good equitation pony, and I know he's so capable as long as I don't get in his way," explained Tosh. "It's such a prestigious show and so exciting to win here. It's a little different being at Tryon, but they have done such a great job at still making it feel special. Washington has always been one of my favorites."
Although Tosh's pony career has come to an end, the rider is excited to focus on competing in the big equitation and hopes to be just as successful.
For her win, Tosh was presented with The Jane Marshall Dillon Memorial Perpetual Trophy donated by the friends and students of Mrs. Jane Marshall Dillon.
Olivia Sweetnam of Wellington, Florida, piloted Sweet Oak Farm's On Your Mark to a second-place finish in the WIHS Pony Equitation Finals with a first round score of 84. Third place was awarded to Elle Boyd of Camden, South Carolina, and Finally Farm, Inc.'s Baby Blue. The pair earned the highest first round score of 86.
Final Results: WIHS Pony Equitation Finals, presented by Huntland
Rider/Horse
1 Maddie Tosh/Storyteller
2 Olivia Sweetnam/On Your Mark
3 Elle Boyd/Baby Blue
4 Ava Barnes/Rico Suave
5 Eva Mackenzie/Anisette
6 J.J. Torano/Front Row
7 Emi Richard/Celebrity
8 Emma Brody/Silver Wishes
9 Collin Sweetnam/Mr. Magoo
10 Ava Hartman/Celtic Creek's Golden Nugget