Edited Press Release
The $50,000 Grand Prix 1.40m – 1.45m was the finale of the Fall Classic series at the World Equestrian Center in Wilmington, OH. Anderson Lima of Brazil was the course designer; his tracks featured winding, technical tracks with sweeping turns and multiple combinations. Stunning autmunal decor including unique elements such as a lovely pond feature and a fun ferris wheel. The atmosphere was festive, with ringside hospitality of an elegant hors d'oeuvres spread making the last Saturday evening of October extra special for spectators.
Twenty-two horse-and-rider combinations contested the grand prix course with six entries advancing to the jump off, but it was Taylor Land of Pinetree Stables in Newnan, Georgia and Get Go who emerged victorious.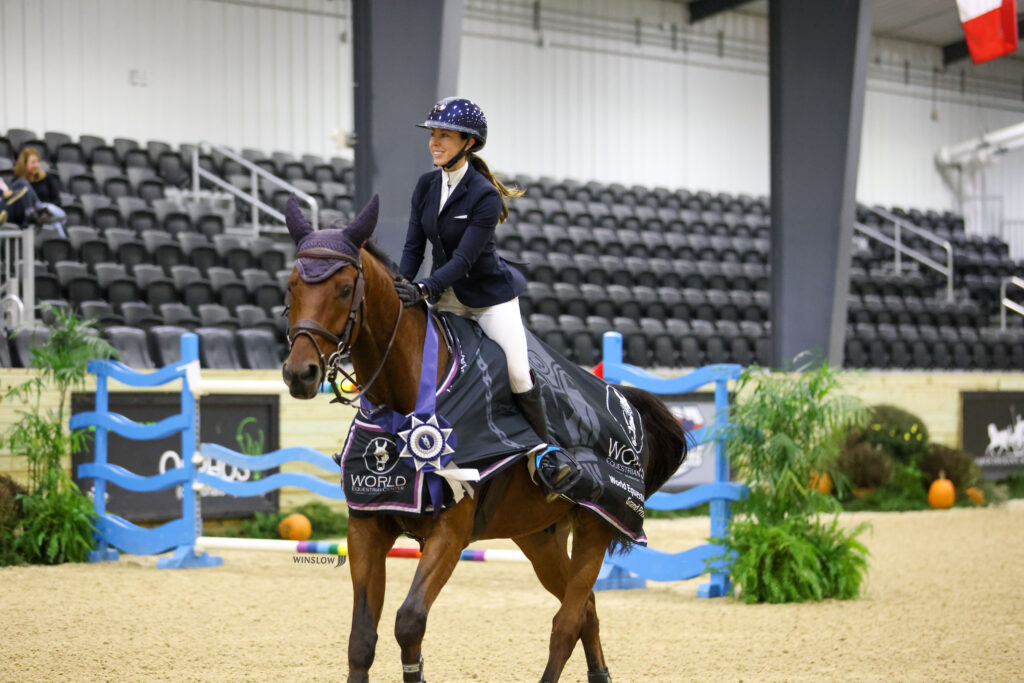 Get Go (Grey Top x Wantana) and Land have been competing together for nearly five years and their partnership shines through. This duo effortlessly won their class, with a two second lead ahead of second place. Land and the 9-year-old Hanoverian gelding jumped a clean and smooth first round, stopping the clock in 73.330 seconds, well under the 78 second allowed time. They returned to the jump-off and flew through the short course in just 37.862 seconds, putting spectators on the edge of their seats and ultimately taking the big win.
"The first round was challenging enough. There were many big turns where you needed to make time. I took advantage of my horse's large stride, so I was able to leave out strides in a few spots to save time," Land explained. "I thought that the jump off was so fun! 'Grumbles', that's his name, handled it so well. My strategy was to go smooth and forward and to put some pressure on the people behind me!"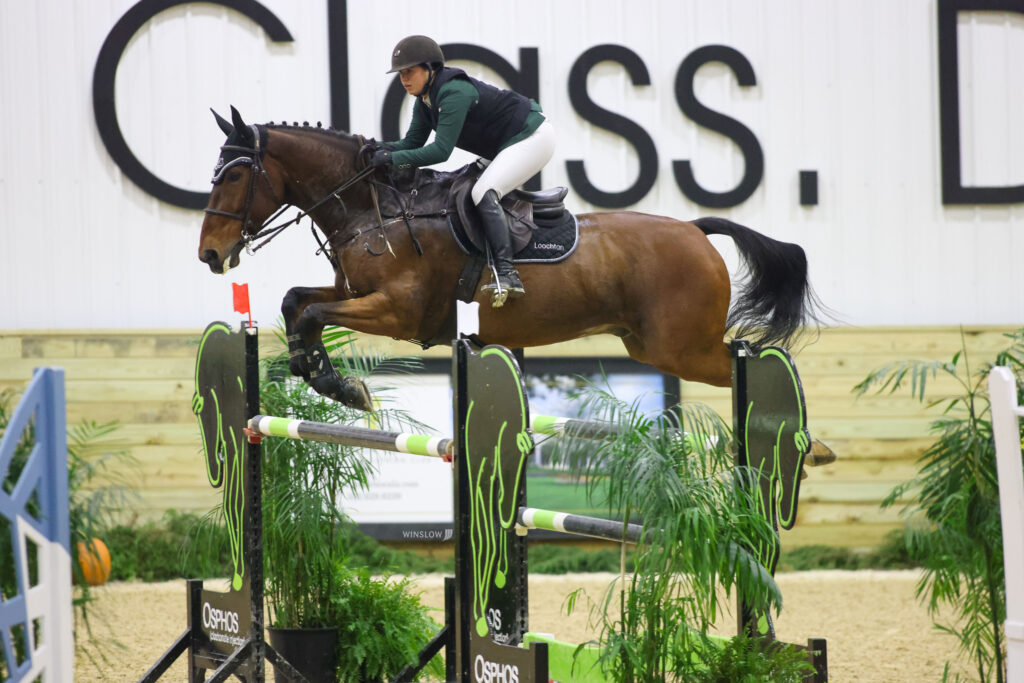 Caiman des Sequoias (Radco D'houtveld x Sublime De La Cour) and Nichole Loochtan left all of the rails up in the first round and crossed the timers in 75.751 seconds. Loochtan and the thirteen-year-old Belgian Sport Horse gelding gave it their all in the jump-off, jumping clean and finishing the course in a speedy 39.097 seconds to claim the second place spot.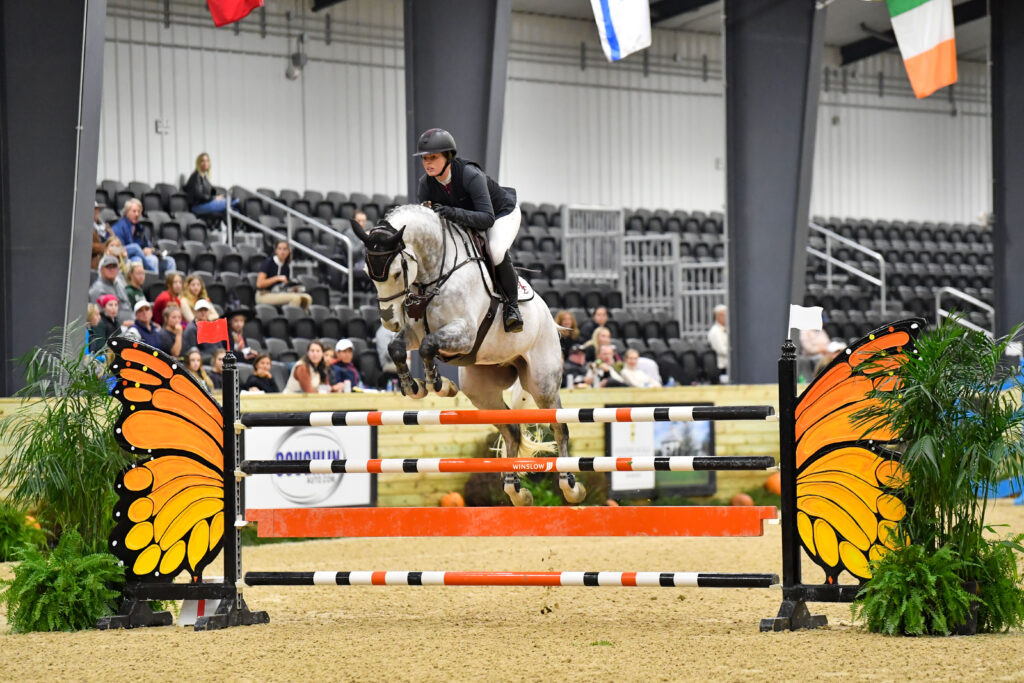 Rounding out the top three was Kady M. Abrahamson and her own Vancouver (Valentino x Cocco). Abrahamson and Vancouver have been steadily climbing the rankings during the WEC Fall Classic series and were on their A-game. They left all rails up in the first round in a time of 77.418 seconds, conserving plenty of energy for their second round where they crossed the timers in 39.195 seconds.
$10,000 Futures Prix Splits, McCarthy and Thornell Claim the Top Honors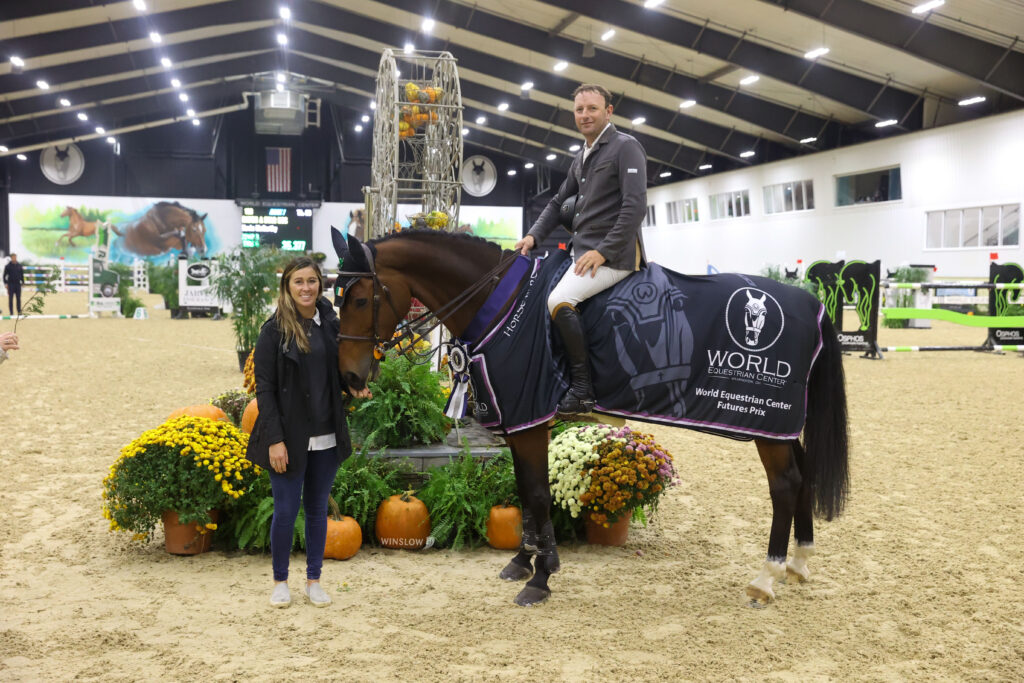 Fourteen open riders and eight non-pro riders gave it their all in the $10,000 Futures Prix 1.35m combined class in the Sanctuary arena.
Winning big in the open division were crowd favorites Kevin McCarthy aboard his own Catch a Star HSS (Sheraton x Tolinda). Kevin and his trusted partner, an 11-year-old Swedish Warmblood mare, are frequent visitors to the winner's circle at World Equestrian Center. During the first round they negotiated the winding track to go clear in just 77.232 seconds. Catch a Star HSS is well suited to a galloping jump off course and completed the jump-off in just 35.377 seconds to nab the win.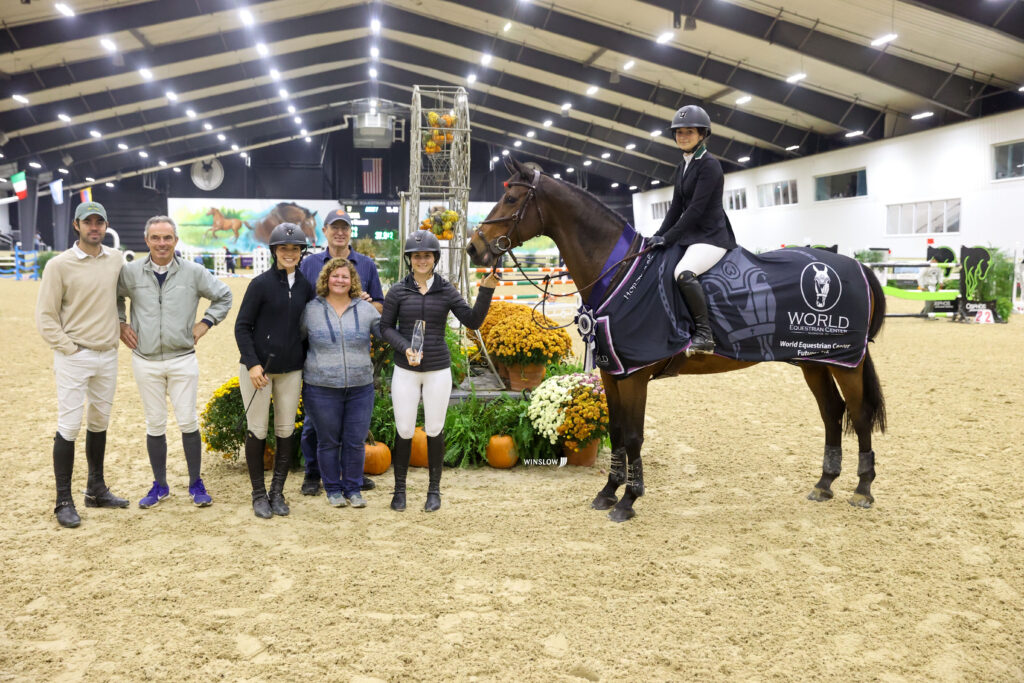 The non-pro division saw fierce competition among it's talented up and coming riders. Erika Thornell and her own, Gyloma (Kashmir Van Schuttershoff x Baloma), stole the show. The eleven-year-old Dutch Warmblood jumped fast and clean in the first round, to stop the timers at 78.284 seconds. Thornell piloted Gyloma expertly in the jump-off to complete several tight turns and gallop to the finish line in 37.912 seconds for first place honors.
$50,000 Grand Prix 1.40m – 1.45m Results
Get Go, Taylor Land – 0 | 0 | 37.862
Caiman Des Sequoias, Nicole Loochtan – 0 | 0 | 39.097
Vancouver, Kady M. Abrahamson – 0 | 0 | 39.195
VDL Gerinus T, Ryan Michael Genn – 0 | 4 | 39.090
Aristot, Kevin Mealiff – 0 | 4 | 39.487
Fiper, Colin Syquia – 0 | 4 | 42.020
Nazarine Van De Axelhoeve, Sabine Cooper – 1 | 78.375
Chagrand, Michael D. Burnett – 4 | 65.965
King van het keyzerhof, Gustavo Prato – 4 | 69.175
Limerick, Kady Abrahamson – 4 | 74.385
$10,000 Future Prix 1.35m Open Results
Catch a Star HSS, Kevin McCarthy – 0 | 0 | 35.377
Vincent, Richard L. Rinehart – 0 | 0 | 35.682
Lolly Pop Van't Akkerhof, Kevin Mealiff – 0 | 4 | 36.144
Falco V, Taylor Land – 0 | 4 | 36.940
Justice, Colin Syquia – 0 | 4 | 37.171
Gluckskeks, Sam Pegg – 0 | 4 | 39.522
Dolla 3, Sam Pegg – 0 | 8 | 50.016
Jabbadabbadoo WB, Samantha A. MacKenzie – 75.640 | EL
Norwin Z, Erika Heintschel-Githens – 4 | 73.882
Gloves Off, Kelsey Mogel – 4 | 76.525
$10,000 Futures Prix 1.35m Non-Pro Results
Gyloma, Erika Thornell – 0 | 0 | 37.912
Kir Royale SCF, Ella Mauritzson – 0 | 0 | 37.924
Maraca LS La Silla, Kady M. Abrahamson – 0 | 0 | 42.175
Ismael, Ashley Stumm – 0 | 4 | 38.555
Herolov De Wy, Ava Le – 0 | 4 | 40.464
Ulysse Du Bourberg, Ella Mauritzson – 0 | 4 | 40.589
Chaccomo, Drew Arnold – 0 | 4 | 42.127
Milady Des Bruyeres, Ann Marie Cowdrey – 0 | 80.489
Photos courtesy of Winslow Photography.