Jump Media Press Release
The 2021 Washington International Horse Show presented by MARS Equestrian™ came to an end on Sunday, October 31, with the final winners being crowned at the Tryon International Equestrian Center (TIEC) in Mill Spring, NC.
Eva Mackenzie of Darien, CT, and her own Farmore State of the Art ended their week by claiming the Grand Pony Hunter Championship title. For this honor, Mackenzie was awarded the The Miles River Moonglow Perpetual Trophy donated by Scott Novick and Rustic Woods.
Mackenzie, 11, and the 15-year-old Welsh Pony gelding by Eyarth Grenadier won three over-fences classes in the Small Pony Hunter division to claim the tricolor ribbon, which led them to the Grand Champion honor. For their division championship, Mackenzie was presented with The Stombock Saddlery Challenge Trophy donated by Stomback Saddlery in memory of E.P. (Bud) Stombock.
"He started me out in the small ponies," explained Mackenzie. "I've had him for two years, and I'm so happy because this is my last show with him. I was so excited. We didn't get anything in the hack, but I was so proud of him over fences. He's so fun to ride. I know him so well. He is so easy and just carries himself to the jumps. He is so smooth through the air."
Mackenzie and her trainer, Chance Arakelian, are grateful for everything that Farmore State of the Art has taught the rider over the past two years. Although the pony will be leased out the next two years, he will return to the Mackenzie family for his retirement.
"He is going to start out another young kid next year and do the same thing he did for Eva's career," said Arakelian. "He will get a new kid started and do his thing. He has taught her everything. We are so lucky to have him. It's amazing the start that these kids get when they get to start on one that is that exceptional. He is so balanced, big strided, lands on both leads, great lead changes, and no spook. It really gives us trainers the opportunity to focus on the kids and not have to worry about what the pony is going to do."
This year was Mackenzie's first time attending the Washington International Horse Show and she definitely made it a year to remember.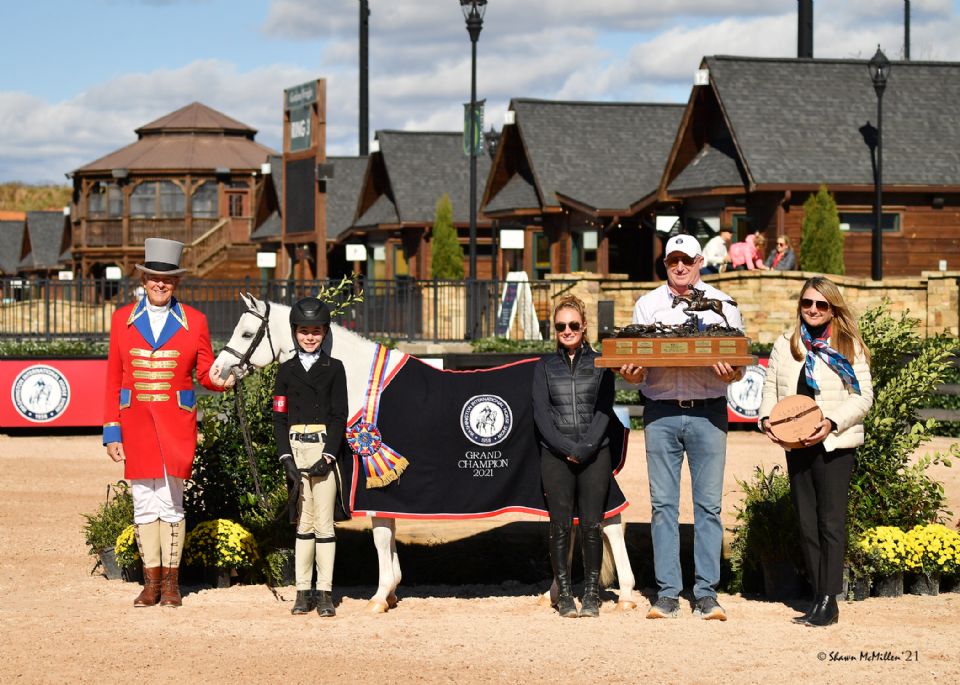 "I'm so proud of myself and my pony," commented Mackenzie. "I really liked our stake round, which was also our last round together. It was really special, and I was so happy when I came out."
Mackenzie will continue showing in the Medium Pony Hunter division next year, but she is excited to mainly focus on moving up to the Low Junior Jumpers and the Junior Hunter 3'6" division.
The Best Child Rider on a Pony sponsored by Gotham North was awarded to Mackenzie. For this honor, Mackenzie was presented with The Captain V.S. Littauer Perpetual Trophy donated by Hugh J.B. Cassidy, III, Mrs. William Dillon, and Miss Marion Lee. Mackenzie also received the Potomac Trophy for High Score Junior Hunter Rider on a Pony.
Reserve champion in the Small Pony Hunter division was awarded to J.J. Torano of Wellington, FL, and Jet Show Stable's H.G. Mud Puddles.
Mackenzie continued her winning streak with her own Anisette to claim the Medium Pony Hunter division championship. The rider was awarded The Shenandoah Sundowner Perpetual Trophy donated by Evan Coluccio and Ashmont Farms, Lt. Torano earned his second reserve championship of the day, this time in the Medium Pony Hunters with Jet Show Stable's Northwind Tag You're It.
Erin Morera of Greenwich, CT, and GC Ponies, LLC's Nominee received the Large Pony Hunter Champion title. For this championship Morera was presented with The Pegasus Stable Perpetual Trophy donated by Ms. Fenwick Kollock. Olivia Sweetnam of Wellington, FL, and Take 3 LLC's Goldmark took home the reserve champion title.
The Gochman Style of Riding Award was given to Ava Barnes of Liberty Township, OH.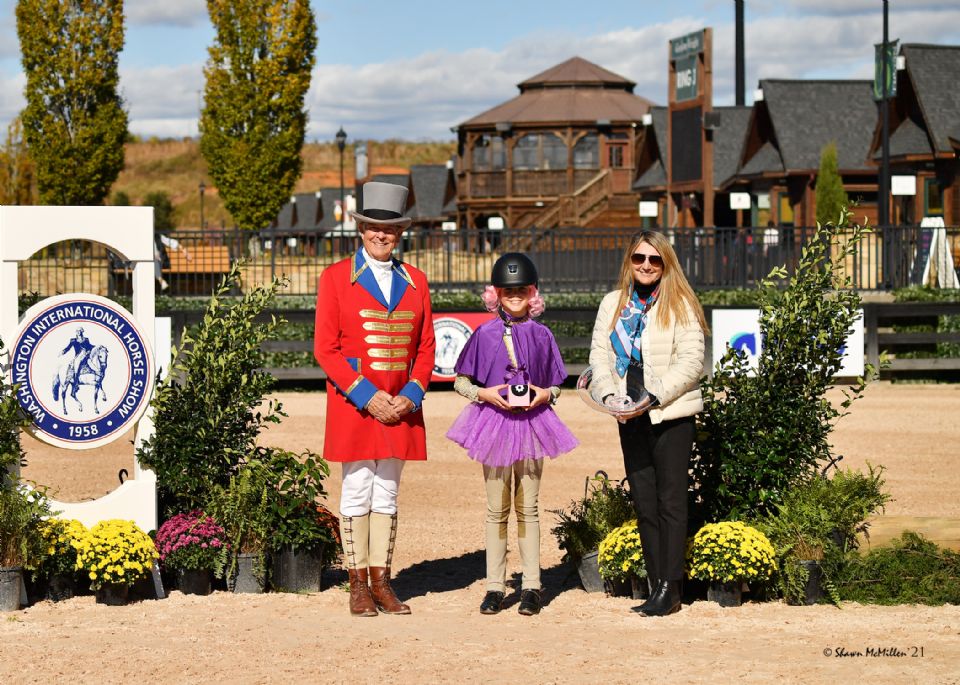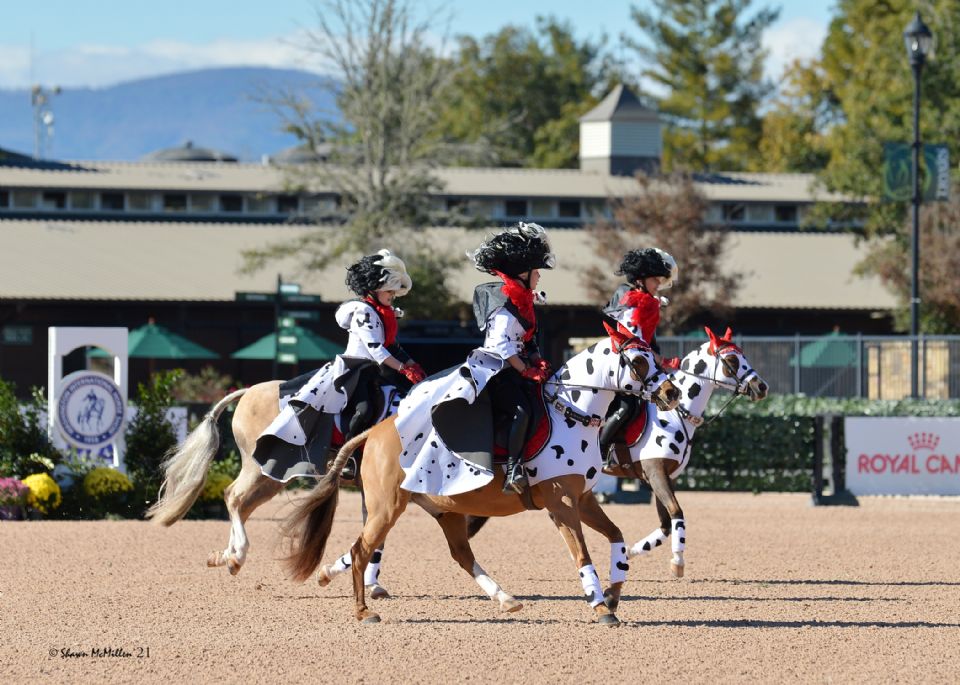 Pony Riders Dress to Impress in WIHS Halloween Hunt Teams
After a long weekend of serious competition, pony hunter riders demonstrated their creativity when they dressed up in costumes for the WIHS Halloween Hunt Teams. Eleven teams of three riders participated in the class, and a winner was announced for each height section. The overall best dressed costume went to the team "Call Me Cruella" after they won the small pony section of the class.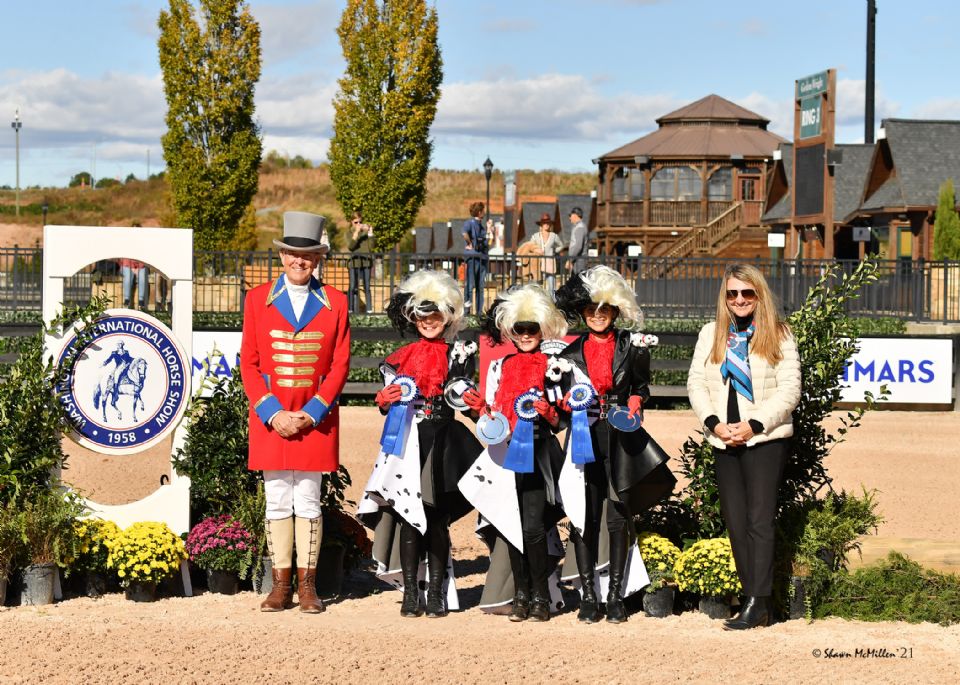 The "Call Me Cruella" team consisted of Hailey Guidry of Metairie, LA, and Honor Hill Farm LLC's Benjamin Buttons, Katherine Mercer of Wellington, FL, riding her own Clovermeade Pop Secret, and Lily Epstein of Coral Gables, FL, aboard her own Pepsi. The three riders came up with the idea of being Cruella de Vil with their parents, who also hand-made the detailed costumes.
"We were hoping to do this at Devon, so we have actually been planning this costume for about a year now," explained Guidry. "We loved jumping the three jumps together. Doing it as a group was so fun."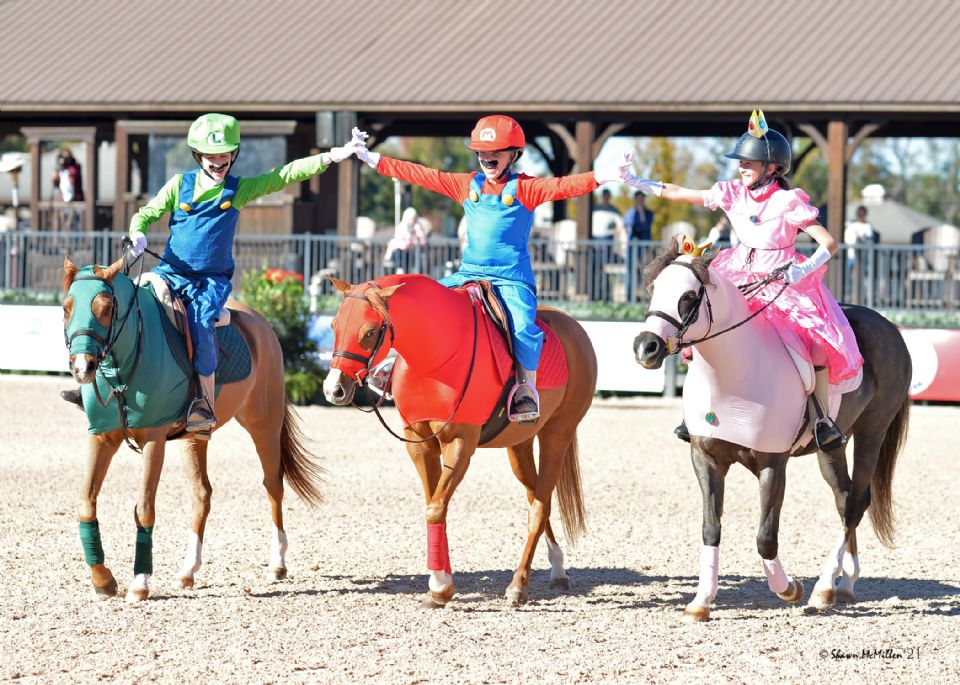 The victorious team in the medium pony hunter section was "Super Mario Cart." The three winning riders were Emi Richard of Middlefield, CT, riding Carrie Hutton's Game Plan, Marielle Walrath of Locust Valley, NY, and Rendezvous Farm's Foxmor Secret Powers, and Finley Clement of Indian Trail, NC, aboard her own Small Business.
"We originally had a long list of options for costumes," said Walrath. "We were brainstorming and came up with Mario Cart. Jumping the last jump together was awesome. It was just so fun to have a class where there wasn't any pressure."
The final team to earn a blue ribbon was "Ghost Busters" in the large pony section of the class. This team included Madeline Rubin of Mooresville, NC, on Briar Field Farm, LLC's Rockaway, McKayla Brombach of Wimberley, TX, and Millennium Farm Inc.'s California Dreamin', and Maya Thomas of Minocqua, WI, riding her own Until Tomorrow. Unlike some of the other teams in the competition, the "Ghost  Busters" came up with their costume idea just in the nick of time.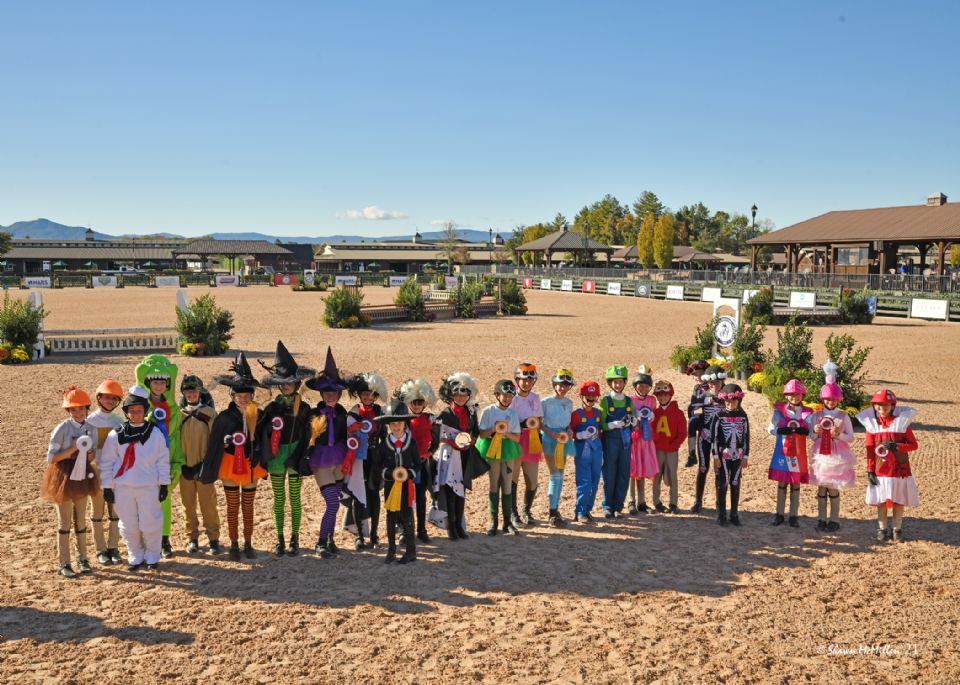 "It was very last minute," admitted Rubin. "We got the team together last week one night around 11 p.m and we barely got our costumes in on time. We just hoped to go in there and survive. It was so fun being in there with my friends. I loved having the music playing and I got to sing along while I was riding. It was just so much fun."
"I Want Candy" was the team to secure the second-place ribbon in the small pony section and in the medium pony division it was awarded to "The Greatest Showman." "The Wicked Witches" flew to a second-place finish in the large pony section of the class. Third-place honors for the small, medium, and large pony sections went to "The 3 Amigos", "Day of the Dead", and "The Powerpuff Girls" respectively.