Edited Press Release
Wellington, FL – Nov. 7 – It ended up being a two-horse race for first place in Sunday's $25,000 JTWG Grand Prix, the pinnacle event of the ESP Fall Finale, which was the first show of the ESP Fall Series back at the main grounds of the Palm Beach International Equestrian Center. Just two pairs proved they were up to the task over designer Guilherme Jorge's (BRA) patterns for the class, led by Luiz Francisco de Avezedo (BRA) and Santa Cecilia Stables' Collin as the only double-clear partnership and the winning duo. Coincidentally, the second-place team, beating 18 other entries, was Jorge's wife, Angela Covert (CAN) on her own Hollywood De Rase Z.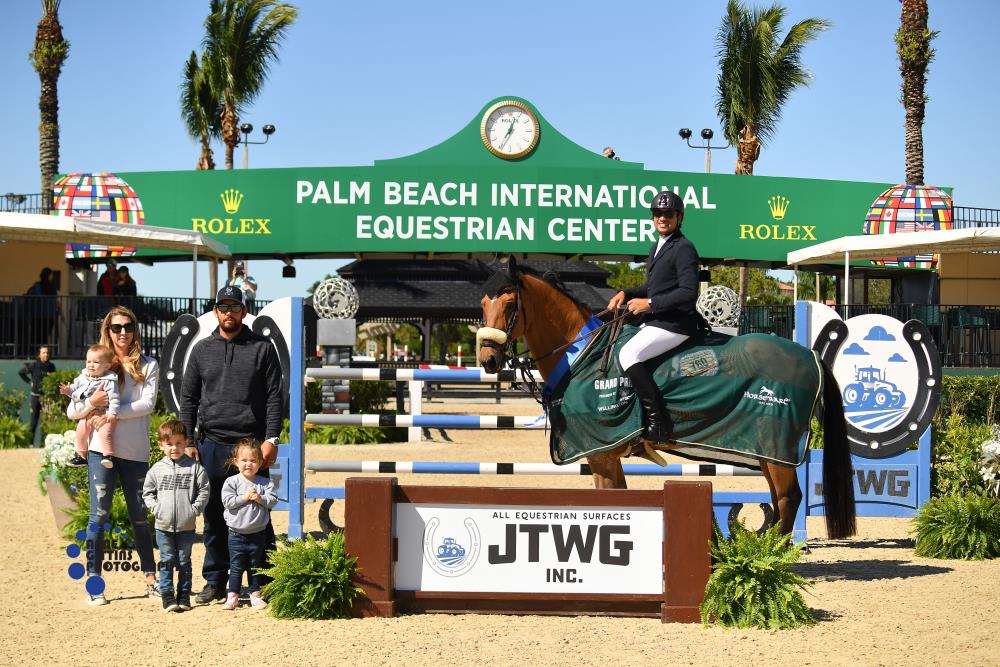 "It feels great to win today. This venue is a really special place for us, so I'm happy to be back," commented Francisco de Avezedo. "I'm also very happy for this horse because he has competed in four of the national grand prix classes hosted over the last few months in Wellington, and he won two and got second in two. He has been so consistent and competitive; he is a real fighter."
Following the first round of riding, which featured a track of 13 fences set in the International Arena, only Francisco de Avezedo and Covert had mastered the course on their respective mounts to qualify for the jump-off. Seven other entries came close, but downed a single rail to keep them out of contention for the top spot. Down to only two pairs, Covert and Hollywood De Rase Z tackled the shortened track first, lowering one fence to incur four faults against them and open the door for Francisco de Avezedo and Collin to claim the title with a conservative but careful round. Relying on that strategy, the Brazilian team did just that, slowing the pace slightly but leaving all the rails in their cups to finish the $25,000 JTWG Grand Prix as the leaders of the victory gallop. The win was the second grand prix victory for Francisco de Avezedo and Collin during the 2021 ESP Annual Series, having already won the $25,000 Wellington Equestrian Realty Grand Prix during the ESP September show at Equestrian Village.
"The course today was really delicate and technical. Guilherme Jorge is one of the best designers in the world, so he really built something nice for us," reflected Francisco de Avezedo. "It was difficult, but if you look at the results you will see there were a lot of pairs with just one rail down, which is great. There weren't people having really bad results."
The final standings showed Francisco de Avezedo and Collin as the blue-ribbon pair with no faults and a time of 43.14 seconds. Runner-up honors went to Covert and Hollywood De Rase Z with four faults in the jump-off in 41.61 seconds. As the fastest of the four-fault duos, Ashlee Bond (ISR) piloted Contefina LVF, owned by Ashlee Bond Show Jumping, to third place in a speedy first-round time of 74.45 seconds, the fastest ride of that phase by four seconds.
For the full results of the $25,000 JTWG Grand Prix, click HERE.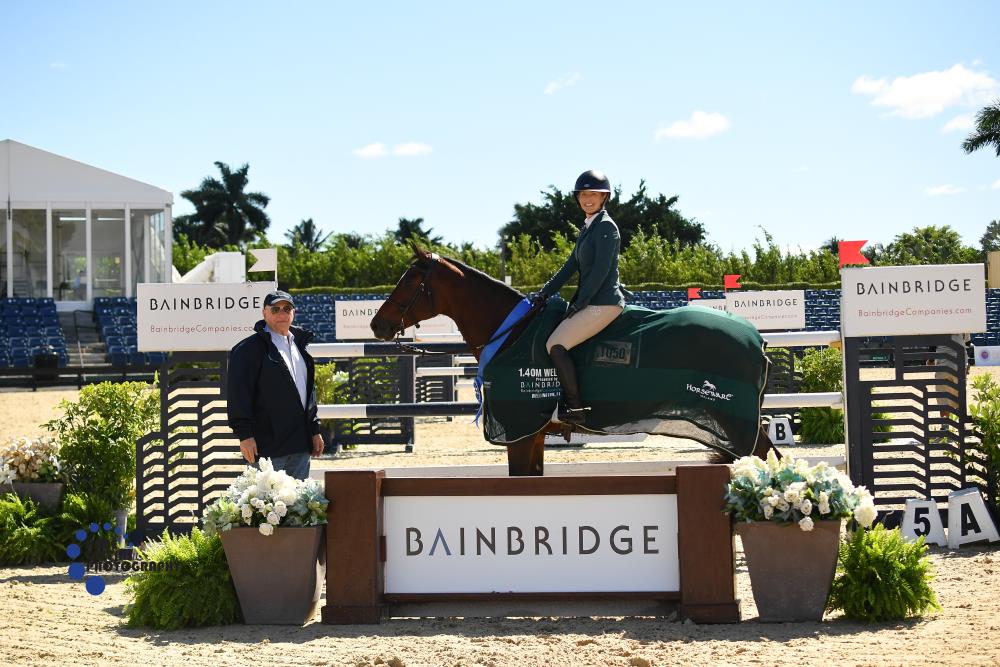 Earlier in the weekend, the $10,000 Bainbridge Companies 1.40m Open Stake was a stellar class for Bond, who captured first and third place on her two mounts of the contest. Always a fast competitor, Bond galloped Contefina LVF to the top of the podium as the quickest of three double-clear pairs in a time of 36.07 seconds. Representing Argentina, Luis Pedro Biraben galloped to second place aboard Chapeau PS Z, co-owned by Biraben and Miguel Madero, with a fault-free time of 37.60 seconds. Bond bookended the top three finishers in the irons on Hylanderhofs Chica Bella Rosa with no faults to their name in a time of 38.15 seconds.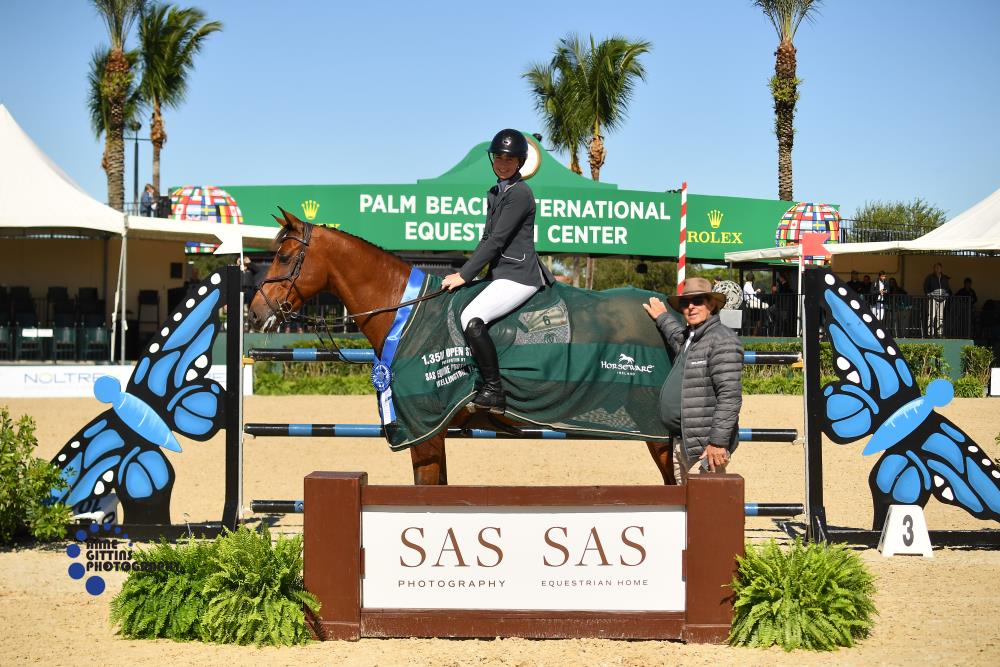 In the ​​SAS Photography 1.35m Stake, five duos advanced from the initial round of riding to the jump-off. From that group, only three completed the class without any faults at all, led by Emma Butchard of Wellington, FL, and her own Brasil. The speedy partnership crossed the timers in 32.22 seconds to take the win, followed by Carlo Graziani of of Wellington, FL, and his own Erato M with a penalty-free ride in 33.21 seconds. Third place went to Luis Larrazabal of Wellington, FL, riding Ana Holguin's Calle Quinn as the final double-clear contenders in 34.67 seconds.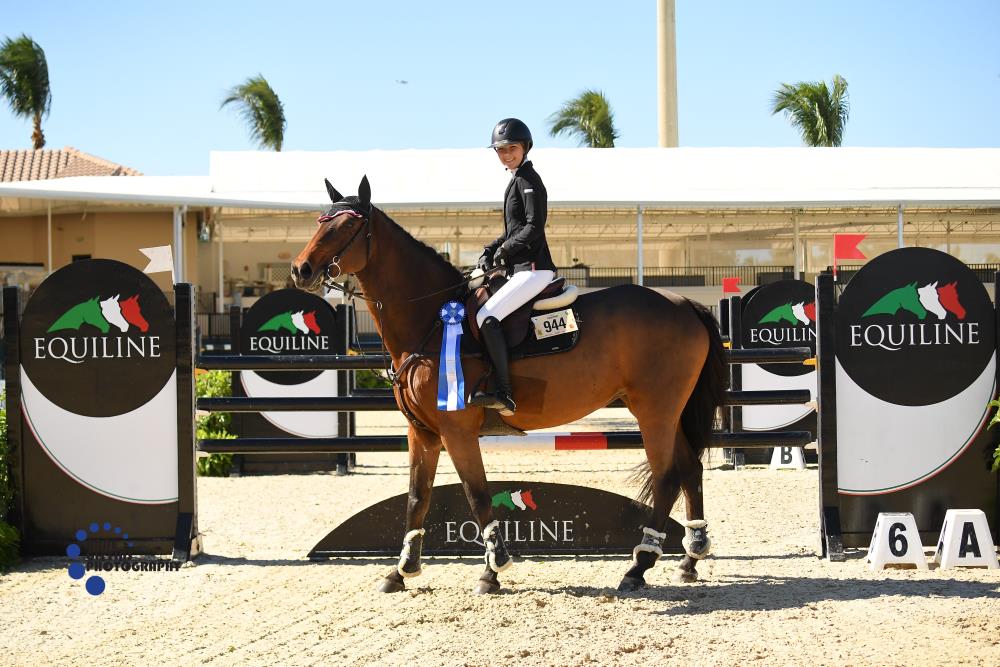 On Sunday morning, Valentina Arenas, who represents Guatemala, rode Alpine Stables LLC's Una Beretta to first place ahead of 16 other pairs in the $2,500 Medium Junior/Amateur-Owner Jumper Classic, presented by Equiline. Five partnerships qualified for the jump-off in the 1.30m class, and all five completed the class double-clear within only a few seconds of each other, led by Arenas and Una Beretta. The winning pair completed the abridged course fault-free in 37.34 seconds, followed by Katarina Ammann of Detroit, MI, on Ammann Equestrian LLC's Kadafi Van't Hof Van Payz in second place with a time of 38.04 seconds. Third place was awarded to Canada's Sabrina Lefebvre and her own Alaska after they crossed the finish line in 38.44 seconds.
The $2,500 Low Junior/Amateur-Owner Jumper Classic, presented by Fleur De Lis International Realty, saw owner-rider Ashley Ann McGehee of Jacksonville, FL, on Mr. Snuffleupagus edge out the win by one-hundredth of a second. The victorious duo completed the jump-off course without faults in 49.24 seconds, barely beating Mia Green of Wellington, FL, and Forget Me Not Farm's Levisto Alpha Z, who finished the course penalty-free in 49.25 seconds to take second place. The final podium spot went to Luciana Quinones of Argentina and her own Kun as the final double-clear entry in 51.12 seconds.