By Emily Randolph/Randolph PR
Las Vegas, NV – Putting money on Tiffany Cambria would have made for a winning bet on Monday, November 15, during opening day of the 2021 Las Vegas National Horse Show CSI4*-W at the South Point Hotel, Casino & Spa. Aboard Crownies H Z, Cambria earned victory in the $1,000 1.40m Welcome, sponsored by JB Horse Standards, to kick off the show, which continues through Sunday, November 21.
As host to a wide array of classes and championships, including the $150,000 Longines FEI Jumping World CupTM Las Vegas, presented by Walter Oil & Gas Corporation, and the Marshall & Sterling Insurance/U.S. Hunter Jumper Association National Championships, the Las Vegas National Horse Show CSI4*-W attracts top horses and riders from across the country. 
Cambria is among them, having made the trip to Las Vegas, NV, from Upperville, VA.
"One of our clients [Kym Smith] had a really lifetime goal to come with her horse to do the Low Adult Jumper Championships here," said Cambria, who operates Code Four Show Stables alongside her husband, Guy Cambria. "When [Kym] qualified, we thought, 'Since we're going, we'll bring another one.' [Crownies H Z] was coming along quite nicely, so we decided to bring her."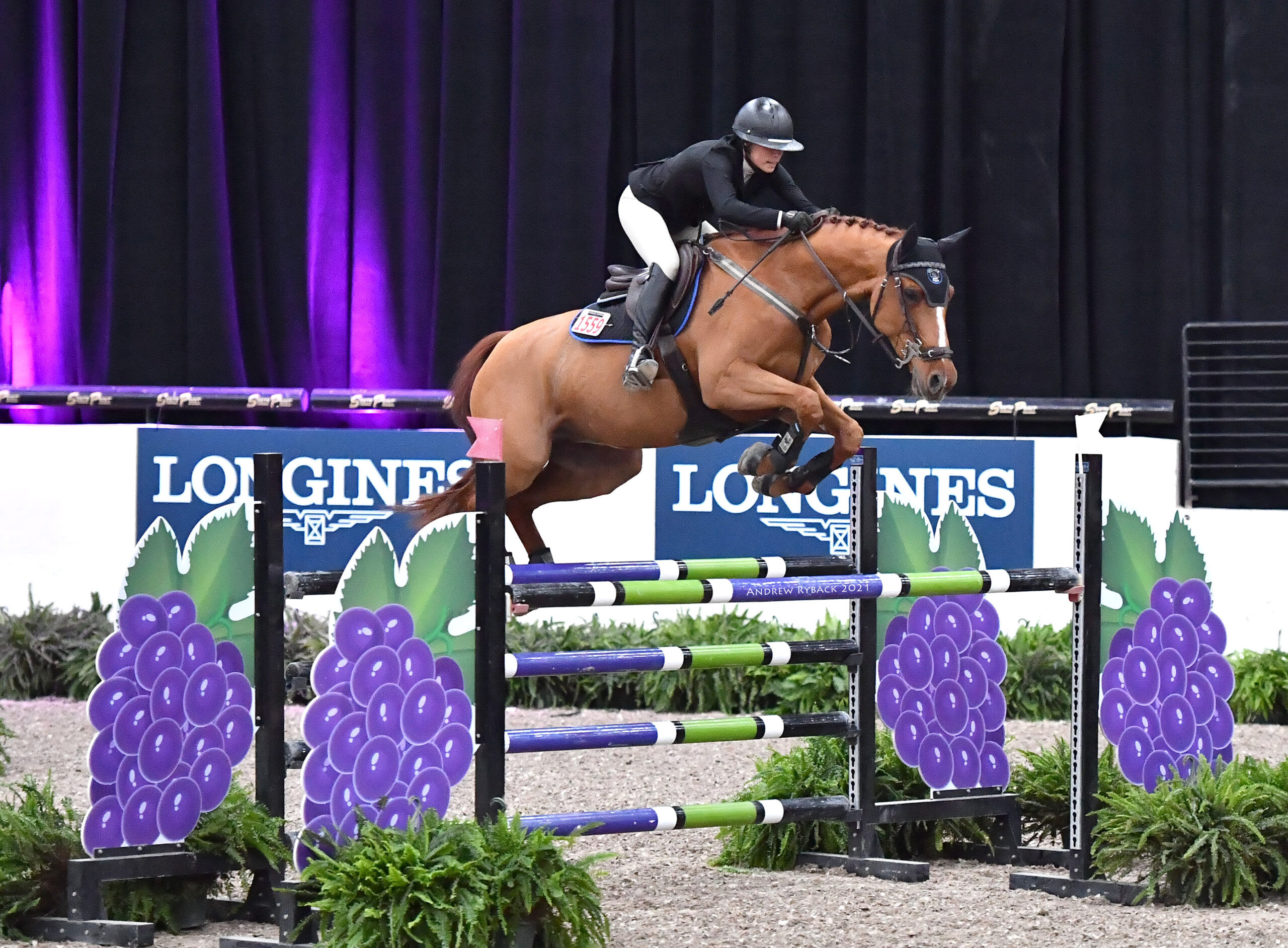 Cambria and the 9-year-old Belgian Warmblood mare, owned by The GT Syndicate, were one of only three entries to navigate the first-round, Ana Catsy Cruz-designed course without fault. While the pair went on to incur one time fault over the short course, it was enough to top the field as a rail each fell for Christian Rogge on Cashmere 33 and Michelle Parker on Chaccala, who finished second and third, respectively.  
"We got this mare got not very long ago, but I was pregnant at the time, so I didn't get to ride her very much," said Cambria, who then began riding Crownies H Z this spring, following the birth of her baby. "She's just proven to me that she's an incredible horse. I'm super lucky and really appreciative of the people that support me and have helped me get her and helped me be able to show her and everything. It's such an amazing mare, and I really enjoy working with her."
Cambria continued, "She has moments where she's a little bit nervous and a little backed off and other moments, like today, where she's really just on the ball and she's really enjoying her job. It just worked out great for us today. This is my first time here, and I love it. I think the facility is topnotch, and I don't think they spared any expense to make it about the exhibitor and the horse."
$1,000 1.40m Welcome, sponsored by JB Horse Standards, Results
Place – Entry # – Horse – Rider – Faults / Time
1. 1559 – Crownies H Z – Tiffany Cambria – 0/1/50.745
2. 1515 – Cashmere 33 – Christian Rogge – 0/4/41.193
3. 1546 – Chaccala – Michelle Parker – 0/4/43.870
4. 1545 – Lutalo – Michelle Parker – 4/62.35
5. 2056 – Limbossini RC – Mark Watring – 8/59.123
6. 1526 – Elicole – Jason McArdle – 12/59.109
7. 2052 – Golden Cassini – JJ Atkinson – 15/68.823
8. 2087 – Captain Jack – Juan Carlos Garcia – 31/88.733