Edited Press Release
Wellington, FL – November 19, 2021 – A wet second day of the ESP Pre-Charity CSI3* couldn't dampen the competition that was seen in the $37,000 Assets Risk Management 1.50m CSI3* at the Palm Beach International Equestrian Center. Course designer Héctor Loyola (PUR) set an apt challenge for the class, with six of the 23 entries advancing to the jump-off, which trimmed the number of double-clear pairs down to only three. Jumping to the top of the leaderboard by just six-hundredths of a second, David O'Brien (IRL) and Chansonette Farm LLC's El Balou OLD wrapped the contest as the class victors, a promising win ahead of Sunday's $137,000 NoltrexVet® Grand Prix CSI3* and a super result for O'Brien's newly-founded stables.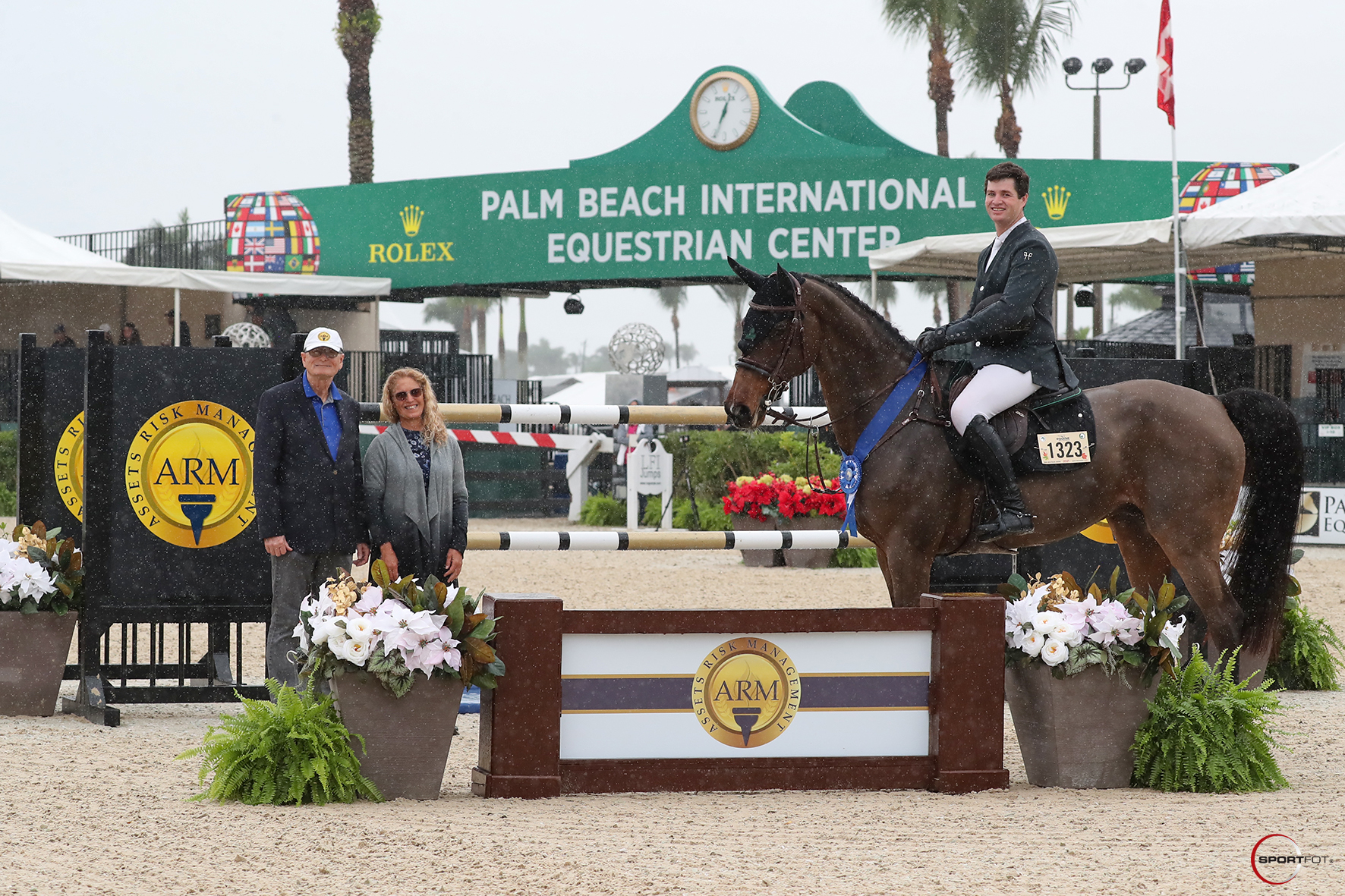 "I just started up my own business. I was working for Spy Coast Farm for about ten years, so now I'm doing my own thing for Leap Year Farm. This horse is owned by Lillie Keenan and the Keenan family, and they have been great to let me keep the ride on that horse and produce it a bit. I'm very lucky to have a good start to the business with them," commented O'Brien. "I actually haven't shown in Wellington for about six years, so I'm excited to get back here. When I was with Spy Coast, we mostly stayed up north with the young horses. I'm doing the grand prix on Sunday, and hopefully we will get some big results in the night classes later in the season."
During the first round of riding, Loyola's pattern served to separate the day's best performers from the rest of the pack. Though six partnerships advanced to the jump-off, three more came close with just a single time fault and six others finished the class with just one downed rail. O'Brien and El Balou OLD, a 9-year-old Oldenburg stallion by Eldorado VD Zeshoek x Balou du Rouet, were joined in the jump-off by representatives from four other nations, including the United States, Canada, Brazil, and Switzerland. The initial leaders in the jump-off sat on a time of 44.59 seconds, but O'Brien and his mount sped past the timers in 41.62 seconds to take over the top spot and ultimately win the class.
"For me, the weather didn't really change my plan. The footing is very good, so I didn't have to do many changes, just make sure I had a pair of gloves on and some sticky spray on my boots, then we were good to go. I didn't watch many pairs go before me, so I stuck to my own plan," noted O'Brien. "The jump-off round had options, which was nice, and we did all of the turns. I probably could have left out a stride here or there, but it is the first time for that horse to jump 1.50m with me in that ring."
Lauren Hough (USA) and Kathleen Kamine's Canamera 2, a 12-year-old Holsteiner mare by Clarimo x Carthago, grabbed second place, narrowly missing the blue ribbon by milliseconds with a fault-free trip in 41.68 seconds. The Irish had a good showing with another team bookending the podium. Jules Cournane (IRL) and Castlefield Dream, a 9-year-old Holsteiner stallion by Clinton x Cero that is owned by Capt. Brain Cournane and Glenbeigh Farm LLC, put forth the third and final double-clear performance in 44.59 seconds.
For the full results of the $37,000 Assets Risk Management 1.50m CSI3*, please click HERE.
Earlier in the day, the $10,000 Bainbridge Companies 1.40m Stake showcased the efforts of 35 horse-and-rider partnerships. Of the initial field of entries, 12 duos advanced to the jump-off to vie for the top prize, whittled down further to just five double-clear pairs by the end of the class. Midway through the jump-off, Ali Wolff (USA) and her own Footloose HX set a quick standard without faults in 41.56 seconds, which no other pairs were able to surpass to solidify the early frontrunners as the class victors. Just one second off the pace, Sophia Studd (DEN) and Holsteins Matina, owned by Marie Botved Studd, finished in the runner-up position with a clear ride in 42.55 seconds. Third place went to Darragh Kerins (IRL) and Eve Jobs' Intuitive in a fault-free time of 43.94 seconds.