Edited Press Release
Wellington, FL – Nov. 18, 2021 – The ESP Pre-Charity CSI3* kicked off on Thursday, hosting its first FEI classes of the week at the Palm Beach International Equestrian Center (PBIEC). Serving as the featured event of the day, the $37,000 Pilates Rocks 1.45m Speed CSI3* attracted 35 horse-and-rider combinations to the International Arena to compete for the top prize and FEI ranking points. Always a speedy pair, Todd Minikus (USA) and Amex Z, a 2009 Zangersheide Mare by Andiamo Z x Landaris owned by Bit by Bit Group, sped to first place to commence the week on a high note. The competition will continue at PBIEC through Sunday, November 21, when the show will conclude with its highlight event, the $137,000 NoltrexVet® Grand Prix CSI3*.
It always feels good to win. I only showed at Washington this fall because I got hurt, but Amex had a great show there and won the [Grand Prix] qualifier, and then was fifth in the Grand Prix. I'm still not 100 percent, so I haven't been riding that much, which has given her a break at the same time. Today she jumped quite fresh and we were freaky fast. She was really on the job with my turns, so that was fun," shared Minikus.
Course designer Héctor Loyola (PUR) set a challenging 1.45m track, which featured twelve jumping efforts in a speed format. Thirteenth to go in the order, Minikus and Amex Z stopped the clock at a trailblazing speed of 63.82 seconds without any faults, putting them right at the top of the leaderboard. Of the 22 pairs that followed, Sydney Shulman (ISR) and A Toi de Prim' came the closest to their time, but none were able to surpass the frontrunners.
"I don't think my foot speed was that much faster than the others," admitted Minikus. "I got to go later in the order, so I was able to see everyones' footprint and I tried to stay on the inside of that. Usually, as long as you're inside of everyone else's footprint you're the winner."
Shulman and Maggie Hill's A Toi de Prim', an 11-year-old Selle Français mare by Conterno Grande x Diamant de Semilly, finished the class in second place with their clear time of 65.03 seconds. Earning the final podium placing was Ashlee Bond (ISR) and the Little Valley Farms entry, Contefina LVF (Contefino 2 x South Pacific). Bond and the 2012 Holsteiner mare finished just behind Shulman, clearing the course in 65.35 seconds.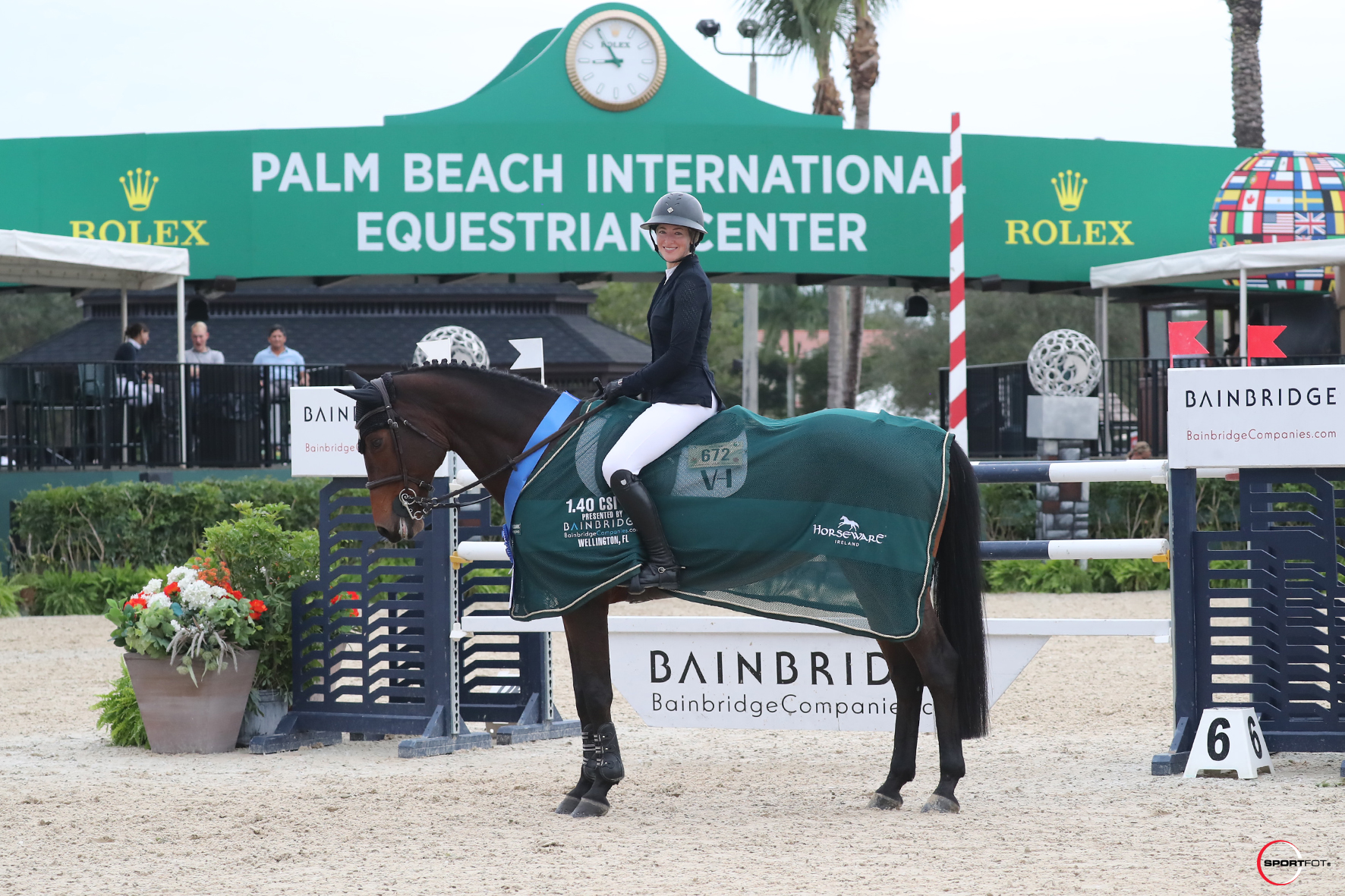 The morning kicked off with Vanessa Hood (USA) and Fairytale 86, owned by Take Two LLC, winning the $6,000 Bainbridge Companies 1.40m CSI3*. Hood and the 2010 Dutch Warmblood mare by Verdi TN x Cantos cleared the course in a quick 69.67 seconds to take home the blue ribbon. Jessica Mendoza (GBR) piloted Casanova 499, a 2011 Holsteiner male by Clarimo x Contender owned by Carly Day, through the timers in 72.61 seconds to capture second place. Rounding out the podium was David O'Brien (IRL) and El Balou Old, a 9-year-old Oldenburg stallion by Eldorado VD Zeshoek x Balou du Rouet owned by Chansonette Farm LLC, with a clear time of 73.93 seconds.
Wrapping up the competition in the International Arena, the $5,000 CCTV Agent 1.35m Stake saw 35 entries contest the first round, with 13 advancing to the jump-off. Ultimately, it was Darragh Kerins (IRL) and High Point VDL, owned by Eve Jobs, who topped the class with a double-clear time of 37.44 seconds. Luis Larrazabal (VEN) piloted Coralina LS La Silla for Leeann Ablin to a second-place finish after clearing the short course in 38.33 seconds, while Jennifer Waxman (USA) landed in third with HDB Quality with a time of 38.42 seconds.