Edited Press Release
The Sanctuary arena stands were filled for the Saturday evening feature classes at World Equestrian Center – Wilmington. Up-and-coming horses and their riders gave it their all in the $10,000 Futures Prix, meanwhile top-level competitors vied for the win in the $30,000 Grand Prix. The course for tonight's classes were designed by course designer Keith Bollotte. The $30,000 WEC Grand Prix 1.40 – 1.45 featured many bending lines, a triple combination and a liverpool which proved challenging for many competitors.
Just two riders jumped clear to advance to the jump-off and in an unusual situation, Michael D. Burnett finished second after electing to withdraw his horse, Chagrand, from the jump-off. David Beisel and Essince W entered the ring but did not complete the jump-off course, choosing instead to save the horse for another day yet ultimately taking the Grand Prix win.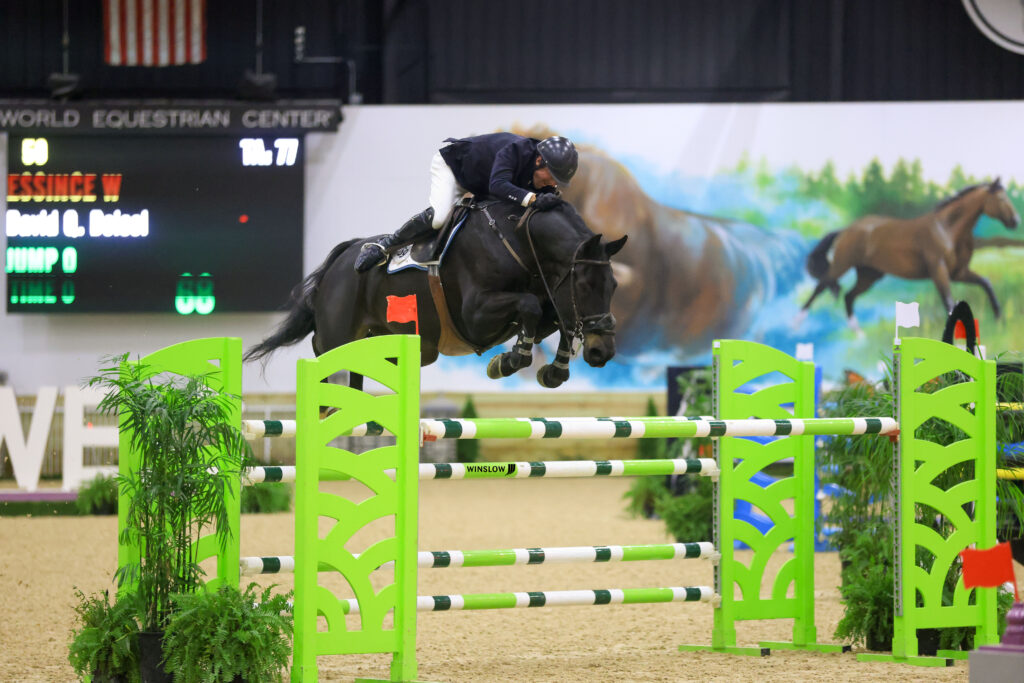 David Beisel of David Beisel Stables in Goshen, Ohio and Essince W  (Chacco Blue x Rossan) jumped a fast and clear first round in just 70.402 seconds. After their entrance in the jump-off, Beisel and the 12-year-old KWPN gelding did their usual "meet and greet" with fans in the stands as they rode the rail to exit the arena.
"It was lucky for Essince […] The course rode how it walked, but on my first horse the bending eight was tough," Beisel detailed. "He is more green and we got there a little early. It was an advantage for Essince to ride after him, because I had a new game plan in mind. Essince has a lot more seasoning than my other two entries, so he was able to complete the tricker parts of the course with more ease."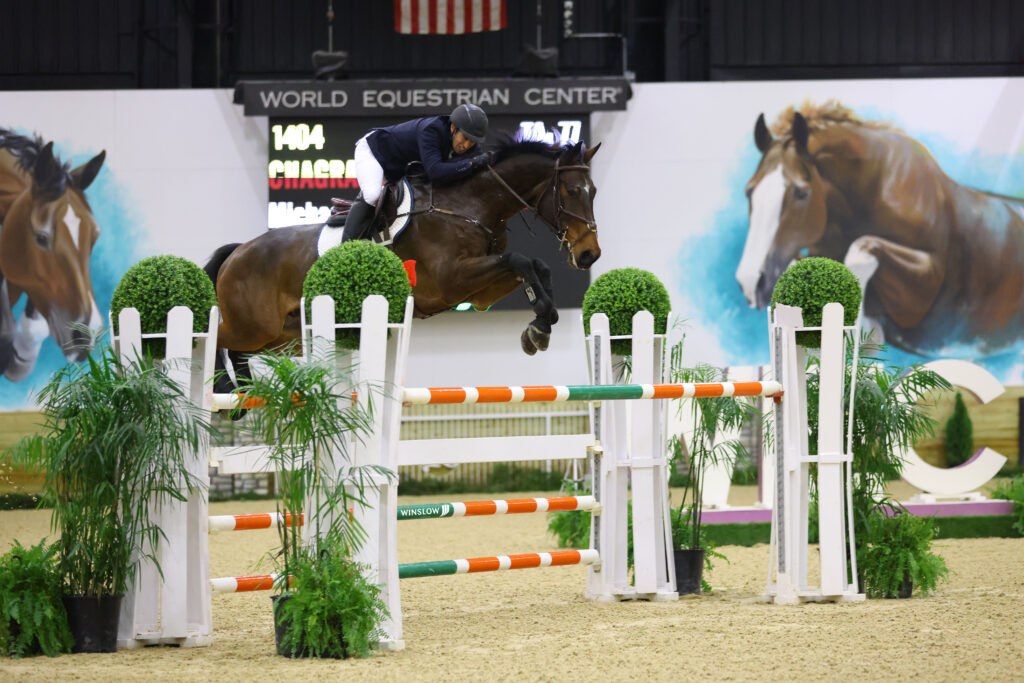 Michael D. Burnett of Burnett farm in Lebanon, IN and his own Chagrand (Chacco Blue x Centogrina) finished the fastest in round one, completing the course in 64.339 seconds, well below the allowed time of 77 seconds. Being one of only two in the jump-off, Burnett made the decision to withdraw the twelve-year-old Oldenburg from competing in the second round to take second place honors.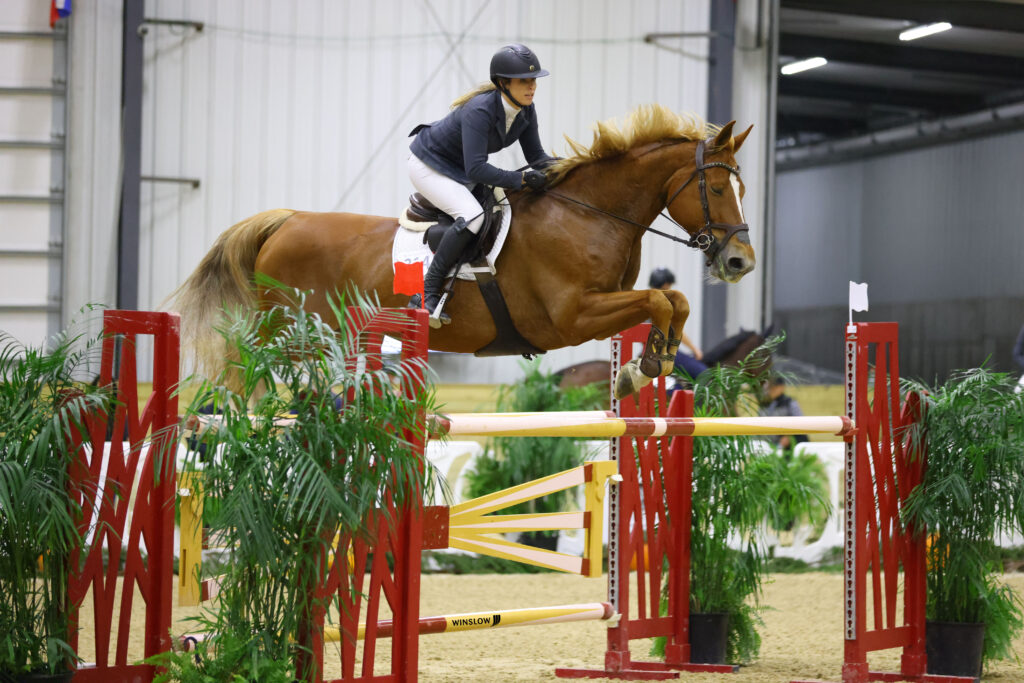 Molly Kindness of Berry Hill Equestrian, Lebanon, Ohio and Strawberry (Hobby De La Cense x Aphrodite) jumped to land in third place. This pair raced through the timers in 66.990 seconds. Unfortunately, the duo knocked an unlucky rail, which ultimately kept them out of the jump-off.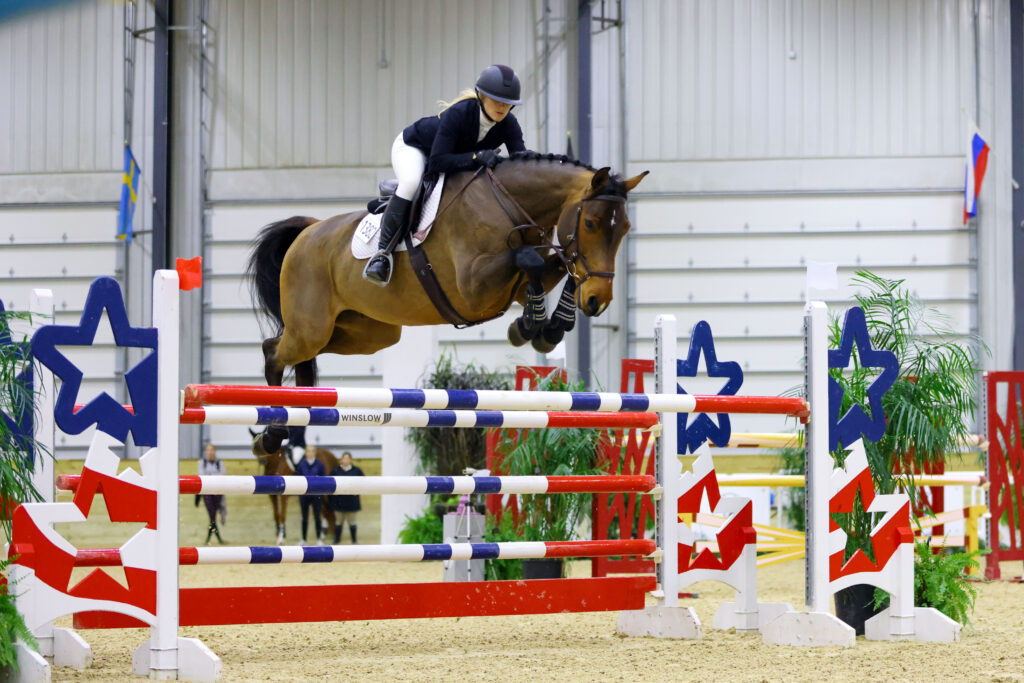 Seventeen horse-and-rider combinations took to the course in the $10,000 WEC Futures Prix. The class saw exciting action and neck-to-neck competition but Kali Jerman and Pam Talbot's Costello (Casall x Waldrose I) ranked highest above the rest.
"This horse has been with me for two years and this was his first time stepping up to the 1.30m [height]," Jerman said. "It is fantastic that we were able to have this result the first time out. The bend in the course from 1 to 2 to 3 was a hard 'S' turn, which can be very challenging for a young horse, but he handled it extremely well and he always tries so hard for me!" 
Jerman of Millstone, New Jersey and the 6-year-old Holsteiner gelding did not let lack-of-veteran status hold them back. This team jumped all efforts clear and managed a first round time of only 72.315 seconds. They immediately advanced to the jump off and quickly advanced to the top of the leaderboard for their 36.974 second run. 
Megan Bash of Cleveland Equestrian and FF Jackson took second place in the  $10,000 WEC Futures Prix. Bash and FF Jackson brought their expertise to tonight's class. The pair delivered a clear first round in 71.756 seconds, conserving plenty of energy for their return on the short course where they ran through the final set of timers in a clean 37.100 seconds. 
Richard L. Rinehart and Captain America rounded out the top three placings. Rinehart of Rinehart Farms in Westfield, Indiana and the 7-year-old gelding weren't far behind second place jumping double clear with a final time of 75.161 seconds in round one, followed by a close 37.264 seconds in the short course. 
$30,000 WEC Grand Prix 1.40m – 1.45m Results
Essince W, David Beisel – 0 | 70.402 | RT
Chagrand, Michael D. Burnett – 0 | 64.339 | WD
Strawberry, Molly Kindness – 4 | 66.990
Kinsella, Charlotte Clark – 8 | 70.733
Light Show, Lani Hutchison – 8 | 71.549
Jarocco Blue, Sam Berry – 8 | 73.199
Vegas H , David Beisel – 8 | 73.901
Hendrik, David Beisel – 8 | 76.453
PDR Pinion, Diana Conlon – 11 | 79.197
Cumbaya W, Darby Pease – 12 | 74.846
$10,000 WEC Futures Prix 1.30m – 1.35m Results
Costello, Kali Jerman – 0 | 0 | 36.974
FF Jackson, Megan Bash – 0 | 0 | 37.100
Captain America, Richard L. Rinehart – 0 | 0 | 37.264
Swanview Sarco deluxe, Kali Jerman – 0 | 0 | 38.230
Montendo 5, Owen Gajoch – 0 | 0 | 40.035
Indira, Izzy Beisel – 0 | 4 | 34.764
Eastpoint JB, Hanna R. Egan – 0 | 4 | 36.960
Wondergirl, Diana Conlon – 0 | 4 | 38.549
Norwin Z, Erika Heintschel-Githens – 0 | 4 | 39.570
Vittus H.H., Hanna R. Egan – 0 | 4 | 40.291
Photos courtesy of Winslow Photography