By Emily Randolph/Randolph PR
Las Vegas, NV – Jamie Taylor and Quatar sped to victory in the $50,000 CSI4*-W 1.45m Las Vegas National Winning Round Jumper Classic, presented by Blenheim EquiSports, on Saturday, November 20, at the Las Vegas National CSI4*-W, held at the South Point Hotel, Casino & Spa.
A field of 28 entries contested the first-round course created by internationally renowned course designer Guilherme Jorge, and while only five riders would jump clear, adhering to the winning-round format, the top 10 finishers in the first round were invited back for round two, regardless of faults.
Conor Swail was the first to return for the shortened speed track, and until Taylor entered the ring as the penultimate entry, it looked like the Irish rider and Theo 160 would claim their second win of the week with a clear time of 40.51 seconds.
However, with strides left out and a particularly tight rollback turn, Taylor and Quatar, owned by JT Equine LLC, shaved nearly two seconds off of Swail's time to secure the win. Karl Cook and Kalinka van't Zorgvliet, owned by Signe Ostby, were the last to jump, and they slid into second place with a time of 39.60 seconds, relegating Swail to third.
"It feels amazing to win this class!" said Taylor. "I've always loved showing in Vegas. I've always had a fairly successful time here, but more so in the hunter ring. To win in a class like this with the riders that I was competing against is amazing!"
The victory marked Taylor's second Fédération Equestre Internationale win after only beginning to show consistently in FEI competition for the first time this year.
"I've done indoors back East, and it's great; it's super fun and very unique, but out here, you have this entire horse show – the FEI and the affiliate classes," said Taylor. "There are so many people here that just enjoy watching the show, and then you have Vegas as the backdrop. You can't really beat that!"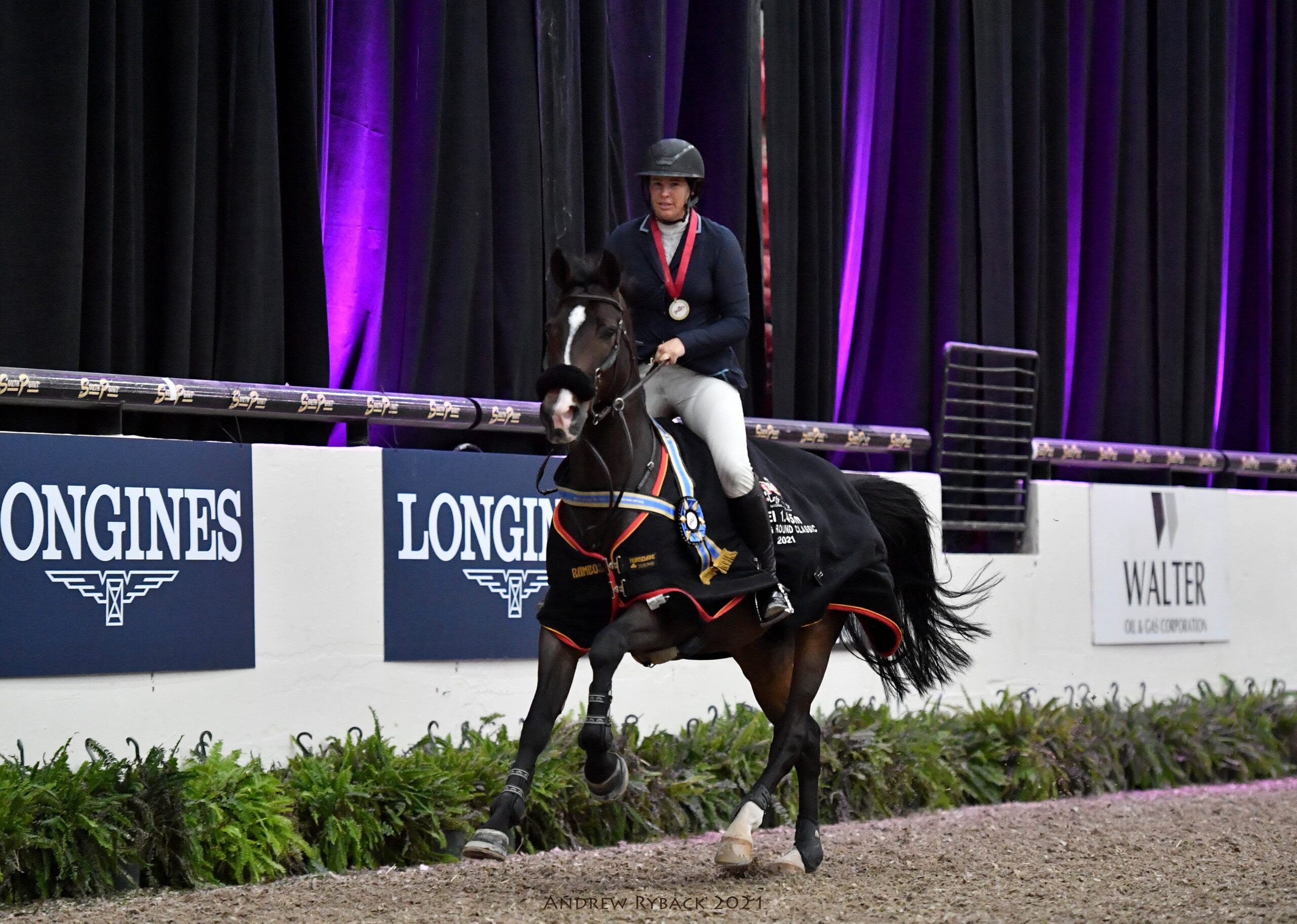 "For my plan in the jump-off, I was planning a few more strides from one to two than I ended up doing," said Taylor. "Quatar followed me there very well, so that sort of got me feeling that I better go for it!"
"I've had Quatar for two and a half to three years, and he is a funny guy," continued Taylor in speaking of the 11-year-old Oldenburg stallion. "He's a big character, but man, he wants to win as badly as I do."
For the win, Taylor was presented with a Horseware Ireland blanket, a Topline Design Ribbon Wreaths gift certificate and ornament, and an Ogilvy saddle pad, provided by Tack of the Town.
Prior to Taylor's award presentation, the M. Michael Meller Style Award was presented to Natalie Dean. Each year, this award is presented to an equestrian who displays an exemplary style of riding as well as sportsmanlike conduct in and out of the ring in the FEI Jumping Division – someone who exemplifies what it means to be a true role model for our industry.
"It's a really big honor," said Dean, 22. "A lot of the riders that I look up to and idolize have won this award, so to even be considered for it feels really special. The style award is about more than just your riding in the ring, so I'm really grateful to Michael for believing in me and everything that I've been doing in this sport. It just feels really good."
For full results from Saturday's $50,000 CSI4*-W 1.45m Las Vegas National Winning Round Jumper Classic, presented by Blenheim EquiSports, click here.
To learn more about the Las Vegas National CSI4*-W, visit www.TheLasVegasNational.com.