Edited Press Release
Wellington, FL – Nov. 21, 2021 – The ESP Pre-Charity CSI3* reached its pinnacle on Sunday as 30 riders competed for the top spot in the $137,000 Noltrex®Vet Grand Prix CSI3*. Course designer Héctor Loyola (PUR) tested the entries with a technical pattern of jumps, of which only two mastered to advance to the jump-off. No strangers to the winner's circle and recent competitors at the 2020 Tokyo Olympics, Nayel Nassar (EGY) and Evergate Stables, LLC's Igor Van De Wittemoere finished in spectacular form as the only double-clear duo to top the class.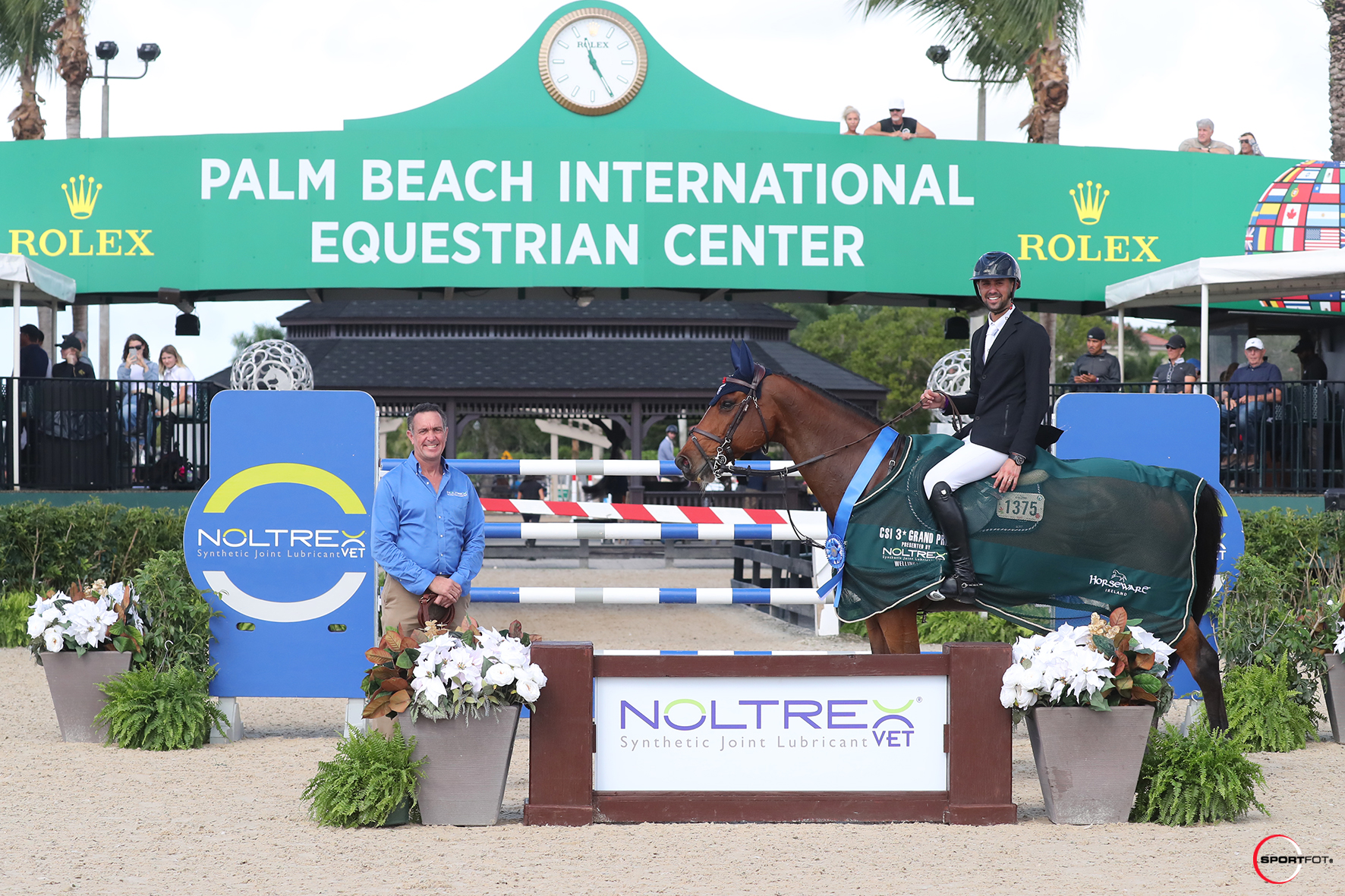 The competition welcomed an international field of riders representing over ten different nations. For the first round of riding, Loyola crafted a track of 16 jumping efforts, which challenged contenders throughout the contest. It took until the 24th in the order to see a clear round, which came from Capt. Brian Cournane (IRL) and Vittorio 12, followed by Nassar and his mount as the second-to-last in the ring to force a jump-off.
"The course had a lot of questions today," commented Nassar. "I think you had a few tricky distances and a lot of awkward lines, which gives you a lot of room between the jumps. You would think that's an advantage, but it actually gets the horses long and makes it harder for them to stay focused throughout the course. There were also a few bogie spots, which took out some horses and riders."
The first pair to test the shortened track, Capt. Brian Cournane and Vittorio 12 set a quick standard with a time of 56.90 seconds, but downed a rail at the final fence to incur four faults against them. Last to go, Nassar had to decide if he wanted to play it safe or chase the time. "I feel like when I saw Brian go, I thought I should just try to chase down the time because Igor is so fast and if I had a fence down I could still clip him. However, I didn't get the turn I wanted from one to two, so I decided to just play it safe and try to leave the jumps up, and that strategy paid off," Nassar shared. 
Jennifer Gates, who recently married Nassar, has been watching the partnership between Nassar and the 13-year-old Belgian Warmblood gelding (Cooper Vd Heffinck x Dahlia Vd Heffinck) grow since he was purchased at the beginning of 2020. "Igor is Nayel's ride and always has been. My former coach and still a mentor of ours, Harrie Smolders, found the horse and I actually sat on him a year prior for myself and thought he was really nice but maybe a bit too much blood. Then in January 2020, he was available again and was purchased for Nayel. It's been really fun to see them both come along. I think Nayel has really worked with him to get him a lot slower in his mind. He's super athletic, and he comes off a break really easily. I'm so proud of how they performed today after the break that we recently took. He was a little nervous about coming back but he did an excellent job," she shared.
Nassar, who recently won the $150,000 CaptiveOne Grand Prix of Greenwich CSI3*, continued, "Marriage looks good on me; I won my last Grand Prix before getting married and the first one after getting married, so it's been a good luck charm." 
The winning pair, Nassar and Igor Van De Wittemoere finished the jump-off in 60.76 seconds with one time fault. Capt. Brian Cournane and Vittorio 12, the 10-year-old Hannoverian gelding by Van Helsing x Carismo he co-owns with Glenbeigh Farm LLC, captured second place. Kayla Savard (USA) and her own Bogota Nantuel, the 2011 Selle Français mare by Dollar Dela Pierre x Carnute, had an unlucky time fault that kept them out of the jump-off but still had a podium finish with their first-round time of 86.16 seconds.
For the full results of the $137,000 Noltex®Vet Grand Prix CSI3*, click here.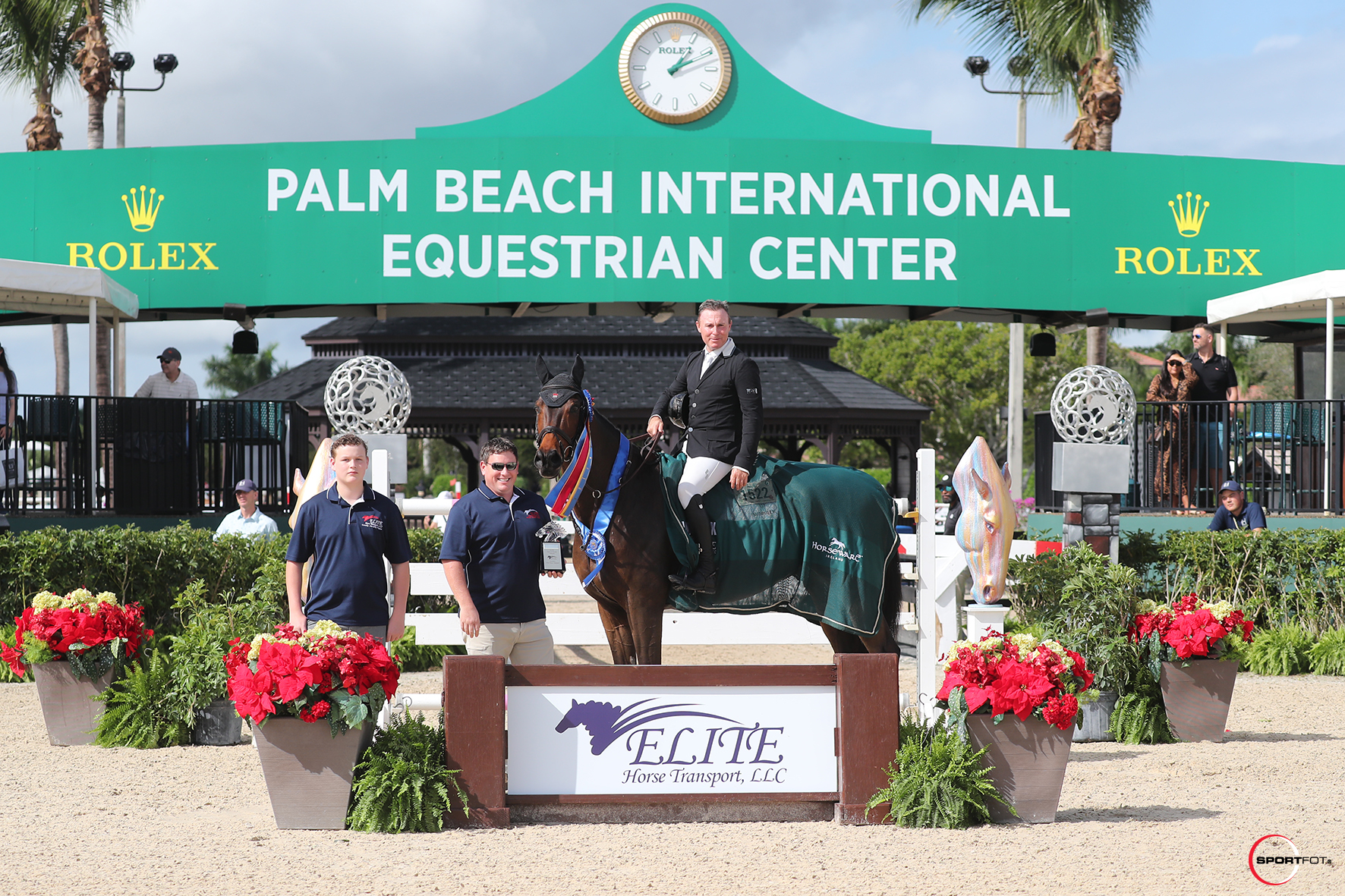 Competition immediately followed in the International Arena with the $25,000 Elite Horse Transport Grand Prix. The National Grand Prix attracted a field of 20 competitors, with just four pairs placing double-clear rounds. The final pair in the jump-off, Sharn Wordley (NZL) and Valentine Car, owned by Fernando Cardenas, stopped the clock at 43.997 seconds to secure their names at the top of the leaderboard. Filip de Wandel (BEL) and Five Way Farm LLC's Manhattan Van't Leeuwerikenhof earned the runner-up title with their time of 44.35 seconds, while Lauren Hough (USA) piloted Billy Nala for Alexander LLC to a podium finish after clearing the jump-off in 44.71 seconds. 
Sunday also brought the final class in the Noltrex®Vet High Junior/Amateur-Owner Jumper division, the $2,500 High Junior/Amateur-Owner Jumper Classic, presented by Noltrex®Vet. Competing over 1.40m fences, only three partnerships advanced to the jump-off, and just a single entry was able to finish the class without any faults at all. Leading the way was Coco Fath of Fairfield, CT, and Hillside Farm LLC's Exokit Sitte thanks to a double-clear winning time of 45.05 seconds. Olivia Venezio of Boca Raton, FL, piloted her own Apollo De Beugner to second place with four faults, followed by Teri Kessler of Lexington, KY, riding her Sambuka De Lurberri in third position with eight faults in the jump-off. Thanks to their victory on Sunday and a third-place finish in an earlier divisional class, Fath and Exotik Sitte were also awarded the overall championship honors.
Final Results: $137,000 Noltrex®Vet Grand Prix CSI3*
1. IGOR VAN DE WITTEMOERE: 2008 BWP gelding by Cooper Vd Heffinck x Dahlia Vd Heffinck
NAYEL NASSAR (EGY), Evergate Stables, LLC: 0/1/60.768
2. VITTORIO 12: 2011 Hannoverian gelding by Van Helsing x Carismo
CAPT. BRIAN COURNANE (IRL), Capt. Brian Cournane & Glenbeigh Farm LLC: 0/4/56.9
3. BOGOTA NANTUEL: 2011 Selle Français mare by Dollar Dela Pierre x Carnute
KAYLA SAVARD (USA), Kayla Savard: 1/86.16
4. CIMBURA: 2011 male by Calido I x Eyken Des Fontenis
JESSICA LETO (USA), Jessica Leto: 1/86.16
5. ORAFINA: 2012 KWPN mare by For Fashion x Corofina
KENT FARRINGTON (USA), Kent Farrington, LLC: 4/80.34
6. UPSILON DE LA LINIERE: 2008 Selle Français gelding by Tinka's Boy x Querlybbet Hero
TAYLOR ST. JACQUES (CAN), Taylor St. Jacques: 4/80.91
7. IMERALD VAN'T VOORHOF: 2008 BWP gelding by Emerald Van't Ruytershof x Bacardi-Orange de Muze
PAUL O'SHEA (IRL), Tequestrian Farms LLC: 4/82.99
8. BALOTELLI 5:2010 Hanoverian gelding by Balou du Rouet x Contendro I
MATTHEW BODDY (GBR), Purple Road, LLC: 4/84.36
9. CHESS: 2011 Belgian Warmblood gelding by Bufero van het Panishof x Quinta van het Eetseveld
NICHOLAS DELLO JOIO (USA), Kent Farrington LLC: 4/85.2
10. CALLE QUINN: 2011 Holsteiner gelding by Calmando X
LUIS LARRAZABAL (VEN), Ana Holguin: 4/85.76
11. ABC QUANTUM CRUISE: 2009 Irish Sport Horse gelding by Obos Quality x Cruising
HECTOR FLORENTINO (DOM), Ronnie Beard & Wyndmont: 5/86.21
12. FEMINKA: 2010 KWPN mare by Verdi TN x Numero Uno
TANIMARA MACARI (MEX), Jorge Macari: 5/86.59