Edited Press Release
Wellington, FL – December 2, 2021 – The much-anticipated ESP Holiday & Horses CSI4* hosted its first FEI classes of the week on Thursday at the Palm Beach International Equestrian Center (PBIEC). At the helm of the International Arena for the event, course designer Anthony D'Ambrosio (USA) tested 40 horse-and-rider combinations in the feature class of the day, the $50,000 Premier Equestrian Grand Prix Qualifier CSI4*, as exhibitors prepared for the $214,000 Holiday & Horses Grand Prix CSI4*, presented by the Palm Beach County Sports Commission, which will take place under the lights on Saturday evening. Already with multiple major wins under their belts from the ESP Annual Series, Luiz Francisco de Azevedo (BRA) and Collin added yet another ribbon to their repertoire thanks to a swift performance in Thursday's highlight class to start the week with an FEI victory.
"My horse was fantastic today. I've been riding him since he was seven and now he is 14, and I think today was one of the best classes of his life. I haven't watched the video of him yet from the class, but the feeling was perfect," shared Francisco de Azevedo. "I did not know if I was going to enter the grand prix this weekend because this horse has not jumped a grand prix of that size yet at this point in his career, but based on how great he was today I am rethinking that and we may enter."
For the first round of riding, D'Ambrosio created a track of 13 efforts, which 14 teams cleared without penalties to qualify for the jump-off round. The class was a truly international field, with 13 different countries in the order of go. Of the smaller jump-off group, eight nations were represented, including Brazil, the United States, Switzerland, Great Britain, Ireland, the Dominican Republic, Denmark, and Argentina.Riding midway through the pack, Francisco de Azevedo and Collin took over the lead from Beat Mändli (SUI) and Dijon Terdoorn Z, who had been sitting on the quickest double-clear time of 36.62 seconds. Boasting a new fastest time of 35.88 seconds without faults, the Brazilian pair waited through five more contenders, but none could match their efforts, solidifying Francisco de Azevedo and Collin as the victors.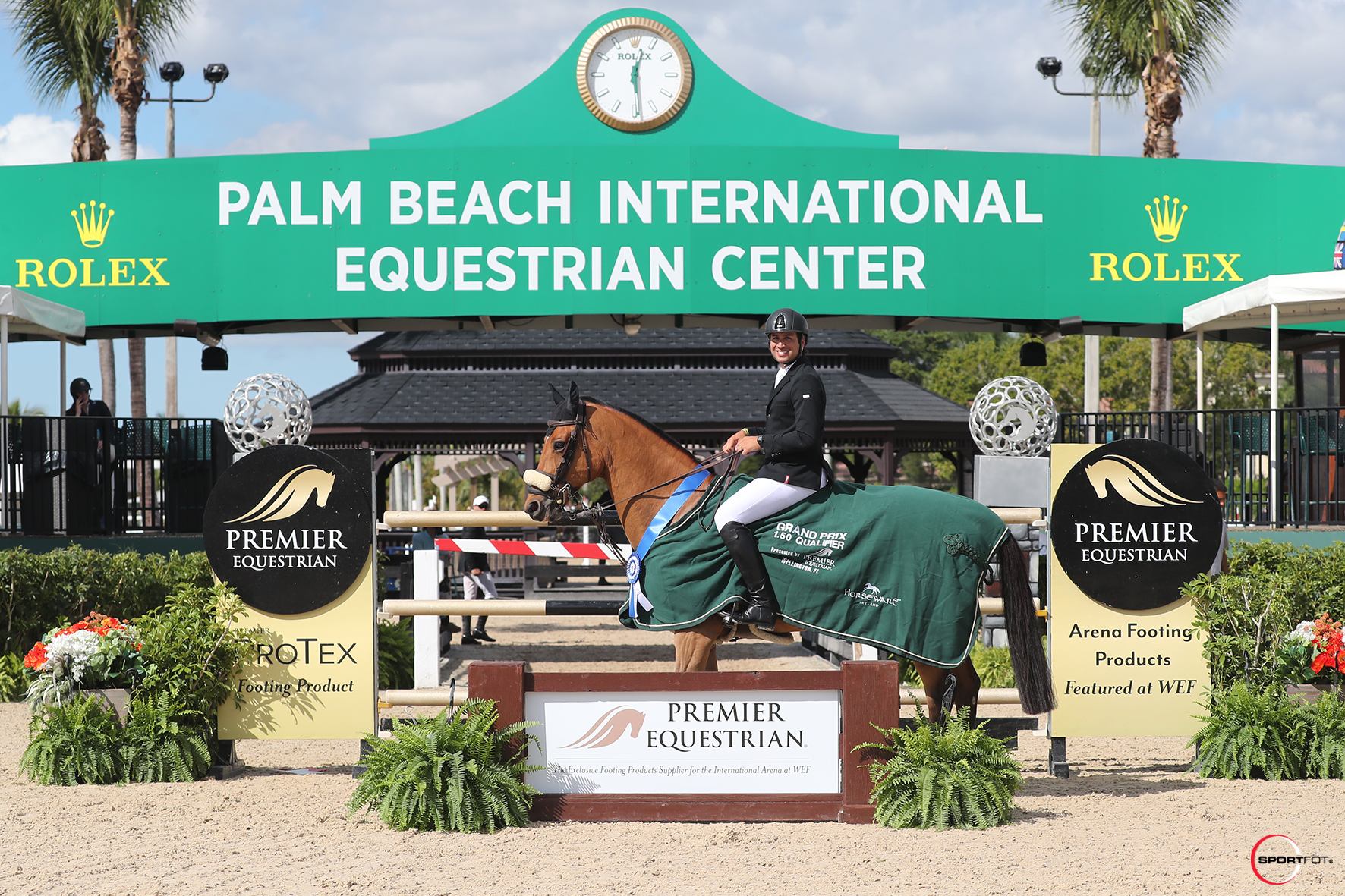 "I thought it was going to be quite difficult when I walked the course because it was big enough with delicate fences, so I wasn't positive we would go clear. In the end, we had 12 clears, which was great for this jump-off," reflected the winning rider. "Our plan in the jump-off was to make eight strides from fence one to two, which was a little long so it was a risk, but it worked out. I think what we did really well was the turn from two to three because it was very tight with a nice distance and momentum, so that kept us moving for the rest of the course."
Owned by Santa Cecilia Stables, Collin is a 14-year-old Dutch Warmblood gelding by Colandro x Amethist. Earlier in November, Francisco de Azevedo piloted the horse to the win in the $25,000 JTWG Grand Prix at PBIEC. Additionally, they earned top call in the $25,000 Wellington Equestrian Realty Grand Prix during the ESP September show at Equestrian Village. Collin is well-known throughout the show jumping world for his comeback story, which started seven years ago with him bound for slaughter before a friend found the horse and purchased him for Francisco de Azevedo. The longtime partnership and the patient training has paid off in spades with wins for the pair across the globe.
Asked about their recent string of successes, Francisco de Azevedo commented, "I am really lucky because Collin has so much blood and is really ready. That is, for sure, his best quality. He always tries so hard. I don't even use spurs because he is so light and is always ready for the next jump. That helps me a lot."
The very last duo to tackle the abridged jump-off pattern, Todd Minikus (USA) and Bit By Bit Group's Amex Z, a 12-year-old Zangersheide mare by Andiamo Z x Landaris, captured second place thanks to a fault-free time of 35.92 seconds, less than one-tenth of a second off of the leaders. Mändli and Grant Road Partners LLC's Dijon Terdoorn Z, a 10-year-old Zangersheide gelding by Diamant de Semilly x Lord Z, ended up in third place to round out the podium.
For the full results of the $50,000 Premier Equestrian Grand Prix Qualifier CSI4*, please click HERE.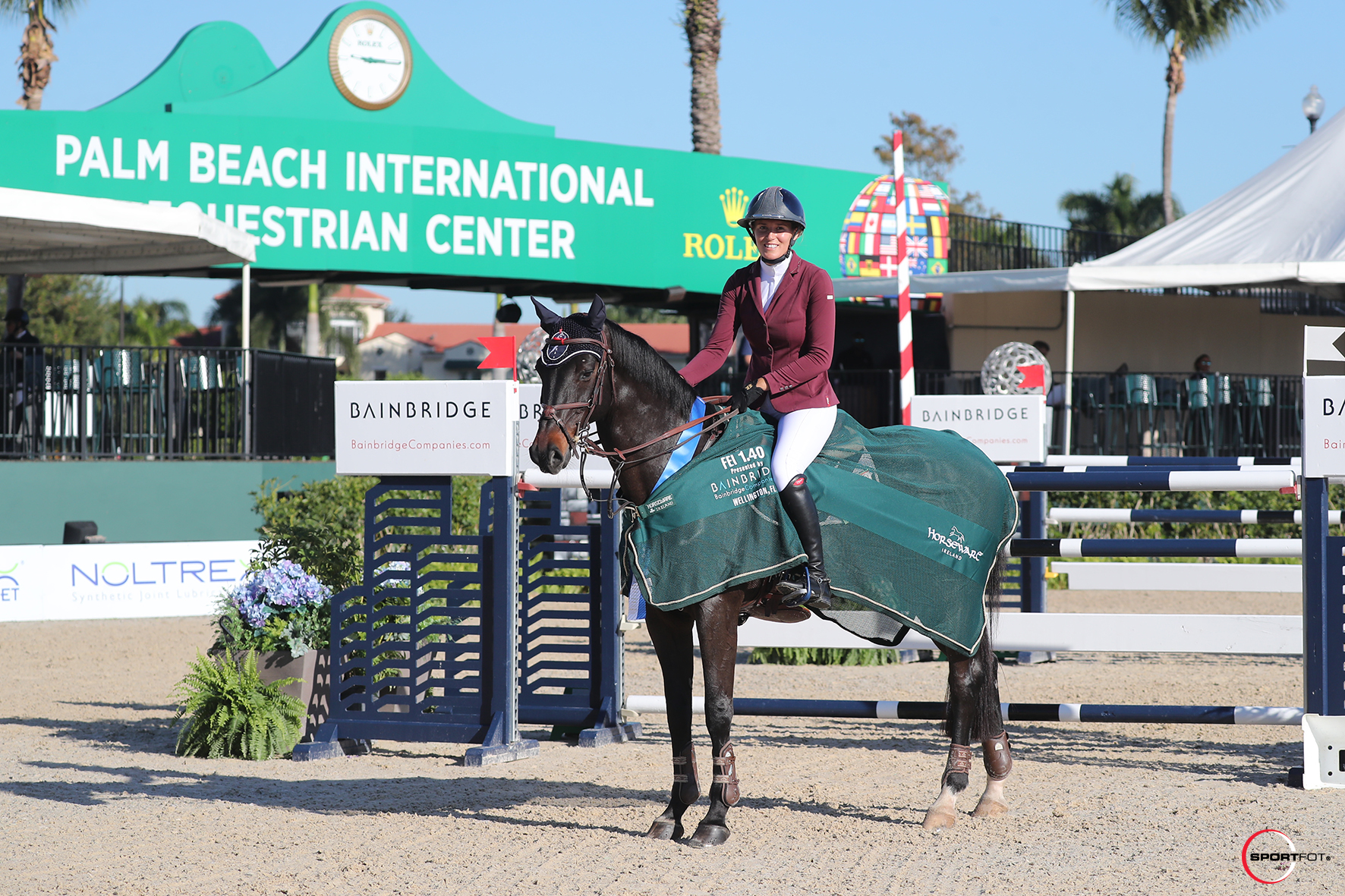 The International Arena kicked off earlier in the morning with the $6,000 Bainbridge Companies Holiday & Horses Opener CSI4*, which showcased efforts from 22 competitors. Twelve pairs made quick work of the course in the first round to advance to the jump-off, while four more duos were kept out of contention by a single time fault. Second-to-last to ride in the second round, Jessica Mendoza (GBR) and Casanova 499, a 10-year-old Holsteiner by Clarimo x Contender owned by Carly Day, took over the lead from the previous frontrunners, Simon McCarthy (IRL) and Rock Ridge Farms' Gotcha, with a winning double-clear time of 32.81 seconds. McCarthy and the 10-year-old Holsteiner mare by Stakkato x Cassini I finished the class in second position with no faults in 33.57 seconds, followed by Georgina Bloomberg (USA) on Gotham Enterprizes LLC's Sempa Fidelis, a 12-year-old Hanoverian mare by Stakkato Gold x Concetto Famos, in a fault-free time of 38.88 seconds. In total, eight partnerships finished the class without any faults over two phases of jumping.