Edited Press Release
Wellington, FL – December 5, 2021 – The Holiday & Horses CSI4* came to a close on Sunday, but not before one top-performing pair added a major win to their names at the Palm Beach International Equestrian Center (PBIEC). In the $37,000 Dover Saddlery 1.50m Classic CSI4*, Simon McCarthy (IRL) and Rock Ridge Farms' Gotcha jumped to the top of the standings to notch the partnership's first big win together.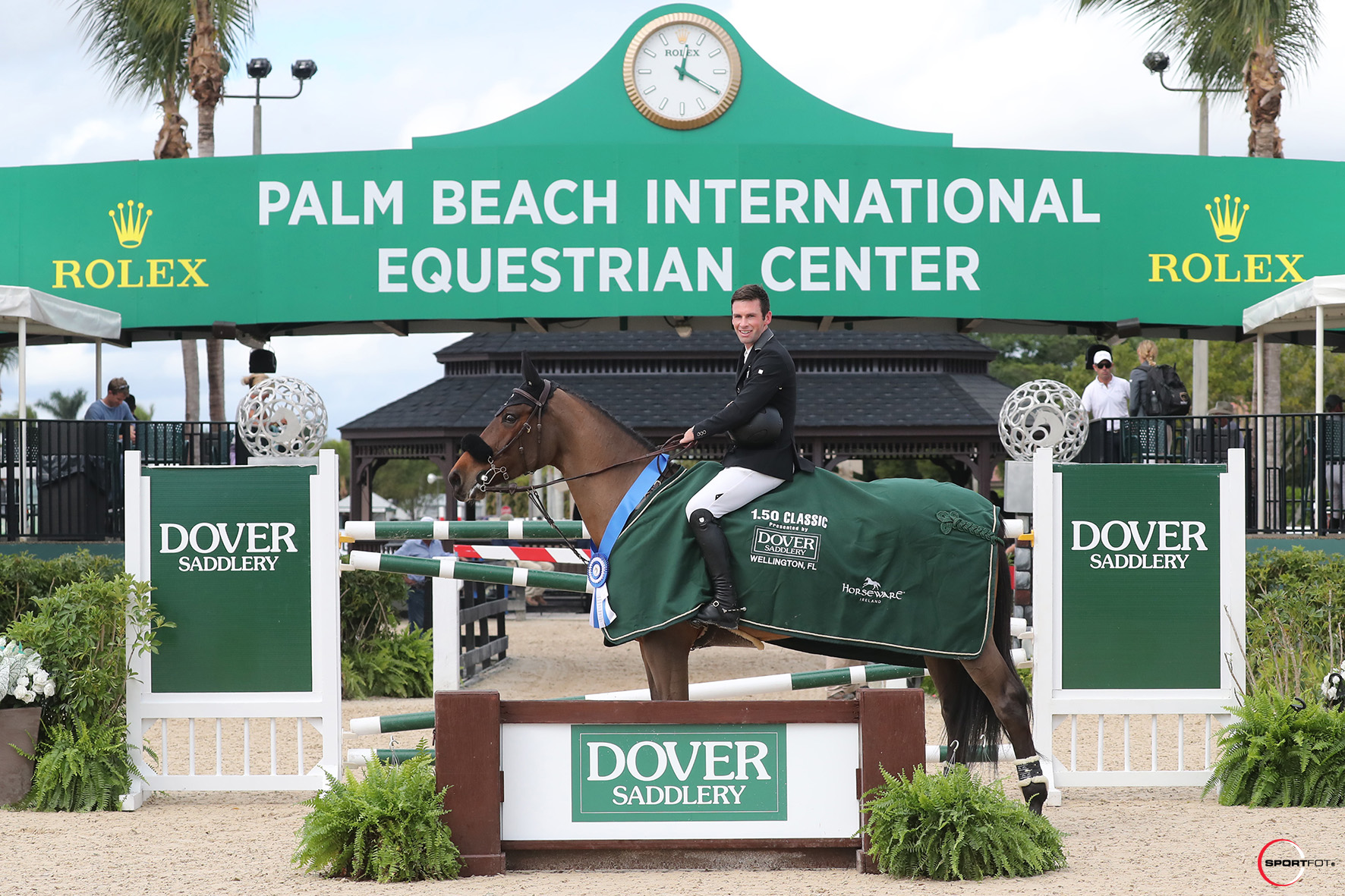 As the final FEI class of the week, the $37,000 Dover Saddlery 1.50m Classic CSI4* featured performances from 21 exhibitors over courses designed by Anthony D'Ambrosio (USA). Seven pairs hailing from the United States, Ireland, and Canada completed the first course without incident to advance to the jump-off, and a smaller group of four duos finished the contest without any faults at all.
"Since I won today, I have to say I thought the courses were great! The courses were fair without being overly big. The first course was long enough and the last line caught a few people, plus there were some careful spots with the skinny to the liverpool, and then a scopey oxer to finish. You needed some gas in the tank to finish up that last line without faults. The designer did a fantastic job," McCarthy remarked.
Third to ride in the jump-off, McCarthy and Gotcha, a 10-year-old Holsteiner mare by Stakkato x Cassini I, set the standard with a double-clear trip in 38.25 seconds with four teams left to tackle the track. As it turned out, none could come within a second of the frontrunners' time, securing the blue ribbon for McCarthy and Gotcha. The top prize was a welcome addition for the duo, who finished in second place on Thursday in the $6,000 Bainbridge Companies Holiday & Horses Opener CSI4*.
"Gotcha is a 10-year-old mare that I have been riding for about a year. This is actually the first class we have won together. We have been second quite a few times this year," McCarthy noted. "This was her last class of the year, so it is great to finish on a high note. She will get a break now until [the Winter Equestrian Festival], and we will aim her towards the Sunday 1.50m classes and some grand prix classes, as well."
Tiffany Foster (CAN) and Artisan Farms LLC's Vienna, a 2011 Hanovarian mare by Valentino x Leena J, captured second place in a double-clear time of 39.31 seconds. The final podium spot was awarded to Jennifer McCrea on Jennifer Carmichael's Gazelle ES, a 10-year-old Dutch Warmblood mare by Diarado x Ukato, with a penalty-free time of 40.81 seconds.
For the full results of the $37,000 Dover Saddlery 1.50m Classic CSI4*, please click HERE.