Edited Press Release
Wellington, FL – December 5, 2021 – The final day of the Holiday & Horses CSI4* horse show at the Palm Beach International Equestrian Center (PBIEC) brought 33 horse-and-rider combinations to the International Arena for a shot at the top prize in the $25,000 Omega Alpha Grand Prix. As the quickest of only two double-clear partnerships, Todd Minikus (USA) and Arthemis Des Sources galloped straight to victory, leaving more than three seconds between the winners and the second-place pair.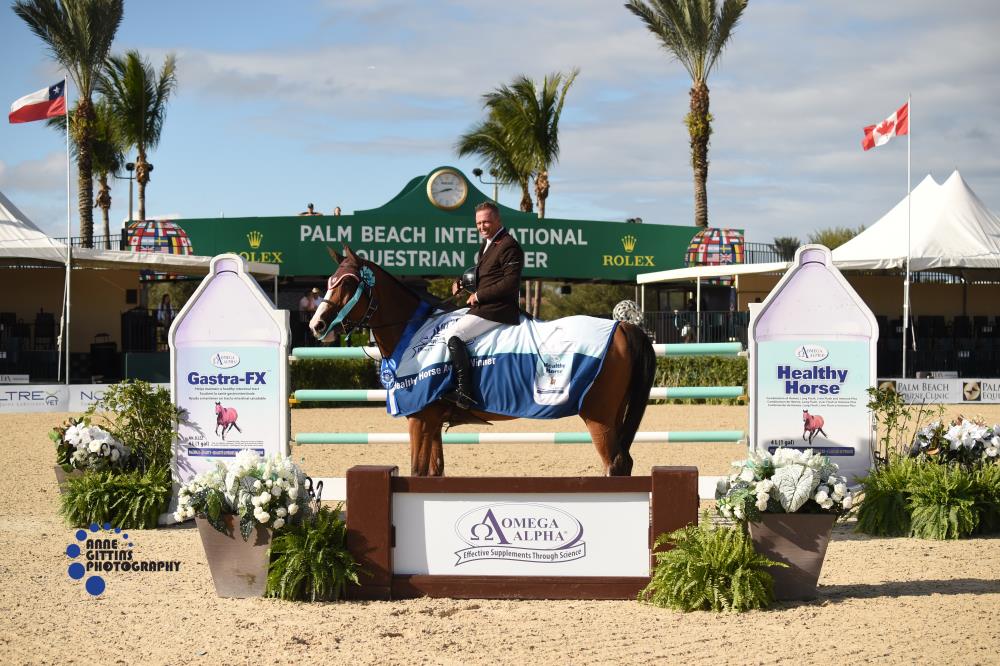 "We just bought him a few months ago for Catherine Wachtell to show. She has been in law school and working in New York City, so 'Arty' has kind of been hanging out. I figured if she is going to want to come to show her horse anytime soon, I better rev him up and get him going!" Minikus commented. "I decided to show him this week, and he won the 1.40m class the first day. I made a mistake and we had the last jump down in the 1.45m, and then today he was awesome, so it was a great week. I am pretty excited about it and pleased with how he went all three days."
Designed by Anthony D'Ambrosio (USA), the course for the grand prix challenged entries, with just four pairs advancing to the jump-off thanks to initial clear rides. Three more duos left all the fences intact, but incurred time faults to keep them out of the running. Minikus and Arthemis Des Sources were third to try the shortened pattern and faced a fault-free leading time of 38.90 seconds, set by Filip De Wandel (BEL) and Nanking VD Donkhoeve. Putting the pedal to the metal, Minikus and Arthemis Des Sources shaved more than three seconds off the clock without dropping any rails, crossing the finish line in 35.53 seconds to take the lead, which would stand through the final challengers.
"The course was difficult with only four clean out of more than 30. Between jumps three and four I lost my left rein, I have no idea why, so I started panicking a little. Somehow 'Arty' found his way to the middle of the combination and jumped through there with me only having one rein, so hats off to Arty," Minikus reflected. "This horse has a big stride, so it was very easy for me to leave strides out in the jump-off. I caught a nice turn back to jump number three, and on the last line I was inside all the others' footsteps, so that helped us to be faster."
De Wandel and Nanking VD Donkhoeve, owned by Five Way Farm LLC, concluded the class in second position as the final double-clear pair. The final pair to ride, Emily Ward (GBR) piloted Stephen Barnes' Millioninmind to third place, the fastest of the four-fault teams in the jump-off.
For the full results of the $25,000 Omega Alpha Grand Prix, please click HERE.
Earlier in the day, the $2,500 High Junior/Amateur Jumper Stake, presented by Noltrex®Vet, saw Hallie Grimes of Houston, TX, and Ace, owned by Can We Keep It? LLC, capture the blue ribbon by fractions of a second. As one of six pairs in the jump-off, Grimes and Ace navigated the 1.40m fences in a swift time of 33.40 seconds without faults, just barely edging ahead of Taylor Harris of Coto De Casa, CA, and Harris Equestrian LLC's Casilia, who finished fault-free in 33.66 seconds for the runner-up spot. Third place went to Ansley Wright of Manalapan, FL, and her own Diamanto JT Z in a clear time of 35.53 seconds. Grimes and Ace finished in first place on Saturday in another divisional class, which propelled them to the top of the overall leaderboard to capture the division championship tricolors.