Edited Press Release
Wellington, FL – December 12, 2021 – The ESP Year End Awards showcased hunter competitors throughout the weekend, with the $1,500 USHJA National Hunter Derby, presented by Vortex Equine Transport, serving as the main event on Friday. Boasting the highest scores from both the classic and handy phases, Little Brook LLC's Mon Tresor carried Geoffrey Hesslink of Shelbourne, VT, to top honors, beating the competition by eight points to take the lead spot in the victory gallop during the pair's debut class together.
"We bought 'Monty' after Indoors this year from Peter Lombardo in California so that Lauren Little can do Junior Hunters with him. This is our first class in our first show ever with him, so we couldn't be more thrilled," Hesslink commented. "I learned a lot from the first round, having never shown this horse. I learned that he is definitely a show horse. He is quiet at home, but seems to understand when we are at a show to give his best. He jumped all the jumps at 100 percent, so I just need to stay out of his way and let him do his thing."
One of the final contestants to ride over the classic course in the E.R. Mische Grand Hunter Ring, Hesslink and Mon Tresor were up against a leading score at the time of 87, but managed to pull ahead with 88 points to lead the pack headed into the second phase of riding, the handy course. Just six points separated the top four competitors, keeping it a close race for the blue ribbon.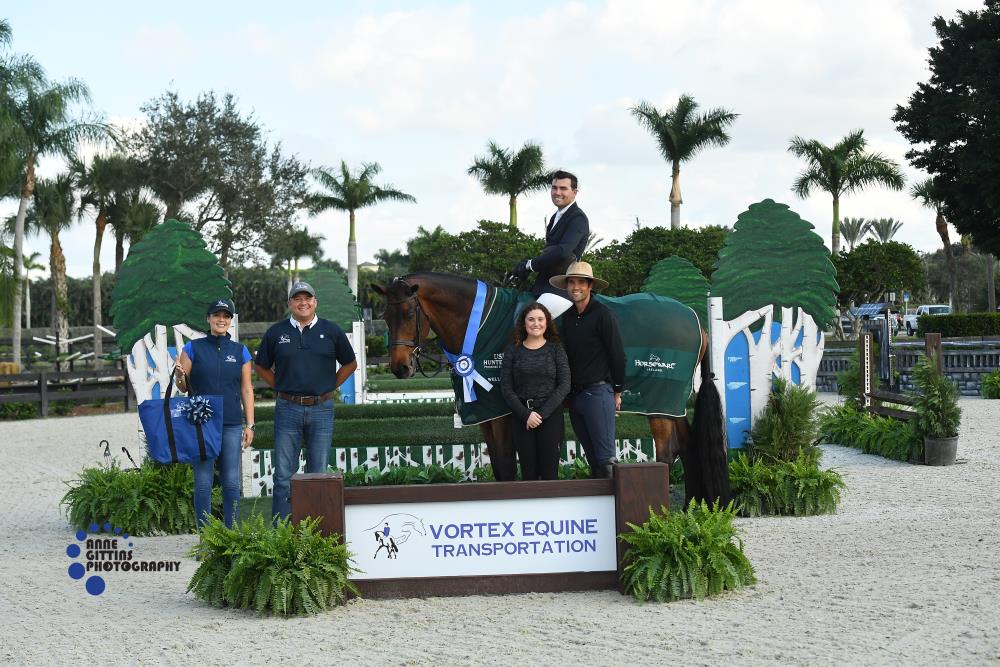 "The course was really fun. This is my favorite ring here, and they brought out a fun log jump with no standards today, which is new here and especially fun for a National Hunter Derby," Hesslink remarked. "I am getting excited for [the Winter Equestrian Festival] and am looking forward to competing myself as well as training my clients and helping in their success. We have a great group, so I think it is going to be a good season for us."
Returning last in the handy round, Hesslink and Mon Tresor extended their lead by jumping to a base score of 90, plus four additional high-option points to add a total of 94 points to their initial tally. The duo completed the class with 182 points as the only partnership to hit the 90-point threshold, winning the class. Jacob Pope of Columbia, MD, and Quixotic, owned by Linda Evans and Orion Farm, captured the runner-up honors with back-to-back scores of 87 for a 174 total. Kyla Makhloghi of Wellington, FL, and Ciao Bella, owned by Top of the Hill LLC, rounded out the podium in third place overall with 169.50 points.
On Saturday, the $1,000 2'6″/2'9″ Hunter Derby, presented by Equestrian Team Apparel, saw Jennifer Prior of Wellington, FL, and Le Chat Noir, owned by Catomine Farm, jump to the top of the leaderboard after earning the highest overall score following two rounds of competition. The partnership accrued 158 points, just one point ahead of the second-place finishers, Elissa Pincus of Wellington, FL, and Wakefield Stables LLC's Bage De Laume, who accumulated 157 points from their performances in the classic and handy rounds. Owner-rider Aly Orseno of Davie, FL, and Best Mate finished in third place with a total score of 147.