Edited Press Release
Wellington, FL – December 12, 2021 – The ESP Year End Awards Show reached its pinnacle on Sunday as 32 competitors stepped into the International Arena at Palm Beach International Equestrian Center (PBIEC) to vie for the $25,000 #1 Education Place National Grand Prix title. The podium was ultimately conquered by all-American riders, with Taylor Land and Get Go taking home the lion's share of the prize money after clearing the jump-off in the fastest time.
Course designer Anthony D'Ambrosio (USA) crafted two rounds of jumps that tested the field of international competitors. After the initial phase of competition, the field was reduced to just four riders who were able to successfully clear the first round. First to test the short track, Land set the bar high with a quick and clear time of 39.69 seconds, a time that none of her fellow competitors could match.
"I went third in the first round, so I just had to commit to my plan from walking the course," Land explained. "Luckily I've had my horse for a really long time, so I feel pretty comfortable just making a plan and knew he could do the leave-outs in the first round since he has a big stride. I was also first to go in the jump-off, so my plan was to just ride it like the first round but to pick up the pace. Since there were only four in the jump-off I wanted to put the pressure on the people behind me but without going crazy and having a rail."
Daisy Farish (USA) and the Ashland Farms-entry, Cruemmel 3, were the only other pair to place double-clear rounds and landed in second after stopping the clock at 45.39 seconds. Rounding out the podium was Nicholas Dello Joio (USA) and Diamants Aurora, owned by Jessica Mendoza, who were just behind Land with a time of 40.45 seconds but knocked a rail to incur four faults against them. In addition to winning the class, Land was also named the Martha Jolicoeur Leading Lady Rider for the week, putting her name on the overall leaderboard that will run through the end of the ESP Holiday Series.
Land has been working with the nine-year-old gelding, owned by Pinetree Farms Inc, since he was five and shared that they just moved up to FEI classes this year. "Get Go is such an amazing horse and I feel so lucky to have him. He has come up through the young horse classes with me and just started stepping into FEI classes with me this year. I want to compete in some of the 2* classes here during WEF, so I wanted to show here since he hasn't jumped here since he was seven. Now I feel like he's ready!"
Land concluded, "I haven't shown here in two years, so I'm really looking forward to coming back in February and March to compete in FEI classes. The footing in the Mogavero and Denemethy is totally different and the expansion of the Mogavero is awesome. Everything looks great and I'm really excited to be back."
Forty-two entries competed in the $10,000 Bainbridge Companies 1.40m Open Stake on Friday, and exactly one-quarter of the class advanced to the jump-off, which saw 13 pairs jump the second track. Six pairs finished the contest double-clear, led by Nicholas Dello Joio (USA) on Jessica Mendoza's Diamants Aurora. The duo edged ahead of the field by fractions of a second, crossing the finish line without penalties in 39.88 seconds to take the win. Second place was awarded to Diego Perez Bilbao (MEX) aboard McLain Ward's Blossom Z in a clear time of 40.07 seconds, and the final podium spot was earned by Abigail McArdle (USA) riding Victoria 5, owned by Victorio Equine Group, LLC. The third-place pair stopped the clock in 41.09 seconds after a foot-perfect round.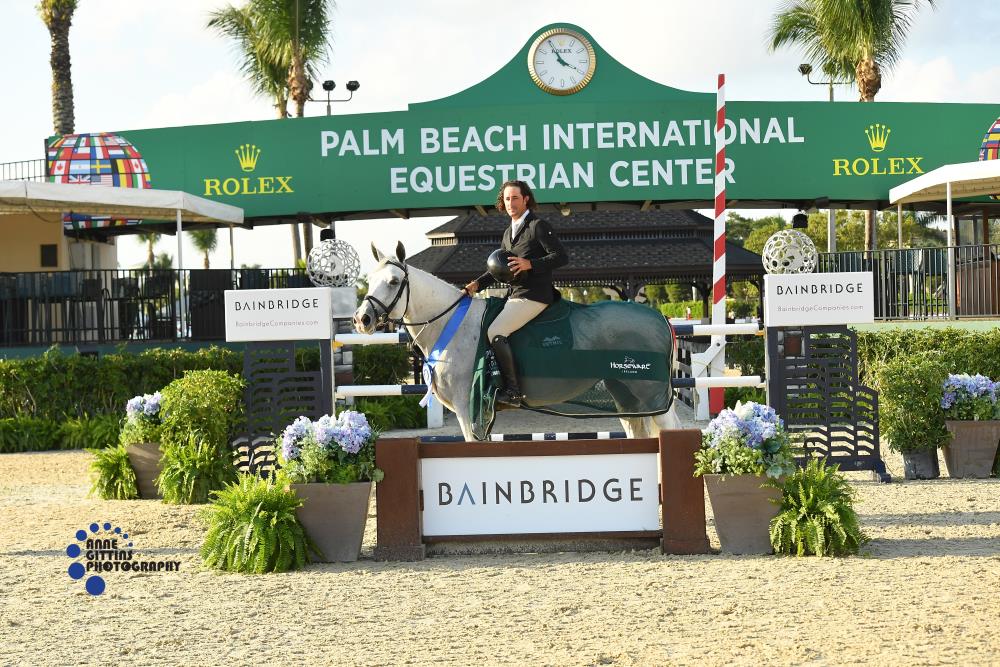 In the $5,000 Pilates Rocks 1.35m Jumper Stake, Kristen Berian (USA) galloped Coral C Stables LLC's Nestor Z right to the top of the standings with a double-clear time of 35.68, beating out 30 other contenders. Riding her own Select's London Calling, Alexis Bodo (USA) nabbed second place in a clear time of 36.74 seconds, and Dana Escales (USA) finished in third place aboard Buttonwood Show Jumpers LLC's Bono Ter Linden with a fault-free time of 37.15 seconds. Out of the starting pack, 15 pairs advanced to the jump-off and seven duos completed the class without any faults.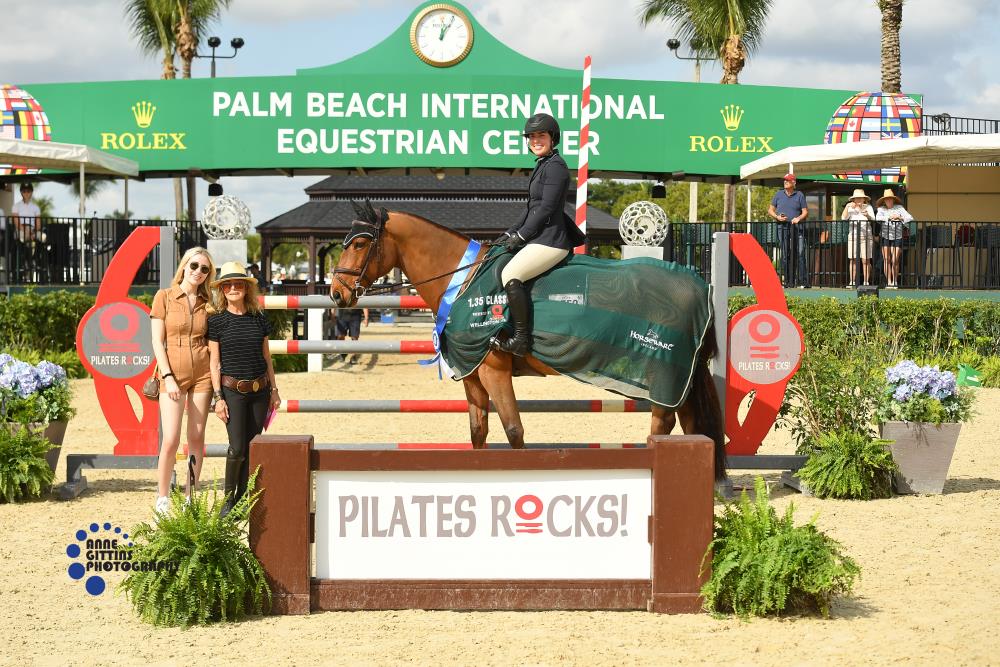 Sunday morning's $2,500 Medium Junior/Amateur Jumper Stake, sponsored by Palm Beach Equine Clinic, crowned Tessa P. Brown (USA) and Mystique VH Kijkvrerdriet, owned by Equipearl, LLC, the big winners after they sped through the jump-off in 34.50 seconds without any faults. Francesca Bolfo (USA) and her own Jadalco earned the runner-up title after clearing the jump-off in 34.68 seconds, while Annie Phillips (USA) took home third place on Oakridge Farm's Cascor Z with a clear jump-off time of 34.91 seconds.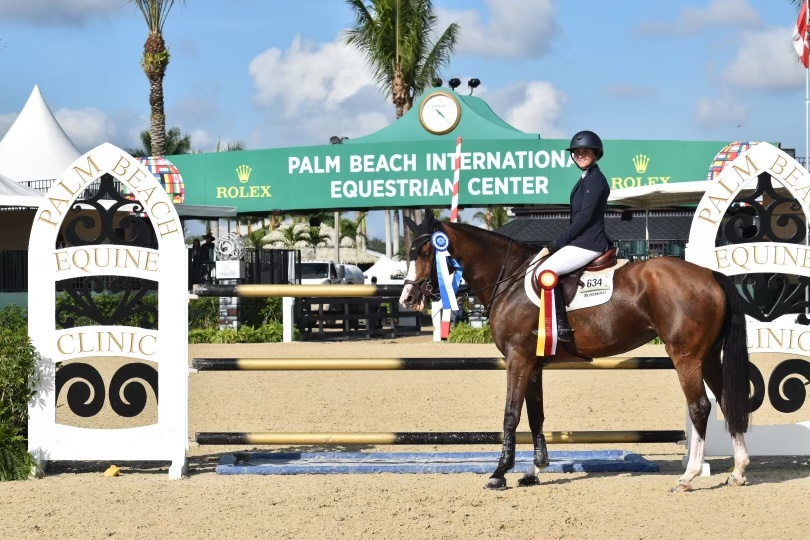 Immediately following, Stephanie Valdes (CAN) won the $2,500 High Junior/Amateur Jumper Stake, sponsored by Noltex®Vet, with Wendy Valdes' Cyber Lady Z. The pair stopped the jump-off timers at 40.16 seconds without any faults to beat a field of 18 competitors. Teri Kessler (USA) and her own Sambuka De Lurberri finished the jump-off in a quick 33.50 seconds but had one rail to accumulate four faults and put them in second place. Susan Griffis (USA) stopped the clock in 36.20 seconds but also had a rail down to place her in the third position.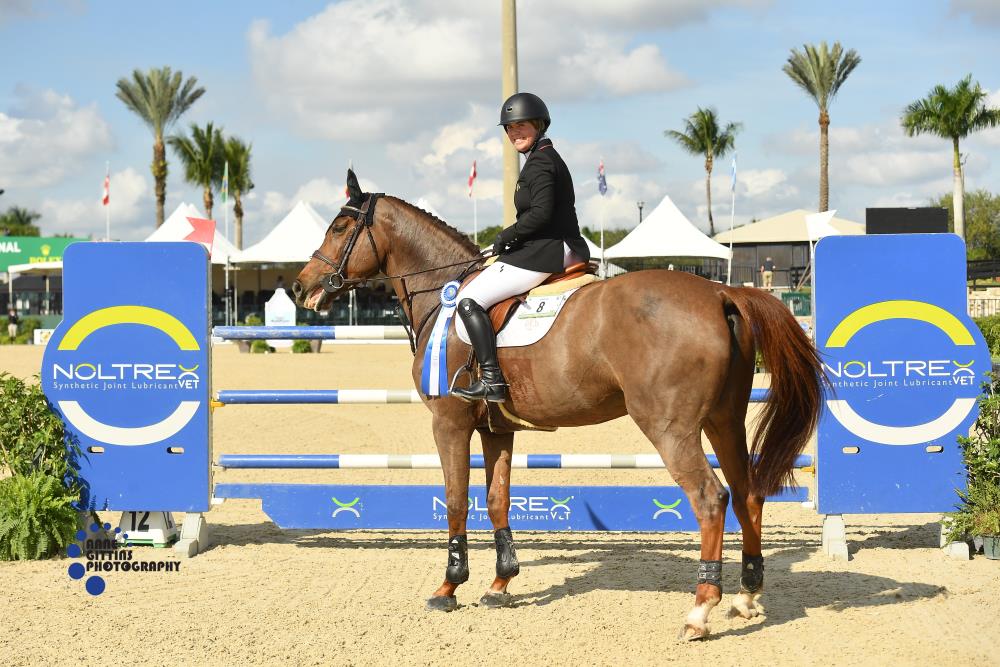 Earlier in the week, the Elite Horse Transport 1.30m Open Jumper saw a huge field of 71 horse-and-rider pairs contest the power-and-speed course, with riders continuing onto the second half of the course regardless of faults incurred over the first group of fences. Out of the starting pack, 31 finished the pattern without dropping any rails, but Peter Leone (USA) and Quality Time, owned by Arenberg Equestrian Center, did it the quickest with a final time over the second half of the course in 30.44 seconds. Just a hair off the pace, Victoria Colvin (USA) piloted Justine Bestler's Bipper Du Libaire to second place in 30.62 seconds, and Sydney Shulman (ISR) earned third position with Emily Aitken's Caretinhus in 30.93 seconds. It was a close race for the top prize, with the top four exhibitors finishing within half of a second apart from each other.
For the full results of the $25,000 #1 Education Place National Grand Prix, please click HERE.