Edited Press Release
Wellington, FL – Dec. 19, 2021 – Two grand prix classes enhanced the schedule of the ESP Holiday show at the Palm Beach International Equestrian Center (PBIEC), with big winners of the week earning blue ribbons in the $50,000 Vita Flex Grand Prix and $25,000 Resilient Fitness Grand Prix. In the first grand prix of the weekend, Ryan Genn (USA) and VDL Gerinus T, owned by Wilhelm Genn, came out on top after two clear rounds over tracks designed by Mauricio Garcia Ballesteros (PUR) in the $25,000 Resilient Fitness Grand Prix. The finale of the show, the $50,000 Vita Flex Grand Prix victory went to Filip de Wandel (BEL) on Manhattan Van't Leeuwerikenhof.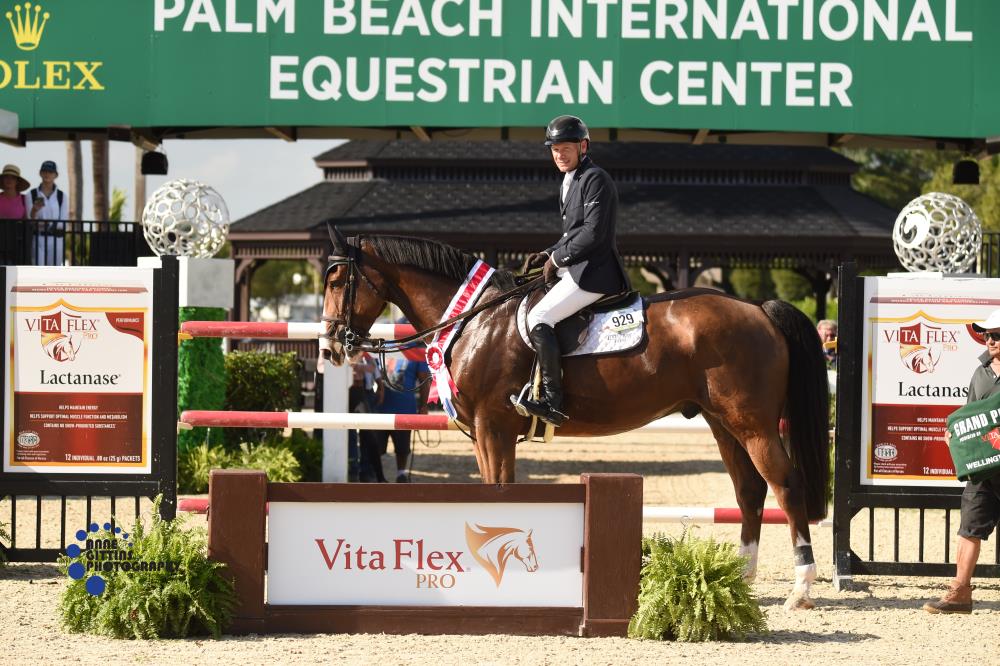 "Manhattan is a nine-year-old by Emerald Van t Ruytershof and Kashmir Van't Schuttershof. He arrived in the United States in June, so I showed him a little bit this summer and he did well in some national grand prix classes. I gave him a little bit of a break in September and I started showing him again in November to get him ready for the season," De Wandel remarked. "I'm hoping to compete him in some 3* classes this winter season. I'm very happy to win today. He was already second two weeks ago, so I'm pleased to have success with this horse already."
Sunday's $50,000 Vita Flex Grand Prix showcased efforts from 30 entries representing 12 nations, but only three were able to finish the first round without any faults to advance to the jump-off. The first to go in the jump-off as the initial pathfinders from the first round, Ava de Caster (USA) and Carlotta 289, owned by Bay Winds Equestrian LLC, tackled the abridged track and looked to set a tough-to-beat standard, but lowered the final fence to incur four faults. Following suit, Wilhelm Genn (GER) tried to add another Genn name to the top of the grand prix standings after his son's wn on Friday, but he and Eduardo Leon's Bugatti also dropped a fence to open the door for De Wandel to take over the lead as the last to ride.
"I was a little bit surprised at how few clears there were. I thought Friday's course was more difficult and you had to be more careful. Today's course I thought was nice, maybe a little bigger than Friday's, but I thought there would be more clear than three," De Wandel noted. "I'm not always the fastest rider in the jump-off so today really worked out for me, though!"
Knowing he only needed a clear ride in the jump-off to win the top prize, De Wandel navigated Manhattan Van't Leeuwerikenhof to a conservative fault-free ride in 46.06 seconds, capturing the lion's share of the prize money as the only double-clear duo of the class. Genn and Bugatti finished in second place with a four-fault time of 41.69 seconds, and De Caster and Carlotta 289 were awarded third place with a slightly slower four-fault trip in 42.46 seconds.
For the full results of the $50,000 Vita Flex Grand Prix, please click HERE.
On Friday, 40 contenders vied for the top prize in the $25,000 Resilient Fitness Grand Prix, and five of those pairs finished the first round without faults to qualify for the jump-off. Though the starting field was internationally-diverse with duos from eight nations, just two were represented in the second phase of competition. Four American partnerships and one team from Great Britain took their turn over the abridged course.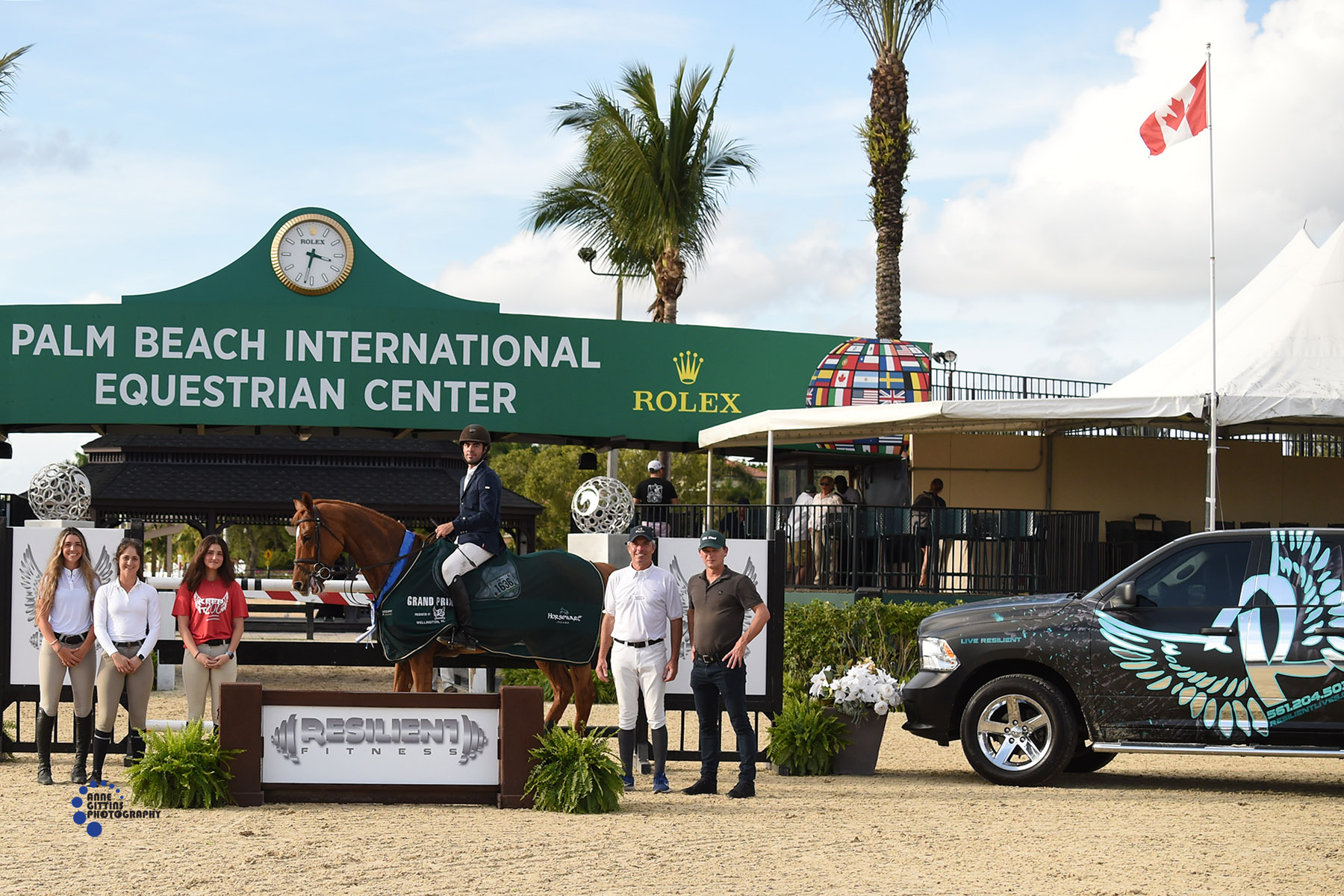 "I think the timing was a little bit of a factor in the first round, so you had to ride the pace a little bit. Anytime you have to think about pace, then the more technical parts get more difficult," Genn remarked. "Luckily for me, it's never an issue because my horse has so much action naturally. When Jessica [Mendoza] had a rail down in the jump-off, I just wanted a double clean. I kind of let go of the reins and he ended up being super fast. He has so much action; it's easier to go fast than controlled."
In the jump-off, Genn and VDL Gerinus T were the second to ride out of five. The combination put in the first double-clear effort of the class, stopping the clock in 39.48 seconds. Of the three remaining contenders, two put in foot-perfect performances, but could not come within two seconds of Genn's leading time, solidifying him and VDL Gerinus T as the winners.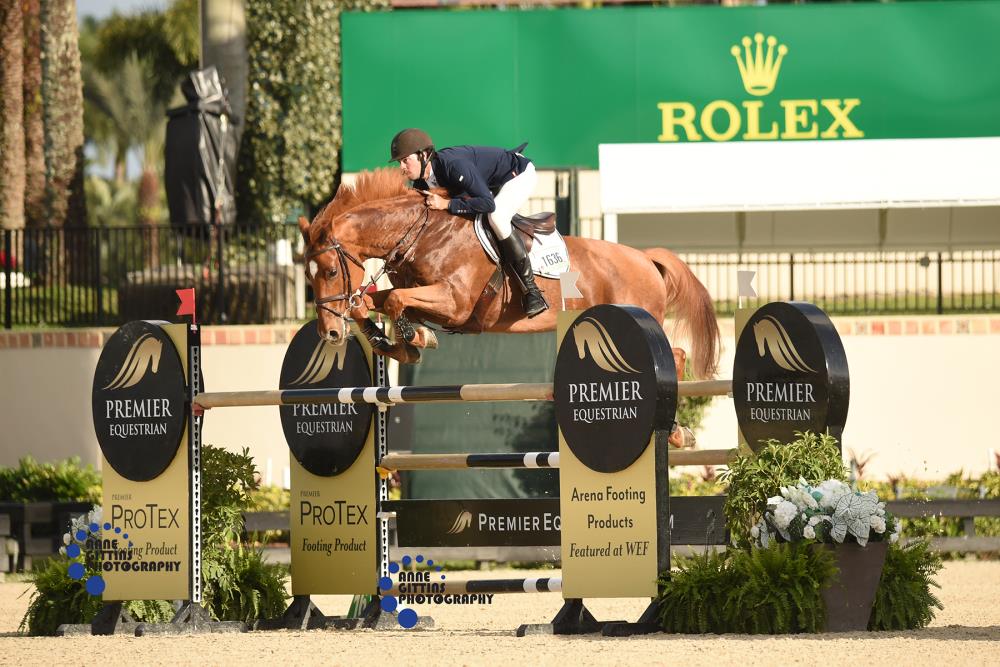 "We've had him since he was five. He's been really difficult as far as training goes because he's so sharp and wound up, but always a winner, even as a five-year-old. Every step of the way he has been a winner. I'd rather have a horse that bites me every once and a while but still wins some ribbons!" Genn commented.
Sandra Dalman (USA) and Dalman Show Jumping's Haitie claimed second place with a double-clear time of 41.61 seconds, followed by Caitlyn Connors (USA) riding her own Escada 289 in third position with the final double-clear time of 42.39 seconds.
For the full results of the $25,000 Resilient Fitness Grand Prix, please click HERE.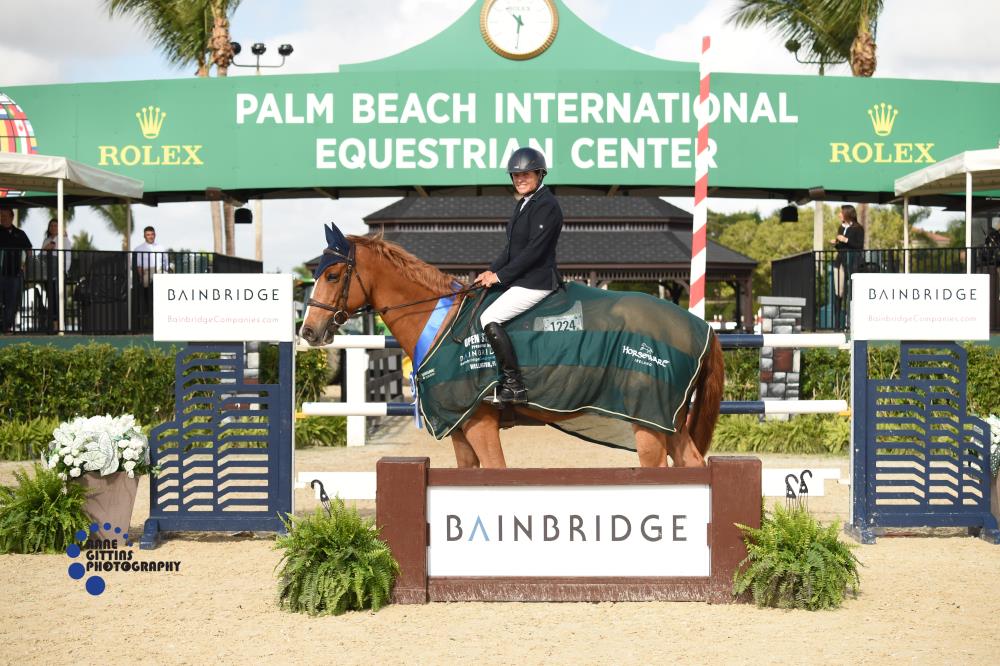 On Thursday, 27 entries competed in the $10,000 Bainbridge Companies 1.40m Open Stake, and nine pairs representing the United States, Ireland, and Canada advanced from the first round to the jump-off. In the end, the American duos pulled out all the stops to take the top three spots, led by Leslie Howard (USA) and Donna Speciale, owned by Peter Howard and Laure Sudreau. The winning team crossed the timers in a double-clear time of 40.52 seconds, slightly ahead of second-place finishers Delaney Flynn (USA) and Grace Jacobsen's Milan IV, who kept all the rails in their cups in 41.26 seconds. The final podium spot went to Catherine Tyree (USA) riding Itasca Group LLC's Primo Troy in a fault-free time of 42.83 seconds.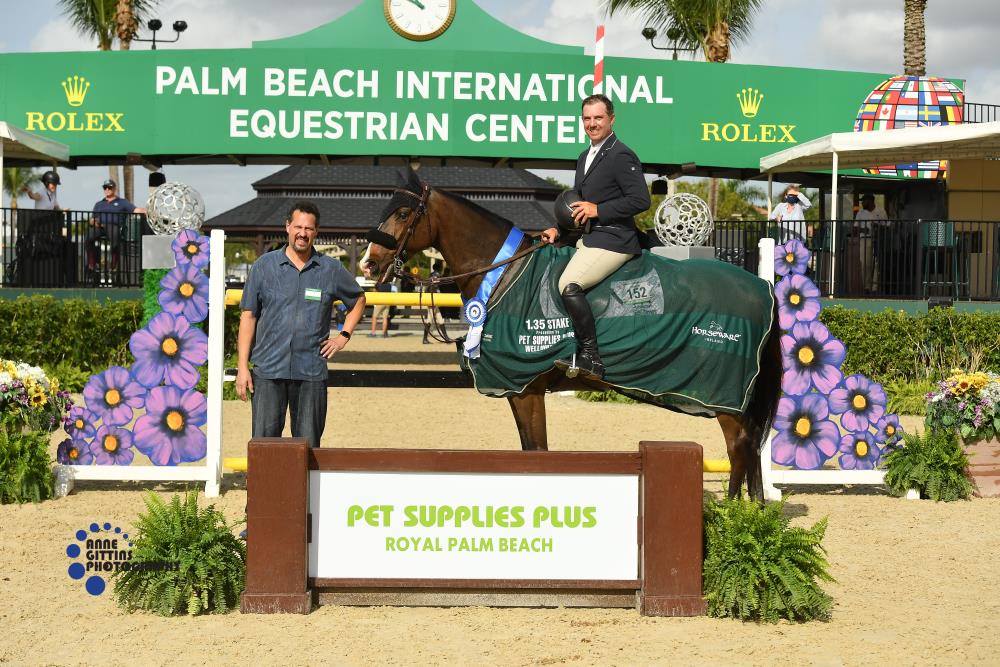 Saturday morning featured the $5,000 Pet Supplies Plus 1.35m Jumper Stake, which saw a large group of 37 challengers tackle the first course. An impressive field of 19 pairs advanced to the jump-off, and 11 of those finished the contest without any faults. Edging ahead to lead the class, Alex Granato (USA) piloted his own Disco Superfly to the top of the standings by mere fractions of a second, tripping the timers double-clear in 39.04 seconds. Roberto Teran Tafur (COL) had a stellar showing in the class, claiming second, third, and fourth place. His runner-up mount was his own Fresca La Quadra in a fault-free 39.18 seconds, and Rocking Basilisk Farm LLC's Santana carried Teran Tafur to third place without faults in 39.23 seconds, leaving less than a quarter of a second between the top three.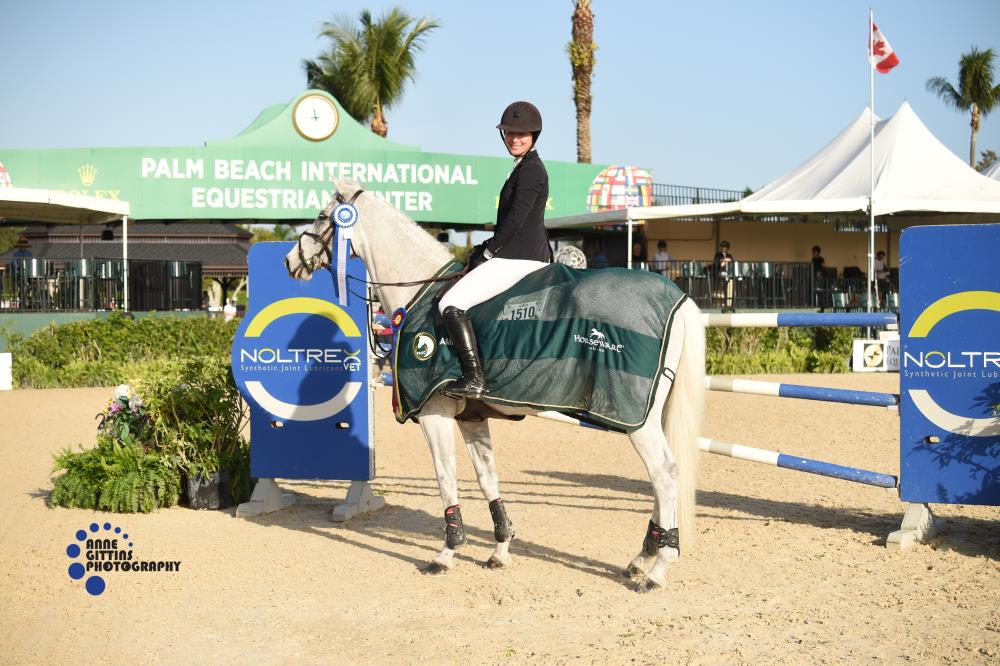 In the $2,500 High Junior/Amateur Jumper Stake, presented by Noltrex®Vet, 20 pairs competed over the 1.40m fences. Galloping straight to the top of the leaderboard by nearly three seconds, Francesca Bolfo of New York, NY, and her own Lasirca KIL took the win with a double-clear time of 31.99 seconds. Owner-rider Eliza Kimball of New York, NY, and Eclips claimed second place without faults in 34.58 seconds, followed by Anne Gardner of Palm Beach, FL, on her own Retiro in a foot-perfect time of 34.79 seconds.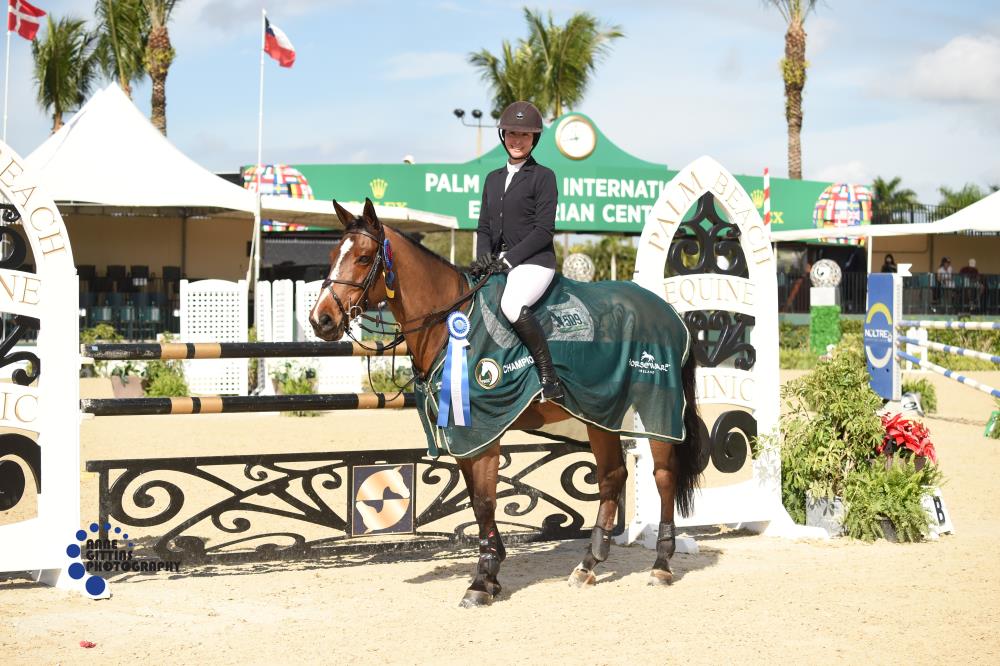 Bolfo had a superior Sunday, also taking the blue ribbon in Section A of the $2,500 Medium Junior/Amateur Jumper Stake, presented by Palm Beach Equine Clinic. She rode her own Jadalco over the 1.30m fences, besting a field of 20 horse-and-rider pairs with a clear jump-off time of 38.11 seconds to add to her wins for the day. Teri Kessler of Lexington, KY, and her own Arizona grabbed the runner-up spot in a double-clean 39.40 seconds. The final podium placing went to owner-rider Taylor Blackman of Wellington, FL, on Boucanier without faults in 40.21 seconds.
In Section B of the $2,500 Medium Junior/Amateur Jumper Stake, presented by Palm Beach Equine Clinic, Josephine Nash of New York, NY, and Comfortside Farm's Luron S Z earned the best placing with two clear rounds and a jump-off time of 38.74 seconds. Erika Jacobson of Boca Raton, FL, and Barn Rat LLC's USA Normande earned the runner-up spot in a double-clear time of 40.18 seconds, and they were trailed by Katherine Madruga of Wellington, FL, aboard her own Louboutin F in a fault-free time of 41.27 seconds for third place.