Edited Press Release
Wellington, FL – December 23, 2021 – The $25,000 ProElite Grand Prix took place on Thursday, December 23, the final day of the ESP Holiday III Show at the Palm Beach International Equestrian Center (PBIEC). Twenty-two contestants competed for the lion's share of the prize money over the course designed by Héctor Loyola (PUR). After a 10-horse jump-off, Brazil's Santiago Lambre and Easy Girl took their place in the winner's circle after clearing the jump-off in the fastest time. Lambre also claimed the final spot on the podium with Comtess 202.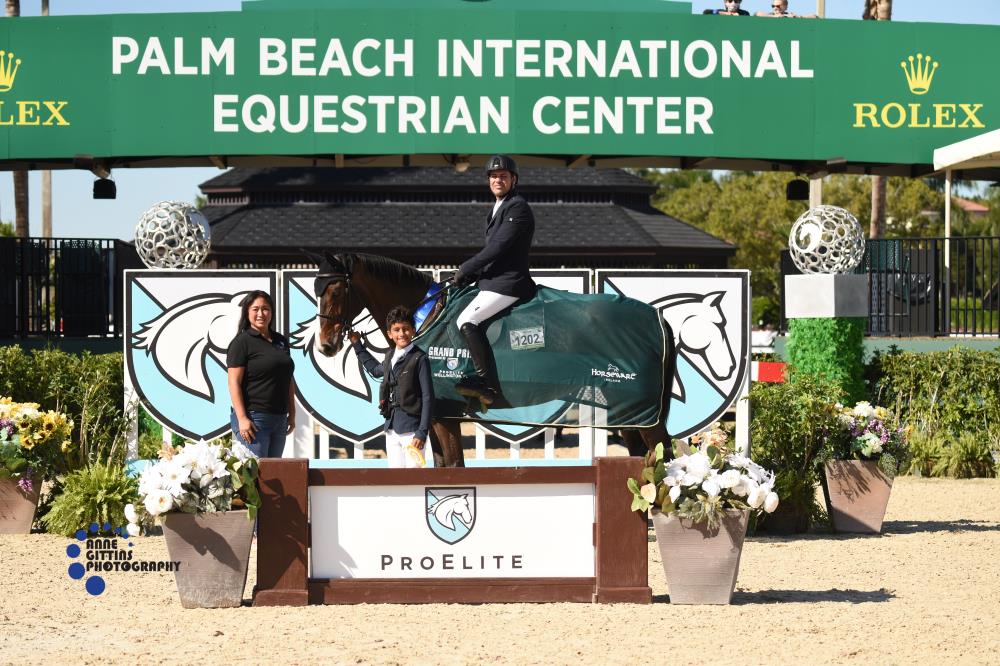 "I've had Comtess since the beginning of the year. The owner is a long-time supporter of my brother and I," Lambre shared of Comtess 202, owned by Mario Onate. "She jumped the 4* Grand Prix here a few weeks ago and just had one time fault, and I wanted to jump her again after having two weeks off to keep her fit and ready for the season. We'll compete in another National Grand Prix, and then, at the end of January, I'll probably compete in the 4* Grand Prix and hopefully a 5* Grand Prix later in the season."
Of the 10 pairs that advanced to the seven fence jump-off, just two were able to land double-clear rounds. Third to go in the order, Lambre and Mario Onate's Easy Girl were the first pair to clear the short course in a quick 37.66 seconds. Shane Sweetnam (IRL) made a valiant effort with Triple S Group's Holliewood, placing the last clear round of the class but was nearly two seconds behind with a time of 39.502 seconds. Lambre and Comtess 202 had just one rail early in the course but were still able to claim a podium finish after stopping the clock at 39.898 seconds. Elli Yeager, who finished fourth with her Iceman De Muze, was presented with the Martha Jolicoeur Leading Lady Rider Award.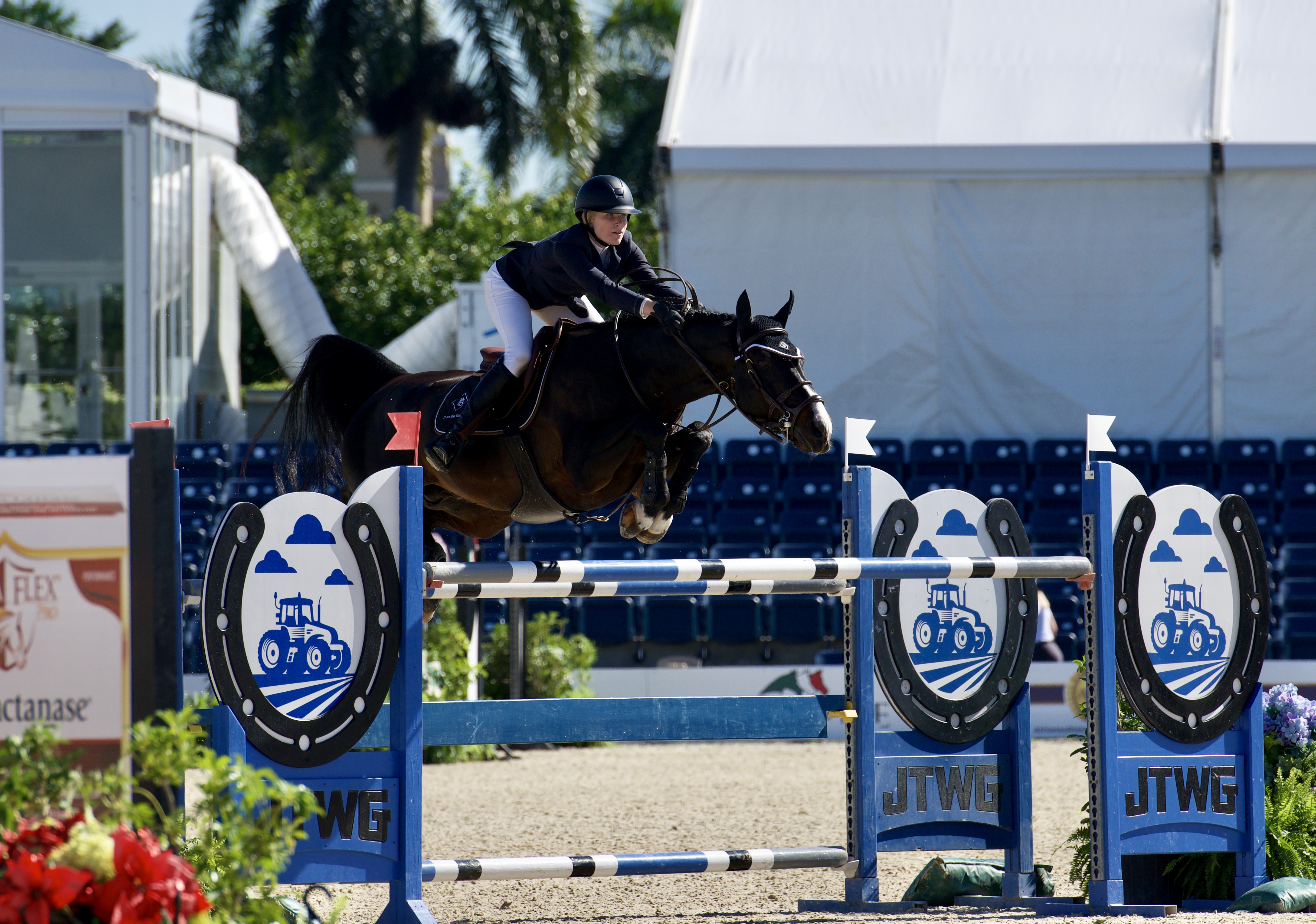 "I knew I had really fast riders behind me, so with the first one [Easy Girl], I tried to take all the risks I could, and it worked. With Comtess, I had an early fault, so I just tried to be the fastest four-faulter," Lambre commented regarding his plan for the jump-off. "I really like having the national Grand Prix competitions here because they're a great opportunity to practice in the show ring with the horses to keep them fit without having to jump too big," Lambre concluded.
For the full results of the $25,000 ProElite Grand Prix, please click HERE.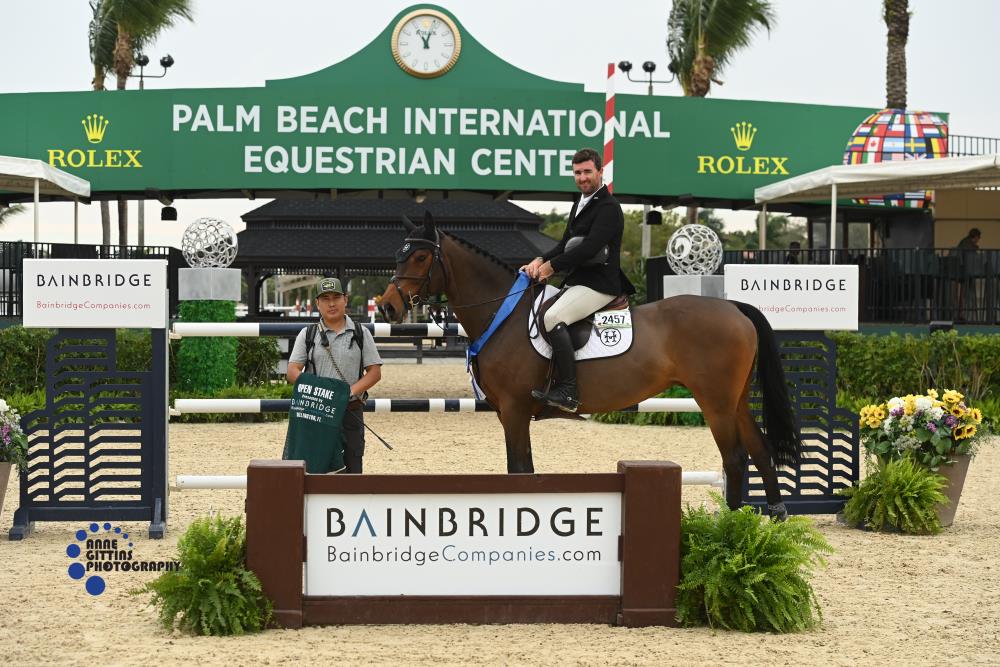 Tuesday's $10,000 Bainbridge Companies 1.40m Open Stake was an incredibly tight race for first prize, with the top six finishers all completing the jump-off course within one second of each other. Edging ahead of the pack by mere milliseconds, Lorcan Gallagher (IRL) and HKC Collection LLC's Ariana galloped through the timers without faults in 38.48 seconds, narrowly beating second-place finishers Santiago Lambre (BRA) on Mario Onate's Easy Girl with their double-clear time of 38.57 seconds. Third place was earned by David O'Brien (IRL) on Jennifer Blumenthal's Gerko in a fault-free time of 38.87 seconds.
Wednesday featured the $5,000 SAS Equestrian 1.35m Jumper Stake, during which six horse-and-rider combinations advanced to the jump-off. Five of those completed the class double-clear, led by Abigail McArdle (USA) on I&H Boogy Woogy, owned by Samuel Parot Jr., in a time of 39.13 seconds. The podium finishers all crossed the finish line within half of a second to keep the pressure high. Just milliseconds off the pace, Katie Eppinger (USA) and her own Disabella grabbed second position in a time of 39.38 seconds, and the third-place pair, Heather Caristo Williams (USA) on Mr. and Mrs. Ralph Caristo's Celtic Hero BZ, were only fractions behind in 39.52 seconds without faults.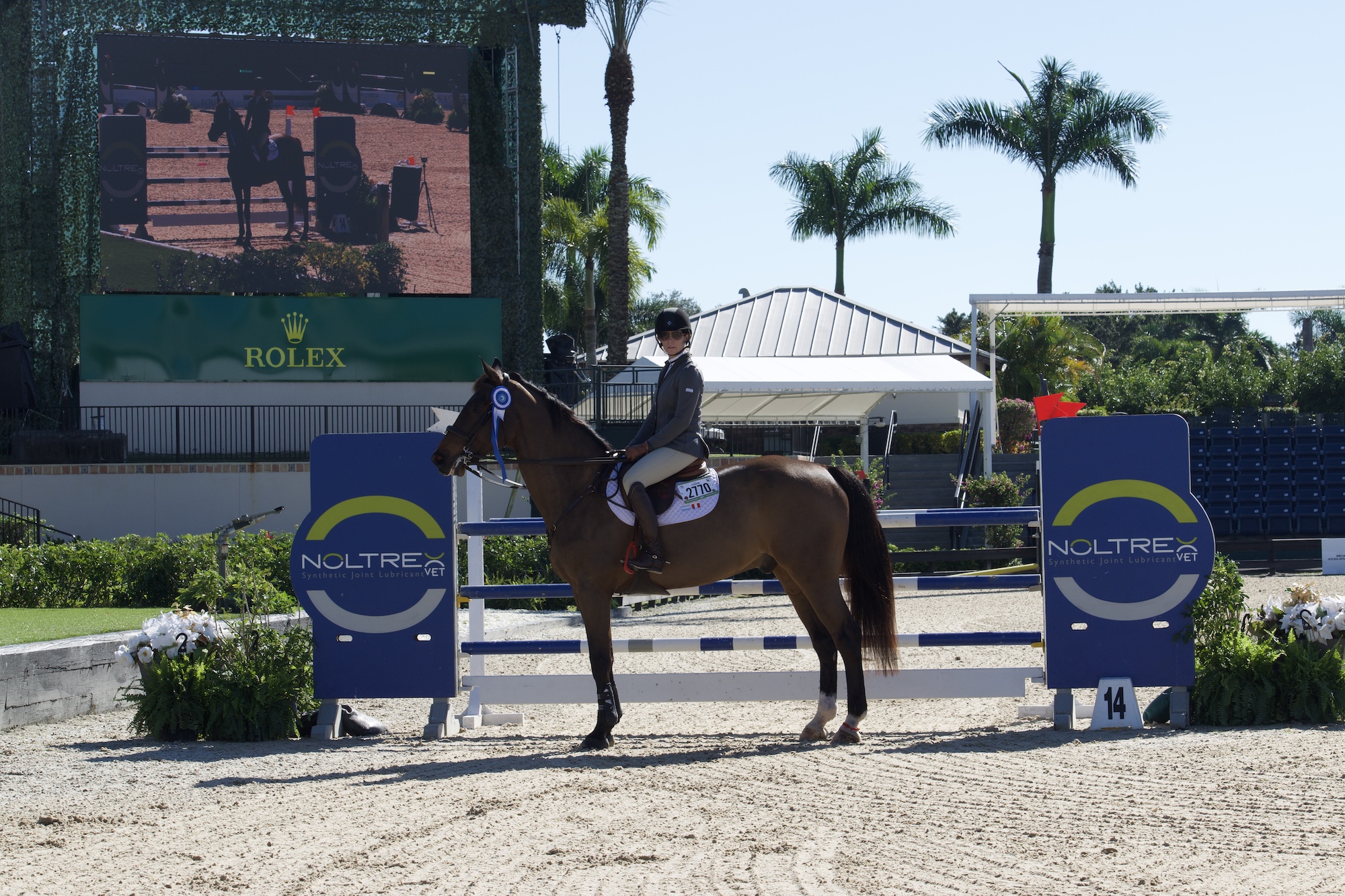 One of the final classes of the show, the High Junior/Amateur Jumper Stake, presented by Noltrex®Vet, crowned Michelle Navarro-Grau (PER) and her own entry, Fernando, the big winners. The pair topped the class with a time of 82.694 seconds and four faults. Second place was awarded to Erika Jakobson (USA) and USA Normande, owned by Barn Rat LLC,  with an eight-fault effort and a time of 77.938 seconds. Katherine Benard (USA) and her own Colvelle finished in a time of 84.259 seconds with eight faults to claim third place.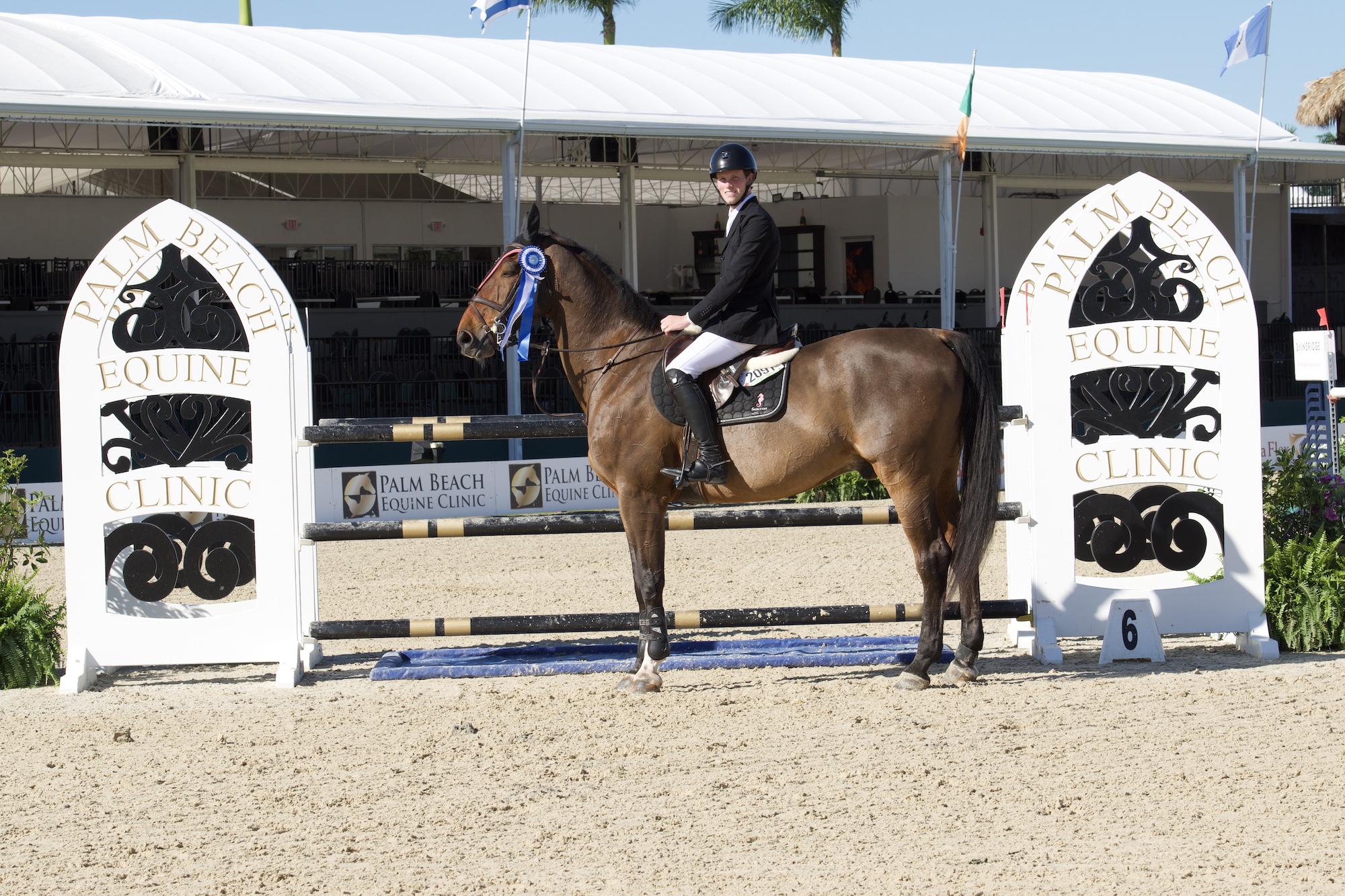 Five competitors advanced to the jump-off in the Medium Junior/Amateur Jumper Stake, presented by Palm Beach Equine Clinic. Of the five, John Angus (USA) and Konjured, owned by Stephanie E Angus, proved to be the fastest after clearing the course in 42.576 seconds. Just a hair behind, Emma Seving (USA) and her own entry, Brighton Bay, claimed the runner-up position after stopping the clock at 42.791 seconds without any faults. Third place was awarded to Stephanie Garrett (USA) riding Elertina, owned by Postage Stamp Farm, LLC, with a clear time of 47.161 seconds.