Edited Press Release
The first week of the World Equestrian Center – Ocala NSBA 2022 Winter Spectacular Show Series wrapped up Sundaywith the $15,000 WEC Ocala 1.45m Jumper Classic. Nine entries took to the WEC Grand Arena to contest a challenging track by Bobby Murphy (USA). The track presented a tight time allowed and featured multiple combinations. Only Bryn Sadler and Showcase 81, LLC's Cinven CR (Clearway x Raissa CR) managed to deliver a clear first round.
Sadler and Cinven CR were the first pair down the ramp into the WEC Grand Arena to contest the $15,000 WEC Ocala 1.45m Jumper Classic, producing a clear first round and stopping the clock at 84.802 seconds, just within the time allowed of 85 seconds.
Sadler and Cinven CR were very successful during World Equestrian Center – Ocala's 2021 Summer Series earning multiple top three finishes in featured classes. Sunday, Sadler and Cinven CR continued their winning ways.
Sadler was very thankful for Cinven CR, saying, "I had a bit of a rough morning, so I asked [Cinven CR] to help me get this course done today and he did just that. The course was difficult today and it was difficult last night. The course designer this week is really great at making technical tracks and he had my number on quite a few of them. After the course last night, I had a better idea about how to ride the course today and Cinven gave me 150 percent going in."
Sadler and the 14-year-old Holsteiner gelding advanced straight to the jump-off. "The jump-off was way easier, because there weren't as many lines," Sadler said. "I was able to smooth it out, get my rhythm and cruise. By that point we were on it, and my plan for the jump-off was to just go clear."
Sadler and the scopey Cinven CR navigated a smooth and fast jump-off, not touching a single rail to stop the clock at 36.046 seconds, to secure the win.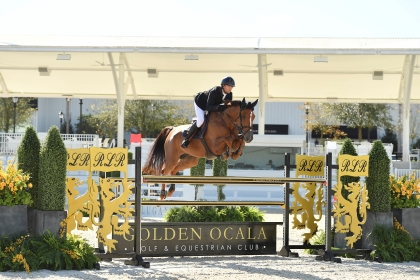 David Cameron clinched the second and third place spots. Cameron and Tallara Cameron's Oaks Come By Chance earned the red ribbon in today's class. Cameron and the warmblood gelding produced a very smooth first round, leaving all rails up to stop the clock at 85.050 seconds, unfortunately earning just one time penalty.
Cameron's second mount Alan 111 Z owned by Linda Huddy and Sally Watkins also delivered a clear first round but incurred two time faults with a time of 86.604 seconds.
$15,000 WEC Ocala 1.45m Jumper Classic Results:
1.Cinven CR, Bryn Sadler, Showcase 81, LLC: 0 | 0 | 36.046
2. Oaks Come By Chance, David Cameron, Tallara Cameron: 1 | 85.050
3. Alan 111 Z, David Cameron, Linda Huddy & Sally Watkins: 2 | 86.604
4. Castella, Sarah Gordon, Sarah Gordon: 4 | 82.007
5. MTM Pablo, Dorothy Douglas, Davenport Farms: 4 | 82.740
6. Boudika Ideal Home, Kady Abrahamson, Abrahamson Equestrian LLC: 4 | 83.606
7. Cristo Beech, Aaron Vale, Thinks Like A Horse: 8 | 81.414
8. Kastar Hof Ten Zoetendaele, Kyle Dewar, Kyle Dewar: 12 | 80.407
9. High Touch, Morgan Ward, Whisper Hill Farm LLC: 12 | 82.027
Photos courtesy of Andrew Ryback Photography.
Videos available at ClipMyHorse.TV.