By Jennifer Wood and Amanda Picciotto Feitosa for Jennifer Wood Media, Inc.
Robin Schwartz and her horse Back in the Game won all three classes Sunday at the 2022 Winter Equestrian Festival (WEF) to conclude the Marshall & Sterling Adult Amateur Hunter Older (Section B) division with the championship ribbon. Sharing the winner's circle was Nicole Harris and her horse Le Diplomate, who finished with the reserve championship honors. Schwartz, who trains with Devan Cottrell and Matt Piccolo at Arrow Hill Farms, and Harris, who trains with Jason Schnelle at Autumn Chase Farm, both hail from Tennessee.
This was Schwartz's first time back showing at WEF in 19 years, and it has been an emotional return.
"It feels amazing to be back at WEF, and I am blessed to have such an awesome horse," said Schwartz. "[The E.R. Mische Grand Hunter Ring] was always my favorite ring to show in."
Schwartz's daughter's developing passion for horses got her back in the saddle.
Schwartz explained, "I knew if she liked it, then I'd have to get back into this, because I love all things about this.
"After I got over 'Oh my god, I'm too old to do this,' because I'm 56, and I have an 11-year-old and a 12-year-old, I was like, 'Okay, I need something to look forward to,'" she continued.
Unfortunately, the road back to the show ring wasn't a smooth one for Schwartz. In her quest to get back in the show ring, Schwartz had a fall that resulted in five broken bones in her back. Eventually Schwartz found "Ollie," a 12-year-old Warmblood gelding by Vechta.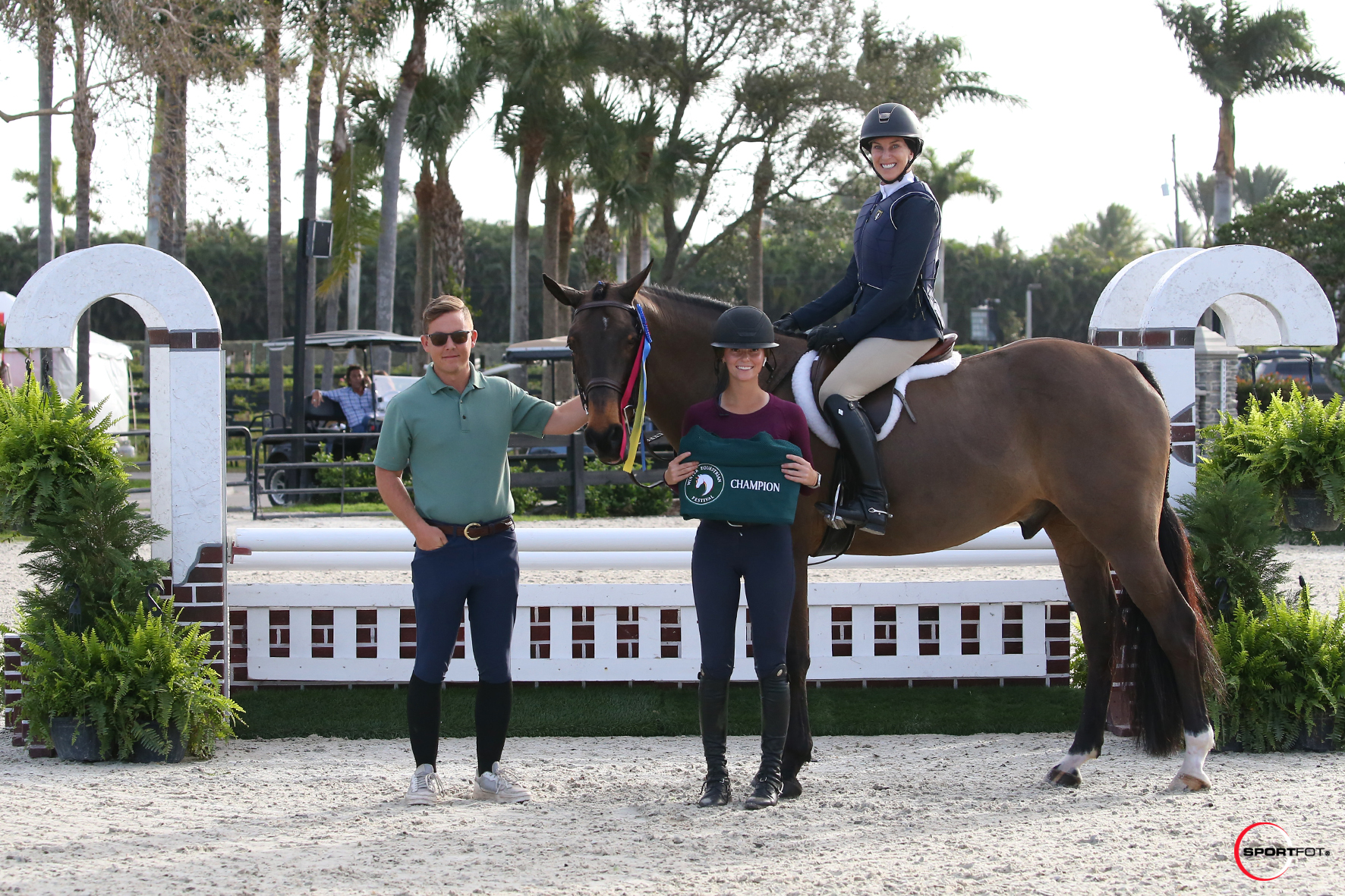 Ollie's show name "Back in the Game" has two meanings for Schwartz. She credits him with getting her back into competitive showing and also back into riding after breaking her back.
"I used to joke that I would never own one as nice as him again, and I'm pretty certain that's true," Schwartz said of her mount.
Following her win in the morning, Schwartz was off to the pony ring to support her daughter who competes in the Large Green Pony Hunters.
"It's very fun to be doing this together," she concluded.