By Amanda Picciotto Feitosa and Sabrina Schmidt for Jennifer Wood Media, Inc.
Wellington, FL – January 14, 2022 – Three-star international jumper competition continued on Friday, January 14, 2022, at the 2022 Winter Equestrian Festival (WEF), at the Palm Beach International Equestrian Center in Wellington, FL, with the $37,000 Douglas Elliman 1.45m Jumper speed class. Shane Sweetnam (IRL) ran away with the win aboard Caraghs Quality Lady, owned by Anna Beth Athey.
There were 37 entries to contest the course designed by Anthony D'Ambrosio (USA) and Andy Christiansen Jr. (ECU), 17 of which went clear.
McLain Ward (USA) had the time with Bonnie M Z in 63.52 seconds, but an unfortunate rail at the 'b' element of the Bainbridge Companies double combination proved costly. It was Sweetnam's quick and fault-free effort with Caraghs Quality Lady in 66.67 seconds that would be victorious.
Natalie Dean (USA) had a clean effort in 67.38 seconds with Nespresso Van't Laekhof, a nine-year-old Belgian Warmblood gelding by Cicero Z x Grandeur owned by Marigold Sporthorses LLC, for second place. In third place was Hector Florentino (DOM), who stopped the clock in 67.62 seconds riding Wyndmont's 11-year-old Irish Sport Horse gelding Meadow Vale Cruise by Creevagh Ferro x Cruising.
As the ribbons and winner's cooler were being distributed, Sweetnam was quick to snap a picture of his winning mount Caraghs Quality Lady for owner and usual rider Anna Beth Athey, who is away at school this week. She handed over the reins to her trainer, Sweetnam, in order to give the coming nine-year-old mare by OBOS Quality 004 x Limmerick more mileage in bigger classes.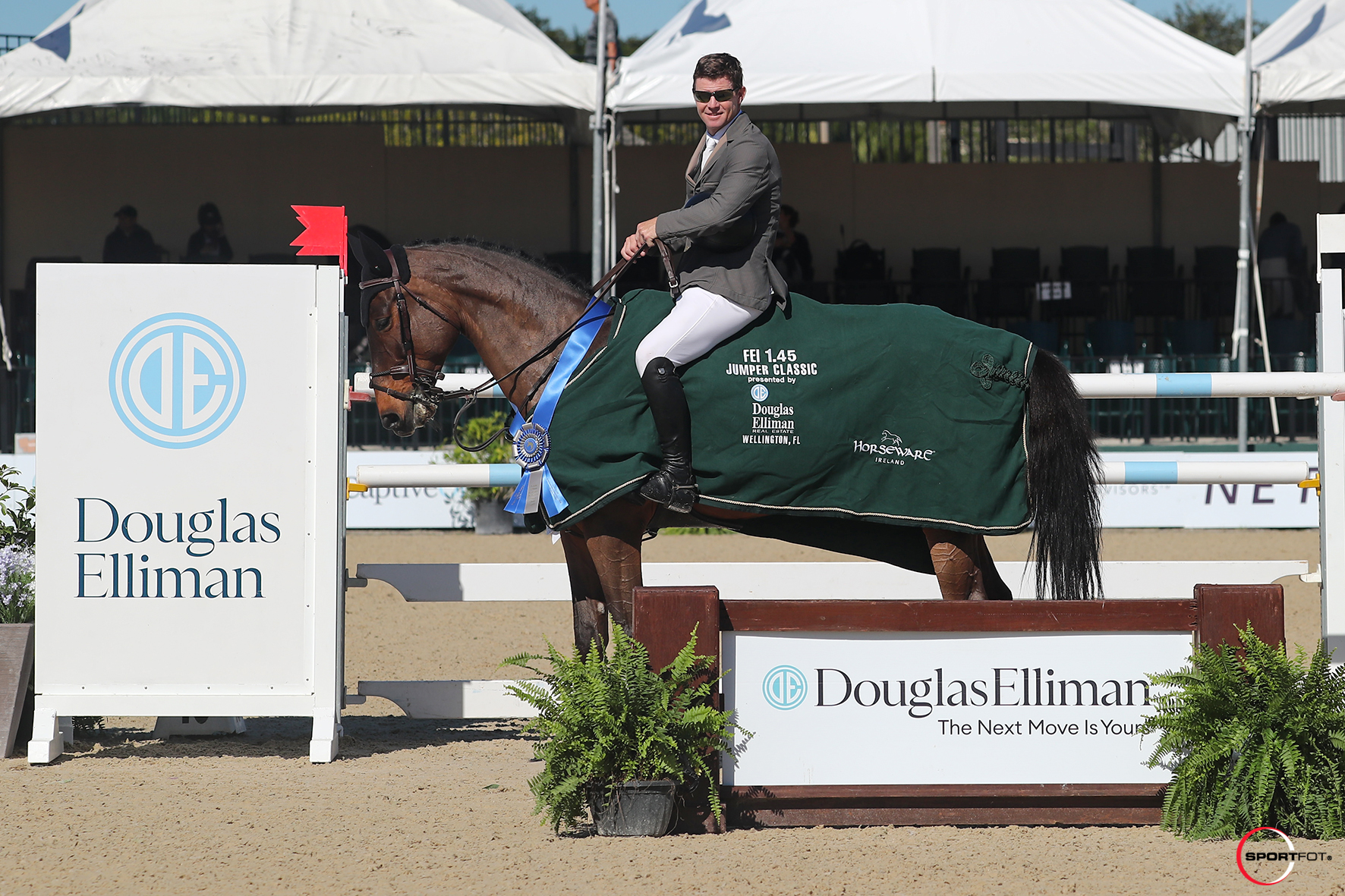 Sweetnam explained, "I'll do the 1.50m on Sunday, and then Anna Beth will jump in two weeks in the two-star. We're going to build towards her hopefully doing a three-star at some point in the future."
Athey and Caraghs Quality Lady were just paired together over the summer. In November, they finished sixth in the CSI2* Grand Prix in Monterrey, Mexico. Now Sweetnam is in the driver's seat, and he is excited for what is still to come.
"I think it's really going to be a good horse for [Athey] for the future," he commented.
Caraghs Quality Lady might be the stereotypical moody mare, but she can back up her attitude with her talent.
"She's always competitive in the ring. She feels fantastic. She's a super jumper, and she's only getting better," said Sweetnam.
It's an exciting start to a busy WEF circuit for Sweetnam.
"Last year, obviously with COVID, it was a bit restricted and not as many people around, but this year there's a good vibe and already some good classes have gone ahead," he said. "I'm looking forward to tomorrow night with a crowd for 'Saturday Night Lights.'"
Earlier in the day was the $6,000 Bainbridge Companies national 1.40m Speed Challenge. Ireland was on top once again as Gavin Harley (IRL) rode Clear Ride LLC's Kavalli di Magico to the win in 63.062 seconds. Just a hundredth of a second behind him was Beth Underhill (CAN) and Chacco Kid, owned by the Chacco Kid Group. Amanda Derbyshire (GBR) rode her own MHS Cardenta to third-place honors in 67.89 seconds.
Following the FEI competition in the International Arena was the $2,500 Lugano Diamonds High Amateur-Owner Jumper class and the $1,500 Griffis Residential High Junior Jumper class. Sheer Levitin (USA) won the "power and speed" format amateur class on her own Vitus K. In the junior class, Frances Derwin (IRL) was the winner with Vlock Show Stables LLC's Ricore Courcelle in 29.454 seconds.
Final Results: $37,000 Douglas Elliman 1.45m CSI3*
1 CARAGHS QUALITY LADY: 2013 Irish Sport Horse mare by OBOS Quality 004 x Limmerick
SHANE SWEETNAM (IRL), Anna Beth Athey: 0/66.67
2 NESPRESSO VAN'T LAEKHOF: 2013 Belgian Warmblood gelding by Cicero Z x Grandeur
NATALIE DEAN (USA), Marigold Sporthorses LLC: 0/67.38
3 MEADOW VALE CRUISE: 2011 Irish Sport Horse gelding by Creevagh Ferro x Cruising
HECTOR FLORENTINO ROCA (DOM), Wyndmont: 0/67.62
4 BOHEME DE LA ROQUE: 2011 Selle Français mare by Kannan x Quick Star
GRACE DEBNEY (GBR), Temple Equestrian LLC: 0/68.45
5 AUSTRIA 2: 2008 Holsteiner mare by Casall x San Patrignano Corrado
KENT FARRINGTON (USA), Take the High Road LLC: 0/68.85
6 SEMPA FIDELIS: 2009 Hanoverian mare by Stakkato Gold x Concetto Famos
GEORGINA BLOOMBERG (USA), Gotham Enterprizes LLC: 0/69.14
7 FIREWALL: 2010 KWPN gelding by Lexicon x Padinus
ALBERTO MICHAN (ISR), Eduardo Leon: 0/69.78
8 CAROLLO: 2009 Mecklenburger gelding by Chacco-Blue x La Piko
GIAVANNA RINALDI (USA), Anton Marano: 0/72.37
9 CLIFF Z: 2008 Zangersheide gelding by Canturano x Quasimodo Z
MATHEW BODDY (GBR), Gotham Enterprizes LLC: 0/72.41
10 GAZELLE ES: 2011 KWPN mare by Diarado x Ukato
JONATHAN MCCREA (USA), Windsor Show Stables: 0/73.41
11 DOUGIE DOUGLAS: 2005 Irish Sport Horse gelding by Douglas x High Roller
KATHERINE DINAN (USA), Grant Road Partners LLC: 0/73.9
12 GELANO: 2011 KWPN gelding by Eldorado van de Zeshoek x Celano
BRIAN MOGGRE (USA), Ann C Thompson: 0/74.16