By Jennifer Wood Media, Inc.
Day-time competition Saturday in the International Arena was highlighted by the $30,000 CP National Grand Prix. McLain Ward and Robin Parsky's First Lady outran the rest of the field to emerge victorious.
Thirty-eight entries attempted the course designed by Anthony D'Ambrosio (USA) and Andy Christiansen Jr. (ECU) with 10 horses jumping clear to advance to the jump-off.
First to jump off was Jennifer Waxman (USA), who set the time to beat at 43.786 seconds aboard The Scato Group LLC's Scato van de Molenbrug Z. With each round, the jump-off got faster and faster until McLain Ward (USA) and First Lady could not be caught, crossing the timers in 39.125 seconds.
First Lady is a star in the making that has been with Ward for two years.
Ward explained, "Robin Parsky bought [First Lady] for me to bring along in the sport from René Tebbel. His daughter, Justine, had been bringing her along from the beginning. The Tebbels did a beautiful job of producing her, and we've just tried to continue that on."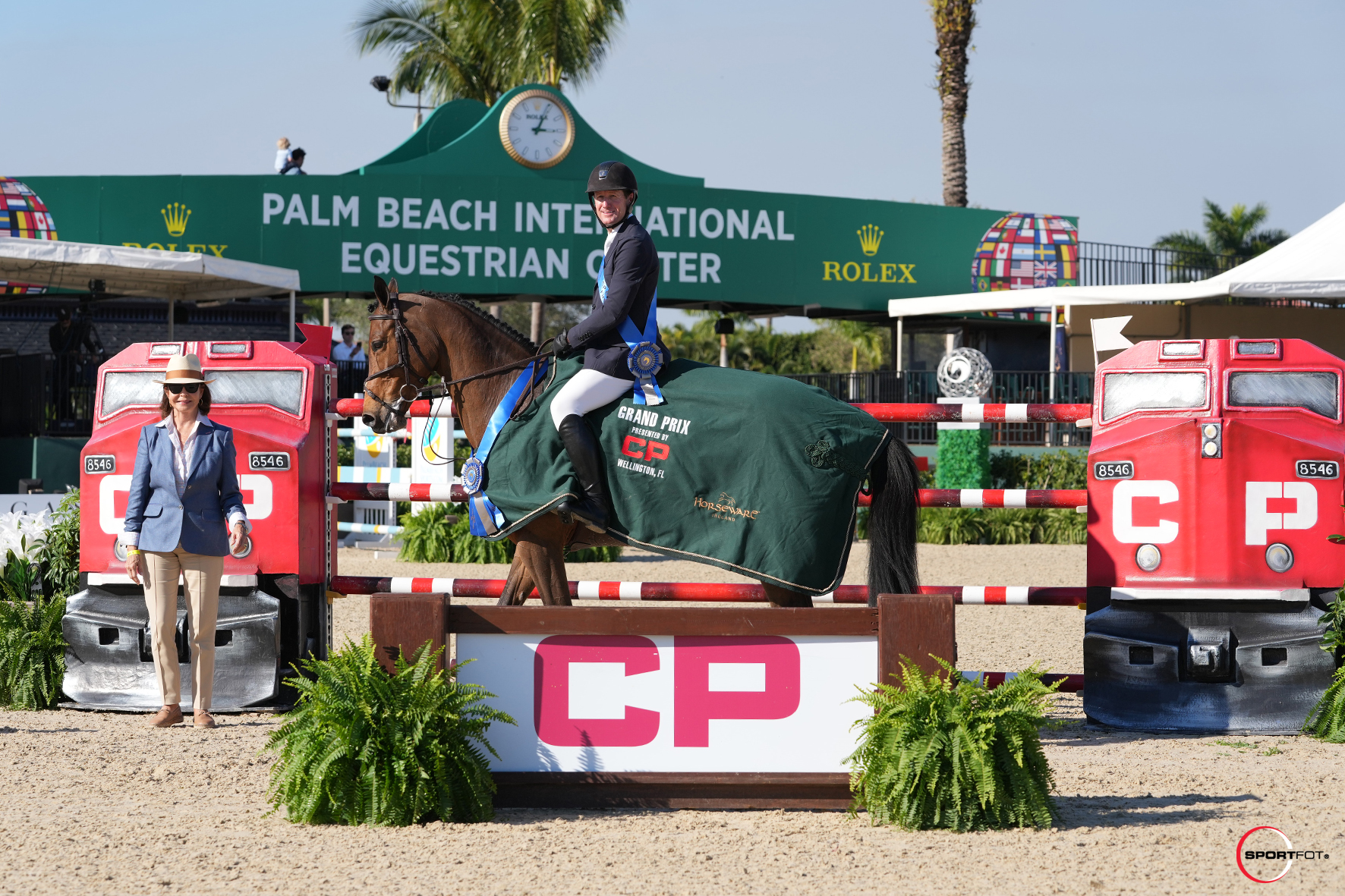 Ward and his team have developed First Lady slowly through her seven- and eight-year-old years. Last year as an eight-year-old culminated in two-star grand prix classes at the end of the summer. Now the bay Oldenburg mare by Don Diarado x Lordanos is coming into her own with a ninth-place finish in last week's $25,000 CaptiveOne Advisors Classic and a win today.
"She started off this year as a nine-year-old just spectacular, and we're really excited about her future," commented Ward. "I had a plan, and she's answering all the questions so easily. Maybe the plan is growing a little bit."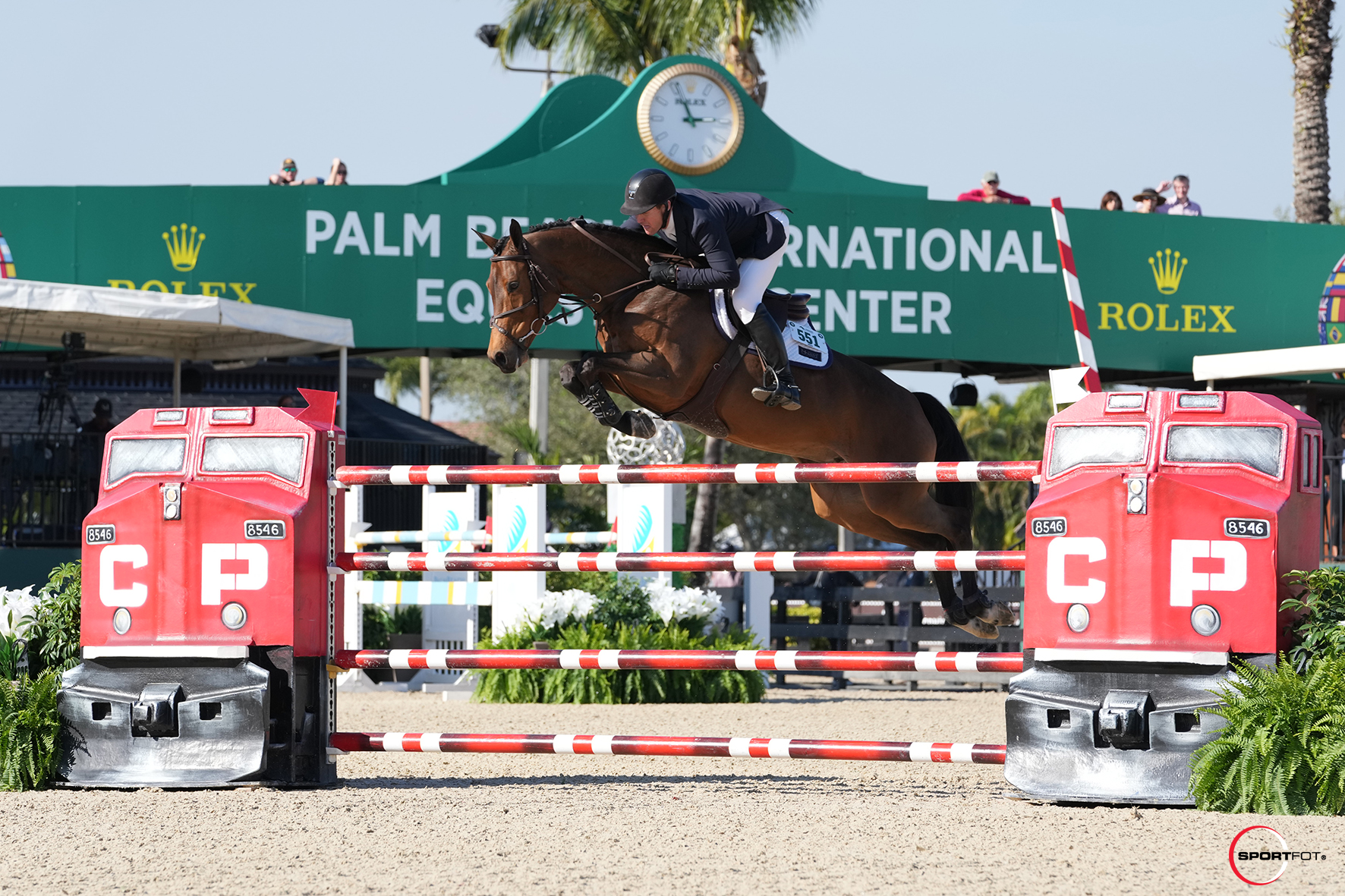 Ward is thinking about moving First Lady back up to the FEI divisions this circuit, but he is still measured in his approach.
"We're going to move up and down, he said. "She's still young, and she's super careful. We want to be cautious, but she's doing it really well."
In the morning in the International Arena, Sheer Levitin (USA) and her horse Vitus K followed up their win yesterday with another win today, this time in the $15,000 SJHOF High Amateur Jumper Classic, presented by Lugano Diamonds. In the $1,500 Griffis Residential High Junior Jumper speed class, Sofia Cady came out on top riding her own Deleyn.
Final Results: $30,000 CP National Grand Prix
1 FIRST LADY: 2013 Oldenburg mare by Don Diarado x Lordanos
MCLAIN WARD (USA), Robin C Parsky: 0/0/39.125
2 CHADINA: 2013 Oldenburg mare by Conthargos x Narew
MCKAYLA LANGMEIER (USA), Rafferty Farm LLC: 0/0/39.673
3 AROME: 2010 Selle Français stallion by Norway de la Lande x Attila III
CATHLEEN DRISCOLL (USA), Plain Bay Farm: 0/0/39.761
4 CHANDON BLUE: 2005 Oldenburg gelding by Chacco-Blue x Landcapitol
LAURA CHAPOT (USA), Laura & Mary Chapot: 0/0/40.463
5 BUGATTI: 2006 KWPN gelding by Heartbreaker x Pilot
WILHELM GENN (GER), Eduardo Leon: 0/0/41.155
6 TULARA COLMINE: 2010 Warmblood stallion by Colman x Quinar Z
GEORGINA BLOOMBERG (USA), Gotham Enterprizes LLC: 0/0/41.282
7 CORNWALL BH: 2008 Holsteiner gelding by Con Air x Cambridge
AMANDA DERBYSHIRE (GBR), Gochman Sport Horses LLC: 0/0/42.443
8 SCATO VAN DE MOLENBRUG Z: 2010 Zangersheide gelding by Scendix x Charisma
JENNIFER WAXMAN (USA), The Scato Group LLC: 0/0/43.786
9 FLOTYLLA: 2011 Polish Halfbred mare by Alvaro 121 x Bajou du Rouet
CATHLEEN DRISCOLL (USA), Donald Stewart: 0/8/40.495
10 NANKING VD DONKHOEVE: 2013 Belgian Warmblood stallion by Houston x Cassini I
FILIP DE WANDEL (BEL), Five Way Farm LLC: 0/20/61.135
11 PLOT Z: 2011 Zangersheide gelding by Plot Blue x Animo
GRANT SEGER (USA), Grey Fox Crossing: 4/72.203
12 CATOKI: 2009 Holsteiner gelding by Catoki x Caretello B
MCLAIN WARD (USA), Van Beuren, Russel, & Ward: 4/72.805