Edited Press Release
Ocala, FL – World Equestrian Center – Ocala hosted another exhilarating Saturday night of equestrian sport as 39 competitive horse-and-rider combinations gathered at the WEC Grand Arena under the lights to vie for the win in the $75,000 Stella Artois Grand Prix brought to you by Tri-Eagle Sales. The atmosphere was grandstands were packed with spectators. FEI Level III course designer Manuel Esparza (MEX) created the elaborate tracks that featured a large outstanding features including a triple combination and triple bar. Ten entries managed a fault free first round and six jumped double clear, but it was Olympic Gold Medalist Will Simpson (USA) and Coxe Horses LLC's Whoop De Doo (Mr. Whoopy x Double Trouble X) who prevailed for the win.
Simpson and Whoop De Doo have earned numerous top finishes in featured classes at World Equestrian Center – Ocala. Simpson recently captured a Grand Prix win during the World Equestrian Center – Ocala's Fall Show Series aboard his other mount Chacco P. On this occasion, Simpson continued his hot streak aboard Whoop De Doo.
Simpson and the 11-year-old Warmblood mare produced an effortless first round toward the middle of the order, stopping the clocks at 82.319 seconds.
"My plan was to hide away a little bit and not go in such a hurry, because Rodrigo [Pessoa] had two back-to-back," Simpson explained. "A lot of the time I would want to move up and just go as fast as possible. But I was trying to calm myself and stay with Whoopy."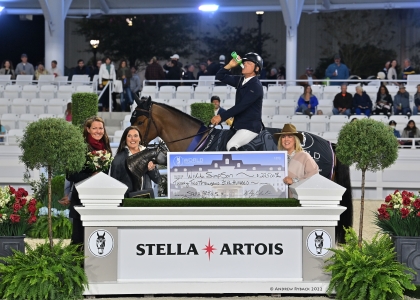 Simpson and Whoop De Doo returned for the jump-off, starting on a smooth gallop jumping fence one to two in nine strides. The pair landed left and swiftly turned back to the tall vertical to soar to the double combination in eight strides. Simpson and Whoop De Doo soared over the CaptiveOne Advisors oxer to roll around to the liver pool before galloping home. "That's what I call a 'Green Light', when you turn and the distance is right there on a forward gallop," Simpson said. He and Whoop De Doo flew through the timers stopping the clock at 38.795 seconds for the win.
"Everyone from my team has been working so hard, so it's great to pull out a win today. It's a team effort and we share a great camaraderie at the barn. I don't know what I would do without them. I am also super proud of Whoopy today, I think she is really starting to come into her own," said Simpson, smiling.
Olympic gold medalist Rodrigo Pessoa (BRA) rode to the second and third place spots. Pessoa and his second-place mount Major Tom (Vagabond De La Pomme x Uphdim Van De Puitvoet) delivered an impeccable first round, jumping to the top of the standards to secure a first round time of 84.479 seconds. Pessoa and the 9-year-old Belgian Warmblood gelding returned for the jump-off, marching from fence one to two in nine strides to quickly land left to roll back to fence three. The pair galloped to the double combination, leaving all rails up, to fly to the CaptiveOne Advisors oxer in nine strides. Pessoa and Artemis Equestrian Farm LLC's Major Tom hugged the pavilion to slice the liverpool. The pair then galloped to the final fence in thirteen strides to stop the jump-off clock at 40.490 seconds.
Pessoa and Artemis Equestrian LLC's Quality FZ (Quintender x Berlina FZ) rounded out the top three. Pessoa and the 13-year-old Holsteiner gelding delivered a smooth and quick first round, stopping the clock at 80.054 seconds, well within the time allowed of 85 seconds. Pessoa and Quality FZ returned for the jump-off, starting on a strong gallop to fence one to streamline to fence two to land left and quickly roll back in nine strides to the tall vertical. The pair tackled the remainder of the course, jumping each fence with ease to stop the clock at 41.162 second to secure third.
An additional $5,000 was awarded to the fastest four-faulter of the $75,000 Stella Artois Grand Prix. Brazil's Santiago Lambre and Dingeman received the award with an incredibly fast time of 78.789 seconds with one down.
Adolpho Franco and Hanea received the $5,000 'Luck of the Draw' award.
$75,000 Stella Artois Grand Prix Results:
1.Whoop De Doo, Will Simpson (USA), Coxe Horses LLC: 0 | 0 | 38.795
2. Major Tom, Rodrigo Pessoa (BRA), Artemis Equestrian Farm LLC: 0 | 0 | 40.490
3. Quality FZ, Rodrigo Pessoa (BRA), Artemis Equestrian Farm LLC: 0 | 0 | 41.162
4. Cyramo Z, Jacqueline Ruyle (USA), Jacqueline Ruyle: 0 | 0 | 41.419
5. Maraca LS LA Silla, Kady Abrahamson (USA), Abrahamson Equestrian LLC: 0 | 0 | 41.728
6. Cinven CR, Bryn Sadler (USA), Showcase 81, LLC: 0 | 0 | 42.289
7. Ekita Eindeken Z, Rowan Willis (AUS), Rowan Willis: 4 | 0 | 37.912
8. MTM Apple, Tracy Fenny (USA), MTM Farm: 8 | 39.065
Photos courtesy of Andrew Ryback Photography.
Videos available at ClipMyHorse.TV