By Summer Grace and Amanda Picciotto Feitosa for Jennifer Wood Media, Inc.
Thursday was a big day for national jumper competition at the Winter Equestrian Festival (WEF), with 93 entries contesting the Nick Granat-designed course for the $10,000 Douglas Elliman Real Estate National Grand Prix Qualifier 1.45m. Cathleen Driscoll (USA) rode Don Stewart's Flotylla straight to the top.
A tight time allowed definitely played a factor, with 10 riders accruing time penalties alone and many others picking up additional jumping faults. Just 12 combinations managed to jump clear.
Raleigh Hiler (USA) withdrew from the jump-off, which left 11 pairs to contest the short course.
The first clear in round one and first into the jump-off was Shane Sweetnam (IRL) aboard James Kann Cruz, owned by Gizmo Partners LLC. They jumped clear once more and set the time to beat at 32.610 seconds. It took a few more rides before Driscoll jumped the second clear of the day with Flotylla. They also went clear in the jump-off, setting the new time to beat at 30.804 seconds. Following Driscoll, those that tried to chase her time succumbed to jumping faults, and those that settled for a nice clear were just not quick enough.
When the dust settled, it was Driscoll and Flotylla who came home with the win ahead of Sweetnam who finished second. Zoe Conter (BEL) rode Stephex Stables's Dawa de Greenbay Z to third place in 33.676 seconds.
Driscoll, originally from Elk Mills, MD, rides with the Prudents at Plain Bay Sales based primarily in Middleburg, VA. She got the ride on Flotylla in October after the mare's previous rider Olivia Chowdry. Since then, Driscoll and Flotylla have been getting to know each other, coming together for a ninth-place finish in last week's $30,000 CP National Grand Prix and winning the qualifier today.
"We've been building up a partnership. I've done maybe four or five shows with her, and I feel like I'm really in a good place now," said Driscoll.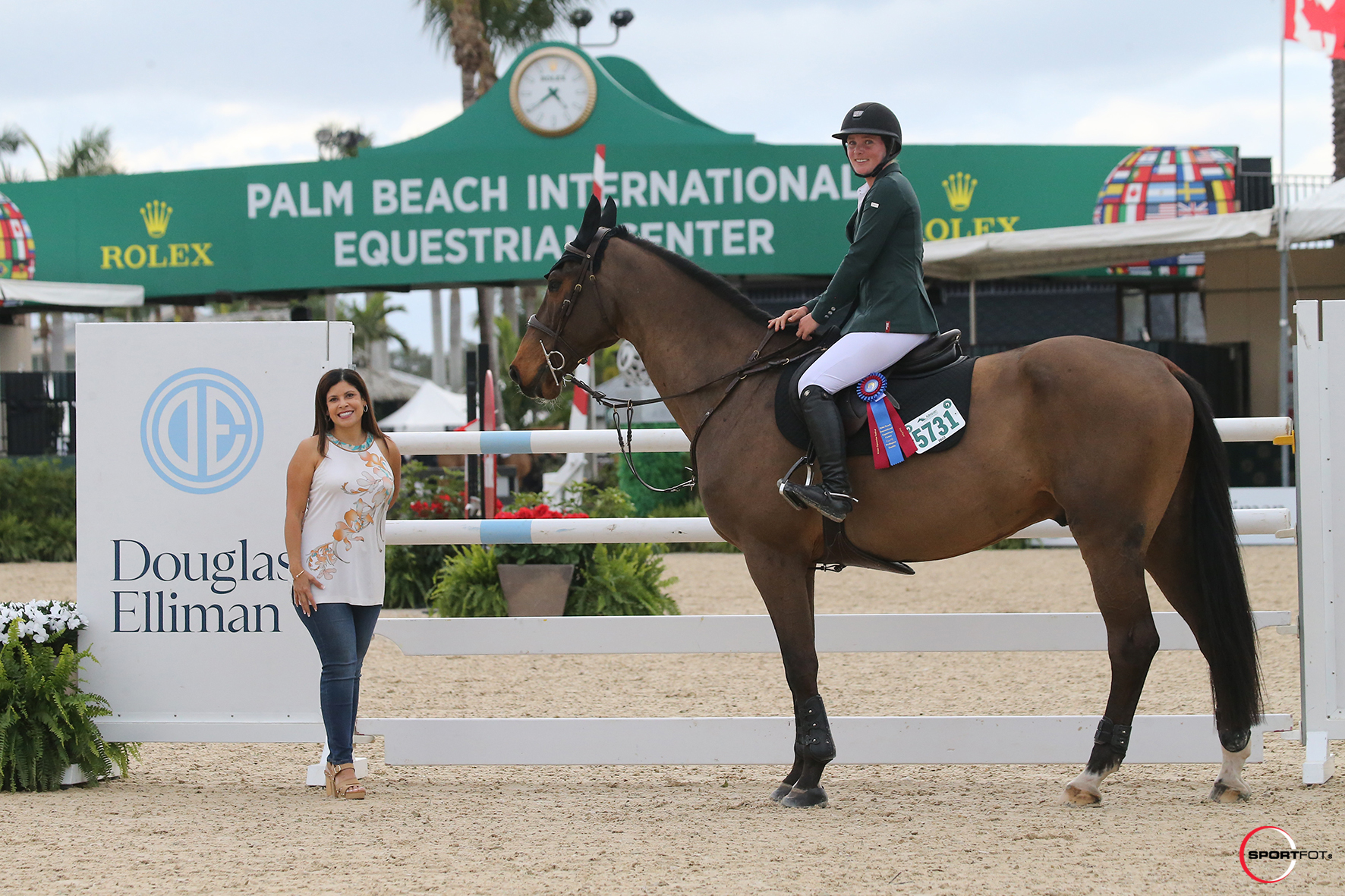 Flotylla, an 11-year-old Polish Sport Horse mare by Alvaro 121 x Bajou du Rouet, is very workmanlike.
"She's a real competitor in the ring, and she has that same personality back in the barn," continued Driscoll. "She wants to go in the ring and do a good job, and then go home."
A tight time allowed and a big course just meant business as usual for Flotylla, so Driscoll used the mare's quickness and carefulness to her advantage.
Driscoll explained, "She has a big stride, and she's a little bit aggressive, so I thought the lines worked to my favor, that I was able to let her kind of hunt on down there and just flow around."
Driscoll is now focused on the "Saturday Night Lights" feature class, the $50,000 Marshall and Sterling/Great American Insurance Group National Grand Prix.
"I think it's going to be a great class for [Flotylla]. I'm so glad they're putting this national grand prix under the lights. I think it's a fantastic opportunity for young horses and ones that are stepping up to get that experience in the stadium with the atmosphere and the crowd," commented Driscoll.
Earlier in the day Lorenzo de Luca (ITA) rode Poden Farms's Dirka de Blondel to the win in the $6,000 Bainbridge Companies 1.40m jumper class. Driscoll scored another top finish, this time aboard Plain Bay Farm's Django, finishing in second place. Rounding out the top three was Juan Carlos Garcia (ITA) who rode Habab-W, owned by Neil Jones Equestrian Inc.
Final Results: $10,000 Douglas Elliman National Grand Prix Qualifier 1.45m
1 FLOTYLLA: 2011 Polish Sport Horse mare by Alvaro 121 x Bajou du Rouet
CATHLEEN DRISCOLL (USA), Donald Stewart: 0/0/30.804
2 JAMES KANN CRUZ: 2013 Irish Sport Horse gelding by Kannan
SHANE SWEETNAM (IRL), Gizmo Partners LLC: 0/0/32.61
3 DAWA DE GREENBAY Z: 2012 Zangersheide stallion by Diarado x Schilling ET
ZOE CONTER (BEL), Stephen Stables: 0/0/33.676
4 EXPRESS BLUE GP DU BOIS MADAME: 2010 Belgian Warmblood gelding by Ultra Blue J x Zeus
CAITLYN CONNORS (USA), Caitlyn Connors LLC: 0/0/34.499
5 DEZ' OOKTOFF: 2008 KWPN gelding by Colandro x Lys Rouge
ROBERTO TERAN TAFUR (COL), Roberto Teran Tafur: 0/0/35.301
6 HALEY: 2012 KWPN mare by Quality Time TN x Manhattan
LAURA KRAUT (USA), Cherry Knoll Farm Inc: 0/4/29.791
7 BAHIRA S: 2010 Oldenburg mare by Balou du Rouet
MCKAYLA LANGMEIER (USA), Rafferty Farm LLC: 0/4/29.934
8 CORNET'S CAMBRIDGE: 2012 Oldenburg gelding by Balou du Reventon x Cambridge 8
NICHOLAS DELLO JOIO (USA), The Berry Group LLC: 0/4/30.552
9 CASCALRETTO: 2012 Holsteiner gelding by Casall x Calando I
VANESSA HOOD (USA), Take Two LLC: 0/4/31.730
10 CAROLA BH: 2007 KWPN mare by Dutch Capitol x Goodtimes
SOPHIE GOCHMAN (USA), Gochman Sport Horses LLC: 0/4/36.296
11 PEWIT DEZOITO: 2013 Anglo European gelding by A Pikachu de Muze x Werther
ADRIENNE STERNLICHT (USA), Starlight Farms 1 LLC: 0/8/30.888
12 CASSINA 64: 2009 Oldenburg mare by Collado x Lacantus
RALEIGH HILER (USA), Kurt Hiler: 0/WD