Edited Press Release
Wellington, FL – January 26, 2022 – An exciting week of four-star competition at the 2022 Winter Equestrian Festival (WEF) began on Wednesday, January 26, at the Palm Beach International Equestrian Center (PBIEC) during week three, sponsored by NetJets. All 12 rings buzzed with excited riders and horses, but the $6,000 Bainbridge Companies 1.45m CSI4* class was the featured event in the International Arena. The USA's Laura Kraut piloted Haley, owned by Cherry Knoll Farm, ahead of 24 entries for the first victory of the week.
Sixteen horse-and-rider combinations managed to secure themselves a spot in the jump-off round over Peter Grant's (CAN) track but six fell victim to an unfortunate downed rail in the short phase while one suffered a time fault. Kraut brought her best as she always does in top competition and found the fastest way around to clock in at 38.12 seconds.
"I've had this mare for about a year and a half now, and she is just an extremely fun and good horse," said Kraut of the 10-year-old KWPN mare by Quality Time TN x Manhattan. "She absolutely loves to win classes. She is a really quick horse, and often she is quicker than I even think. I didn't do anything particularly special today; she just has extra footspeed.
"To win today was especially nice because her owner happened to be there as well, so it was really great for her to see," continued Kraut. "I am not jumping too much this week, but any time I have a win is a good time in my book, so I am definitely happy."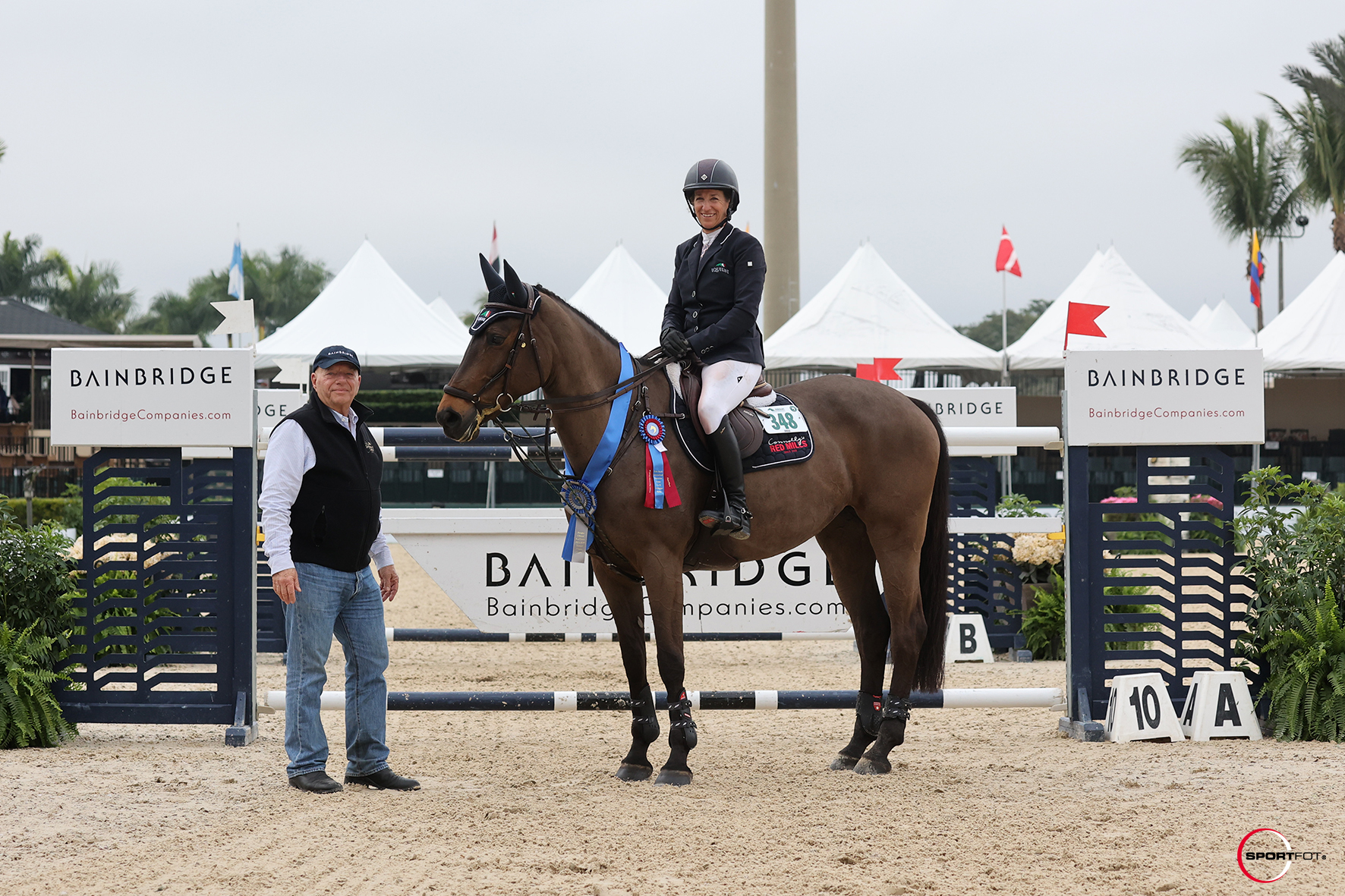 Rodrigo Pessoa (BRA) and successful partner Artemis Equestrian Farm LLC's 13-year-old Hanoverian mare Venice Beach (Voltaire x Escudo I) were hot on Kraut's heels, only missing the lead by two-tenths of a second as they rounded out two clear rounds with a final time of 38.31 seconds. Young rider Natalie Dean (USA) shot to the top and landed herself a spot in the victory gallop with the Marigold Sporthorses LLC's nine-year-old BWP gelding Nespresso Van't Laekhof (Cicero Z x Grandeur) after finishing clean in a tidy 39.34 seconds.
While the day culminated in the feature class, competition in the International Arena was hot from start to finish with Lorenzo De Luca (ITA) stealing a win in the $1,000 Bainbridge Companies 1.40m CSI4* class and Great Britain's Amanda Derbyshire earning the honors in the $6,000 Helgstrand Jewellery 1.40m CSI2* class. De Luca bested an impressive field of 65 with the Poden Farms' nine-year-old Selle Francais mare Dirka De Blondel (Very Berlin De Castel x Lauterbach) by besting all 25 of his jump-off challengers with a blazing time of 36.14 seconds. Derbyshire, in turn, started her morning off right by leaving the rails up and skirting past the time of the 16 other double-clean entries on her own nine-year-old Irish Sport Horse mare MHS Cardenta (Cardento 933 x Diamond Serpent) in 30.87 seconds. 
Final Results: $6,000 Bainbridge Companies 1.45m CSI4*
1.HALEY: 2012 KWPN mare by Quality Time TN x Manhattan
LAURA KRAUT (USA), Cherry Knoll Farm: 0/0/38.12
2.VENICE BEACH: 2009 Hanoverian mare by Voltaire x Escudo I
RODRIGO PESSOA (BRA), Artemis Equestrian Farm LLC: 0/0/38.31
3.NESPRESSO VAN'T LAEKHOF: 2013 BWP gelding by Cicero Z x Grandeur
NATALIE DEAN (USA), Marigold Sporthorses LLC:0/0/39.94
4.MA BELLE: 2012 BWP mare by Ugano Sitte x Bayard d'Elle
ZOE CONTER (BEL), Stephex Stables: 0/0/40.91
5.MONTY PYTHON DE L'AMITIE: 2012 BWP gelding by Emerald x Mr Blue
ERYNN BALLARD (CAN), Ilan Ferder and Esperanza Imports LLC: 0/0/41.47
6.MEADOW VALE CRUISE: 2011 ISH gelding by Creevagh Ferro x Cruising
HECTOR FLORENTINO (DOM), Wyndmont: 0/0/42.59
7.MAJOR TOM: 2013 BWP gelding by Vagabond De La Pomme x Heartbreaker
RODRIGO PESSOA (BRA), Artemis Equestrian Farm LLC: 0/0/43.22
8.CECILE 30: 2013 OS mare by Conthargos x Carthargo Z
ERYNN BALLARD (CAN), Ilan Ferder: 0/0/43.249
9. TOULOUSE Z: 2011 Zangersheide mare by Toulon x Quintus V/D Dwerse Hage
JUAN ORTIZ (VEN), Blue Trim LLC: 0/0/43.24
10. EXTRA: 2009 KWPN gelding by Berlin x Heartbreaker
JORGE MATTE CAPDEVILA (CHI), Jorge Matte Capdevila: 0/0/49.47
11. CARAMBA 92: 2011 Westfalian gelding by Comme Il Faut 5 x Baloubet Du Rouet
RICHARD VOGEL (GER), Horse Management GMBH: 0/0/53.85
12. F ONE USA: 2010 KWPN gelding by Toulon x Tangelo Van De Zuuthoeve
LORENZO DE LUCA (ITA), Poden Farms: 0/1/54.30