Edited Press Release
Wilmington, OHIO – Week seven of the Winter in the Midwest 2022 began with feature jumper action in the Sanctuary Arena where the $10,000 Welcome Stake 1.35m class saw a highly competitive field of entries. Course designer Bobby Murphy laid the track for the class, which saw eight pairs go clear and inside the time allowed of 83 seconds to advance to the jump-off. Three pairs went clear over the short course, but it was David Arcand (CAN) and Santos Stables Dollar Delle Colle who topped the competition, stopping the jump-off clock in just 37.661 seconds.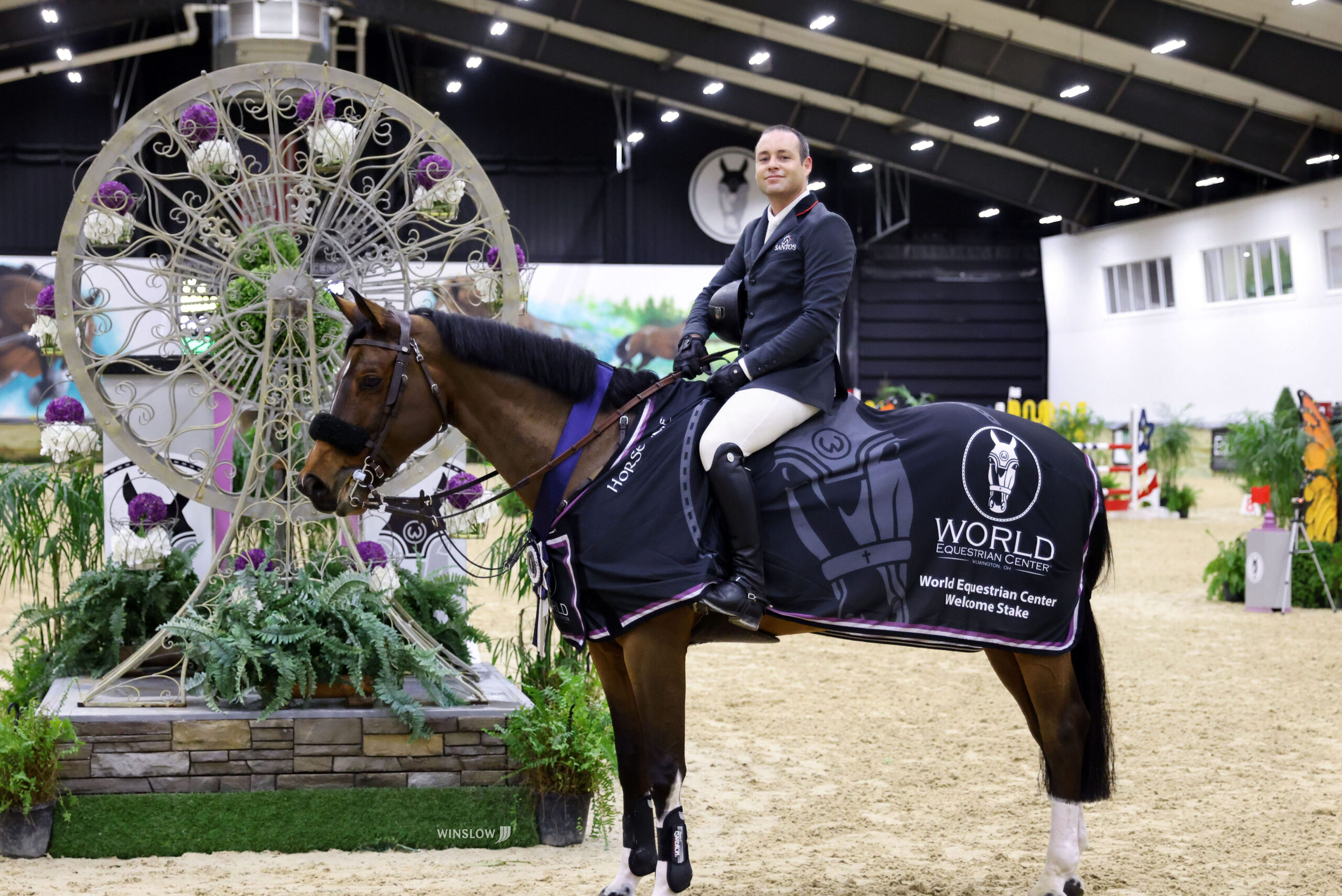 Unlucky rails knocked several competitors out of contention, but Arcand wasn't worried as he counted on his horse's natural scope and ability. "He doesn't touch a jump very often," he said. "I don't know his limit yet, but this definitely is not it. I know it is quite easy for him to jump 1.35m and because he is so careful, I know that if I don't make a mistake, then he will be clear. Today was a slower jump-off, which is an advantage for me with this horse, because he is still a bit young and is slower than others […] I did his first show here two years ago after I imported him from Europe as a 6-year-old. I think he has a bright future and this year and next will be so important for his development and career."
Arcand of Santos Stables in Montreal, Canada piloted Dollar Delle Colle to the top with a 78.709-second first-round finish. They immediately returned to the jump-off, maintaining pace and scope throughout the course to cross the timers in 37.661 seconds for first-place honors.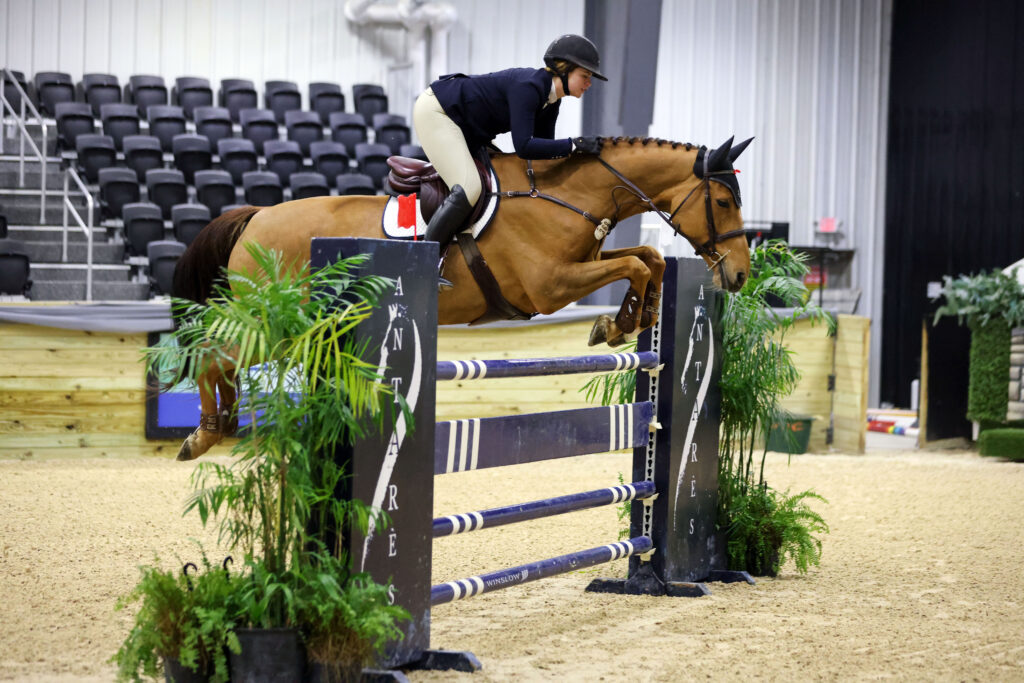 Charlotte Clark and Kinsella (Capitalist x Jerpoint Mist) held the lead before losing their spot to Arcand to ultimately take second place. Clark of Kendalwood Farm in Sunbury, Ohio, and her own twelve-year-old Irish sport horse mare earned one of the fastest times at 76.528 seconds. After an impressive clear, the team caught their breath to tackle the short course stopping the timers in 38.644 for second-place honors.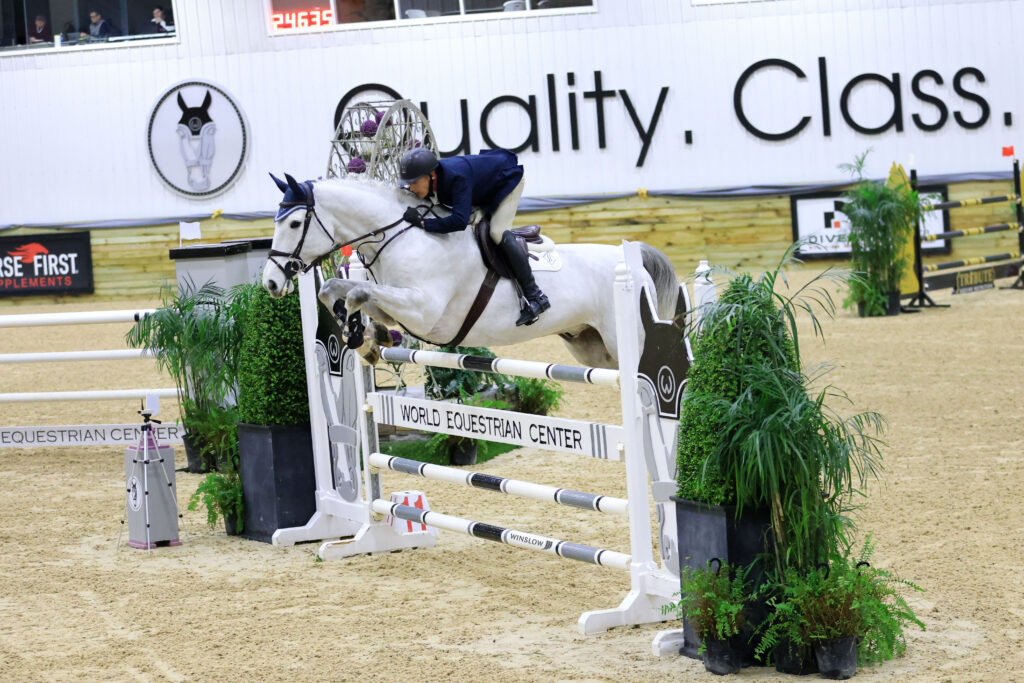 Brian C. Shook and Oakvale Ventures LLC's Cinna HP (Couleur Rubin x Coco Chanel Z) was fifth in the order of go and the first pair to ride double clear on the track. Hook of Hunterpointe Farm LLC in Holly, Michigan rounded out the top three placings, finishing the first round in 79.403 seconds and completing the jump-off in 39.272 seconds to take the third spot on the podium.
$10,000 WEC Welcome Stake 1.35m Results:
Dollar Delle Colle, David Arcand: 0 | 0 | 37.661
Kinsella, Charlotte Clark: 0 | 0 | 38.644
Cinna HP, Brian C. Shook: 0 | 0 | 39.272
Cumbaya W, Darby Pease: 0 | 4 | 40.121 
Fortysix & 2, Lyriss Jaeger: 0 | 4 | 41.778
Celeano Vh Lindenhof Z, Heather Froehlich Cortell: 0 | 4 | 45.894
Diaz Barbotiere, David Arcand: 0 | 12 | 38.264
Catch a Star HSS, Kevin McCarthy: 0 | EL
La Dolce Vita VDL, Richard L. Rinehart: 4 | 76.298
Balugata, Liz Hutchinson: 4 | 76.89