Edited Press Release
Ocala, FL – Derby Friday at World Equestrian Center – Ocala saw a change of scenery during Week IV for the $20,000 WEC Ocala 3'6"-3'9" Hunter Derby, $15,000 WEC Ocala 3' Open Hunter Derby and $15,000 WEC Ocala 3' Jr/Am Hunter Derby. Competition was held in Hunter 1 with scores that soared into the 90s. Doug Russell designed the natural tracks that featured three high options and handy courses with several options.
The $20,000 WEC Ocala 3'6"-3'9" Hunter Derby saw 17 stunning hunters try their hand at Doug Russell's winding course, but it was Samantha Schaefer and her own In The Know (Arkansas x Cavelle) that that earned the victory.
Schaefer and In The Know earned numerous top finishes in the 3'6"-3'9" Hunter Derby during last year's Winter Spectacular Show Series. On this occasion, the pair navigated a gorgeous first round while jumping each high option with ease to earn a score of 91 from the judges.
"Spyder [In The Know] is just coming back from a little break. His last show was in July, so we did two small practice classes yesterday, but today was his first day back in the derby ring and he felt fantastic," said Schaefer.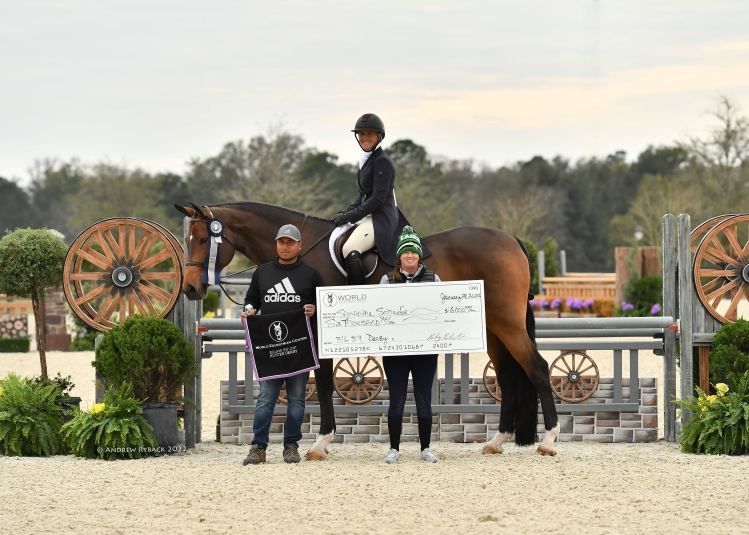 Last to return in the handy, the pair delivered a faultless round, rolling through all of the turns while opting to jump the three high options to earn a score of 88, for an overall score of 179 for the win.
"I had this really fun, crazy plan [in the handy], but knowing it was his first class back and I had a decent lead I didn't want to do anything to jeopardize that," Schaefer said.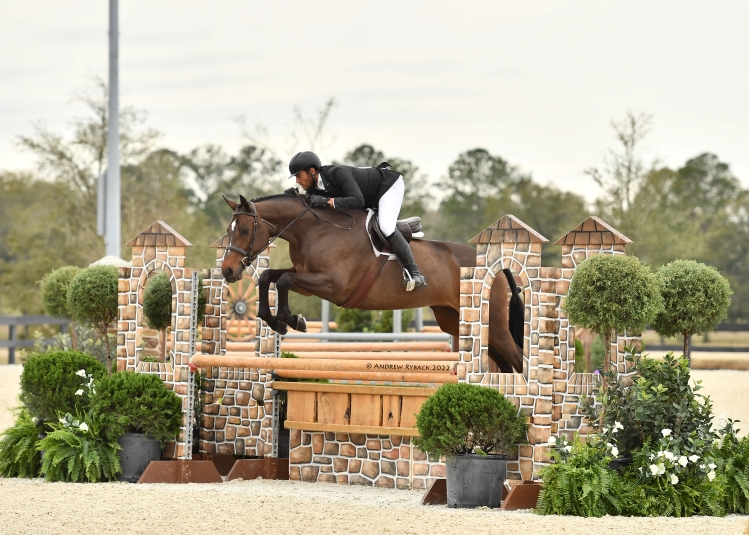 Brian Feigus and MTM Farm's MTM Coco (Contendro I x T-Coriana) secured the second highest score in the class. Feigus and the 7-year-old Holsteiner mare produced two lovely rounds, taking the three high options during both courses to earn a first round score of 83, and a handy score of 87 for an overall score of 170.
Third place was snagged by Dorothy Douglas and Abigail Davenport's MTM Lolah LOL (Los Angeles x Palma) with a two-round total of 168.
$20,000 WEC Ocala 3'6"-3'9" Hunter Derby Results:
1.In The Know, Samantha Schaefer, Madeline Schaefer: 91 | 88 | 179
2. MTM Coco, Brian Feigus, MTM Farm: 83 | 87 | 170
3. MTM Lolah LOL, Dorothy Douglas, Abigail Davenport: 78 | 90 | 168
4. Cartel, Jeff Ayers, Jeff Ayers: 81.5 | 85 | 166.5
5. Comissario, Morgan Ward, Morgan Ward: 81 | 84 | 165
6. Carlios, Abi Russo, Maurah Burkholder: 77 | 78 | 155
7. Prosecco, Ilana Halpern, Devin Lanzone: 68 | 83 | 151
8. Happy Boy, Sonya Crampton, La Galerna: 66 | 73 | 139
9. Caligua, Clair Kellner, Suzanne Cayatte: 50 | 86 | 136
10. TJC's Yo Gotti, Lauren Patterson, The Jaeckle Centre: 70 | 63 | 133