Edited Press Release
Wellington, FL – January 28, 2021 – Another action-packed day at the 2022 Winter Equestrian Festival (WEF) at the Palm Beach International Equestrian Center in Wellington, FL, took place on Friday, January 28, during the NetJets-sponsored WEF 3. The International Arena took no time to get into the swing of things as an impressive 62 combinations showed up for the day's main event- the $37,000 Douglas Elliman Real Estate 1.45m CSI4*- and no one was able to best Todd Minikus (USA) and Amex Z, owned by Bit By Bit Group.
The class was the only four-star event on Friday and drew a significant number of exhibitors to contest Peter Grant's (CAN) one-round speed track. The time allowed was set at a comfortable 88 seconds which meant there was almost no difficulty with navigating through the final fence underneath the cutoff. Of the starting number, 29 horse-and-rider pairings managed to successfully answer all questions on the course while 19 duos suffered just one unfortunate rail. When Minikus entered with his long-time talented mount, Amex Z, it was clear the pair were not riding for second place.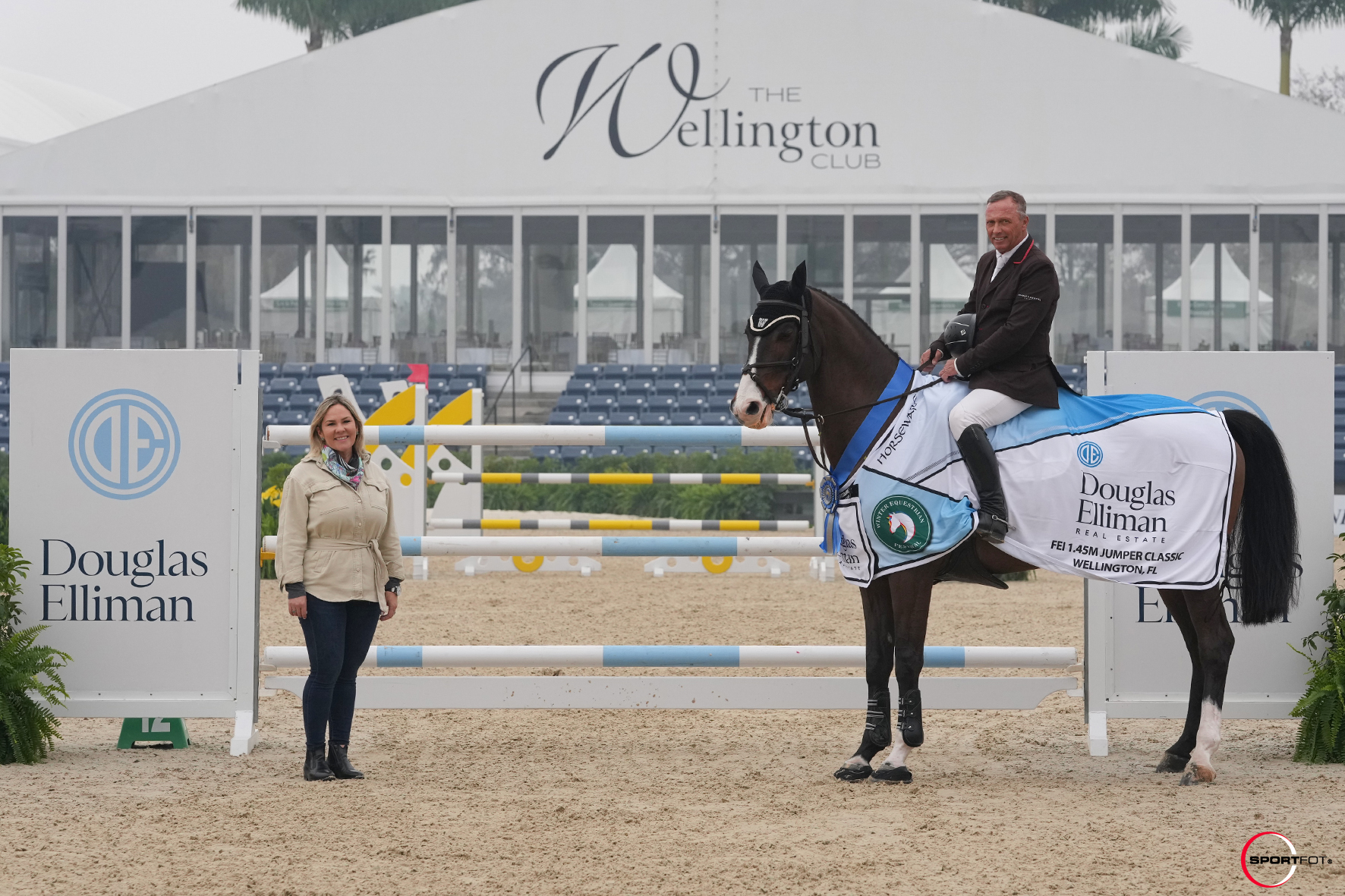 "I was a little frustrated with how I rode yesterday," Minikus admitted. "My mare tried to go super nice for me, and I rode a bit under par so I was definitely riding to make up for it today."
He and the 13-year-old Zangersheide mare dashed over each obstacle, leaving all the rails in their cups and stopping the clock in an efficient 63.69 seconds.
"Currently she is the only one I have to compete at this level, and she is doing a great job of carrying the flag for Team Minikus," he explained. "Any time she's in a jump off or speed class, you don't want to count her out. She has a big stride, and I often feel a quicker pace actually helps her focus a bit; she is definitely a winner, and sometimes it's just luck of the draw whether she wins or has one down."
Lorenzo De Luca of Italy was one of the final few entries to perform with the Poden Farms's 14-year-old KWPN gelding Don Vito (Quaprice Z x Jus de Pomme), and, while he was still three seconds short of Minikus' blazing time, he was good enough for second place in 66.00 seconds flat. Germany was the final country to be represented among the top three as Richard Vogel piloted Looping Luna, owned by Horse Management GmbH, into the third place position. Vogel and the eight-year-old Hanoverian mare (Lord Fauntleroy x Calido I) crossed through the timers only .06 seconds behind De Luca to secure the spot.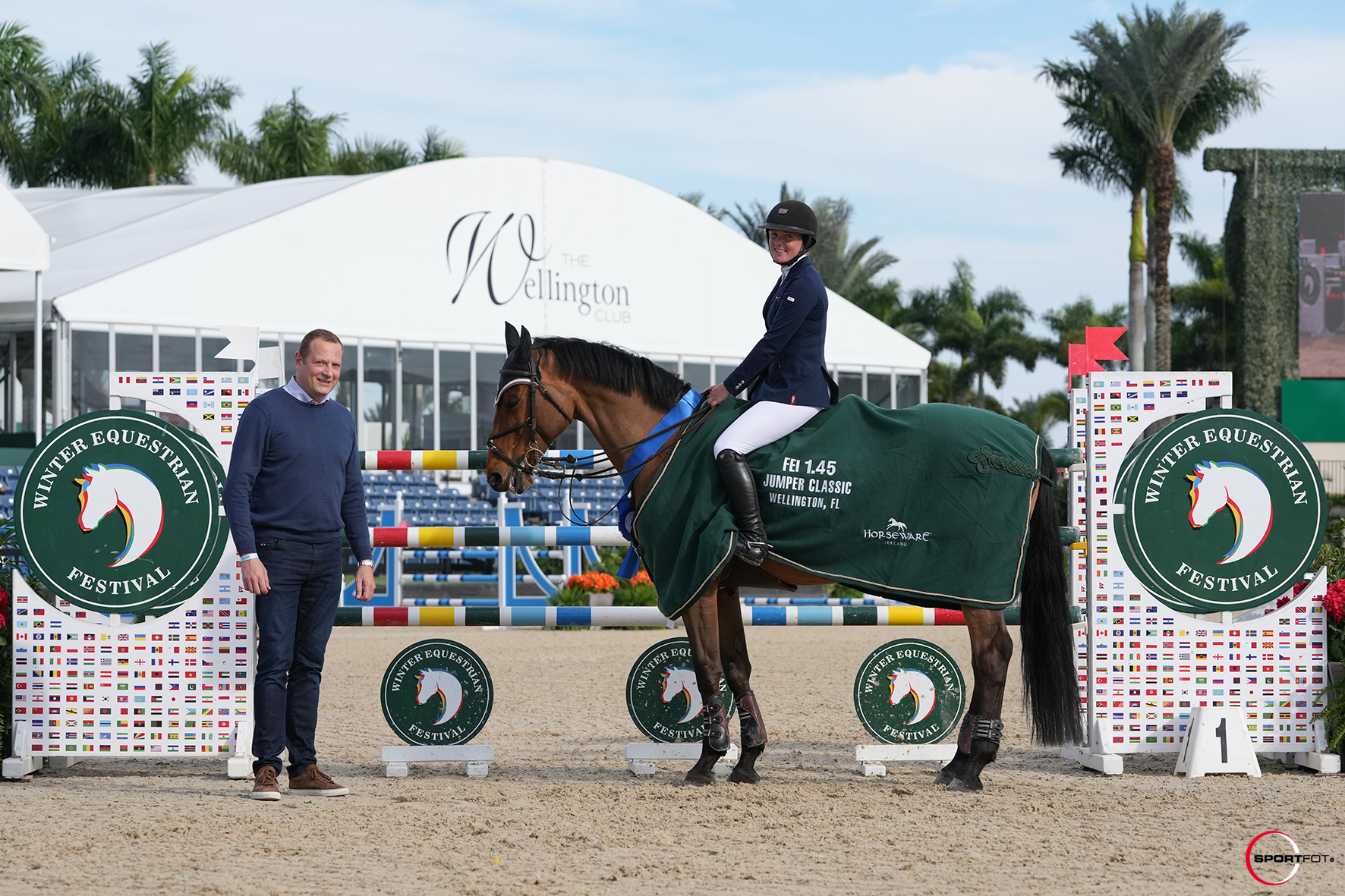 Already a winner at WEF during a previous week, the USA's Cathleen Driscoll scored another victory in the final international event of the day – the $37,000 Helgstrand Jewellery 1.45m Qualifier CSI2* with Flotylla. Driscoll navigated over both the long course and shortened track clean with Don Stewart's 11-year-old Polish Sporthorse mare and landed over the final fence in 43.18 seconds to be just over a second faster than the next closest competitor. Sydney Shulman-Desiderio (ISR) kicked off the day with a win in the $6,000 Bainbridge Companies 1.40m Speed Challenge with Riverbrook Sport Horses LLC's Mr. Cash.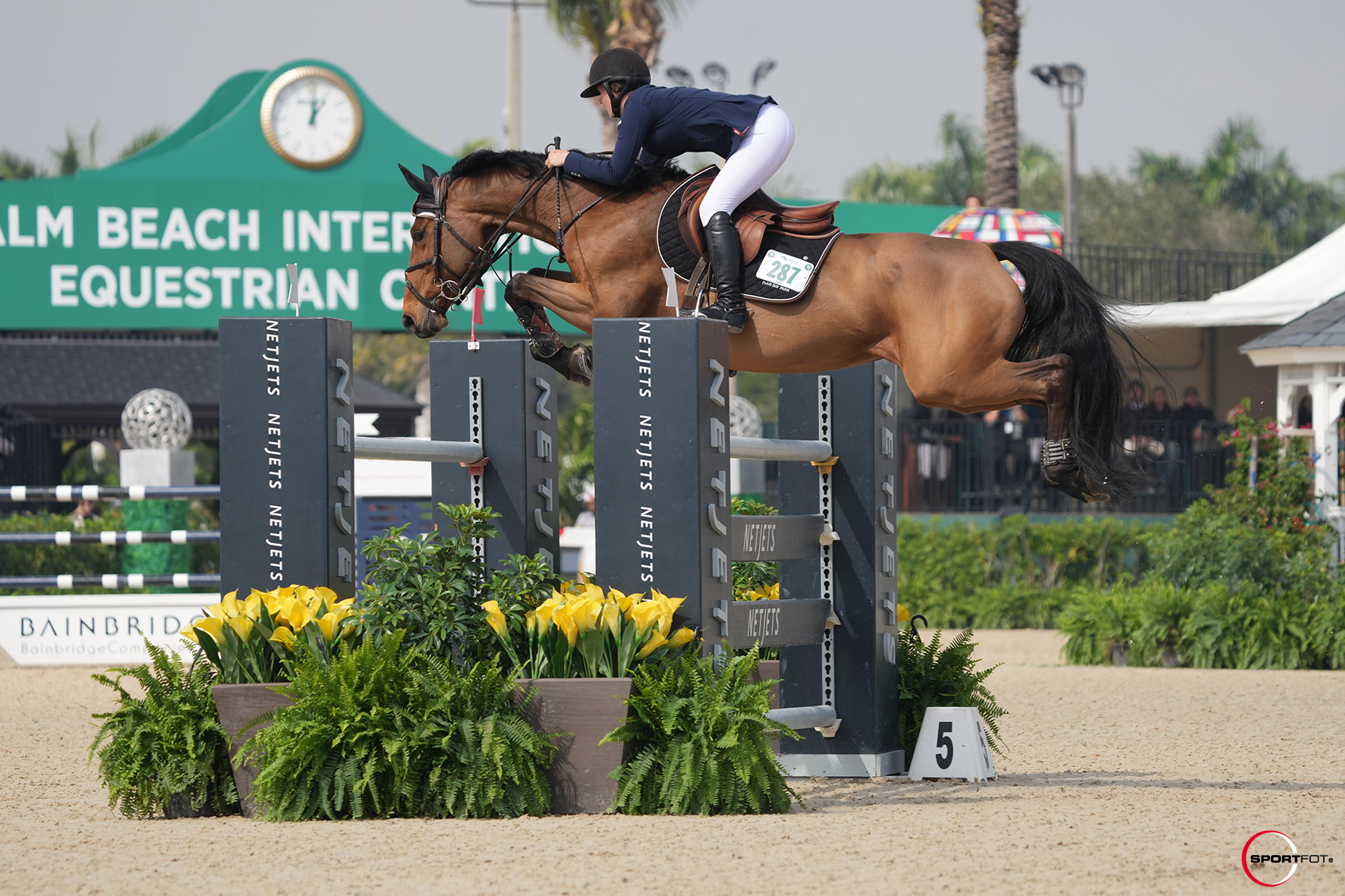 Jad Dana (LBN) rode Abigail Perry's DK Daisy, an Irish Sport Horse mare by Capri van Overis Z, for the win today in the $1,000 Lövsta Future Challenge 7-Year-Old Young Jumper class, which took place in the Mogavero Arena. Thirty-eight entries contested the course designed by Guilherme Jorge (BRA) with Dana emerging victorious after a speedy jump-off in 30.012 seconds. This was the first qualifier for the Lövsta Future Challenge 7-Year-Old Young Developing Jumper Series which continues with six additional qualifying opportunities through WEF 9. Horses must compete and jump clear in the first round of the jump-off format class at least two times over the seven weeks of the series to qualify for the $25,000 Lövsta 7-Year-Old Championship class, which takes place during WEF 10.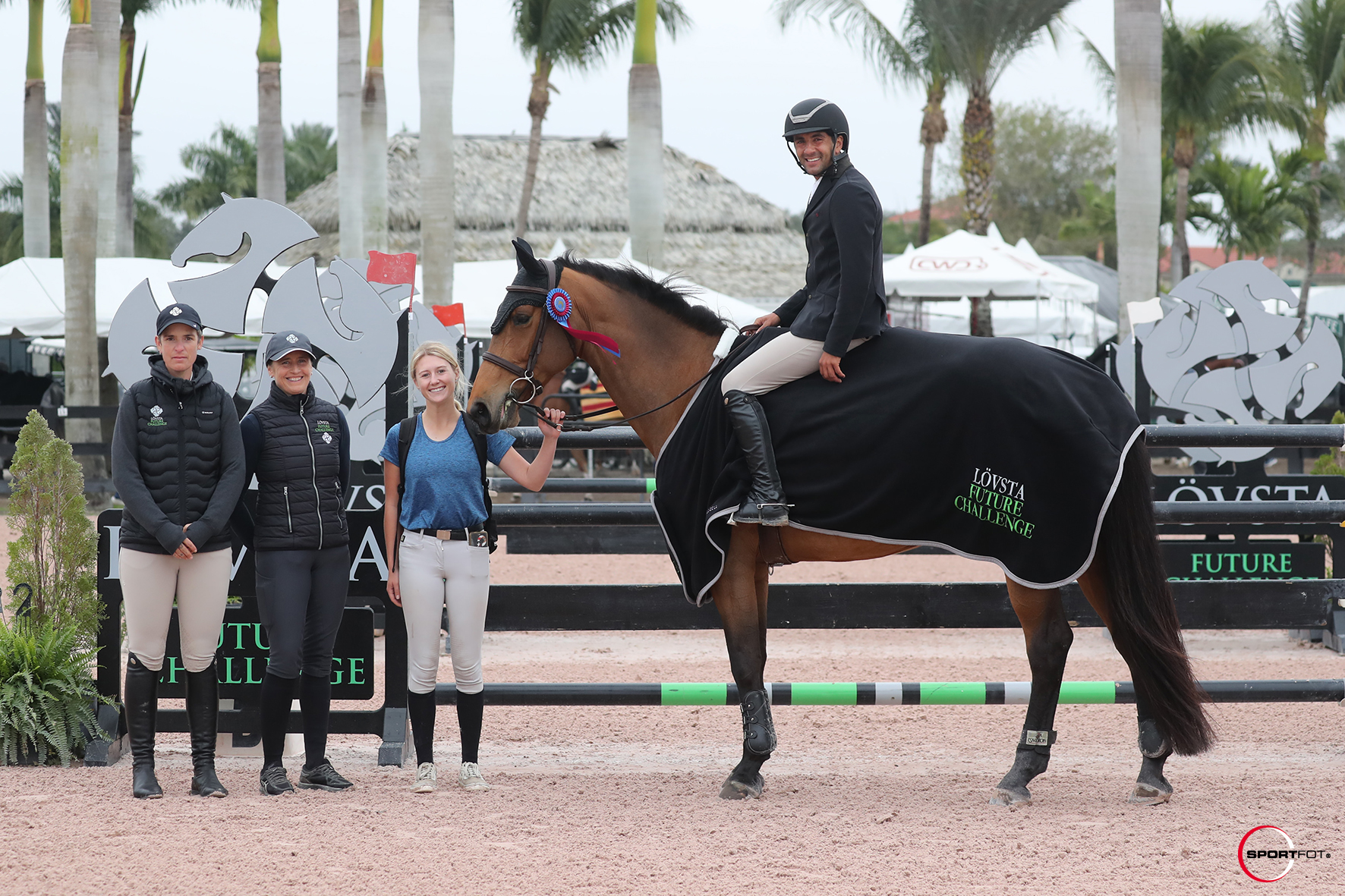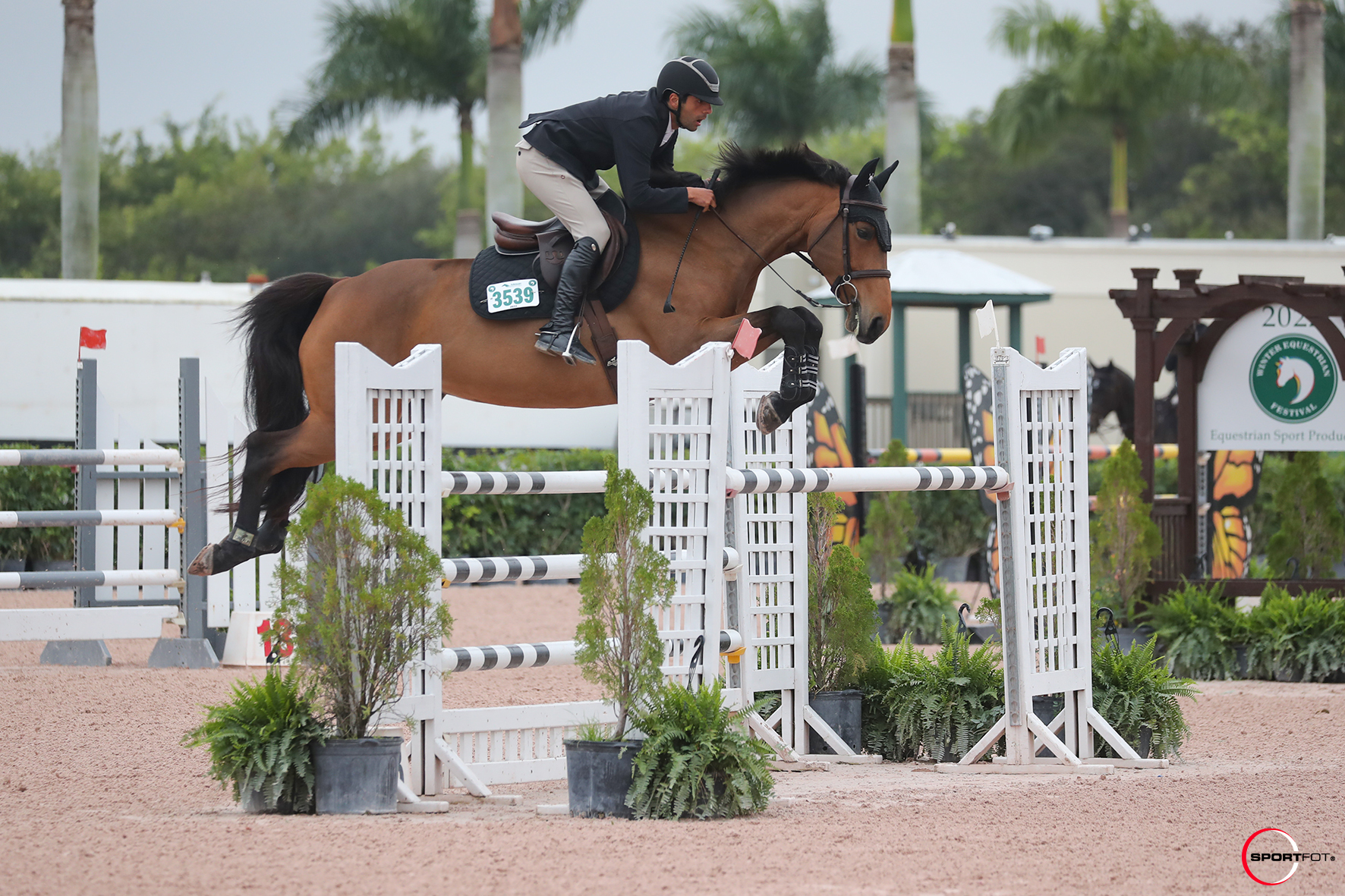 Final Results: $37,000 Douglas Elliman Real Estate 1.45m CSI4*
1. AMEX Z: 2009 Zangersheide Mare by Andiamo Z x Landaris
TODD MINIKUS (USA), Bit By Bit Group: 0/63.69
2. DON VITO: 2008 KWPN gelding by Quaprice Z x Jus de Pomme
LORENZO DE LUCA (ITA), Poden Farms: 0/66.00
3. LOOPING LUNA: 2014 Hannoverian mare by Lord Fauntleroy x Calido I
RICHARD VOGEL (GER), Horse Management GmbH : 0/66.06
4. GIJS: 2011 KWPN stallion by Kashmir Van Schuttershof x Numero Uno
NICOLA PHILIPPAERTS (BEL), Nicola Philippaerts: 0/66.40
5. CATHALINA S: 2009 DSP mare by Catoki x Sandro
CIAN O'CONNOR (IRL), Ronnoco Jump Ltd.: 0/67.11
6. BOKAI: 2006 KWPN gelding by Up To Date x Ferro
CATHERINE TYREE (USA), Mary & Joe Tyree: 0/67.33
7. ODILE DU SOUFFLET: 2009 ChS mare by Ogano Sitte x Landjuweel St Hubert
ANDRZEJ OPLATEK (POL), Gospodarstwo Rolne and Andrzej Oplatek: 0/67.43
8. ALEJANDRO: 2009 Rheinländer gelding by Acorado's Ass x Contanga
SHANE SWEETNAM (IRL), Seabrook, SpyCoast Farm and Sweet Oak Farm: 0/68.47
9. DARQUITO: 2011 Hanoverian gelding by D'inzeo 6 x Contefino 2
ANDREW BOURNS (IRL), Andrew Bourns: 0/68.89
10. QUILIMBO: 2009 Holsteiner stallion by Quidam De Revel x Soda
SCHUYLER RILEY (USA), E2 Show Jumpers: 0/73.61
11. GAZELLE ES: 2011 KWPN mare by Diarado x Ukato
JONATHAN MCCREA (USA), Windsor Show Stables: 73.81
12. NIKKA VD BISSCHOP: 2013 BWP mare by Emerol NOP x Nabab De Reve
BETH UNDERHILL (CAN), Rein Family LLC: 0/75.23