Edited Press Release
Wellington, FL – January 30, 2022 – The final day of top-level action during week three of the Winter Equestrian Festival (WEF) started bright and early on Sunday, January 30.  WEF 3, sponsored by NetJets, featured two-star and four-star international events as well as all levels of national hunter, equitation, and jumper competition. Heather Caristo-Williams (USA) and Celtic Hero BZ took the final victory of the day in the $50,000 Helgstrand Jewellery Grand Prix CSI2*. 
Forty-six pairs made it over Peter Grant's (CAN) final test of the week including representatives of 13 different nations, but only seven entries advanced to the short course. The returning field was made up of riders from Ireland, Puerto Rico, Argentina, Brazil, and the United States. Gavin Harley (IRL) led off the pack with Kavalli di Magico but suffered one unfortunate rail to finish with a four-fault score for fourth place. The USA's Heather Caristo-Williams was the first and only of the challengers to put forth a double-clean effort and still clock in at an efficient 38.32 seconds.
"He was originally showing in Ireland as a young horse, and my husband happened to see him," explained Caristo-Williams of 10-year-old Zangersheide stallion Celtic Hero BZ (Calikot Hero x Nissan Caretano Z). "We didn't think he was going to be for sale because he was doing so well, but it happened that I knew the owner and breeder, Andrea Etter, from working with her in Switzerland when I was younger. She did allow us to come ride him and then buy him, and it was nice because it was like keeping the horse in the family for us both because of our relationship."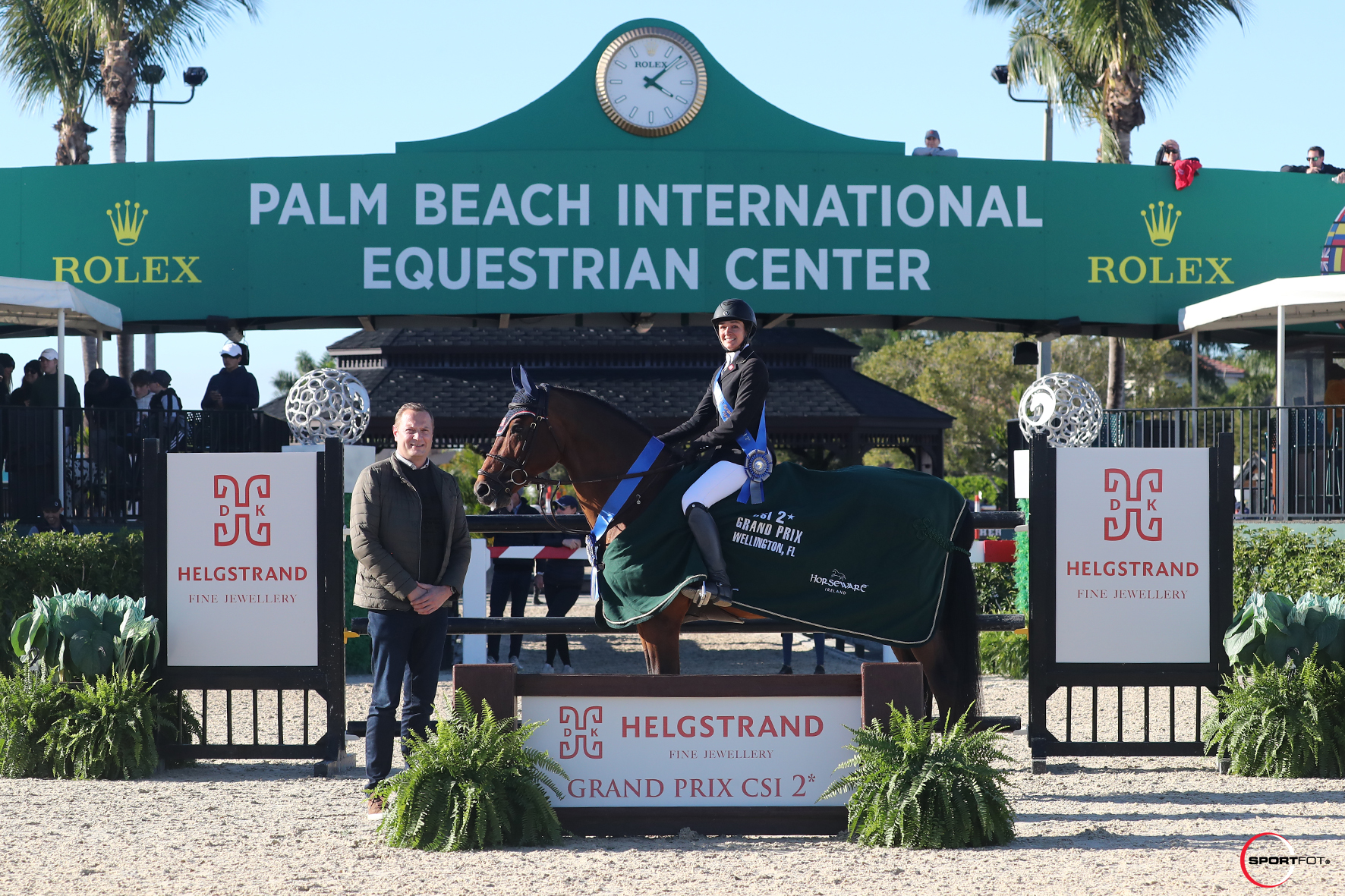 Caristo-Williams purchased the up-and-comer as a six-year-old and has taken the slow and steady road to help him climb the ranks.
"I felt like just this summer he really came in to his own and things started to gel," she stated. "We started doing some bigger classes, and he has just been getting better and better at the bigger classes and more confident."
She plans to compete him in a three-star grand prix soon but first wanted to feel comfortable with his ride at the two-star level. Today far exceeded her expectations.
"We had a bit of a difference of opinion on jump three in the first round but after that we were on the same page the rest of the time, and he just got better and better in the jump-off," she detailed. "I had an issue with a tight left roll-back the other day so coming on the roll-back to the skinny fence I took my time to make that turn correct even though I knew it could've cost me the time."
The risk paid off as she became the only clear round of the seven-entry jump-off field. As thrilled as she is with the victory, Caristo-Williams' love of the sport, the people, and most importantly, the horse, were the most evident.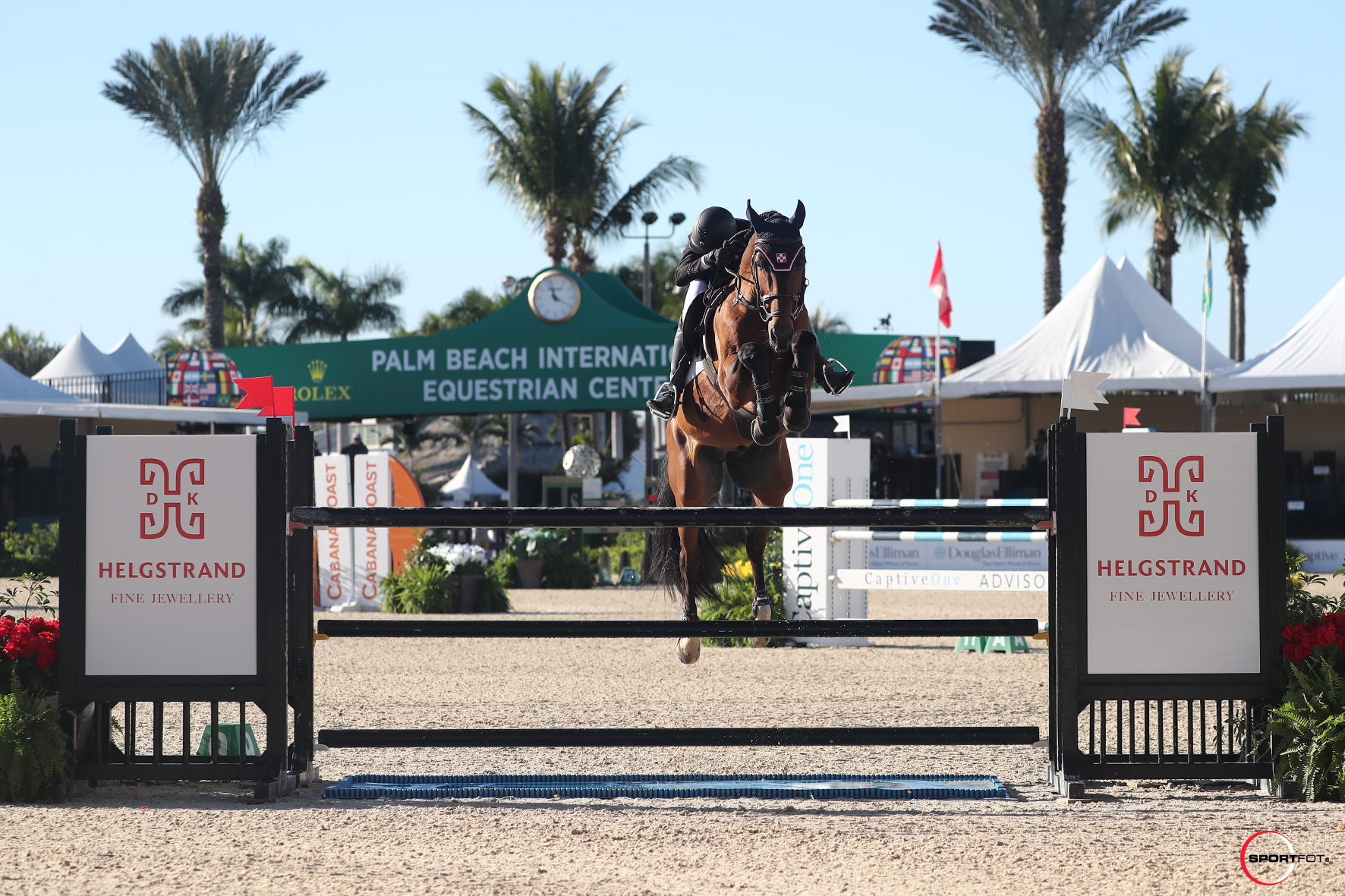 "I am speechless but I truly just love my horse and how much he tried for me today," she expressed. "Regardless of performance, these horses are like my children, and the relationship I am lucky enough to have with him is just so special. I am so grateful to my parents, the team at Glen View, and all of my sponsors because I couldn't even attempt to be able to do something like this without their support."
Ireland's Darragh Kerins slid into the second place position with Eve Jobs's 11-year-old Irish Sport horse gelding Intuitive (Beach Ball x Sandiamo) after beating Caristo-Williams' time by over a second but faulting a single fence in the process. Thomas Yofre put Argentina on the podium as he and the Stellium Sport Horses LLC's 12-year-old Holsteiner mare Cardora (Caretino 2 x Clearway) delivered the second fastest time of the jump-off class but also with a downed rail to earn third place.
Final Results: $50,000 Helgstrand Jewellery Grand Prix CSI2*
1. CELTIC HERO BZ: 2012 Zangersheide stallion by Calikot Hero x Nissan Caretano Z
HEATHER CARISTO-WILLIAMS (USA), Mr. & Mrs. Ralph Caristo: 0/38.32
2. INTUITIVE: 2011 Irish Sport Horse gelding by Beach Ball
DARRAGH KERINS (IRL), Eve Jobs: 0/4/37.08
3. CARDORA: 2010 Holsteiner mare by Caretino 2 x Clearway
THOMAS YOFRE (ARG), Stellium Sport Horses LLC: 0/4/37.60
4. KAVALLI DI MAGICO: 2010 BWP stallion by Emerald x Flamenco De Semilly
GAVIN HARLEY (IRL), Clear Ride LLC: 0/4/37.72
5. CONDOR DU VALDECIE: 2012 Selle Francais gelding by Quite Easy x Quito De Baussy
CHRIS EWANOUSKI (USA), Polo Jump LLC: 0/4/39.73
6. HARLEY D: 2012 KWPN gelding by Spartacus x Grandilot
VASCO FLORES (PUR), Hillside Farm LLC: 0/8/41.20
7. LADY LOUISE JMEN: 2010 mare- no breeding on fei
LUCIANA LOSSIO (BRA), Luciana Lossio: 0/78.89
8. IDEAAL ES: 2013 KWPN gelding by Ukato x Renata
FILIPPO PIGNATTI (ITA), Take the High Road, LLC: 1/82.51
9. BENEFICIAL: 2012 Oldenburg mare by Banderas
ALICIA GADBAN-LEWIS (CAN), Alicia Gadban-Lewis: 2/83.12
10. EXCELLENT: 2009 KWPN stallion by Cicero Z Van Paemel x Ahorn
ZAYNA RIZVI (USA), Peacock Ridge, LLC: 4/77.43
11. CHANDON BLUE: 2005 OS gelding by Chacco-Blue x Landcapitol
LAURA CHAPOT (USA), Laura and Mary Chapot: 4/78.43
12. FLOTYLLA: 2011 PZHK mare by Alvaro 121 x Bajou Du Rouet
CATHLEEN DRISCOLL (USA), Donald Stewart: 4/78.50