Edited Press Release
Just shy of 50 combinations set out to contest the track in the final four-star event of the week on a brisk south Florida morning at the Winter Equestrian Festival (WEF), with 12 of those entries proving good enough to earn themselves a spot in the jump-off. The short track was filled with some of the sport's best including McLain Ward, Laura Kraut, and Nicola Philippaerts. 
Mark McAuley (IRL), who secured the second place position in the previous night's $216,000 NetJets Grand Prix CSI4*, looked like he would be the class victor until Olympian Nicola Philippaerts (BEL) managed to shave just under a second off of his time. Philippaerts's time would hold until Irishman Jordan Coyle contested the course with the Elan Farm's 11-year-old Swedish Warmblood stallion Ariso (Casall x Contender). The pair are no strangers to the victory gallop after having won several five-star and four-star events including Coyle's first five-star grand prix win in the $230,000 Adequan Major League Show Jumping Grand Prix CSI5* in December of 2021.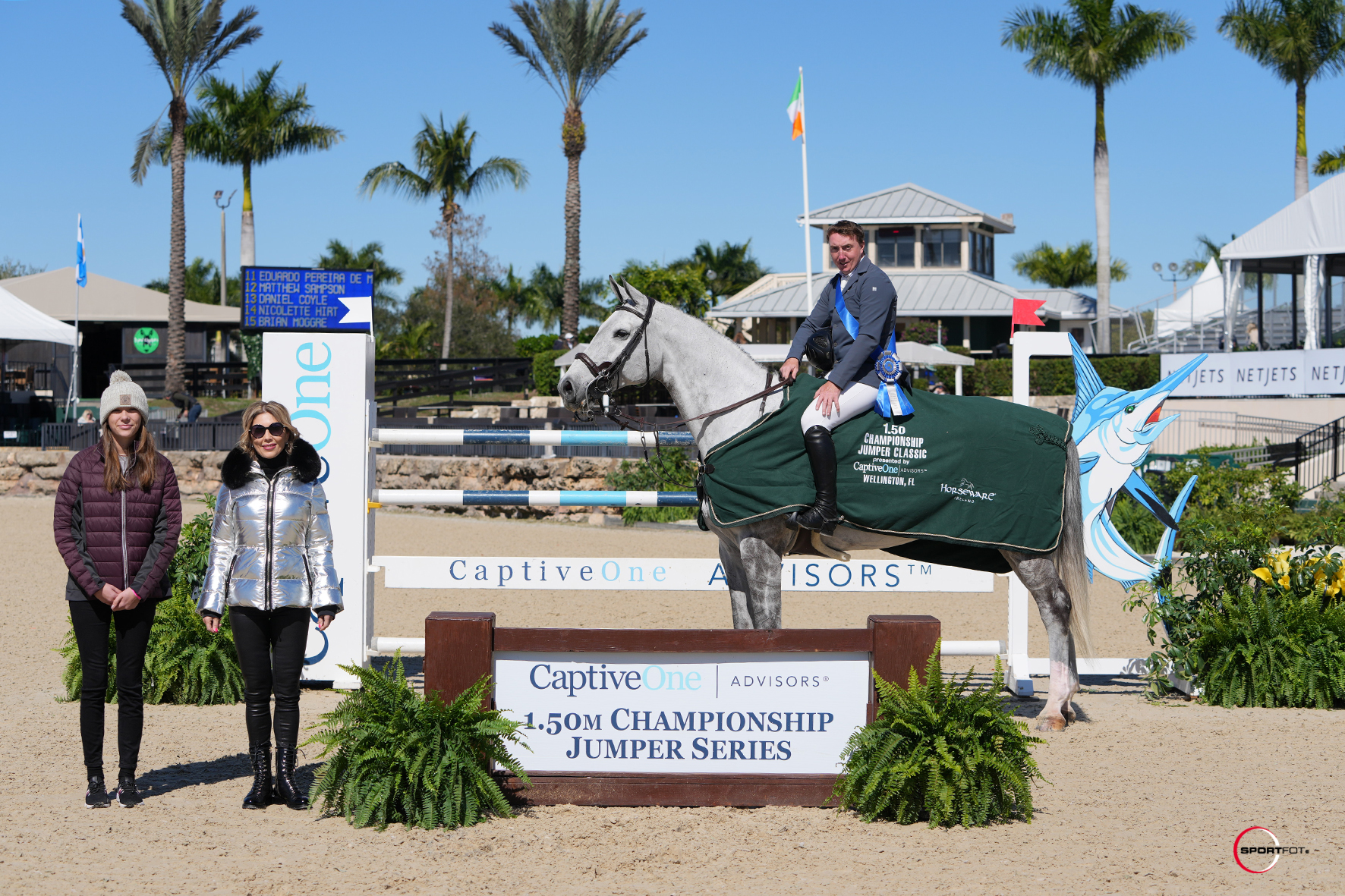 "I've had him for two years now after purchasing him from Shane Sweetnam, and he has just been a great horse for me," explained Coyle. "Things didn't exactly go according to plan last night so we decided to jump him again today and it turned out well."
The duo returned toward the end of the line-up and managed to shave several precious moments off the clock to land in a clean 37.29 seconds. 
"He is turning out to be very fast," continued Coyle. "Some people would say it's me but I think it is the horse, and if I just do what everyone else does he is normally faster. I watched Mark [McAuley], and he had a very good round so I just tried to replicate what he did."
Philippaerts, who was also third in the previous night's grand prix, maintained his second-place position with his 11-year-old KWPN stallion Gijs (Kashmir Van Schuttershof x Numero Uno). The pair fell just two-tenths of a second short of Coyle in a time of 37.48 seconds. Coyle's fellow countryman Bertram Allen rounded out the top three with his own Carlo 454 after crossing the final timers in 38.37. 
Final Results: $75,000 CaptiveOne Advisors 1.50m Jumper Championship Classic CSI4*
1. ARISO: 2011 Swedish Warmblood stallion by Casall x Contender
JORDAN COYLE (IRL), Elan Farm: 0/0/37.29
2. GIJS: 2011 KWPN stallion by Kashmir Van Schuttershof x Numero Uno
NICOLA PHILIPPAERTS (BEL), Nicola Philippaerts: 0/0/37.48
3. CARLO 454: 2011 OS gelding by Conthargos x Balou Du Rouet
BERTRAM ALLEN (IRL), Bertram Allen: 38.37
4. CAP WEST: 2012 Warmblood gelding by Chacco Blue x Hors La Loi II
MARK MCAULEY (IRL), SNC Mcauley Equestrian: 0/0/39.41
5. CERRUTI VAN TER HULST Z: 2010 Zangersheide mare by San Patrignano Cassini x Corrado
CIAN O'CONNOR (IRL), Ronnoco Jump LTD: 0/0/39.26
6. ARGAN DE BELIARD: 2010 Selle Francais gelding Mylord Carthago*hn x Ahorn
LILLIE KEENAN (USA), Equivarandas, LDA: 0/0/39.34
7. NIXON VAN'T MEULENHOF: 2013 BWP stallion by Denzel V't Meulenhof x Carthago
JOS VERLOOYVERLOY (BEL), Eurohorse BVBA: 0/0/39.11
8. HALEY: 2012 KWPN mare by Quality Time TN x Manhattan
LAURA KRAUT (USA), Cherry Knoll Farm, Inc.:0/0/40.54
9. IN TIME: 2013 KWPN mare by Biscayo x Tangelo Van De Zuuthoeve
DANIEL DEUSSER (GER), Stephex Stables: 0/4/42.84
10. FIRST LADY: 2013 OS mare by Don Diarado x Lordanos
MCLAIN WARD (USA), Robin C. Parsky: 0/4/44.17
11. H5 CHACCO'S CHARLIE PS: 2013 Mecklenburg stallion by Elite x Chakira Z
EDUARDO PEREIRA DE MENEZES (BRA), Eduardo Pereira De Menezes: 0/13/55.58
12. GENEVE R: 2011 KWPN gelding by Eldorado VD Zeshoek x Berlin
MATTHEW SAMPSON (USA), Matthew Sampson: 0/15/61.58