By Summer Grace for Jennifer Wood Media, Inc.
Wellington, FL – February 2, 2022 – The fourth week of the 2022 Winter Equestrian Festival (WEF) sent international competitors back onto the turf as all four-star and two-star events are set to take place on the Derby Field at Equestrian Village. WEF 4 is sponsored by The Bainbridge Companies. Competition on Wednesday, February 2, culminated in the $6,000 Douglas Elliman Real Estate 1.45m CSI4* in which Ireland's Daniel Coyle took the win on Ariel Grange's Farona.
A total of 17 combinations rounded out the busy day on the field by contesting Anderson Lima's (BRA) stout course including representatives from six individual nations. The lead changed hands several times throughout the class before finally settling with Coyle and the 12-year-old KWPN mare Farona (Baltic VDL x Lux Z). The pair landed through the timers in a time of 30.49 seconds and held strong as final entry Samuel Hutton (GBR) attempted a takeover but fell just shy in a time of 30.96.
Coyle's time on the turf seems to be paying off as he previously won another Douglas Elliman Real Estate-sponsored class two weeks prior with Tienna. Both Tienna and Farona were once top mounts for Coyle that had time off due to injuries, but both mares have returned feeling their best yet and comfortable across the turf.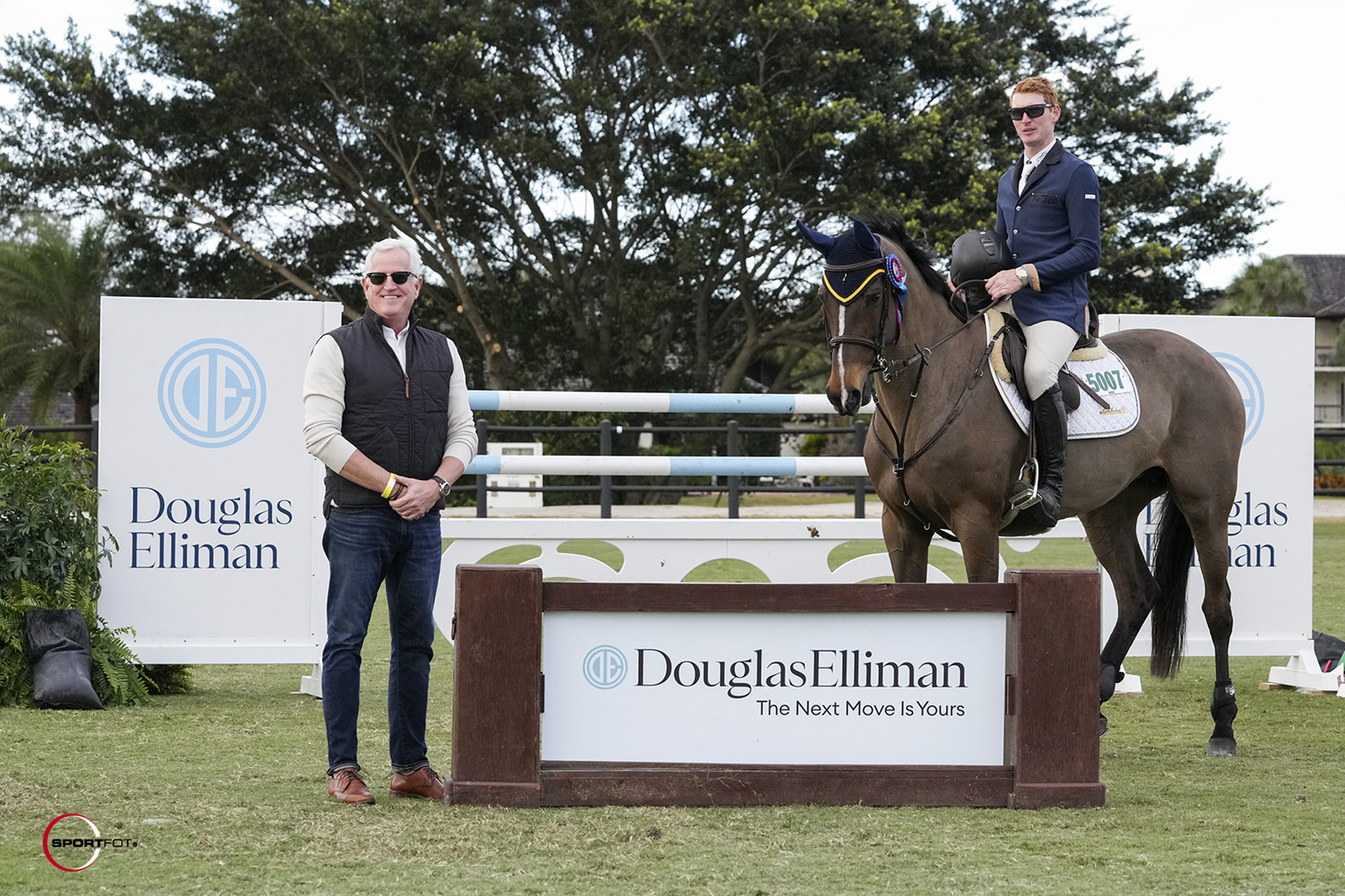 "We got Farona as a six-year-old from the WEF Sport Horse Auction here in Wellington, and she has always been incredible," he explained. "She had several wins under her belt in Canada as a young horse and then went to Europe when she was eight and won a lot of ranking classes over there."
The mare sustained a minor, but difficult to overcome, injury after performing in a Nations Cup at the 2019 WEF and Coyle, alongside owner Ariel Grange, has been working on a plan to bring her back since.
"Ariel was actually the one that came up with the plan to bring her back, and thankfully it worked and she is here and better than ever," he said. "We have only had her back in the show ring since December of 2021, and this was my first 1.45m competition back with her but she is very sensitive and careful. I thought it worked well for me that the first half of the course was just clear round and the second was the speed because she started to feel very comfortable after the first half which allowed me to move quicker and easier."
Coyle added that he looks forward to continuing to compete with her as long as she feels comfortable.
"As she tells me, I will take her forward," he finished. "She is a very talented woman, and I hope to hold on to her and keep her in the sport for a long time."
Hutton's time was solid enough to earn him the reserve honors aboard Abdel Saïd's nine-year-old KWPN gelding I Am HDH (Cream On Top x Arezzo VDL). Young competitor Giavanna Rinaldi put the United States into the top three as she piloted Anton Marano's 13-year-old Mecklenburg gelding Carollo (Chacco Blue x La Piko) in clean but several seconds slower with a time of 32.24 seconds.
The $6,000 Helgstrand Jewellery 1.40m CSI2* was the debut international competition on Wednesday morning with victory going to Olympic gold medalist Laura Kraut (USA) and Seleste B Z. Kraut and St. Bride's Farm's nine-year-old Zangersheide mare (Spartacus TN x Chardonnay Z) kept all the fences in place with the top time of 28.75 seconds in the second-phase, immediate jump-off class. Eighty-four entries then made an appearance in the $1,000 Bainbridge Companies 1.40m CSI4* class which was also set as a two-part track. Abdel Saïd (BEL) worked his magic with new partner Hocus Pocus Van De Lucashoeve. He and the 15-year-old BWP gelding (Chin Chin x Acord II) dominated the large field with a final time of 28.99 seconds over the short track.
Final Results: $6,000 Douglas Elliman Real Estate 1.45m CSI4*
1. FARONA: 2010 KWPN mare by Baltic VDL x Lux Z
DANIEL COYLE (IRL), Ariel Grange: 0/0/30.49
2. I AM HDH: 2013 KWPN gelding by Cream on Top x Arezzo VDL
SAMUEL HUTTON (GBR), Abdel Saïd: 0/0/30.96
3. CAROLLO: 2009 Mecklenburg gelding by Chacco Blue x La Piko
GIAVANNA RINALDI (USA), Anton Marano: 0/0/32.24
4. MHS CARDENTA: 2013 Irish Sport Horse mare by Cardento 933 x Willow Point
AMANDA DERBYSHIRE (GBR), Amanda Derbyshire: 0/0/32.45
5. ATOUT DES TRAMBLES: 2010 Selle Francais gelding by Nectar Des Forets*hn x Apache D'Adriers
NICOLE WALKER (CAN), Nicole Walker: 0/0/32.65
6. GINGER BLUE: 2011 KWPN mare by Plot Blue x Royal Bravour
BEN MAHER (GBR), Jane Forbes Clark: 0/0/33.87
7. H5 CHACCO'S CHARLIE PS: 2013 Mecklenburg stallion by Elite x unknown
EDUARDO PERIERA DE MENEZES (BRA), H5 Sport Horses LLC: 0/0/34.83
8. INCREDIBLE BLEU: 2013 KWPN gelding by Zirocco Blue VDL x Diarado
TIFFANY FOSTER (CAN), 5 Roosters: 0/0/37.19
9. DOLINN: 2008 KWPN mare by Cardento 933 x Lux
HARRIE SMOLDERS (NED), Evergate Stables, LLC: 0/0/38.95
10. HELLCAT: 2011 BWP mare by Cassander Van Het Bremhof x Conan Z
PAUL O'SHEA (IRL), Eye Candy Jumpers: 0/0/40.39
11. JUMPY VAN DE HERMITAGE: 2009 BWP gelding by Toulon x Darco
ISABELLA RUSSEKOFF (USA), Suave Pony LLC: 0/4/37.33
12. BLUEBERRY: 2011 Selle Francais mare by Conrad x Creve Coeur
NICHOLAS DELLO JOIO (USA), Dunwalke LLC: 4/0/43.50