By Summer Grace and Amanda Picciotto Feitosa for Jennifer Wood Media, Inc.
The Equine Tack and Nutritionals Ring 6 played host to the young and green hunter divisions Thursday at WEF 4, where Tamara Provost, of Westfield, IN, rode Cayman to the championship title in the Green Hunter 3' division, sponsored by TRM.
It was an auspicious start yesterday as Jennifer Hannan piloted Surf City, owned by Nina Winoker, to a win in the under saddle class, as well as first and second places over fences with scores of 88 and 83. Provost was right behind, finishing in second in the under saddle and trading first and second places with Hannan over fences with scores of 83 and 86.
The close results made for a deciding second day of competition. Provost and Cayman bested the field in both over fences classes on Thursday with scores of 86 and 88 to push them to the top of the leaderboard for the overall championship title. Hannan and Surf City finished with the reserve championship honors.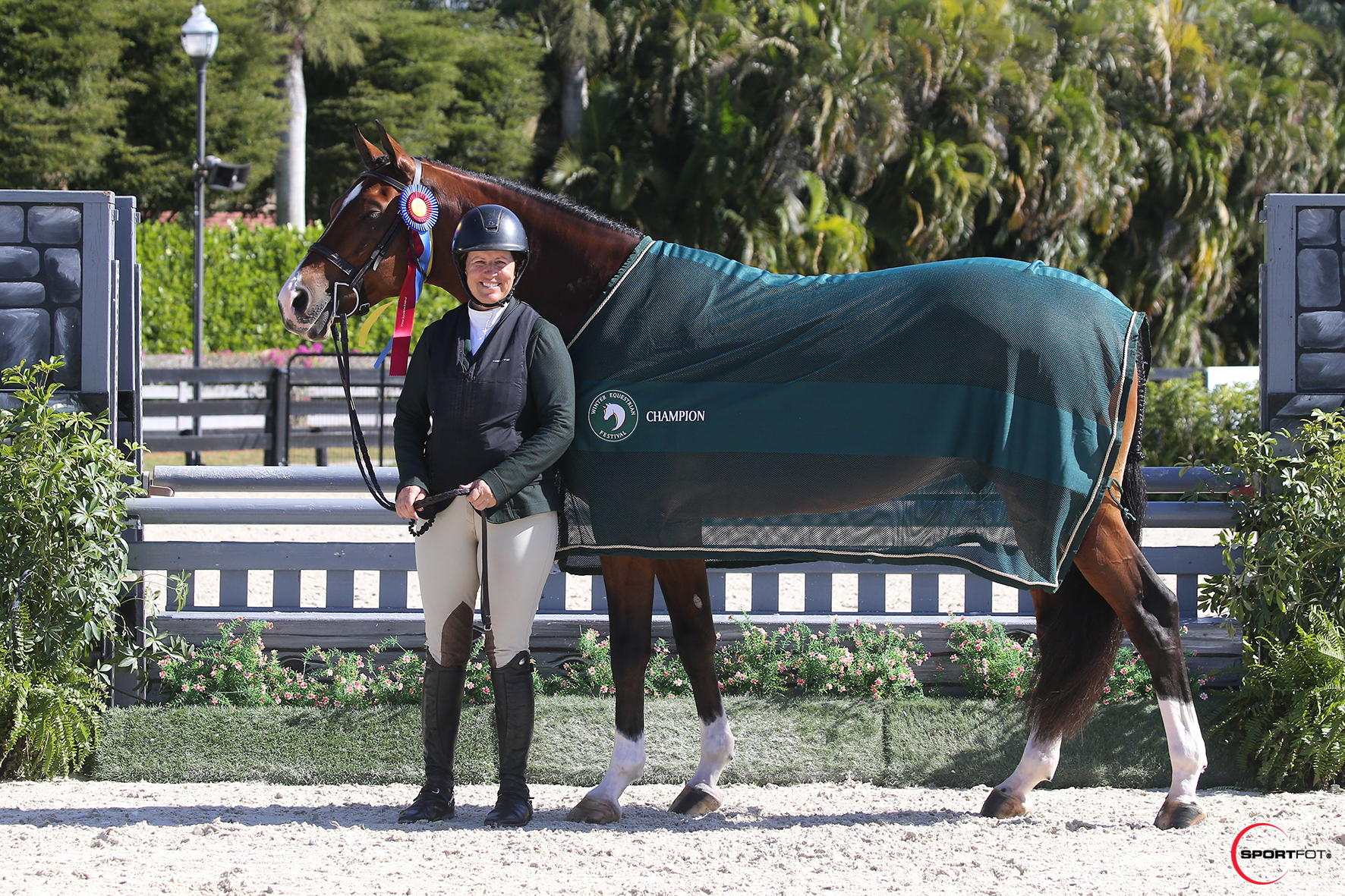 Cayman, a 10-year-old Holsteiner gelding by Casall La Silla, is owned by Laurie Stevens (Boca Raton, FL) and was imported from Germany last summer through Stevens's friend Desiree Johnson. Neither Stevens nor Provost was able to travel to try Cayman first hand due to COVID, so they trusted Johnson's eye for talent.
Stevens recalled, "Desi sent me a text, and she goes, 'When I saw this horse, this one had your name on it.'"
It's been smooth sailing for Cayman since Provost has taken over the ride, winning almost every division he's been entered in.
"He's just been lovely from the time he set foot in America. He's got a super jump and a super attitude. I can't say a bad thing about the horse," commented Provost. "It's just incredible when you walk into the ring on a horse that tries to win every time."
Cayman's winning ways and friendly personality have made quite the impression with Provost.
"He's in my top four group of horses I've ever had, and I'm 51 years old, so I've had a lot of them!" she said.
Provost and Stevens will now have to decide what Cayman's goals will be; either he'll become a nice amateur horse for Stevens, or Provost will keep the ride and aim him for the derbies.
"He could do either. He's got the attitude for her, but he's got the ability for me. It's a 50/50 either way right now," explained Provost.