Edited Press Release
Ocala, FL – World Equestrian Center – Ocala hosted an exhilarating Saturday night of top equestrian sport as 44 horse-and-rider combinations gathered under the lights in the WEC Grand Arena. FEI Level III course designer, Peter Grant (CAN) designed the intricate tracks with a tight time allowed that caught many riders throughout the class. Although six entries delivered faultless rounds, it was Peter Petschenig and his own Wannabe CS (Warrant x Welite) that earned the final victory in the $75,000 Coca-Cola Beverages Florida Grand Prix.
"The course was very different from what we have seen during the previous weeks. This course was sending us from one side to the other, with a super tight time allowed, so you had to gallop. Horses still had to be careful and adjustable," said Petschenig. "Wannabe CS is huge, but he's super rideable. You can leave out two strides or add two. He's still a bit green, but tonight, he really showed what he can do."
The returning field was made up of riders from Austria, Australia, Brazil, Israel and the Unite States. Bryn Sadler and Showcase 81, LLC's Cinven CR were the first pair to return, ultimately deciding to retire. Next in was Alberto Michan (ISR) and his own Nabal De Trivera, galloping through the course but knocking one rail down along the way in 47.037 seconds, ultimately earning fourth.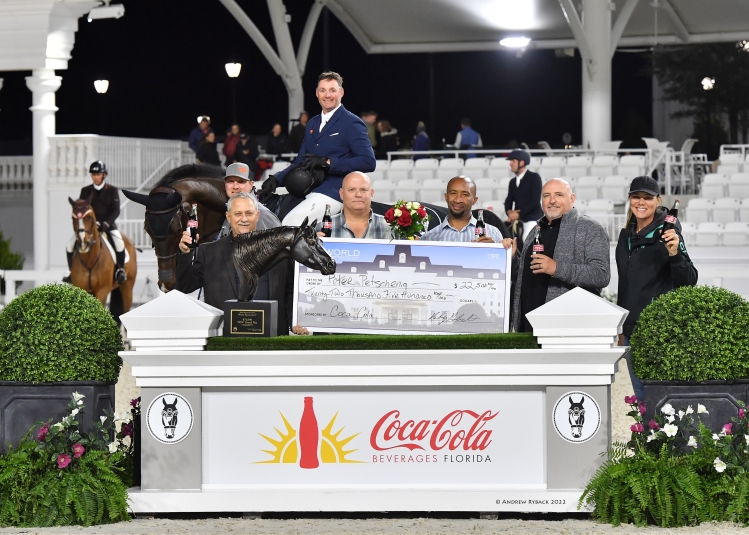 Peter Petschenig and his own Wannabe CS were the third pair down the ramp into the WEC Grand Arena. "I haven't ridden Wannabe CS in a lot of jump-offs," Petschenig said. "He won a grand prix a few weeks back and that was the first time I rode him fast, but he is actually game. Today, I wasn't sure if I could keep him quiet because he can get really aggressive, but he handled it really well."
Petschenig and the 10-year-old Danish Warmblood gelding started on a strong gallop, easily leaving out strides while taking a tidy inside turn to the MARS Equestrian vertical. The pair flew to the Coca-Cola Beverages Florida oxer in ten strides to stop the jump-off clock at 45.813 seconds, a time that no other competitor could catch.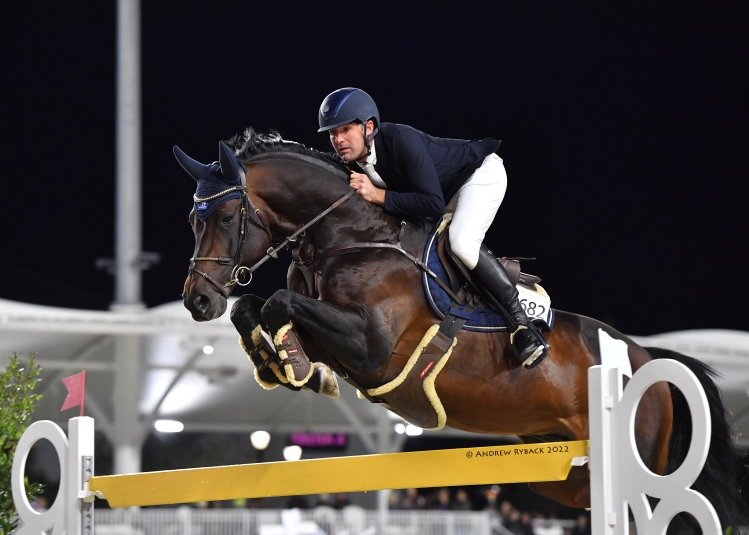 James Arkins and his own Eurostar 1 (Diarado x Chaccodina) were the only other pair to deliver a faultless jump-off round. Arkins and the stunning 10-year-old Warmblood stallion navigated a superb jump-off, flying to the top of the standards of each fence in 47.217 seconds.
Todd Minikus and Bit By Bit Group's Amex Z (Andiamo Z x Senne) followed Arkins and Eurostar 1. Minikus and the 13-year-old Zangershiede mare put forth a super-fast jump-off round in 43.393 seconds but suffered one unfortunate rail, to ultimately earn third.
Santiago Lambre and his own Cetano Van Aspergem Z were the final pair down the ramp to contest the jump-off, enduring two unlucky rails to earn fifth in the $75,000 Coca-Cola Beverages Florida Grand Prix.
An additional $5,000 was awarded to the fastest four-faulter of the $75,000 Coca-Cola Beverages Florida Grand Prix. Sharn Wordley and Fernando Cardenas's Valentine Car snagged the award with an incredibly fast time of 79.649 seconds with one down.
Willie Tynan received the $5,000 'Luck of the Draw' award.
$75,000 Coca-Cola Beverages Florida Grand Prix Results:
1.Wannabe CS, Peter Petschenig (AUT), Peter Petschenig: 0 | 0 | 45.813
2. Eurostar 1, James Arkins (AUS), James Arkins: 0 | 0 | 47.217
3. Amex Z, Todd Minikus (USA), Bit By Bit Group: 0 | 4 | 43.393
4. Nabal De Trivera, Alberto Michan (ISR), Alberto Michan: 0 | 4 | 47.037
5. Cetano Van Aspergem Z, Santiago Lambre (BRA), Santiago Lambre: 0 | 8 | 44.051
6. Cinven CR, Bryn Sadler (USA), Showcase 81, LLC: 0 | 82.893
7. Blue's Yer Daddy, Kelley Robinson (CAN), Kelley Robinson: 1 | 86.476
8. MTM Apple, Tracy Fenny (USA), MTM Farm: 2 | 87.185