By Summer Grace and Amanda Picciotto Feitosa for Jennifer Wood Media, Inc.
Sunday afternoon at WEF 4 culminated in a total of 45 combinations vying for the prize in $50,000 Helgstrand Jewellery 1.45m Grand Prix CSI2*. The USA's Chrstine McCrea celebrated her birthday in style as the first on the field to produce a clear round and earn a spot in the jump-off with Julieta. Tom and Max Wachman (IRL) were the next to carve out space for themselves in the short track with Lazzaro Delle Schiave and Berlux Z, respectively. By the halfway mark, only Lexi Ray (CAN) and Lucy Deslauriers (USA) had managed to add their names to the call back. Several more saw success in the second half and, at the first round's end, an even dozen entries had qualified to return for Lima's final jump-off test.
McCrea kicked off competition across the short course with another fantastically-flawless effort by leaving all rails in the cups with an impressive time of 41.03 seconds. Tom Wachman followed suit by producing a quicker time but faulting one rail. The lead changed hands rapidly after that, with Max Wachman first shaving two seconds off of McCrea's time, and Grace Debney (GBR) immediately knocking off an additional two seconds to shoot to the top.
Many followed and gave it their best shot, but none could come close to the young rider's blazing fast time of 37.57 seconds with Temple Equestrian LLC's 11-year-old CDE mare Zarina De Vidau (Diamant De Semilly).
"It is really great to be able to compete in these international grand prix events now, even though it is definitely intimidating," stated Debney, who is just 17 years old. "There are so many people here and each one of them is an incredible rider."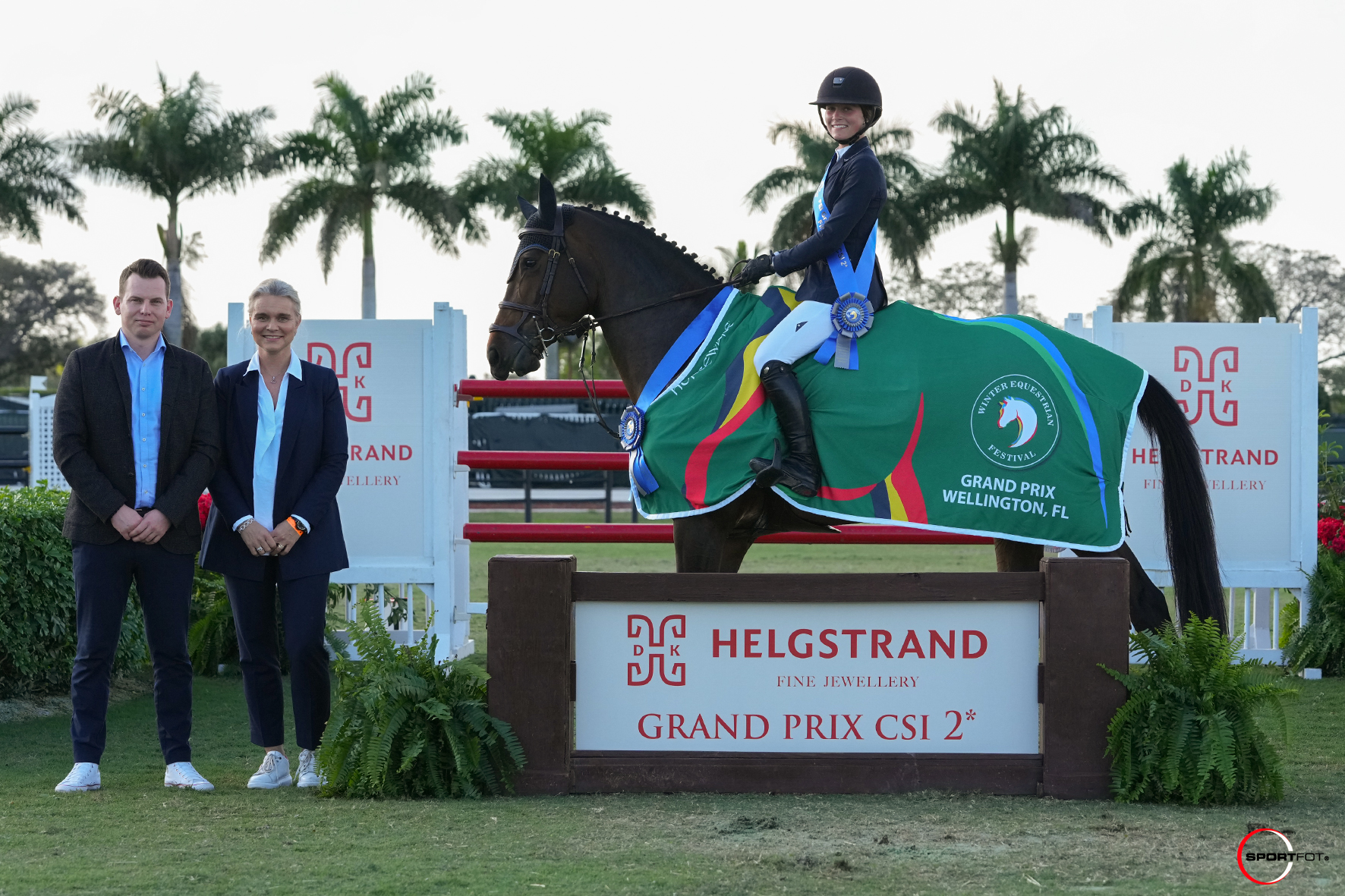 She attributes the win to her trust in the mare and the long-term relationship they have developed over the course of the past four years.
"When I bought her, we were just planning on her being my step-up horse in the High Junior Jumpers, and she has done so much more than I thought," detailed Debney. "Her whole heart is in it, and she wants to win every time she goes in the ring. I was starting to get stuck on some numbers in the jump-off, but we know each other well so Sam [Schaefer] told me just to ride her how I normally would and let her be fast on her own. She really opens up on this field, so I think the longer lines where I could really gallop as well as the tight roll-back to the skinny jump that I knew I could trust her to leave up is where we had the difference."
It was a close call but Alicia Gadban-Lewis (CAN) managed to snatch up the red ribbon with her own 10-year-old Oldenburg mare Beneficial (Banderas) after landing only a little less than four-tenths of a second ahead of Max Wachman in 39.48 seconds. Wachman and Coolmore Show Jumping's 11-year-old Zangersheide gelding Berlux Z (Berlin x Major De La Cour) were the final members of the victory gallop with a finishing time of 39.85 seconds.
Final Results: $50,000 Helgstrand Jewellery 1.45m Grand Prix CSI2*
1. ZARINA DE VIDAU: 2011 CDE mare by Diamant De Semilly
GRACE DEBNEY (GBR), Temple Equestrian LLC: 0/0/37.57
2. BENEFICIAL: 2012 Oldenburg mare by Banderas
ALICIA GADBAN-LEWIS (CAN), Alicia Gadban-Lewis: 0/0/39.48
3. BERLUX Z: 2011 Zangersheide gelding by Berlin x Major De La Cour
MAX WACHMAN (IRL), Coolmore Show Jumping: 0/0/39.85
4. ENANDA: 2009 KWPN mare by Nabab De Reve x Holland
LUCY DESLAURIERS (USA), Luja LLC: 0/0/39.86
5. JULIETA: 2010 Holsteiner mare by Canstakko x Casall
CHRISTINE MCCREA (USA), Windsor Show Stables: 0/0/41.03
6. DELEYN: 2011 Holsteiner mare by Larimar 7 x Dobel's Cento
KEVIN MEALIFF (IRL), Sofia Cady: 0/4/38.22
7. GALLIANO VM: 2011 KWPN gelding by Ukato x Vincenzo
LAURA KRAUT (USA), St. Bride's Farm: 0/4/38.92
8. LAZZARO DELLE SCHIAVE: 2009 Italian Sport Horse gelding by Acodetto 2 x Gluecksgriff
TOM WACHMAN (IRL), Coolmore Show Jumping: 0/4/39.21
9. MONBEG THUNDERBALL B: 2012 Irish Sport Horse gelding by O-Piloth
VERONICA TRACY (USA), Coleridge Equestrian BV: 0/4/39.26
10. DUVERIE: 2011 Selle Francais gelding by Diamant De Semilly x Damiro B
RUPERT WINKELMANN (GER), Eickendorf Horses: 0/4/41.98
11. LUKAKU VD BISSCHOP: 2011 BWP gelding by Plot Blue x Celsa VD Dreef
LEXI RAY (CAN), Lexi Ray: 0/4/49.30
12. HH N-JOY: 2013 BWP gelding by Elvis Ter Putte x Bentley VD Heffinck
QUENTIN JUDGE (USA), Double H, Chloe Stables LCC, & Pumpkins Patch Farm: 0/8/38.56