By Summer Grace and Amanda Picciotto Feitosa for Jennifer Wood Media, Inc.
The first championship title awarded Sunday in the E.R. Mische Grand Hunter Arena, went to Private Practice and Martha Ingram in the Amateur-Owner Hunter 3'3" 18-35 division, sponsored by Adequan®.
Private Practice, the 12-year-old Holsteiner gelding by Lordanos, first jumped onto the scene as a star derby mount for Victoria Colvin and winning amateur horse for previous owner Brad Wolf. Ingram picked up the ride on "Peter" in the middle of the pandemic, but a small injury kept him out of the show ring for about a year. After giving the flashy chestnut time to heal, Peter is making his return to competition in style.
"He feels really good, and I think honestly he looks better than he has ever," commented Ingram.
Ingram was elated with having her partner back in action.
"He's such a show horse. I don't think I've ever ridden a horse that enjoys showing more than he does," continued Ingram. "That's what I love about him. He really and truly loves his job. He's always there for you. He's a winner."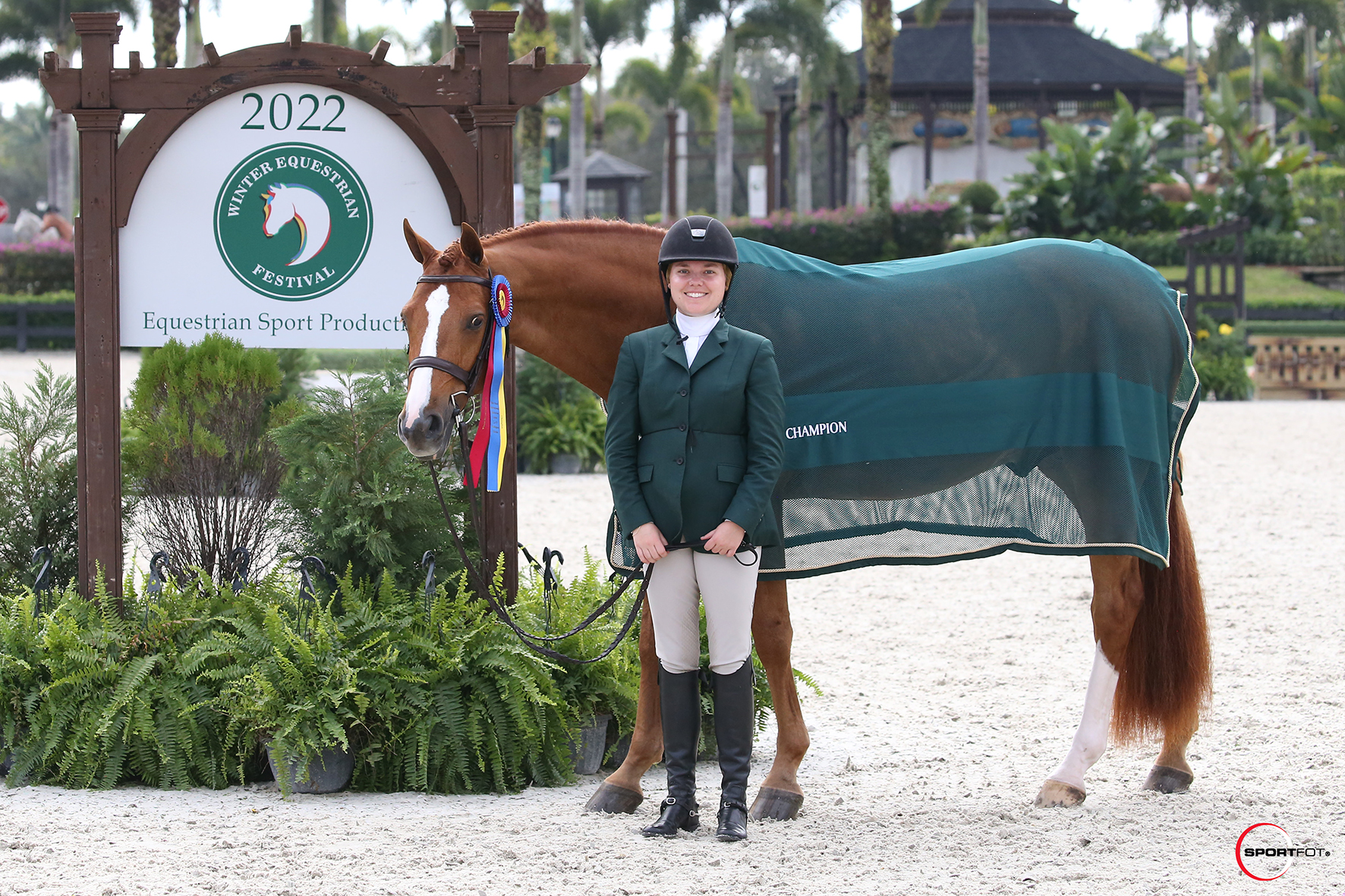 Peter got his week started on Wednesday in the Performance Hunter 3'3" division, sponsored by FarmVet, where he took top placings with Brianne Goutal-Marteau in the irons, scoring an 84.5 in the first over fences class, and then an 88 in the handy for a win.
"I definitely expected him to be a little bit rusty. I thought he had every right to go in there and be a little fresh," said Ingram. "He really wasn't at all. Once I saw he was perfect there, it's like he hasn't skipped a beat."
Yesterday, Peter and Ingram put in solid rounds, notching third- and second-place finishes with scores of 78.5 and 84. The pair really turned it on over fences for a second-place and victory with impressive scores of 86 and 87.
"He was perfect both days, but I definitely think I was even more in sync with him today than I was yesterday," reflected Ingram.
As they waited for their championship presentation, Peter was in his element, happily poking his nose out at any passerby and eagerly receiving treats from his groom and Ingram.
"He knows what his job is, and he's so happy to do it, and he also loves people. He just loves to be loved on. He's really special," noted Ingram.
Stella Propp scored an 87 over fences on Sunday to pick up a win, which boosted her and her horse Maraschino to the reserve championship honors.