By Summer Grace and Amanda Picciotto Feitosa for Jennifer Wood Media, Inc.
Wellington, FL – February 6, 2021 – Week 4 of the Winter Equestrian Festival (WEF) concluded its international events on the turf on Sunday with two top-level jumper classes. WEF 4, sponsored by The Bainbridge Companies, produced a week of elite national and international competition, with all FEI competition taking place on the Derby Field at Equestrian Village. The morning started with the $75,000 CaptiveOne Advisors 1.50m Championship Jumper Classic CSI4* which saw victory for Samuel Hutton (GBR) and Abdel Saïd's 13-year-old BWP gelding H&M Kirlo Van De Bosrand (Cardento 933 x Utrillo VD Heffinck) .
Anderson Lima's (BRA) final 1.50m track of the week stumped a majority of the 42-horse field with several finishing on time faults and a multitude of others enduring a four-fault ending. Only a total of nine pairings were successful in their navigation of the course, and consisted of representatives of Ireland, United States, Great Britain, Canada, and Belgium. Shane Sweetnam (IRL) set the pace in the jump-off as the first to return and produced another clear round for a double-clean effort in a tight time with the Gizmo Partners LLC's James Kann Cruz. Sweetnam held tight to the lead until Great Britain's Samuel Hutton made his way back onto the field as one of the last to go. Hutton executed another flawless round to shave seven-tenths of a second from Sweetnam's final number and finished in a time of 37.35 seconds.
"It was quite wet this morning, and I was a bit nervous to start because I haven't jumped him on wet grass, but the footing was still fantastic," explained Hutton. "When we got to the jump-off, there was an inside turn near the water that I hadn't been planning to do, but Abdel [Saïd] came to me right before I went in and said to win, I had to do it. I thought it looked pretty tight but did it anyway and luckily it paid off."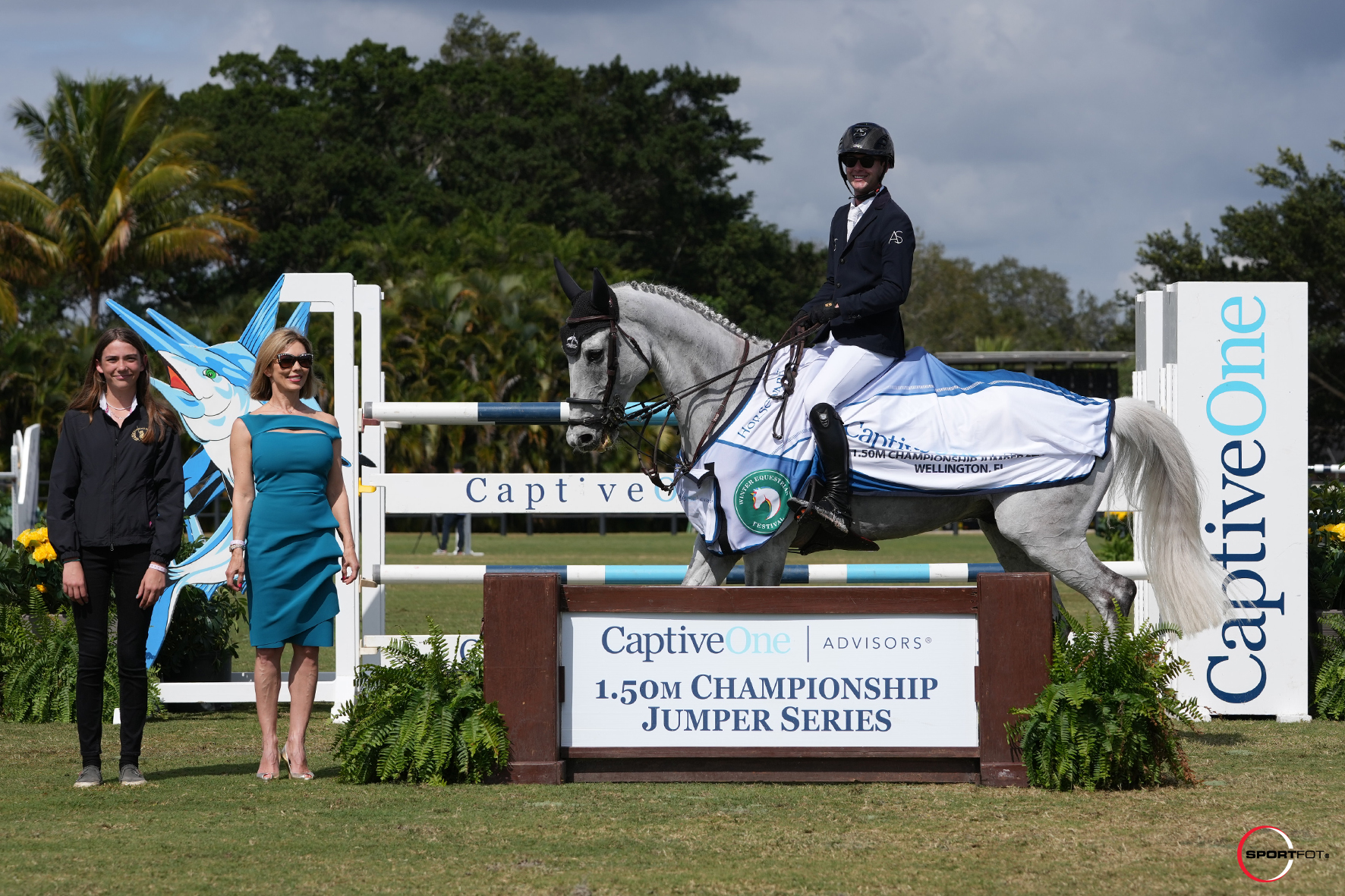 Hutton has not spent time at WEF in the past five years.
"I have been really enjoying it here so far; there is amazing competition every week and the horses seem to like it here as well," said Hutton. "I am hoping to get into one of the five-star events before the season is over but it is difficult with the caliber of riders here. I will keep trying though!"
Sweetnam's time was still good enough to join the victory gallop with the red ribbon. He and the nine-year-old Irish Sport Horse gelding (Kannan) had put forth a clear round through the timers in 37.42 seconds. Hyde Moffatt (CAN) rounded out the top three with Ariel Grange's 14-year-old KWPN gelding Donjo (Zirocco Blue x Ahorn) after leaving all rails standing with a time of 39.55 seconds at the finish.
Final Results: $75,000 CaptiveOne Advisors 1.50m Championship Jumper Classic CSI4*
1. H&M KIRLO VAN DE BOSRAND: 2009 BWP gelding by Cardento 933 x Utrillo VD Heffinck
SAMUEL HUTTON (GBR), Abdel Saïd: 0/0/37.35
2. JAMES KANN CRUZ: 2013 Irish Sport Horse gelding by Kannan
SHANE SWEETNAM (IRL), Gizmo Partners LLC: 0/0/37.42
3. DONJO: 2008 KWPN gelding by VDL Zirocco Blue x Ahorn
HYDE MOFFATT (CAN), Ariel Grange: 0/0/39.55
4. BALOTELLI 5: 2010 Hannoverian gelding by Balou Du Rouet x Contendro I
MATTHEW BODDY (GBR), Purple Road, LLC: 0/0/38.58
5. LANDON: 2008 Zangersheide gelding by Comilfo Plus Z x Quadrillo
KENT FARRINGTON (USA), Haity McNerney: 0/0/43.59
6. DOTCOM D'AUTHUIT: 2013 Selle Francais mare by Diamant De Semilly x Quidam De Revel
NATALIE DEAN (USA), Marigold Sporthorses, LLC: 0/4/38.08
7. NATAN VAN'T LAARHOF: 2013 BWP stallion by Thunder Van De Zuuthoeve x Epleaser van't Heike
ZOE CONTER (BEL), Stephex Stables: 0/4/36.68
8. TAJ MAHAL: 2013 Zangersheide stallion by Emerald van't Ruytershof x Quannan R
CIAN O'CONNOR (IRL), Coolmore Show Jumping: 0/4/41.73
9. HARLEY VD BISSCHOP: 2007 BWP gelding by Dulf Van Den Bisschop x Coronado
HARRY ALLEN (IRL), Bertram Allen: 0/9/54.14
10. L'ARTISTE DE TOXANDRA: 2011 BWP gelding by Toulon x Kashmir Van Schuttershof
IOLI MYTILINEOU (GRE), Elia Construction SA: 1/80.45
11. JIMINY CRICKET: 2011 Westphalian gelding by Colestus x Cornet Obolensky
NAYEL NASSAR (EGY), Evergate Stables, LLC: 2/81.60
12. EXCELLENT B: 2009 KWPN gelding by Berlin x Heartbreaker
NICOLE WALKER (CAN), NW Stables LP: 4/75.62