By Alice Collins for Jennifer Wood Media, Inc.
Wellington, FL – February 11, 2022 – Week five's "Friday Night Stars" showcase at the 2022 Adequan® Global Dressage Festival (AGDF) in Wellington, FL, produced top-drawer dressage and a huge new personal best from Laurence Vanommeslaghe (BEL) to win the Grand Prix Freestyle CDI4*, presented by Helgstrand Dressage, on Friday, February 11, 2022.
Vanommeslaghe rode Edison to their first-ever CDI victory and a career best of 79.115%, just edging out the winners of the qualifying Grand Prix, Frederic Wandres (GER) and Bluetooth OLD, who were second with 79.045%. Third-placed Benjamin Ebeling — last to go of the 10 riders — clinched third riding Illuster Van De Kampert to 77.370% for the USA.
After the pandemic-induced drought of shows, the spectators were keen to show their support, and almost immediately after Vanommeslaghe began her test, whoops rang out, and the crowd clapped along to her bold heavy metal-themed soundtrack.
"I was so delighted," beamed Vanommeslaghe. "I was very tense because there was a lot of public for me, and it was our first international show in a long time. I could really feel the support of the crowd. My tension went away when I could hear them. I think the horse likes the music — and the public — he really likes to move in rhythm with the music."
This was a game-changing result for the Paris-based 50-year-old rider, who was competing outside Europe for the first time and whose previous top score was 75.525% from the spring of 2021. She has had the horse for two years after finding him in Holland and trains with Christoph Koschel.
"Unfortunately, the horse was injured before the European Championships [in Hagen in September of 2021], so I had to rest him for several months," said Vanommeslaghe, who rode the 13-year-old gelding by Glock's Johnson TN to music by Joost Peters. "That's why my summer season in Europe ended early and why I decided to come here.
"It's the first time that my horse flew [on a plane], and this is all a big adventure for me," she added. "The show is amazing. We will finish the season here and then go back to Europe and try for the Belgian team for the World Championships [in Denmark in August]."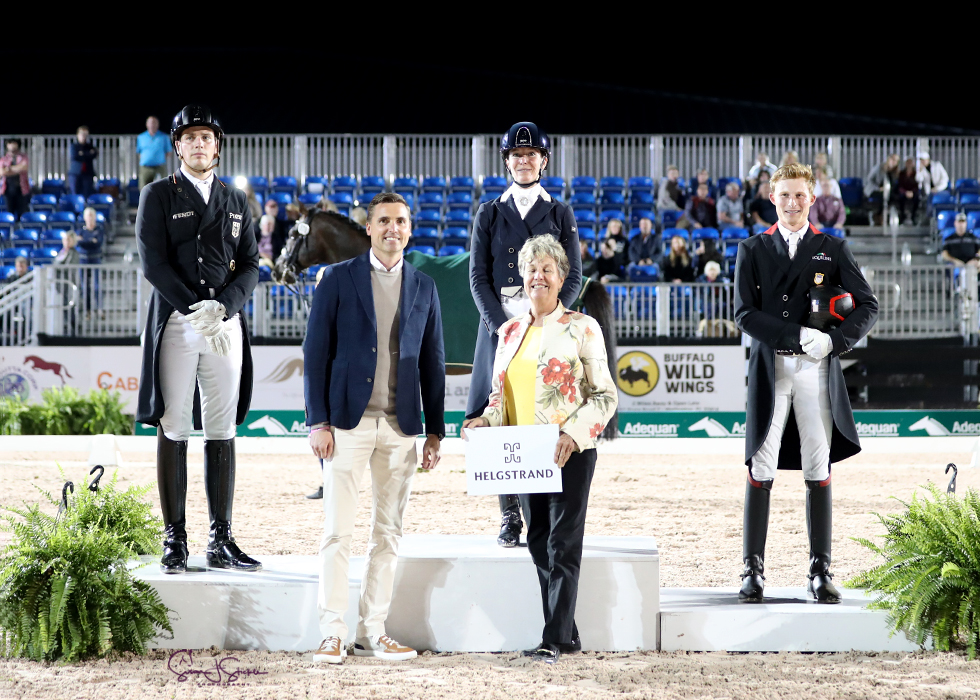 Judge at C Jane Weatherwax, who awarded over 80%, said: "Music that powerful could be a bit much for the horse, but your horse is so powerful, and it really worked — especially the music for the passage. It was very fun. There was interesting choreography in the class. I think most of the riders chose their degree of difficult wisely and were able to pull it off."
Second-placed Wandres said of Bluetooth OLD: "I had a very good feeling during the test. For me that's very important, because I had some shows when I started with him where he was a little bit shy, and I could not take what he offered me in the warm up into the ring. So that is already much better, and we find more and more together."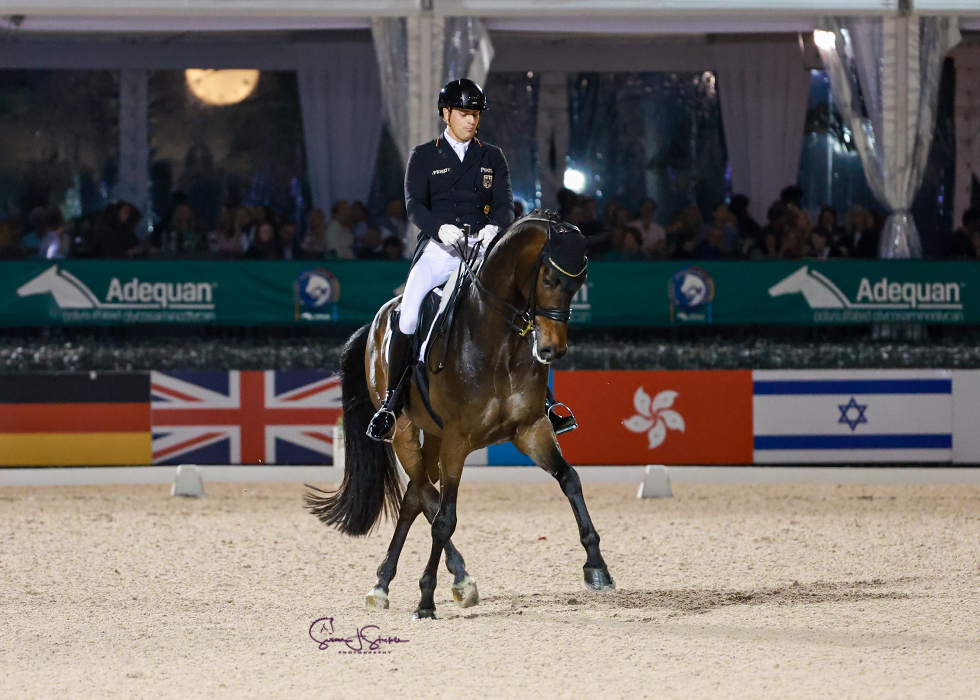 Wandres is another rider on the hunt for a start at the Championships in Herning, and third-placed Ebeling is also eyeing a spot there. Both riders plan to contest the five-star show at AGDF 7.
"It was such a big environment in there tonight," said Ebeling. "There was a little bit of tension from my horse. The show organizers do such a great job of advertising the show, so of course there was a big audience, and he got a little excited. We had some mistakes related to tension, but overall I was very pleased."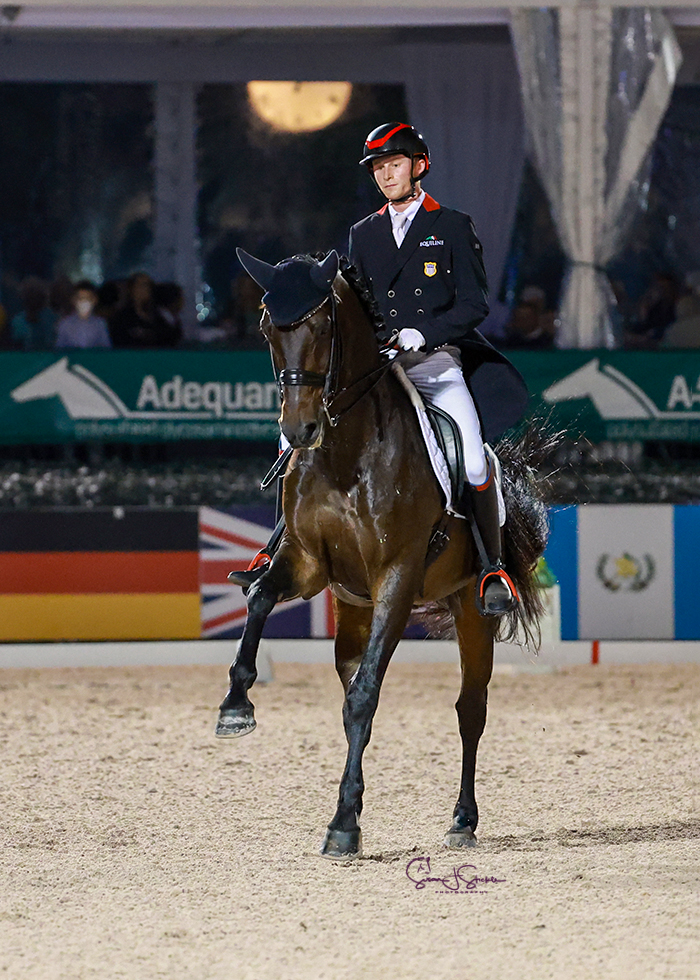 Olympic medalist Andreas Helgstrand of class sponsor Helgstrand Dressage — who has himself ridden Bluetooth in the past — was impressed by what he saw.
"The quality, especially the second half, was very exciting to see, very close," he said. "I always love to see horses with good piaffe and passage. Frederic did a super job on Bluetooth, and it was fun to see a horse you have ridden yourself. We want to support the dressage here, in this perfect place."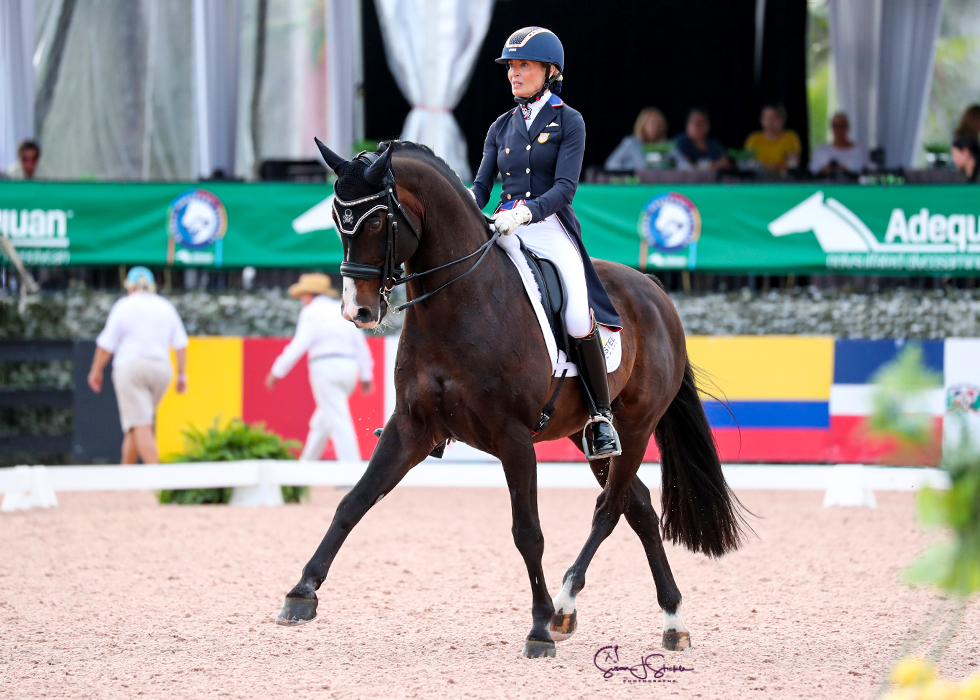 Charlotte Jorst (USA) chalked up her second win in as many days on the 19-year-old Kastel's Nintendo in the World Cup™ Grand Prix Freestyle, presented by Wellington Equestrian Realty. Dancing to a soundtrack from "Pirates of the Caribbean" — complete with pirate motif on both her stock and the horse's ear bonnet — Jorst laid down 79.075% to edge out Spain's Juan Matute Guimón, who was second with 78.050% on Quantico. Anna Buffini (USA) finished third with 77.605% on FRH Davinia La Douce.
Two judges awarded Jorst over 80%, and she was delighted with Nintendo's improvements from the last time they rode this test, in Aachen, Germany, last September.
"I came back from Aachen and there I almost had an 80% too," she explained. "This music really suits him. Coming up that centerline in the end, you can feel him just lifting up and being so happy about it. For the first time I've actually nailed the music and choreography — after many tries and many failures."
At 19, Nintendo was the oldest horse in the class, but thanks to his routine of ample trail riding and daily turnout, he is still fit and fresh in the ring.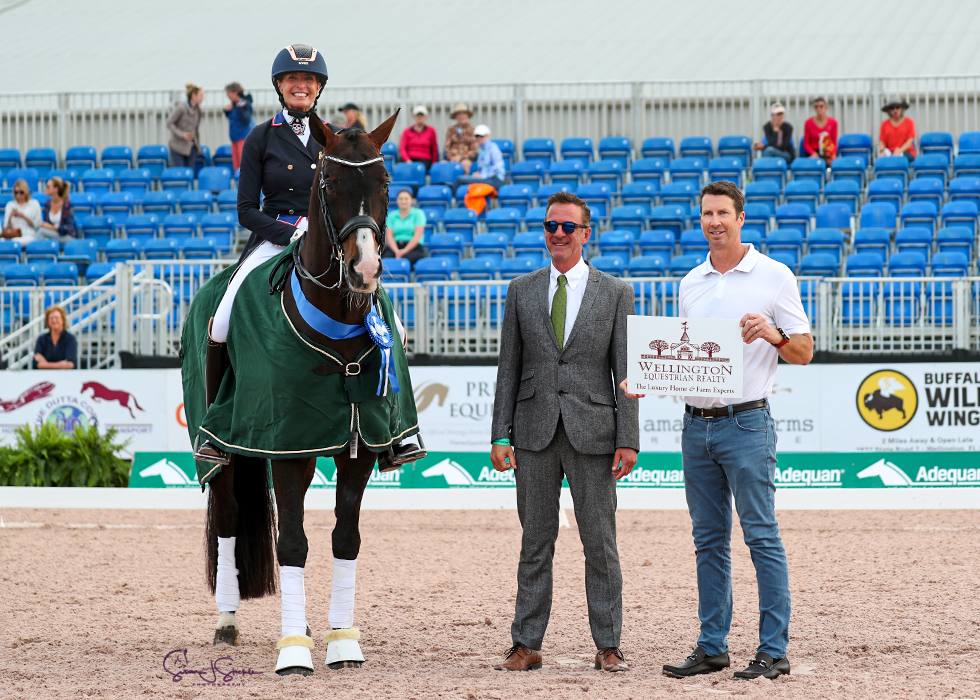 "He just wants to give and give," enthused the 55-year-old Danish-born American. "I trust him 100%, and I think he trusts me 100%. We don't have to warm up a lot anymore. Now it's like 20 minutes and then 'boom' in the ring, so he's out of here in 25 minutes, and that really works for him."
Next steps for the evergreen son of Negro include the five-star show in two weeks. Jorst has an eye on a wild card for the FEI World Cup™ Dressage Final in Leipzig, Germany, in April, but is taking nothing for granted given Nintendo's age.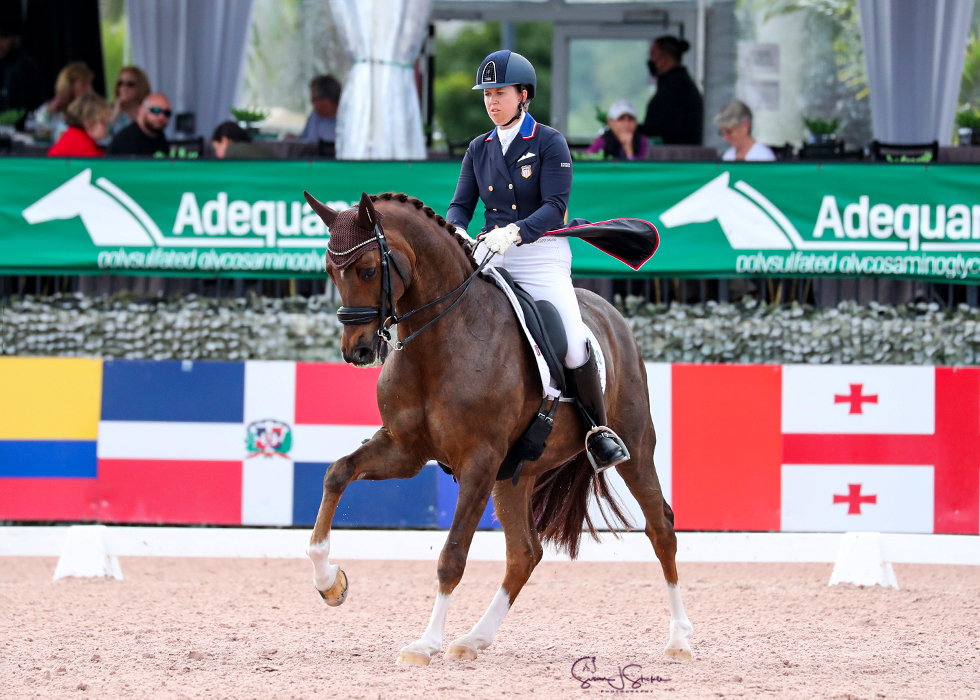 In the day's third grand prix class, Katie Duerrhammer (USA) echoed her AGDF 3 success with victory on Quartett in the Grand Prix CDI4*, presented by MTICA Farm. Last to go of 12 starters, Duerrhammer rode the 14-year-old gelding by Quaterback to a personal best of 71.000%. She led an all-American top four, with Alice Tarjan taking second on Donatella M (70.739%) and Benjamin Ebeling edging into third with 70.087% on Indeed.
"Today was the first time we broke 70% in the regular Grand Prix, and that's kind of been my goal all season," said the 33-year-old Duerrhammer, who works with Adrienne Lyle. "Quartett tries so hard and if you ride it right, he is going to be there for you and that's a very special feeling.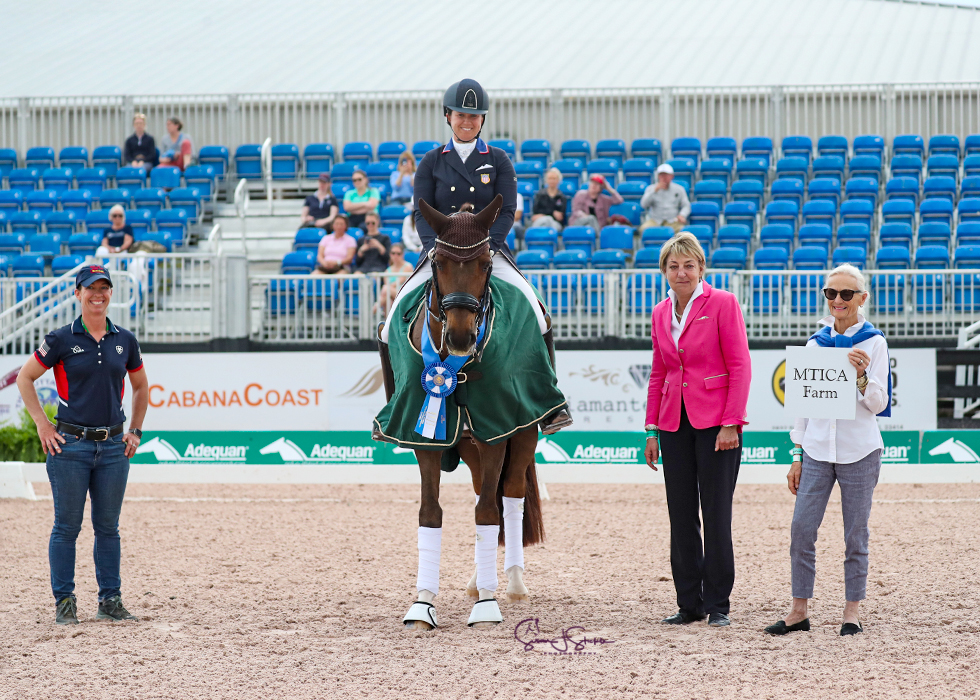 "He can be quite sound sensitive, so this is a hotter environment for him here. I'm really proud of how much he's starting to use that excitement for good things, and not just getting tight and tense."
Quartett was actually purchased for his owner Kylee Lourie to ride herself, and Duerrhammer is showing him the ropes at top level before Lourie takes him over full-time.
"Every show we do is just one more gift," said Duerrhammer, whose recipe for success with the horse is minimal arena time — she schooled him just twice since they showed at AGDF 3. "He might not be the most talented of everything that I ride in the entire barn, but the amount of heart he has is four times bigger than anything else I have. This summer his owner could get on, when he was still a green grand prix horse, and clock off almost everything in the grand prix. He's just such a giver."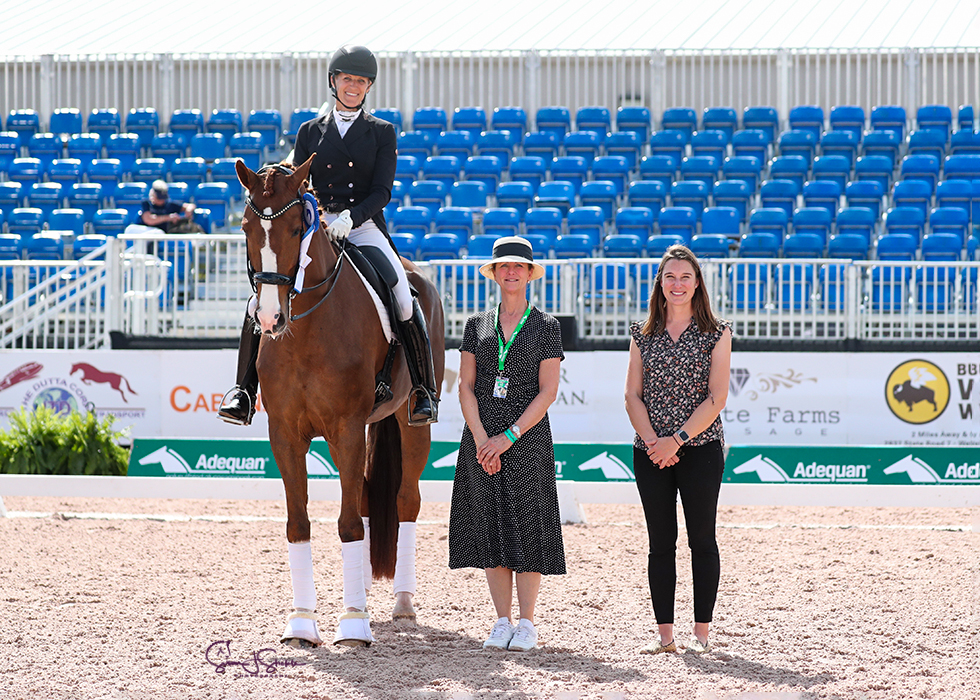 It was a clean sweep of the podium by American riders in the Intermediate I CDI2* class, with Bianca Berktold leading the pack. She rode Imperial, her own nine-year-old mare by Charmeur, to a personal best of 73.039% and their first international win. Ali Potasky pulled off another personal best, finishing second with 70.441% on Inxs, with Kevin Kohmann third on Edward (69.559%).
Dressage resumes on Saturday, February 12, with the Grand Prix Special CDI4*, presented by MTICA Farm, and includes action in small tour, middle tour, under-25, junior, young rider, and amateur divisions. For more information and results, visit www.globaldressagefestival.com.
Results: FEI Grand Prix Freestyle CDI4*, presented by Helgstrand Dressage
Place, rider, nationality, horse, horse information: judge E%, judge H%, judge C%, judge M%, judge B%, final score
E, Elke Ebert (GER); H, Carlos Lopes (POR); C, Jane Weatherwax (USA); M, Christof Umbach (LUX); B, Claudia Thaler (AUT)
1. Laurence Vanommeslaghe (BEL) on Edison, Fiechter Quality Dressage Horse BVBA's 13yo KWPN gelding by Glock's Johnson TN: 76.9, 77.775, 80.375, 79.9, 80.625, 79.115
2. Frederic Wandres (GER) on Bluetooth OLD, Elena Knyaginicheva & Sergey Knyaginichev's 12yo Oldenburg gelding by Bordeaux: 79.55, 80.375, 79.3, 80.05, 75.95, 79.045
3. Benjamin Ebeling (USA) on Illuster Van De Kampert, ACR Enterprises Inc.'s 14yo Belgian Warmblood gelding by Spielberg: 76.55, 77, 77.7, 78.875, 76.725, 77.37
4. Jennifer Williams (USA) on Millione, Millione Partners's Danish Warmblood gelding by Milan: 76.425, 75.025, 78.975, 79.05, 76.75, 77.245
5. Mikala Münter (USA) on Salsa Hit, her own & Paul Bint's 13yo Oldenburg gelding by Samba Hit III: 73.9, 71.825, 76.925, 73.875, 73.35, 73.975
6. Ariana Chia (CAN) on Fiderame, her own 12yo Oldenburg gelding by Fidertanz: 71.25, 74.675, 73, 71.45, 69.225, 71.92
7. Jessica Jo Tate (USA) on Derby, Cackie Vroom's 16yo Oldenburg NA gelding by Donnerwerth: 72.4, 70.425, 73.45, 69.575, 70.5, 71.27
8. Lisa Marriott (GBR) on Valucio DH Z, her own 13yo Zangersheide gelding by Va-Vite: 66.425, 68.3, 70.7, 69.375, 64.925, 67.945
9. Joanne Vaughan (GEO) on Al Martino 10, her own 18yo Holstein gelding by Almoretto: 64.325, 63.925, 68.2, 64.1, 62.55, 64.62
10. Sahar Daniel Hirosh (ISR) on Whitman, Jane Suwalsky's 19yo KWPN gelding by Rhodium: 60.175, 61.55, 67.625, 64.675, 60.95, 62.995
Results: FEI World Cup™ Grand Prix Freestyle CDI-W, presented by Wellington Equestrian Realty
E, Carlos Lopes (POR); H, Elke Ebert (GER); C, Christof Umbach (LUX); M, Claudia Thaler (AUT); B, Kjell Myhre (NOR)
1. Charlotte Jorst (USA) on Kastel's Nintendo, Kastel Denmark's 19yo KWPN stallion by Negro: 80.125, 80.05, 78.4, 79.375, 77.425, 79.075
2. Juan Matute Guimón (ESP) on Quantico, Juan Matute Azpitarte's 16yo Hanoverian gelding by Fighting Fit: 76.175, 77, 80.025, 79.5, 77.55, 78.05
3. Anna Buffini (USA) on FRH Davinia La Douce, her own 15yo Hanoverian mare by Don Frederico: 76.025, 77.05, 78.775, 79.25, 76.925, 77.605
4. Brittany Fraser-Beaulieu (CAN) on All In, her own & Marc-Andre Beaulieu's 17yo KWPN gelding by Tango: 76.775, 76.65, 78.15, 76.75, 76.9, 77.045
5. Yvonne Losos de Muñiz (DOM) on Aquamarijn, her own & Sylvia Ines Muñiz Losos's 17yo KWPN mare by United: 73.15, 74.075, 78.875, 76.775, 76.75, 75.925
6. Ashley Holzer (USA) on Havanna 145, Diane Fellows's 15yo Hanoverian mare by Hochadel: 75.025, 76.3, 75.075, 75.225, 76.85, 75.695
7. Hope Cooper (USA) on Hot Chocolate W, Mary Mansfield's 17yo Hanoverian gelding by Hochadel: 72.675, 72.85, 72.725, 72.85, 72.525, 72.725
8. Paula Matute Guimón (ESP) on Delagronge, her own & Julie McAllister's 14yo Oldenburg stallion by De Niro: 72.9, 72.45, 71.975, 67.575, 73.25, 71.63
9. Jan Ebeling (USA) on Status Royal OLD, Ann Romney's 12yo Oldenburg gelding by Statesman OLD: 69.375, 71.775, 70.85, 73.175, 72.85, 71.605
10. Evi Strasser (CAN) on Disney Tyme, her own 14yo Oldenburg gelding by Diamond Hit: 67.725, 69.175, 69.35, 71.425, 68.2, 69.175
Results: CDI4* FEI Grand Prix (for Special), presented by MTICA Farm
E, Christof Umbach (LUX); H, Kjell Myhre (NOR); C, Elke Ebert (GER); M, Carlos Lopes (POR); B, Jane Weatherwax (USA)
1. Katie Duerrhammer (USA) on Quartett, Kylee Lourie's 14yo DSP gelding by Quaterback: 73.261, 71.196, 70.761, 70.109, 69.674, 71
2. Alice Tarjan (USA) on Donatella M, her own 11yo Oldenburg mare by Fürstenball OLD: 70.435, 70.435, 72.283, 67.609, 72.935, 70.739
3. Benjamin Ebeling (USA) on Indeed, Vantage Equestrian Group II's 14yo Danish Warmblood mare by Hofrat: 71.63, 69.783, 71.522, 70.217, 67.283, 70.087
4. Sarah Tubman (USA) on First Apple, Summit Farm's 12yo KWPN stallion by Vivaldi: 71.522, 70.109, 67.391, 69.348, 71.522, 69.978
5. Laurence Vanommeslaghe (BEL) on Havalon, Laurence Vanommeslaghe's 15yo Hanoverian gelding by Blue Hors Hotline: 66.196, 69.239, 68.913, 71.739, 68.804, 68.978
6. Michael Klimke (GER) on Harmony's Sanrino RHP, Harmony Amateur Sports's 13yo Oldenburg stallion by San Remo OLD: 68.261, 66.522, 66.087, 68.37, 67.609, 67.37
7. Aaron Janicki (USA) on Heron, his own 10yo KWPN gelding by Glock's Johnson TN: 69.239, 67.826, 65.652, 66.304, 64.457, 66.696
8. María Alejandra Aponte González (COL) on Duke De Niro, her own 17yo British Hanoverian gelding by De Niro: 66.848, 67.826, 65.326, 66.63, 63.696, 66.065
9. Patricia Becker (USA) on Derk, Lauren Walfish's 14yo KWPN gelding by Wynton: 64.457, 66.304, 65, 67.935, 66.087, 65.957
10. Evi Strasser (CAN) on Déjà Vu Tyme, her own 15yo Hanoverian gelding by Dauphin: 62.391, 66.087, 63.37, 64.783, 65.326, 64.391