Edited Press Release
Wellington, FL – February 11, 2022 – The fifth week of the 2022 Winter Equestrian Festival (WEF), sponsored by Fidelity Investments®, featured the $37,000 Bainbridge Companies 1.45m CSI5* on Friday, February 11, 2022, with the world's top-ranked female show jumping athlete, Erynn Ballard of Canada, taking the victory with Nanini van d'Abelendreef, owned by Esperanza Imports. 
Just over 50 international combinations made their way into the arena to contest Kelvin Bywater's (GBR) technical speed track with just under 20 of those entries coming home fault-free. Those that managed to have a successful round represented 10 different nations with Canada, Ireland, and Egypt leading the charge. Ballard and the nine-year-old Belgian Sport Horse mare Nanini Van d'Abelendreef (Kannan x Heartbreaker) found the fast track at every turn for the win in 57.82 seconds. While Matthew Sampson (GBR) was slightly faster, a rail left him out of the ribbons.
"We have been able to take our time with this mare, and she is truly just such quality and so competitive," detailed Ballard. "We had an unlucky rail on Wednesday of this week, so when she came out today she was like, 'I do not knock jumps down, and today we are winning.' She is just the kind of horse that you could bring out to jump in a halter and lead rope, and she would do her best to try and win."
Ballard has had the ride on the young mare since the beginning of her eight-year-old year and has taken the time to bring her up slowly over the summer and into FEI ranking classes starting this past fall.
"I think it is very cool and unique that I have been able to develop her this past year, and that she has been so successful the whole way along," said Ballard. "She is a fast horse with a careful jump and, unlike some of the other horses that are careful over the fences, she is forward and not slow. From the first jump to the last today, I never had to make an adjustment on her; I just continued turning and the jumps kept coming right up, and that is where you make up the time in classes like these."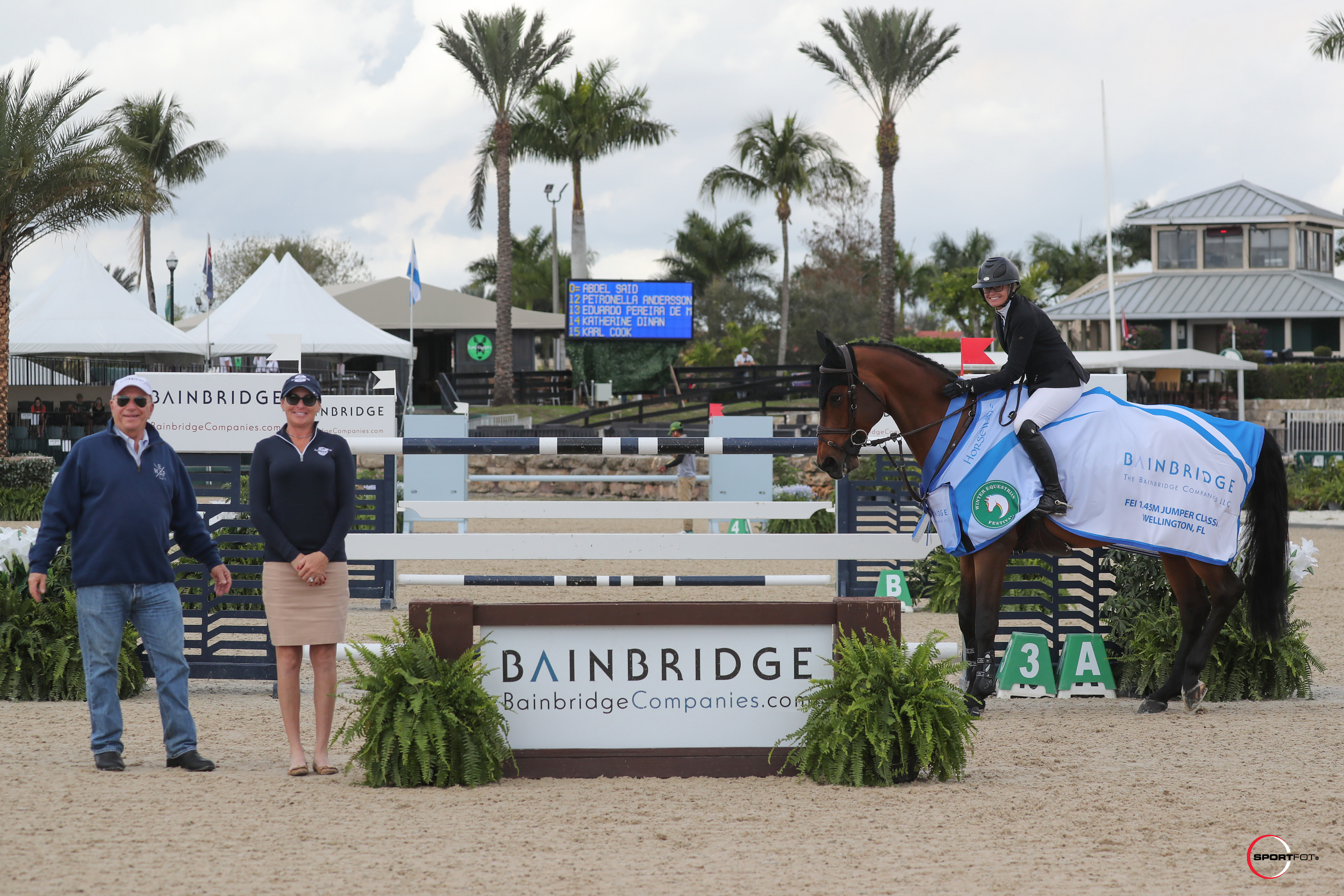 Adding another good result to his season, Ireland's Jordan Coyle slid into the second-place position aboard the Elan Farm's nine-year-old Irish Sport Horse gelding Ballyoskill Big Bucks (Royal Concorde). The pair totaled a time of 59.34 seconds which put them slightly less than two seconds over Ballard's leading clock-in. Nayel Nassar rounded out the top three for Egypt after finishing with a time of 59.42 seconds with Evergate Stables LLC's 11-year-old SBS gelding El Conde (Loro Piana Filou De Muze x Final Shot).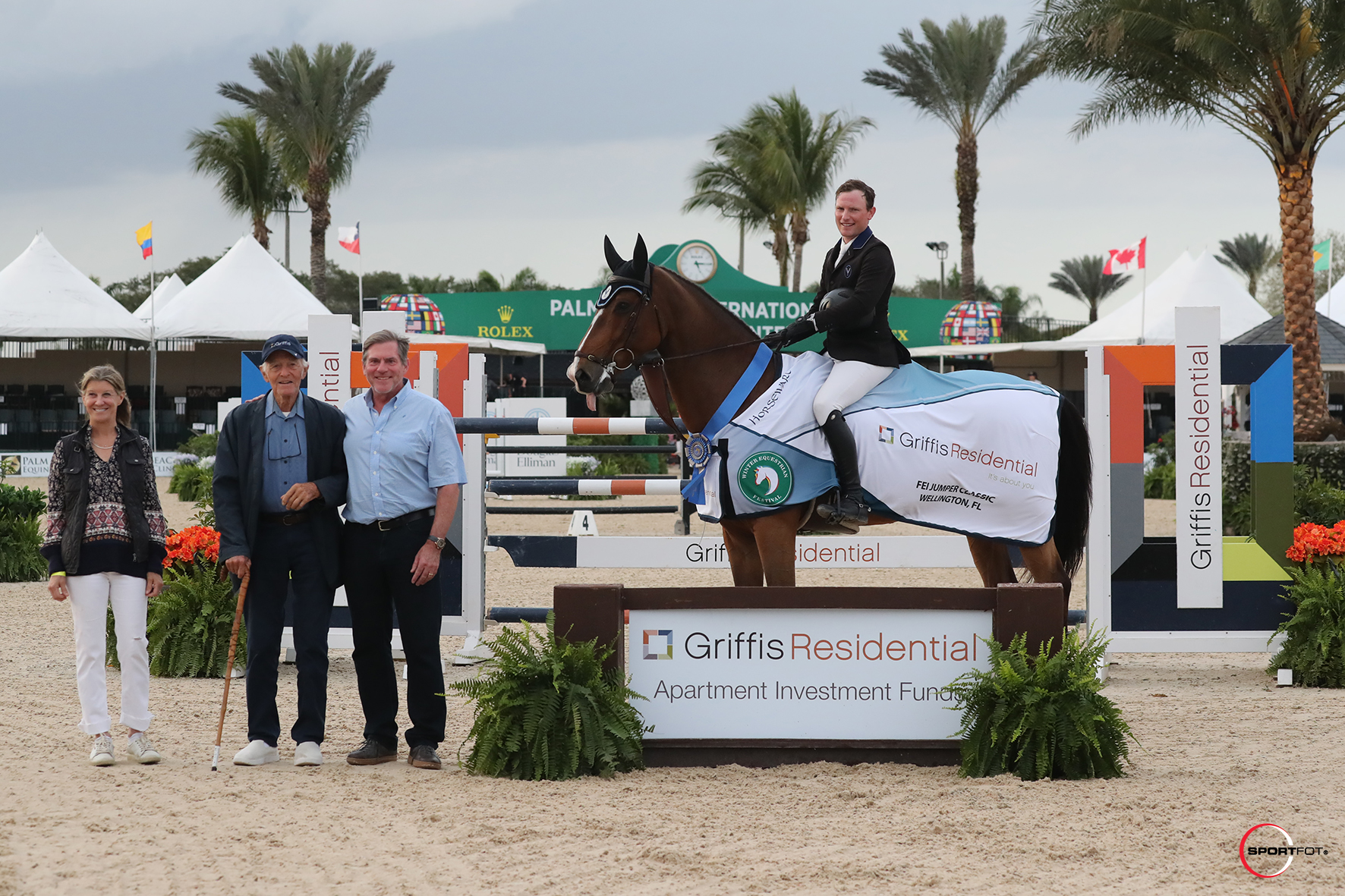 Stephen Moore Snags the Victory in $37,000 Griffis Residential CSI2* Qualifier
International competition continued to roll right along with the $37,000 Griffis Residential CSI2* Qualifier debuting as the largest and last class to take place in the International Arena on Friday. An impressive 78 horse-and-rider duos took their turns over the first round track as they hoped to earn a returning spot in the jump-off to qualify for Sunday's $50,000 Griffis Residential Grand Prix CSI2*. As the light faded, 16 entries chose to return for their chance at the winning honor.
A total of 19 pairings had qualified but Enrique Gonzalez (MEX), Eliza Lehrman (USA), and T.J. O'Mara (USA) chose to save their jumps for another day. The jump-off track appeared to give each returning competitor a more difficult time as each exhibitor landed with at least one downed fence until Lacey Gilbertson (USA) managed to find the path to a clear round. Several more rounds followed until the USA's Rebecca Conway found her way around an even faster track aboard Con Coleur.
As the battle concluded, Ireland's Stephen Moore gave it his all, and his all was good enough to steal the win aboard Albert K. Moore and the Vlock Show Stables LLC's 13-year-old DWB gelding Albert K (Heartbeat x Quidam de Revel). They turned on the turbo and stopped the clock at 42.04 seconds to finish over a full second ahead of the closest challengers.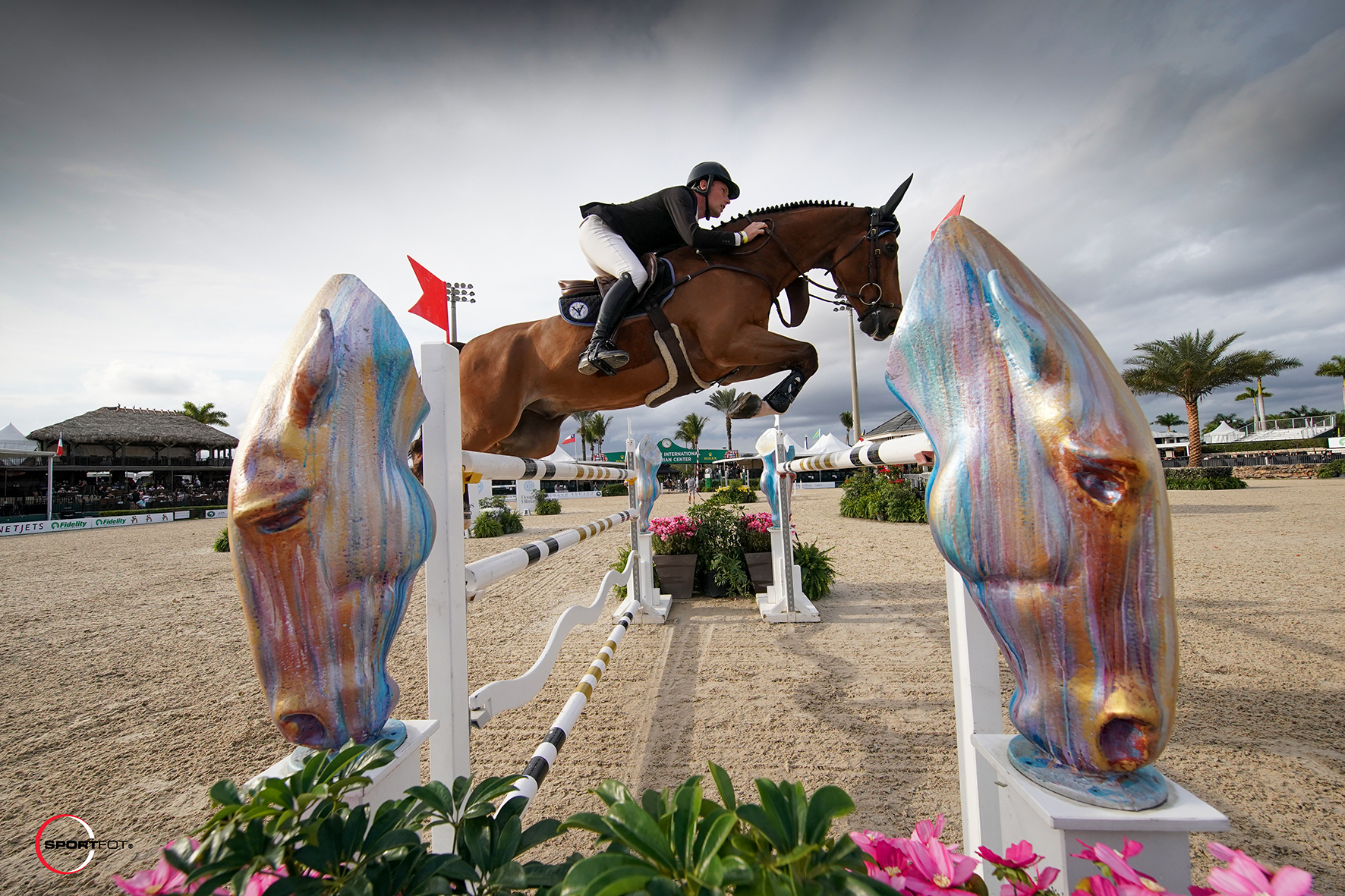 "He is an amazing horse, and I just got the ride on him at the beginning of last summer," said Moore. "He was great all of the summer season and has had a few months off. This is our first week back competing in FEI classes for the winter so to start off with a win feels fantastic."
"There weren't very many clear at the beginning of the jump-off, so I had some belief we could get it done," he continued. "He has a huge stride so I knew I could leave out a stride from the first to second fence, and I knew I could get the long six [strides] done as well. Everywhere else he was just incredibly good to me, and it all worked out."
Conway's ride secured second place with Blue Hill Farm's 13-year-old Hanoverian gelding (Contendro I x Couleur Rubin) by punching the clock at 43.58 seconds. Gilbertson's smooth piloting of Seabrook LLC's 12-year-old BWP mare Karlin Van't Vennehof in 43.98 seconds earned her a spot in the victory gallop as the third-place recipient. 
Final Results: $37,000 Bainbridge Companies 1.45m CSI5*
1. NANINI VAN D'ABELENDREEF: 2013 BWP mare by Kannan x Heartbreaker
ERYNN BALLARD (CAN), Esperanza Imports: 0/57.82
2. BALLYOSKILL BIG BUCKS: 2013 Irish Sport Horse gelding by Royal Concorde
JORDAN COYLE (IRL), Elan Farm: 0/59.34
3. EL CONDE: 2011 SBS gelding by Loro Piana Filou De Muze x Final Shot
NAYEL NASSAR (EGY), Evergate Stables, LLC: 0/59.42
4. KIANA VAN HET HERDERSHOF: 2010 BWP mare by Toulon x Lys De Darmen
DANIEL DEUSSER (GER), Stephex Stables: 0/59.42
5. DUBLIN: 2007 ZfDP gelding by Cobra 18 x Calido I
JESSICA MENDOZA (GBR), Windsor Farms: 0/59.76
6. GAMBLE: 2011 KWPN gelding by Vingino x Indoctro
CONOR SWAIL (IRL), Asta Torokvei: 0/59.82
7. DARQUITO: 2011 Hannoverian gelding by D'Inzeo 6 x Contefino 2
ANDREW BOURNS (IRL), Andrew Bourns Sport Horses Inc: 0/59.97
8. BERDIEN: 2011 Zangersheide mare by Bustique x Querlybet Hero
MOLLY ASHE CAWLEY (USA), Louisburg Farm: 0/60.65
9. LAMBORGHINI 98: 2010 Oldenburg gelding by Böckmann's Lord Pezi x Grannus
JESSICA MENDOZA (GBR), Caroline Mawhinney: 0/61.24
10. HOCUS POCUS VAN DE LUCASHOEVE: 2007 BWP gelding by Chin Chin x Acord II
ABDEL SAÏD (BEL), Abdel Saïd: 0/61.67
11. DON VITO: 2008 KWPN gelding by Quaprice Bois Margot x Jus De Pomme
LORENZO DE LUCA (ITA), Poden Farms: 0/61.67
12. CASSINA Z: 2010 Zangersheide mare by Casado V'T Gelutt Z
PETRONELLA ANDERSSON (SWE), Stephex Stables: 0/61.69
Final Results: $37,000 Griffis Residential CSI2* Qualifier
1. ALBERT K: 2009 DWB gelding by Heartbeat x Quidam de Revel
STEPHEN MOORE (IRL), Vlock Show Stables LLC: 0/0/42.04
2. CON COLEUR: 2009 Hannoverian gelding by Contendro I x Couleur Rubin
REBECCA CONWAY (USA), Blue Hill Farm, LLC: 0/0/43.58
3. KARLIN VAN'T VENNEHOF: 2010 BWP mare by Fantomas De Muze x Quasimodo Van De Molendreef
LACEY GILBERTSON (USA), Seabrook LLC: 0/0/43.98
4. CARISTINA: 2010 mare by unknown
LUIS FERNANDO LARRAZABAL (VEN), Anna Ishiyama: 0/0/44.1
5. COCO BEACH: 2012 Holsteiner mare by Casall x San Patrignano Corrado
RICHIE MOLONEY (IRL), Equinimity LLC: 0/0/44.32
6. CARLA: 2012 Holsteiner mare by Clarimo x Carthago Z
MCKAYLA LANGMEIER (USA), Rafferty Farm LLC: 0/4/43.4
7. STAKKATAN: 2009 OS gelding by Stakkatol x Kannan
ANDRZEJ OPLATEK (POL), Gospodarstwo Rolne & Andrzej Oplatek: 0/4/43.64
8. VALMONT DE VIZY: 2009 Selle Francais stallion by Zandor x Brandy De La Cour
KELLY ARANI (USA), Marigot Bay Farm, LLC: 0/4/44.94
9. CHANDON BLUE: 2005 OS gelding by Chacco Blue x Landcapitol
LAURA CHAPOT (USA), Mary and Laura Chapot: 0/4/45.49
10. ARIANA: 2011 KWPN mare by Cantos x Tolan R
LORCAN GALLAGHER (IRL), HKC Collection LLC: 0/4/46.43
11. TEDDY Z: 2011 Zangersheide gelding by Candillo 3 x Limbus
CALLIE SCHOTT (USA), Southern Arches, LLC: 0/4/47.1
12. CROSSOVER 4: 2013 Hannoverian stallion by Cascadello x Chacco Blue
CHLOE REID (USA), Team Reid LLC: 0/4/49.43