By Alice Collins for Jennifer Wood Media, Inc.
Wellington, FL – February 12, 2022 – Saturday's showcase class, the Grand Prix Special CDI4*, presented by MTICA Farm, was a close-fought battle, with Benjamin Ebeling (USA) coming out on top on February 12 at the 2022 Adequan® Global Dressage Festival (AGDF) in Wellington, FL.
Ebeling rode Indeed, Vantage Equestrian Group II's 14-year-old daughter of Hofrat, to 72.255% in the pair's first grand prix special at their first four-star show. Belgium's Laurence Vanommeslaghe was just 0.1 percentage points adrift, clocking 72.106% on her own 15-year-old Hotline gelding, Havalon. Sarah Tubman (USA) rounded out the podium, riding First Apple to third place with 70.255%.
Ebeling took over the reins of Indeed — one of only two mares in the 11-strong class — from his Olympian father Jan Ebeling and this is only the new pairing's second CDI. From penultimate draw in the class order, they climbed from a third-place finish in the qualifying grand prix on Thursday. He attributed his success to a last-minute change of plan.
"Normally we make our schedule the night before," explained the 22-year-old Ebeling. "We were planning a 30-minute warm up before this test, but as the day wore on it was getting hotter and hotter. Indeed is one that is really on [form] when she isn't so sweaty and hot. So, we changed our warm-up plan to around 15 minutes and trotting her out, doing a couple walk/canter transitions, and just practicing things that are really hard for her like the changes. I think it really made an impact."
Ebeling feels the benefit of his father having trained the horse to grand prix and therefore being able to understand everything he is feeling.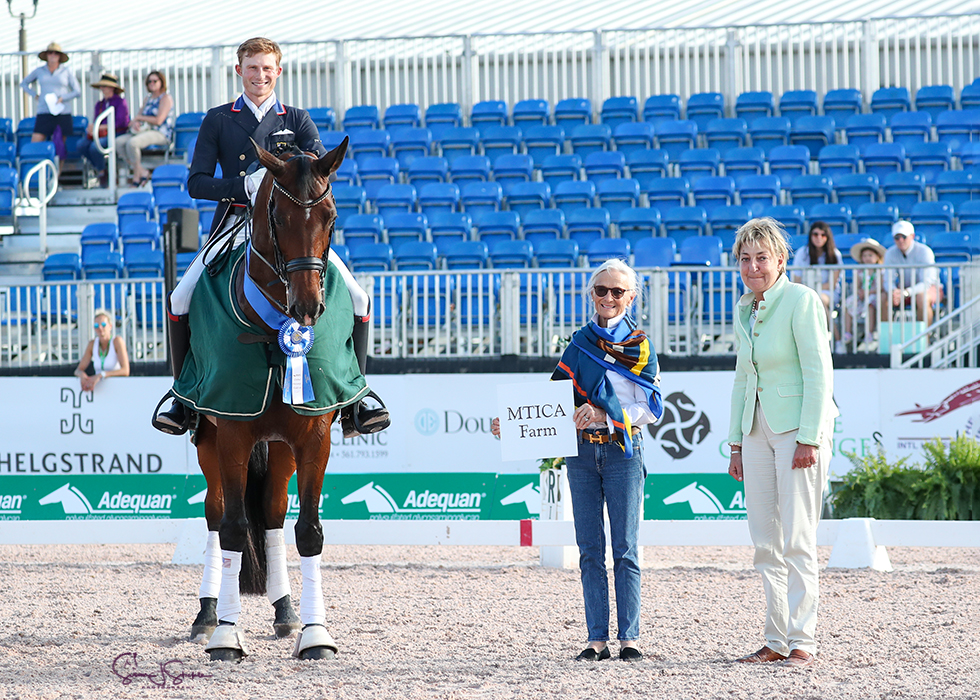 "My dad is my main trainer — along with Christoph Koschel — but my dad knows the horse so well and I think that has a major effect," added Ebeling, who also showed his other grand prix horse, Illuster Van De Kampert, during AGDF 5. "When I have a question like 'What can I do about this?' or 'How can I ride this better?,' he's there with an answer. He wanted to give me the ride because he's focused on his two grand prix rides.
"Maybe I'll get an invitation with Indeed for the five-star, as I'd like to go to that," he continued. "She's really a wonderful mare. She's super steady, very focused, and I know she wants it bad."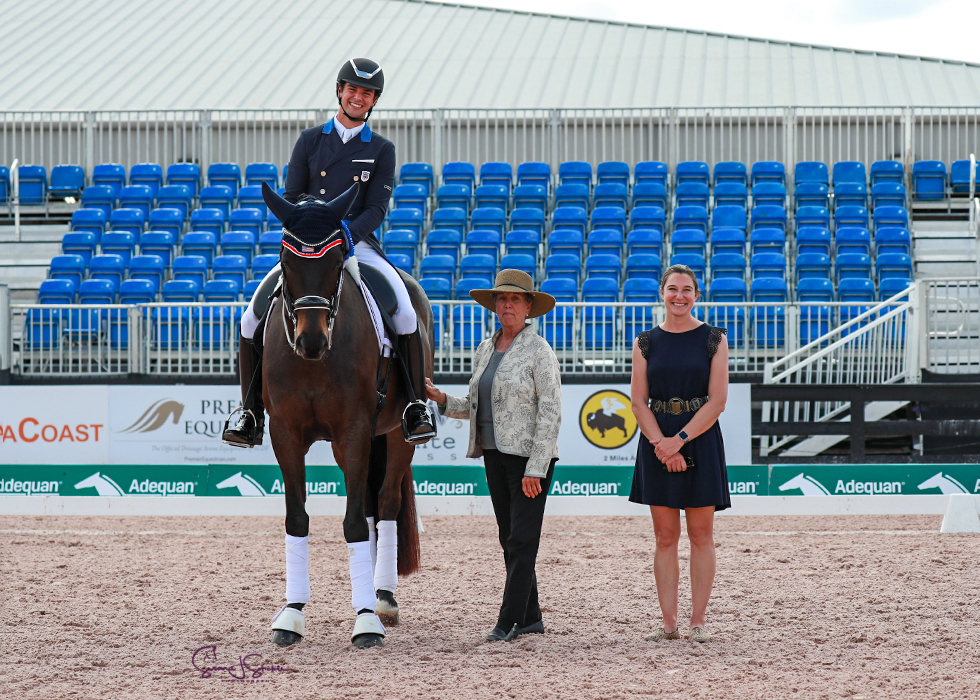 Christian Simonson (USA) has made the difficult step from the young rider division to senior competition in style, underscored by his resounding victory in the Intermediate I CDI1*. He scored 72.117% riding Zeaball Diawind, with whom he won three gold medals at the North American Youth Championships in 2021, setting a young rider record score (of 78.935% in the freestyle) in the process. The duo was unbeaten in six consecutive tests in 2021 and have come out all guns blazing in 2022.
Here, the 19-year-old emerged triumphant of the 10 starters riding Christina Morgan's 10-year-old gelding by Fürstenball. Second-placed Beatrice Boucher (CAN) was the only other competitor to break the 70% barrier, laying down 70.324% for a new personal best with Summerwood's Limei. Kristina Harrison-Antell (USA) finished third on I Felix with 69.823%.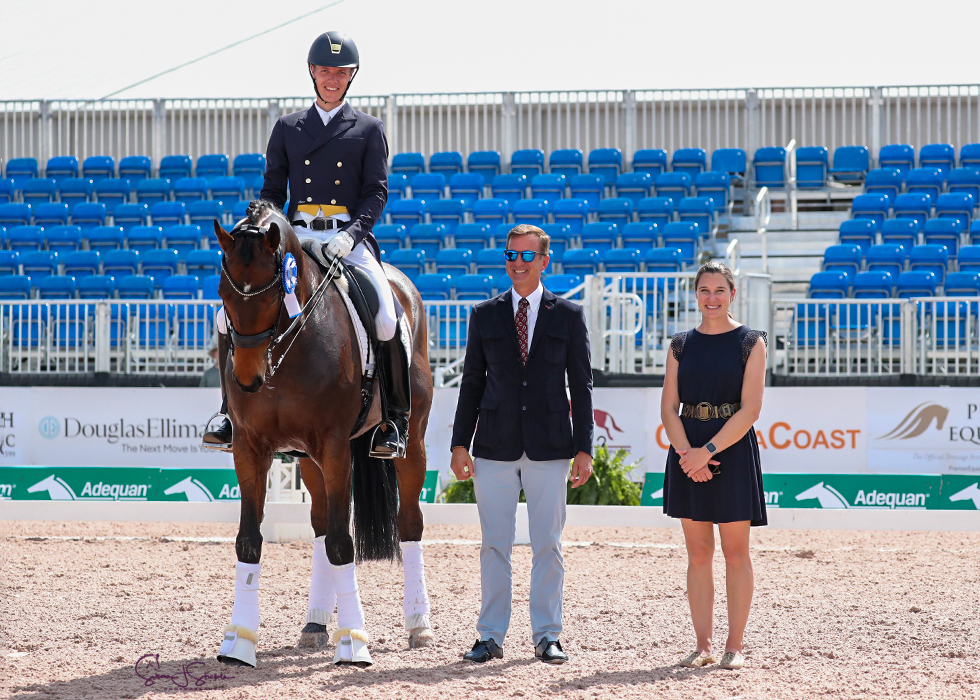 Luuk Mourits (NED), who is part of the Harmony Sporthorses team, piloted Harmony's Don't Stop The Feeling to the winner's sash in the Intermediate A CDI1*. Competing in their third AGDF season in a row, this was the pair's first run through the Intermediate A in a CDI and it resulted in a unanimous win and 68.647% — with one judge awarding 71.176% to the 13-year-old gelding by Don Primus.
Tiago Ernesto (POR) finished second with 67.118% on the Lusitano stallion Hobbit Interagro, with Swiss rider Barbara Bertschinger third on Sonnenbergs Solisco CH (64.618%).
AGDF 5 concludes on Sunday, with action at small tour, juniors, young riders, an Intermediate II CDI2*, and the day's two showcase classes for developing horses, the Summit Farm Future Challenge Prix St. Georges and the Lövsta Future Challenge Intermediate II. For more information and results, visit www.globaldressagefestival.com.
Results: CDI4* FEI Grand Prix Special, presented by MTICA Farm Place, rider, nationality, horse, horse information: judge E%, judge H%, judge C%, judge M%, judge B%, final score
E, Jane Weatherwax (USA); H, Christof Umbach (LUX); C, Elke Ebert (GER); M, Kjell Myhre (NOR); B, Claudia Thaler (AUT)
1. Benjamin Ebeling (USA) on Indeed, Vantage Equestrian Group II's 14yo Danish Warmblood mare by Hofrat: 72.021, 73.191, 71.702, 72.021, 72.34, 72.255
2. Laurence Vanommeslaghe (BEL) on Havalon, her own 15yo Hanoverian gelding by Blue Hors Hotline: 71.383, 72.766, 71.702, 73.298, 71.383, 72.106
3. Sarah Tubman (USA) on First Apple, Summit Farm's 12yo KWPN stallion by Vivaldi: 70.851, 70.957, 70, 68.83, 70.638, 70.255
4. Alice Tarjan (USA) on Donatella M, her own 11yo Oldenburg mare by Fürstenball OLD: 72.234, 68.936, 71.064, 68.723, 69.362, 70.064
5. Katie Duerrhammer (USA) on Quartett, Kylee Lourie's 14yo DSP gelding by Quaterback: 68.085, 70.319, 68.085, 69.894, 71.489, 69.574
6. Michael Klimke (GER) on Harmony's Sanrino RHP, Harmony Amateur Sports's 13yo Oldenburg stallion by San Remo OLD: 69.574, 69.043, 68.404, 67.766, 66.277, 68.213
7. Patricia Becker (USA) on Derk, Lauren Walfish's 14yo KWPN gelding by Wynton: 65.213, 66.383, 66.17, 66.277, 65.745, 65.958
8. Aaron Janicki (USA) on Heron, his own 10yo KWPN gelding by Glock's Johnson TN: 64.277, 68.532, 64.489, 64.383, 63.745, 65.085
9. Evi Strasser (CAN) on Déjà Vu Tyme, her own 15yo Hanoverian gelding by Dauphin: 65.851, 63.191, 65.213, 65.319, 65.106, 64.936
10. María Alejandra Aponte González (COL) on Duke De Niro, her own 17yo British Hanoverian gelding by De Niro: 60.851, 62.553, 61.489, 63.617, 61.596, 62.021