By Summer Grace and Sabrina Schmidt for Jennifer Wood Media, Inc.
Callie Seaman of New York, NY, rode a pair of grey geldings to the champion and reserve champion titles in the Amateur-Owner Hunter 3'6" 18-35 sponsored by Palm Beach Equine Clinic at WEF 5.
Seaman was a bit nervous coming into the day, but ultimately finished with Silver Lining, an eight-year-old Westphalian, as champion, and Champs Elysees, a 10-year-old Selle Francais, in reserve.
"I was actually a little nervous this morning," said Seaman. "I think because yesterday went so well, I just wanted to keep that momentum."
In the over fences class on Friday, Champs Elysees placed first with a score of 88 with Silver Lining in second on a score of 86. In the handy, the two swapped placings and scored 86 for second and 88 for first with Champs Elysees and Silver Lining respectively.
Coming into day two in a strong position, Seaman continued to have positive results placing first or second in the over fences, the stake, and the under saddle.
"I thought my rides with Champs Elysees were really solid," stated Seaman. "He touched a couple today, but we had really solid, beautiful rounds so I was thrilled with that."
"We affectionally call Silver Lining 'Lala,'" she continued. "He was jumping out of his skin today which took me by surprise in the first round. I was a little like, 'Oh wow, we are feeling good today,' but I got it together and our second round felt really good."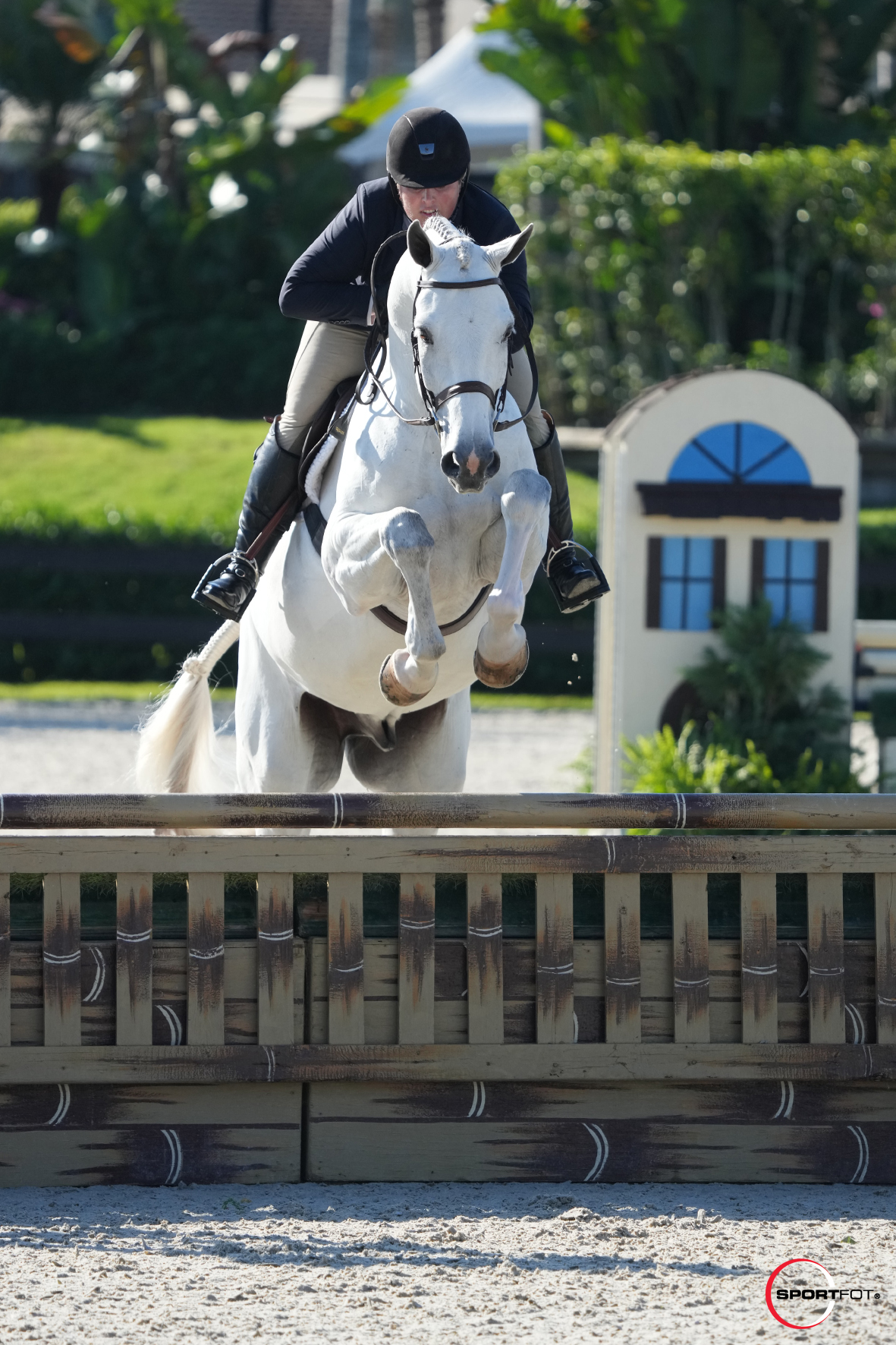 Seaman also noted how she altered her ride on Silver Lining from the first to the second round. "In the first round I was a little surprised he was jumping like that especially since it's day two, and it's warm this morning," she explained. "I thought I was really going to have to ride today, but no, he was ready to show off, so I just had to adjust my ride a little bit and settle in to how well he was jumping."
While only three points separated the two horses by division's end, the greys differ in both how long Seaman has had them and what their future plans look like.
"Silver Lining is a horse I've had for a few years that my trainer Patricia Griffith started showing as a four-year-old," said Seaman. "When my horse Chicago got hurt, he had to step up and has become a really important Steady Eddy for me. He always goes in and does his job. Plus, he had a fantastic indoor season last year."
Silver Lining was grand champion at the Capital Challenge Horse Show and placed second in the $50,000 derby at the National Horse Show with Patricia Griffith.
Seaman went on to describe, "He's coming off a great year, he's feeling great, and he's so funny. He has a hilarious personality and is always looking for food. He goes in the ring trying to eat all the decorations, but he's been a really good, dependable partner for me as a division horse. This is his niche, so this is what he'll continue doing."
"Champs Elysees, who we call 'Freckles' because of his little fleabite markings, is a newer horse for me," countered Seaman. "I got him this summer, and he is the sweetest animal who just wants to cuddle all day. He's quiet and the same guy every day, but we're working on slowing his jump down a little bit to ease into a hunter role. He was a jumper before and will eventually be a derby horse for me."