By Sabrina Schmidt, Summer Grace, and Amanda Picciotto Feitosa for Jennifer Wood Media, Inc.

Wellington, FL – February 17, 2022 – The second day of competition on Thursday, February 17, during week 6 at the 2022 Winter Equestrian Festival (WEF) brought back a full line-up of top hunter classes during the circuit's first World Champion Hunter Rider (WCHR) week. A variety of hunters were crowned champions in the International Arena at the Palm Beach International Equestrian Center (PBIEC) as well as across multiple other rings. 
The E.R. Mische Grand Hunter Ring began with the High Performance Hunter division sponsored by Antares Sellier France. The championship ribbon, cooler, and trophy went to Private I, a 10-year-old Oldenburg gelding owned by Kelly Sims and ridden by Michael Britt-Leon, of Alpharetta, GA. The pair earned a first and second on Wednesday in the International Arena, were second on Thursday, and ended on a total of 22 points with a division high score of 92.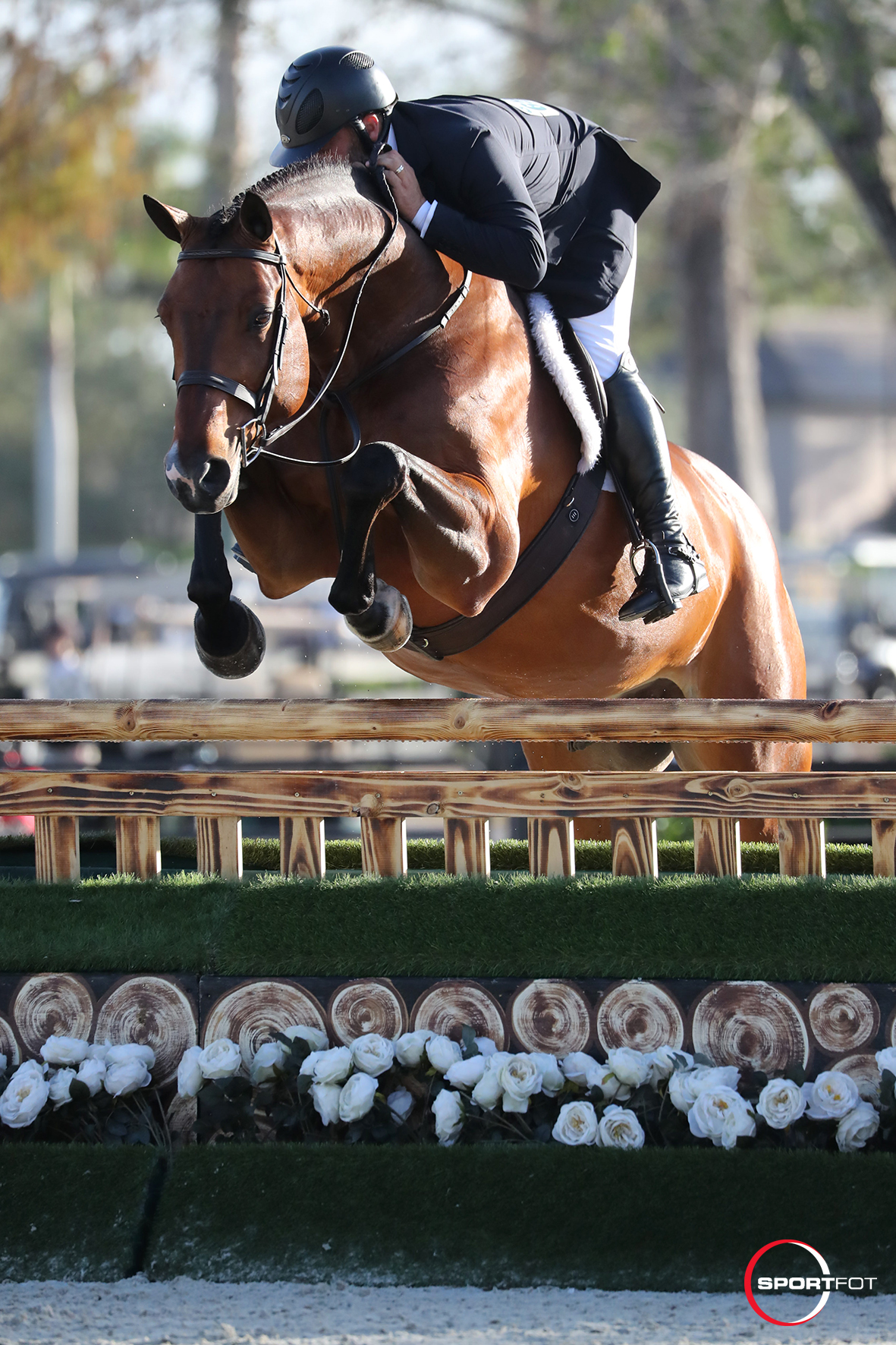 "This is my favorite division of the horse show," said Britt-Leon. "The brighter the jumps, the bigger the jumps, the better he shines!
"He gives me his all every single time, and WCHR week is always special because I was 2020 World Champion Hunter Rider on this horse," Britt-Leon added. "We're looking forward to Saturday night."
Reserve champion in the division went to Love Note, owned by Richard Prant and ridden by Scott Stewart.
Immediately following the High Performance Hunters in the Grand Hunter Ring was the High Performance Conformation Hunters sponsored by Wellington Regional Medical Center. Scott Stewart stole the show with two entries owned by Dr. Betsee Parker.
Charlemagne, an eight-year-old Selle Francais gelding, was champion with a total of 24 points, and For Always, another eight-year-old gelding, came in reserve with a total of 18 points.
Both horses had a win over fences in the International Arena the previous day where Stewart posted the division high score of 95.
"I was really happy with Charlemagne," said Stewart. "For Always got a little green up the last line, but the course rode beautifully and the horses went well."
While Stewart was impressed with both horses, he thought one preferred the atmosphere of the International Arena.
"I'm thrilled with them; they're two awesome horses," he began. "For Always was actually more comfortable out there than even in the Grand Hunter Ring, but I think they both jumped great in both rings."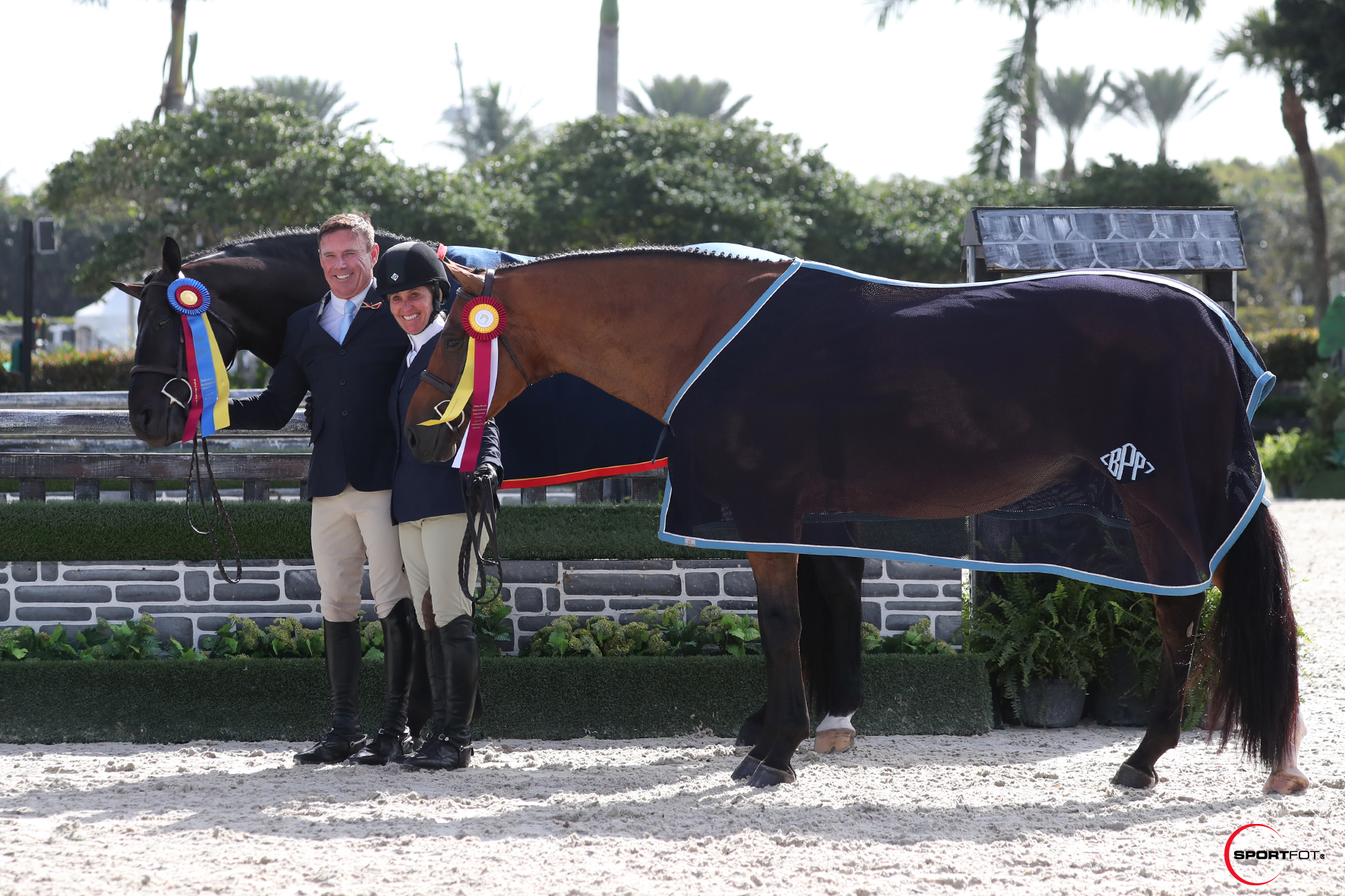 Meanwhile, in the International Arena on Thursday, the Green Hunter 3'6" division sponsored by Equine Tack & Nutritionals was underway. The large division ran as a California Split with the Section A championship going to Intent, ridden by Daisy Farish. on 30 points, and Regent, ridden by Scott Stewart, on 28 points for the Section B championship.
Intent, a 10-year-old KWPN gelding owned by Fairfield Lane, and Farish, of Versailles, KY, won their three over fences classes by posting the high score in each with a 94 and 92 on Thursday, and an 88.5 on Wednesday.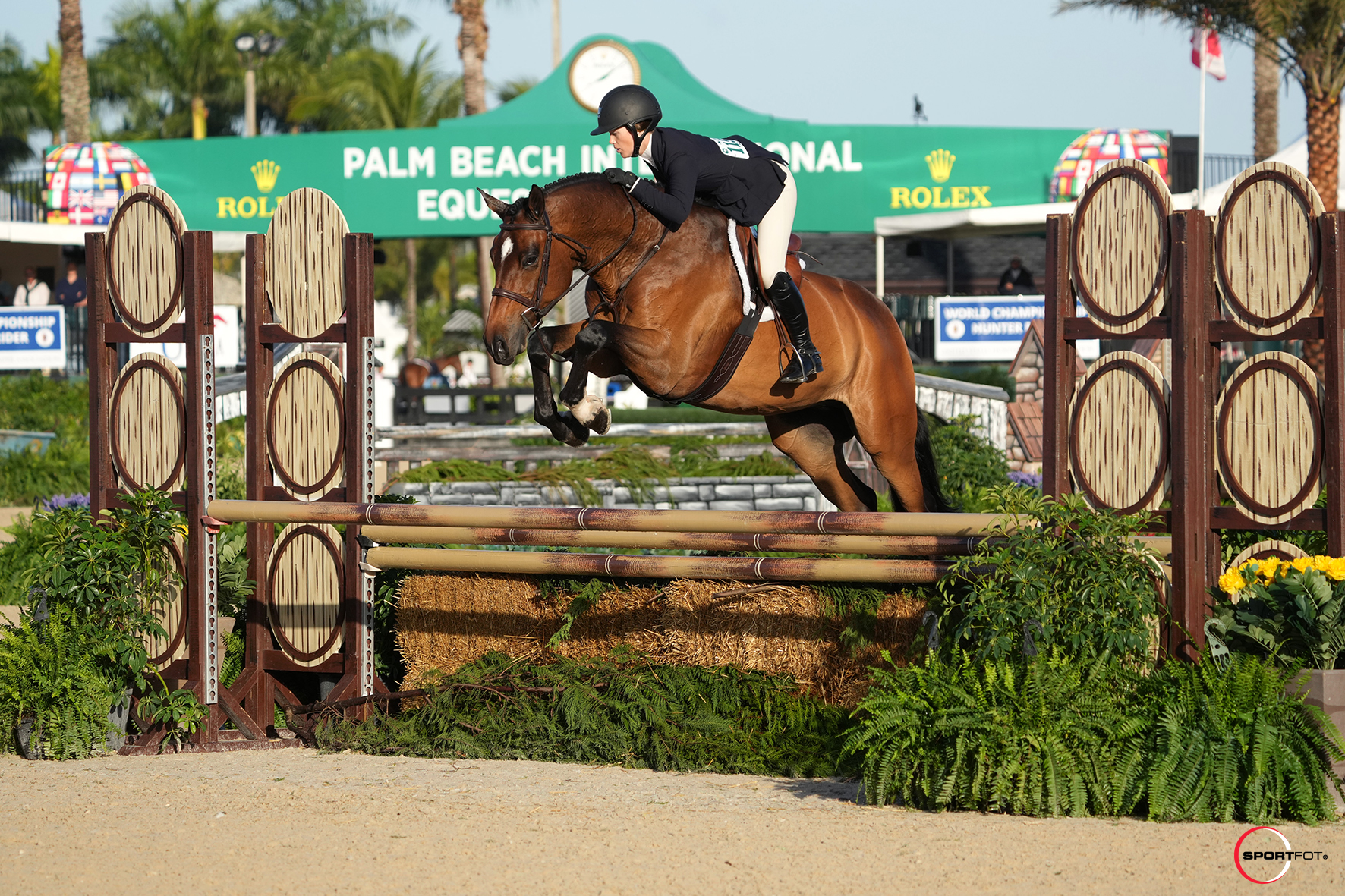 "I felt really confident going in that my horse was going to be great. He's super brave, and I knew I could trust him going into an environment like this, so I was very pleased," said Farish. "Being in this ring really suited the horse that I was on. He can really pick up a gallop like a true hunter and gallop the course, which, in a ring of this size, gives him the opportunity to do so that worked out well.
"He's also a horse that knows when it's time to rise to the occasion, and this week he felt that there was something special going on and performed probably even better than he ever has," continued Farish. "I'm truly grateful to the Hone family for giving me the opportunity to ride this horse, and everyone at Ashland Farms for making it possible."
Regent, a 10-year-old Zangersheide gelding owned by Rivers Edge, and Stewart, of Wellington, FL, weren't far behind posting a 93.75, 86.5, and 88 for first, second, and first respectively.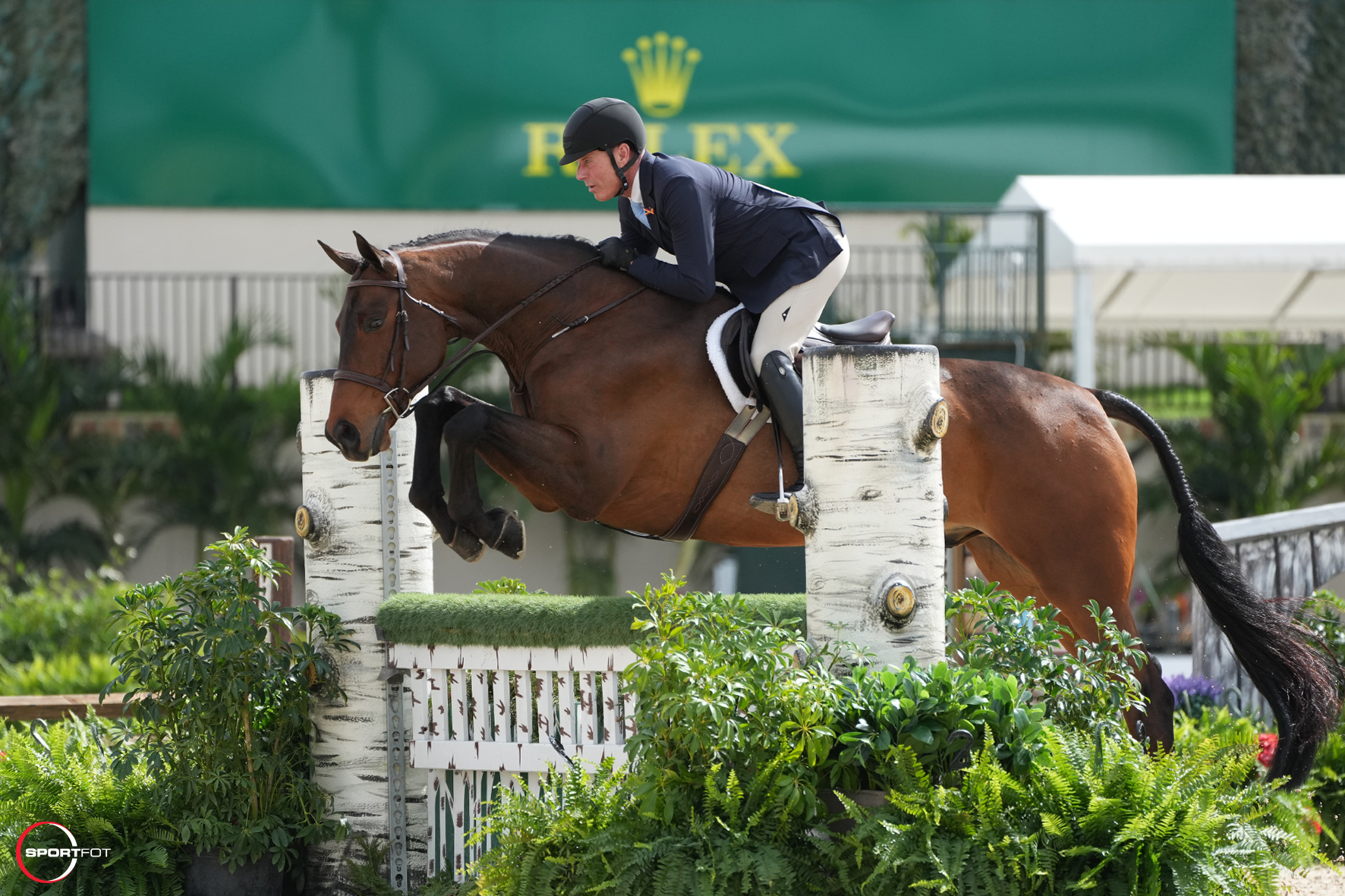 "We've had him a few years now, and he actually started doing first years during the Covid-19 epidemic, so we then had to get him reinstated," explained Stewart. "He's a phenomenal jumper with a ton of scope, and this is only his fourth show of the circuit; we've been trying to manage our show schedule so that everyone peaked this week, and it worked out in our favor with him."
The reserve championship ribbons went to Ackergill Castle, ridden by Scott Stewart and owned by Dr. Betsee Parker, and Moonlight, ridden by Jimmy Torano for Isalou, Inc.
Continuing his winning streak, Stewart piloted Dr. Betsee Parker's Nottingham to yet another tricolor ribbon in the Green Hunter 3'9" division, which was sponsored by Equine Tack and Nutritionals. The duo produced winning rounds in all three over fences classes including an impressive 90 score in the division's stake class, as well as a 91 in the handy round. After securing third in the under saddle, the pair led the way with a total of 34 division points.
"Nottingham was awesome; this is only his second show back this year, so I was incredibly happy with him," stated Stewart. "He is very big and beautiful when he goes around the ring that we are planning for him to eventually do the derbies as well. His appeal when he enters the ring is special."
Fourteen aspiring combinations rode to the conclusion of the Hygain Feeds Green Conformation Hunter division, but Holly Orlando and Adler led by a single point for the championship victory. She and James Anderson's gelding produced top three placings across all classes but were the ones to walk away with the highest honors.
"We imported him at the beginning of circuit last year," stated Orlando. "Our trainer Jenny Dunion had a friend who sent us a message about him from Europe, basically saying that he was one of his favorite horses he had ever had. We took a chance and imported him, and from the moment he got off the truck we were thrilled. He is beautiful and very correct, so we are excited because we have not had a conformation horse in a while."
Stewart produced another successful performance aboard Dr. Betsee Parker's Ackergill Castle and finished as the recipient of the reserve champion ribbon. They were rewarded with a first, two seconds, and a third for their efforts and finished just below Orlando with 24 overall points.
Orlando's success didn't stop there though, she and the Privet Farm, LLC's Park City picked up the top honors in the FarmVet Performance Hunter 3'3" division. The pair earned the high score in the stake class with an 86 and additional results of first, second, and fourth launched them into the lead.
"He was showing out in California, and a friend told me about him. From the minute we saw the video, we had to have him," admitted Orlando. "He does some of the professional divisions with me and then some junior hunters, so he really is kind of a family horse for us.
"He is a beautiful jumper no matter what the height is, which is nice because he never gets plain," continued Orlando. "He is just a great horse that you can always count on."
Brianne Goutal-Marteau and John and Stephanie Ingram, LLC's Koala co-championed with Orlando as the division required a California split for results.
"I started riding horses for the Ingrams this winter, and this horse is really John [Ingram]'s tried and true buddy," detailed Goutal-Marteau. "I have only shown him one or two other weekends as John mainly shows him, but he is just a serious competitor and is simply amazing. The Ingrams take this week very seriously and all of the horses came out really shining, but he is the most seasoned of the group."
The reserve champion ribbons were awarded to co-winners Samantha Schaefer and Ava Berman's Emilio, and Victoria Colvin aboard Glade Run Farm LLC's Per Se.
In the Farmvet Ring 7, competitors of the Young Hunter 3'3" (7 and under) division wrapped up their performances. Jennifer Papiernik and Ellen Bifano's Sundown were the no-contest champions after producing efforts worthy of three firsts, a second, and a third in the under saddle.
"We took the summer to get to know each other before we began showing so I was very excited for the start of this season," said Papiernik. "Ellen [Bifano] was driving past the Young Hunter division towards the end of last season and saw him, then called me and said 'I saw a horse I just have to have.' We looked him up and then we bought him!"
The reserve champion honors were awarded to Penny Lombardo and Beth Congel's Legist. The pair earned a first and two seconds to slide into the runner-up position.
With an astounding 132 combinations to perform, the Johnson Horse Transportation Performance Hunter 3'6" division stake closed out competition for the day and put forward the points to determine the division's champions. Geoffrey Hesslink and Liza Towell Boyd co-championed for the division. Hesslink delivered several stunning rounds with Little Brook LLC's Mon Tresor and delivered results worthy of first, second, and third-place ribbons.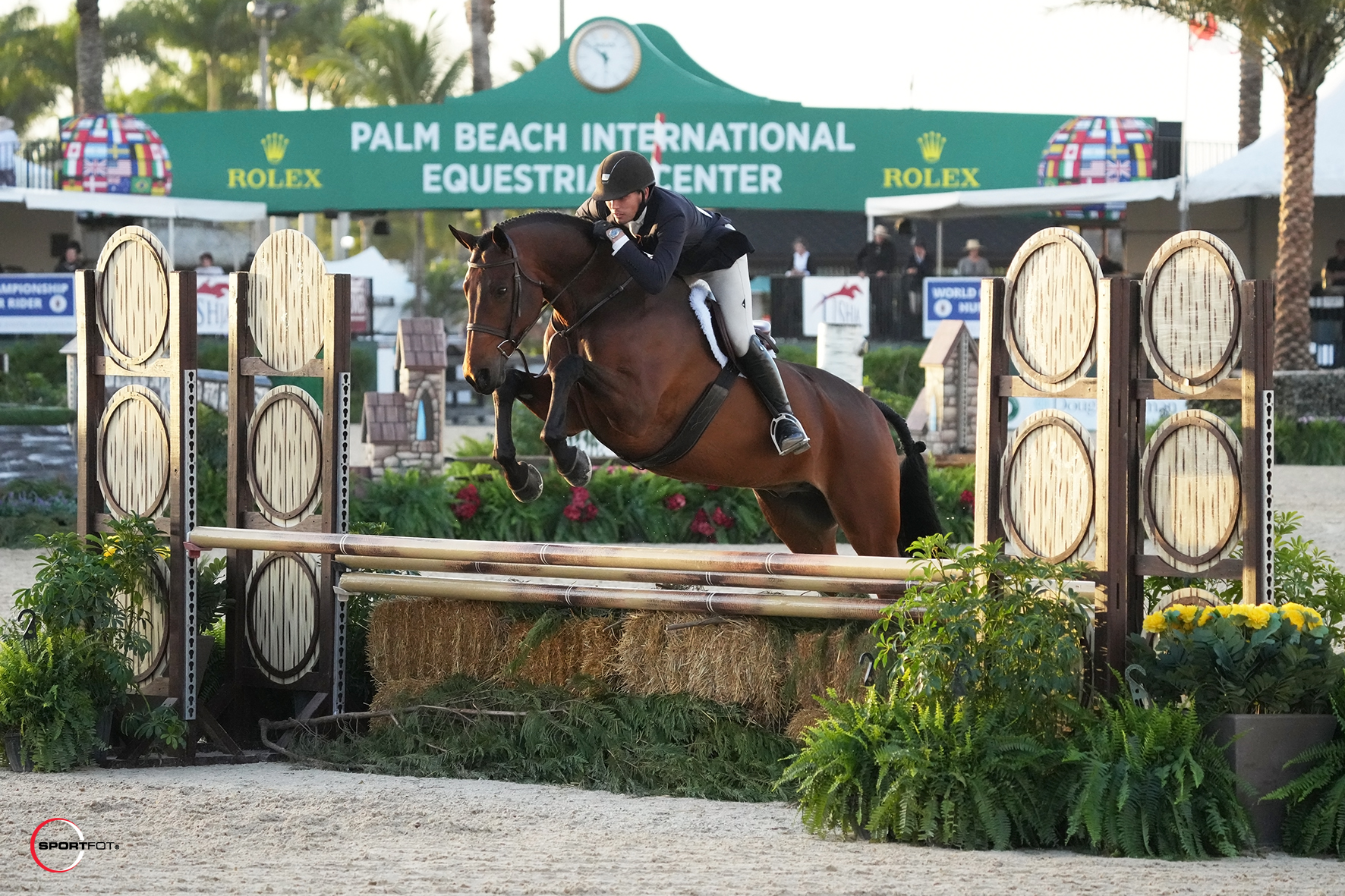 "This horse was originally doing the First Year Green Hunters with Peter Lombardo when I first saw him, and every time I watched him, he caught my eye so I just had to have him," recalled Hesslink. "For this division this week you had to have some scope and stride to do the courses well, and he did it with such ease. It was an incredible feeling."
Boyd piloted Mary Caroline Nolan's Golden Years to victory right along Hesslink with a second, two thirds, and a fifth place. The performance was their debut into any 3'6" division as Boyd has only had the gelding under guidance following the Capital Challenge Horse Show in October 2021.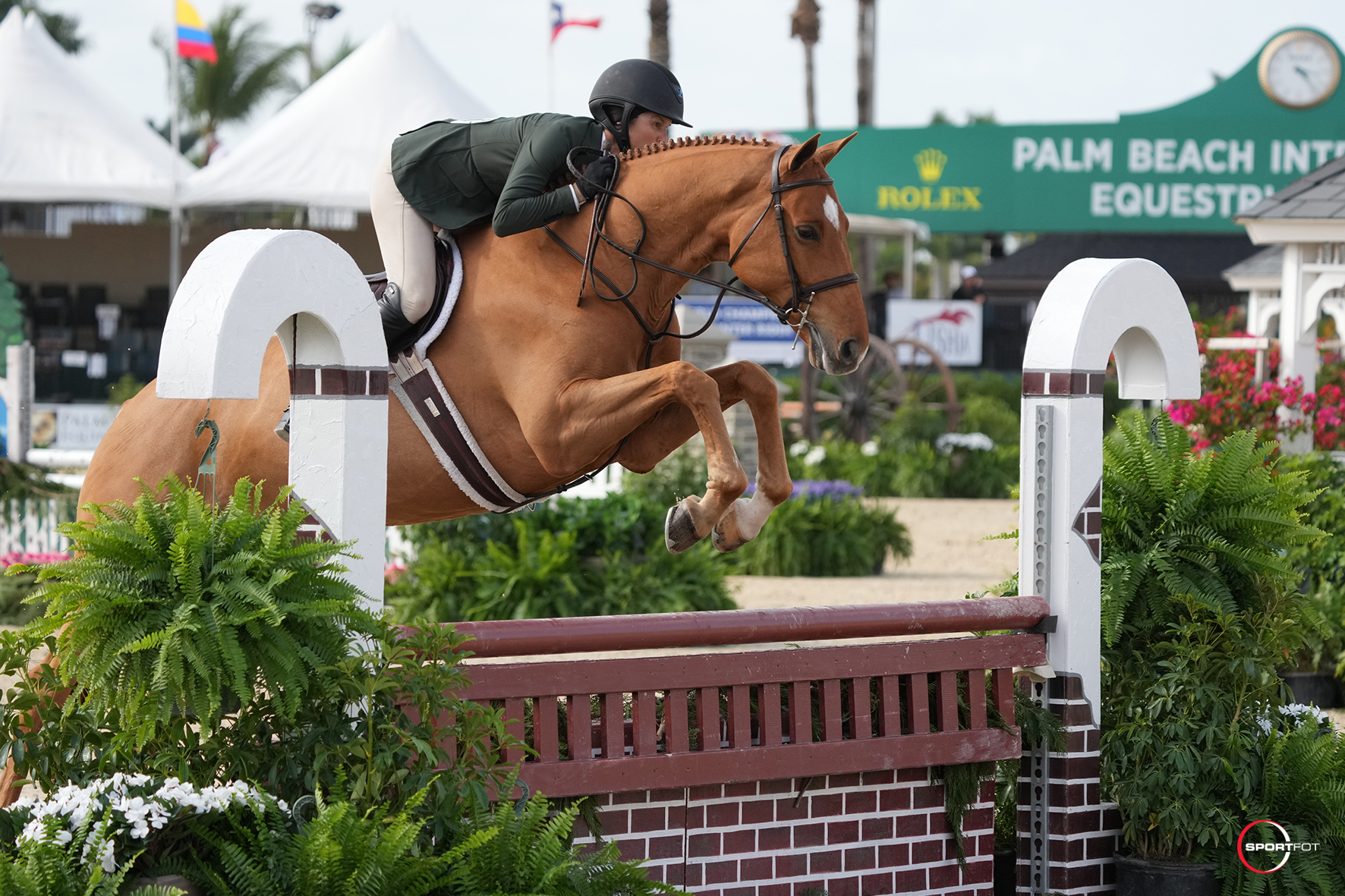 "We've only shown him once in December before starting with him here at WEF, so he is fairly new to us," said Boyd. "I think everyone really rises to the occasion for a week as special as this, and he was no exception. He was very brave going into the International Arena and jumped amazingly; he is careful and brave at the same time, which are both crucial attributes for a top hunter to have."
John French and Babylon co-earned the reserve champion position alongside Brady Mitchell and Permission. French and the Marnell Sport Horses-owned gelding locked in results of first, second, third, and fifth. Cathy Sacher's Permission was awarded placings consisting of two firsts and an eighth with Mitchell.